Students establish connections and collaborations at bi-annual styling meetup event
Courtesy of Fashion Journalism
The atmosphere in the atrium at 625 Polk St. was buzzing with conversation and laughter as Academy of Art University fashion students from the styling, design, and journalism degrees met with photographers, models, and makeup artists on a September afternoon. The energy was palpable, and budding collaborations were being born by the minute. The bi-annual meetup event, organized by Flore Morton, School of Fashion associate director and lead faculty for the fashion styling program, with support from School of Photography instructor John Vano, has become known as the melting pot of classroom-acquired skill sets and natural, instantaneous connection.

The first very student meetup was held in 2013, aiming to form connections between fashion styling students and photographers. Growing in number of attendees every semester, the initiative encompasses new majors each year, as the scope of the collaborative projects developed. This past September, the 14th edition of the meetup hosted its biggest gathering to date; over 200 current students and alumni attended, ready to explore creative partnerships centered in editorial photoshoot production, product styling, still-life photography, magazine publishing, and fashion video production.

Styling students benefit from the meetup by expanding their creative networks, fueling professional growth. "Stylists thrive on collaboration with like-minded creatives," said Morton, "therefore, building this experience as part of the learning process helps to prepare them for career success. Everyone involved in these collaborations is committed to providing the best possible input to the projects."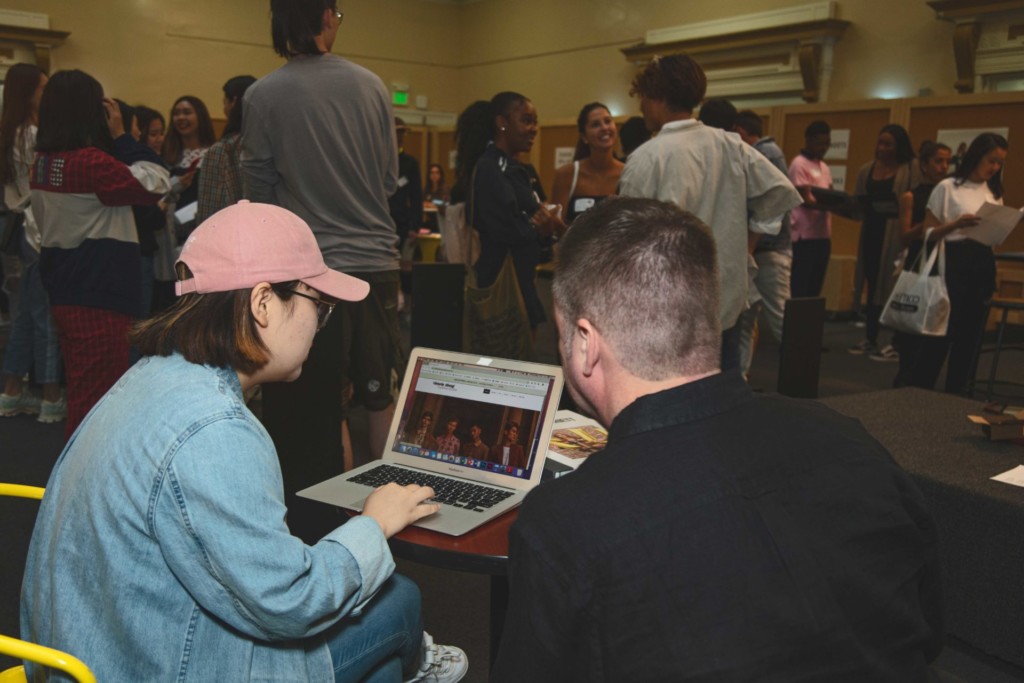 Photography students value collaboration with fashion industry professionals, which means honing their editorial photoshoot production skills. "The Styling Meetup became such a great pipeline between students," shared Vano. "It's emulating the real world where you're working with all these different people, different personalities. Flore and Danielle [Rueda] (School of Fashion's staff photographer) created a comfortable atmosphere, where it is easy to make all those connections. I've seen photography students collaborate on their projects just two-three days after the meetup."

Earlier this year, designers joined the conversation as well, a move that resulted in outstanding collaborations around graduate collections' lookbook photoshoots in the summer. Selected photoshoots were accepted for publication in international fashion media outlets, acknowledging the high level of professionalism among the Academy graduates. A recent collaboration between the designer Chris Cabalona, stylist Megan Vo, and photographer Jen Lovely was published in i-D magazine.

Which brings us back to Fall 2019. The bigger the conversation, the richer the outcome; as fashion journalism students and videographers were invited to attend, the discourse around fashion, culture, and lifestyle expanded even further.
Fashion Journalism Coordinator Elena Eberhard mediated the activities around the Magazine and Fashion Video booth, encouraging attendees to explore media formats and produce student-generated magazines and fashion films.
What to expect next time? As impressive work produced by the students drives more of their peers to join the initiative every semester, the result should be nothing short of spectacular.
Links to collaborations will be posted on social media of the fashion styling and journalism programs, to continue the creative dialogue between future industry professionals, so stay tuned.