By Tyler Callister
On August 1, Academy of Art University welcomed fashion design veteran Neil Gilks into its ranks as the new executive director of the School of Fashion. Gilks holds decades' worth of experience in the industry, including four years as B.F.A. program director at the Parsons School of Design in New York.
"I've admired the school from afar… I liked what it represented. There is a thorough training in core techniques," said Gilks, who taught several Academy alumni in his graduate classes at Parsons. "Every student and alum from [the Academy] I've interacted with comes prepared for a career."
As a multi-talented artist and designer who cut his teeth in the mid-'90s London fashion scene, Gilks brings a wealth of experience to the School of Fashion. From his modest beginnings to his place as an established industry veteran today, the search for self-exploration and design authenticity has always pushed him forward.
A passionate artist, Gilks maintains many creative practices across both fashion and fine art. His illustrations, which explore themes of masculinity and body image, have a robust following online.
Gilks first stepped foot into the fashion world in his early 20s—escaping the small English country town of Tamworth (a "classic blue-collar factory town," as he calls it) and heading to study at Central Saint Martins School (CSM), University of the Arts London. He immersed himself in the hip London scene at one of the world's most famous fashion schools.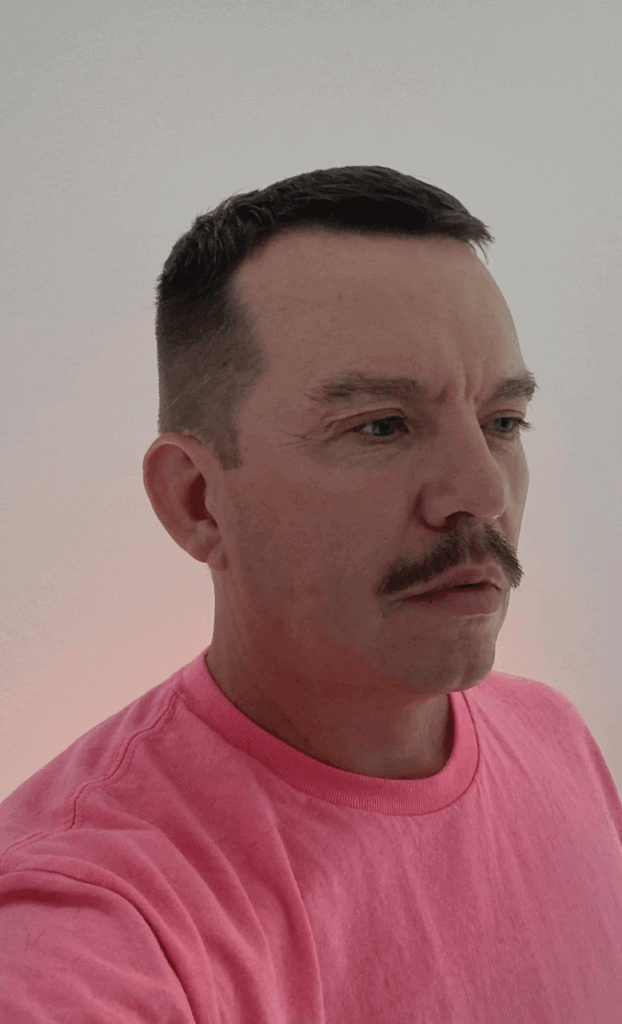 "That was it; the doors were open," said Gilks. "Fashion, design, and education were the saviors… [Central Saint] Martins was the top school to go to globally."
For the young artist, London was the perfect city for Gilks to find himself.
"It was a very interesting time culturally in London," explained Gilks. "Art, music, theater, cinema, dance, fashion—all those creative outlets were just exploding, and London was making a big dent in the world."
In addition to the arts scene, Gilks' years in London also established a significant theme for his career: a patchwork of the fashion industry and education worlds. After completing his B.F.A. and master's in womenswear at CSM, he designed for local fashion houses for some time. His next move came to him in his sleep one night.
"I had a dream that I was back in the design studio being a student, feeling creatively alive again," said Gilks. "It felt like a sign.'"
Gilks dove voraciously into his second master's degree at CSM, this time in menswear. Soon back in the London fashion industry, he was hired as director of womenswear for Ossie Clark, helping to relaunch the iconic label.
But after 16 years immersed in the London fashion world, Gilks' creative ambitions looked elsewhere. Choosing to follow his instincts, Gilks landed in another fashion capital: New York. Following six months of struggling to find work in the city, he landed his next major break: a directorship at legacy brand Diane von Furstenberg (DVF).
Fittingly, DVF put Gilks back in touch with the academic world. Gilks' role at the brand was to bring in young talent. As he searched for recent graduates from fashion schools worldwide, he also expanded his network into the fashion education sphere.
"[DVF] created a job for me which covered quite varied areas," he said. "She really valued education, and she really valued helping people and progression."
The connection with academia eventually landed Gilks a faculty role at the Rhode Island School of Design. From there, he was hired at Parsons School of Design.
"It's always been design, and it's always been education, back and forth," Gilks said of his career. "It's been an interesting dance."
Just as he did in London during the 1990s, since Gilks has arrived in San Francisco, he has been fully immersing himself. He said the Academy has been proven to have a strong team.
"There is a great team of directors here," he said. "One of the best I've seen."
School of Fashion faculty member Yuko Fujishima said she looks forward to working with Gilks and the new perspectives he brings.
"If you have a new wind—a new air—it brings new perspectives," she said. "Gilks is a new character in our family."
While keeping the career side of the fashion industry in mind, Gilks shared he is also a creative at heart. Both a teacher and an artistic soul, Gilks' teaching philosophy hinges on what he calls "authentic design"—creating work that is true to oneself—an ethos he has always promoted to his students. Simply put, he tells students to tap into their creativity.
"'Authenticity in design' gets bandied about a lot," he said. "But if you're investing blood, sweat, and tears, your time and energy into a creative pursuit, if you're not realizing why you're doing it and what it does for you, then it's never going to be as bold or as strong as it needs to be."