By Tyler Callister
The Academy of Art University's Graduation Fashion Show returned–with an in-person audience–on Thursday, May 12.
It was the university's first fashion show with an in-person audience in two years, set inside the St. Brigid Church on Van Ness Avenue in San Francisco. Students from the Academy's School of Fashion proudly showcased over 100 looks from graduate and undergraduate thesis collections from 2020, 2021, and 2022 hitting the runway during this year's show.
The work from students and recent alumni ranged from structured silhouettes and intricate knitwear to bold textiles and dramatic draping.
(L-R) Designs by Rebecca Fabrizio, Mingyang Zhang, Paloma Mora, Rashida Birdlong, Andrea Aunni Young, Allyn Mae Fox, and Domingo Cholula. Photos by Randy Brooke.
"This collection represents the talent, ingenuity, and focused perseverance of our students who pressed forward and accomplished their dreams," said Academy President Dr. Elisa Stephens in her introduction to the show. "Graduates, I commend you for rising above the many challenges and changes that the past two years have represented."
The audience, seated in rows of church pews, was comprised of Academy faculty, staff, students, friends and families of the featured student designers, and representatives from the fashion industry, including Vogue magazine. All looked on with admiration at the original and distinctive designs as the church's aisles transformed into a fashion catwalk.
(L-R) Designs by Xiaotian Travis Chen, Gabriela Weinkauf, Yeonsun Sunny Ju, Sadarryle Stephens, Milijana Delic, Serafina Levy, and Tianyu Candice Ji. Photos by Randy Brooke.
Fashion students inspired to "look within" during pandemic lockdowns
The 2022 Graduation Fashion Show was the culmination of years of work for students and faculty in the School of Fashion. Executive Director Simon Ungless explained that the lead-up to this moment did not come easily.
Students and faculty worked remotely throughout the pandemic, often not having access to proper studios. Access to materials and equipment was scarce, and students had to use their imaginations—and hand skills—to bring their designs to life.
(L-R) Designs by Nazanin Ramezani, Felicia Shania Dharmawan, Kathy Deng, Jaclyn Shahan, Margery Wang, Seth Russell, Daniel Kim, and Patricia Falowo. Photos by Randy Brooke.
"As much as it was a graduation show, it was a celebration of those designers who worked through the pandemic," Ungless said. "It was a thesis project, but I think it was much more personal to them in some way."
The pandemic shaped the look and aesthetic of this year's fashion show, Ungless said. Working on their own inspired some of the students' most personal designs.
"The pandemic created a lot of people working in isolation, and I think it created an opportunity for many of our students to look within themselves," said Ungless. "The inspiration starting points were coming from a much more personal experience… They weren't looking outwardly, they were looking inwardly… It was much more of a slowdown and looking back towards their skills and their inward essence."
(L-R) Designs by Yuli Lee, Blaici Xiong, Wangyujing Zhang, Keer Ivy Chen, Yiran Mia Cong, Cory Lin, and Yachen Xie x Voonbin Shine Leow. Photos by Randy Brooke.
Giles Deacon receives honorary doctorate
In addition to seeing top design work walk the runway, famed fashion designer Giles Deacon was in attendance that evening to receive an honorary doctorate from the Academy.
Based in London, Deacon is known for his work with the New York Ballet, Lionsgate Films, and Fox Searchlight Pictures. His clients have included celebrities like Scarlett Johansson, Cate Blanchett, Kerry Washington, and Pippa Middleton.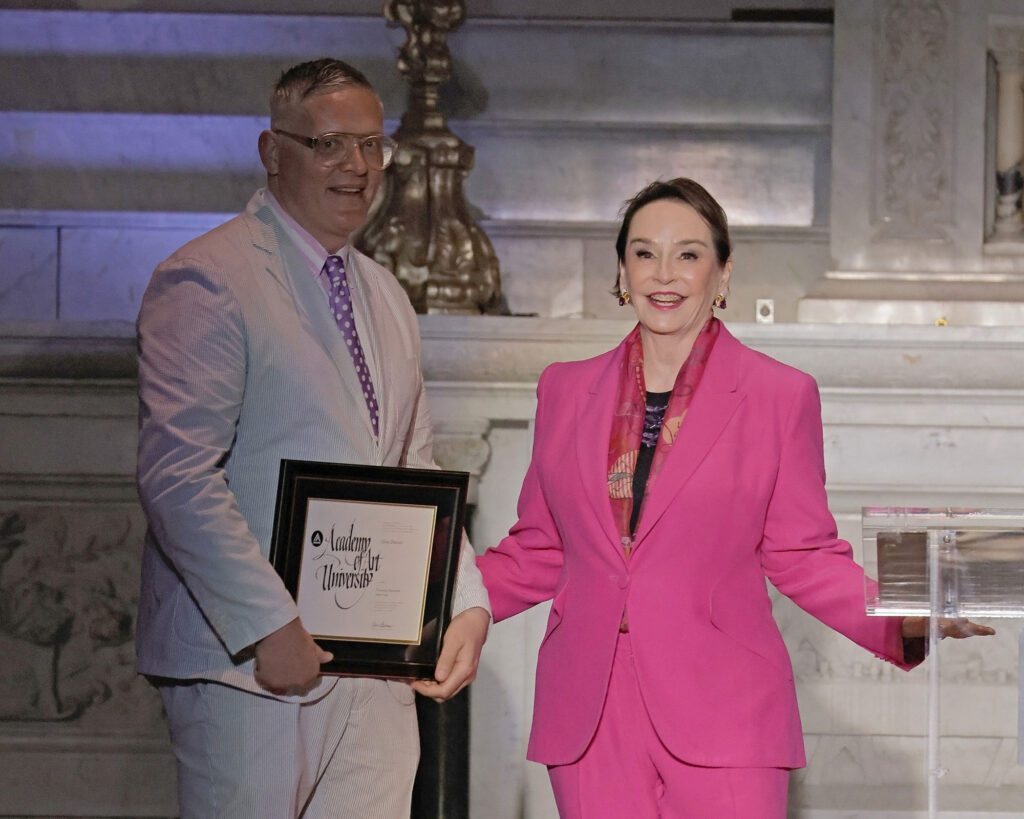 Humbled by the recognition, Deacon was quick to take attention off himself and direct it toward the students and staff of the Academy.
"It's a real pleasure to be here in San Francisco after all of us experienced such unusual periods of time, to travel and be in-person, and experience the world and the creative force that is going to be unleashed upon us within this beautiful setting," said Deacon during his speech. "The students have done phenomenal work under circumstances which we're all aware of. And I think the staff and faculty have done a brilliant job getting the work [to] the standard it is."
A lasting legacy
For Ungless, this year's fashion show had special significance, as it was his last Graduation Fashion Show at the Academy.
Ungless stepped down from his position at the end of the spring semester, marking the end of an incredible 26-year tenure at the Academy.
When Ungless arrived at the Academy in 1996, the School of Fashion was the smallest of the university's academic departments. Two decades later, it would become the Academy's largest—and one of the most sought-after fashion schools globally.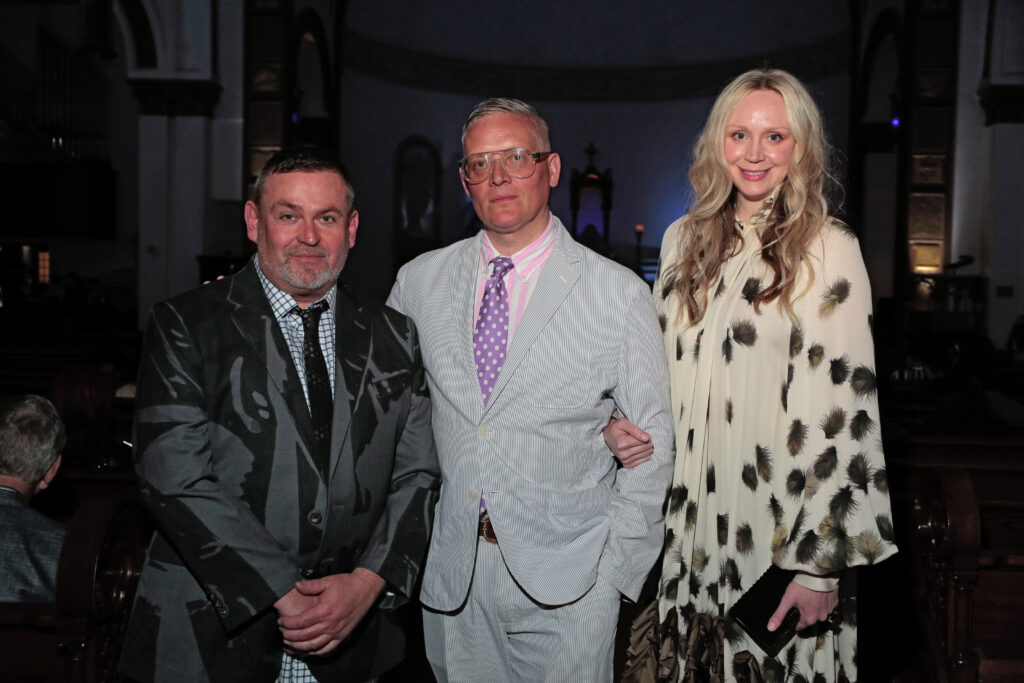 Initially, Ungless was asked by former School of Fashion Director Gladys Perint Palmer to come to San Francisco and help the fledgling fashion school for just a few months.

"I had a plan to be here for three months and be back [in Paris] in time for Fashion Week," Ungless said in his honorary doctorate speech at the Academy's Spring 2017 Commencement ceremony. "Twenty-one years later, I'm still planning on being back for Fashion Week."
In 2022, with his teaching career at the Academy coming to a close after having successfully navigated his department and students during the pandemic, he said this year's Graduation Fashion Show was the perfect finale.
"It's been a good ride," said Ungless.
---
Art U News would like to commend each of the designers whose hard work and dedication walked the runway in this year's Graduation Fashion Show.
B.F.A.: Felicia Shania Dharmawan, Keer "Ivy" Chen, Paloma Mora, Zhang Wangyujing, Seth Russell, Cory Lin, Yuli Lee, Yachen Xie, Voonbin "Shine" Leow, Tianyu "Candice" Ji, Yu "Kathy" Deng, Yeonsun "Sunny" Ju, Serafina Levy, Margery Wang, Xiaotian "Travis" Chen, Yiran "Mia" Cong, Daniel Kim, Domingo Cholula, Allyn Mae Fox, Blai Ci Xiong, Rashida Birdlong
M.F.A.: Andrea Aunni Young, Sadarryle Stephens, Mingyang Zhang, Milijana Delic, Zazanin Ramezani, Rebecca Fabrizio, Patricia Falowo, Jaclyn Shahan, Gabriella Weinkauf