By Tyler Callister
On Tuesday, May 17, Academy of Art University opened the doors to the historic Cannery building for an in-person return to celebrate their students at Spring Show 2022. Located at San Francisco's Fisherman's Wharf, the annual event—presented for the first time in a hybrid format—featured stellar work from across 20-plus majors.
"I always think that the Spring Show is the greatest museum of modern art there is," said School of Communications & Media Technologies Director Steve Kotton. "You have this phenomenal work from all the different departments. You see what contemporary art is all about through the eyes of our students."
This year's Spring Show returned to The Cannery after previously being held at 2225 Jerrold in recent years before moving online in 2020 and 2021. With multiple rooms at the academic departments' disposal, directors curated in a way that accentuated their students' work while making the most of their respective spaces.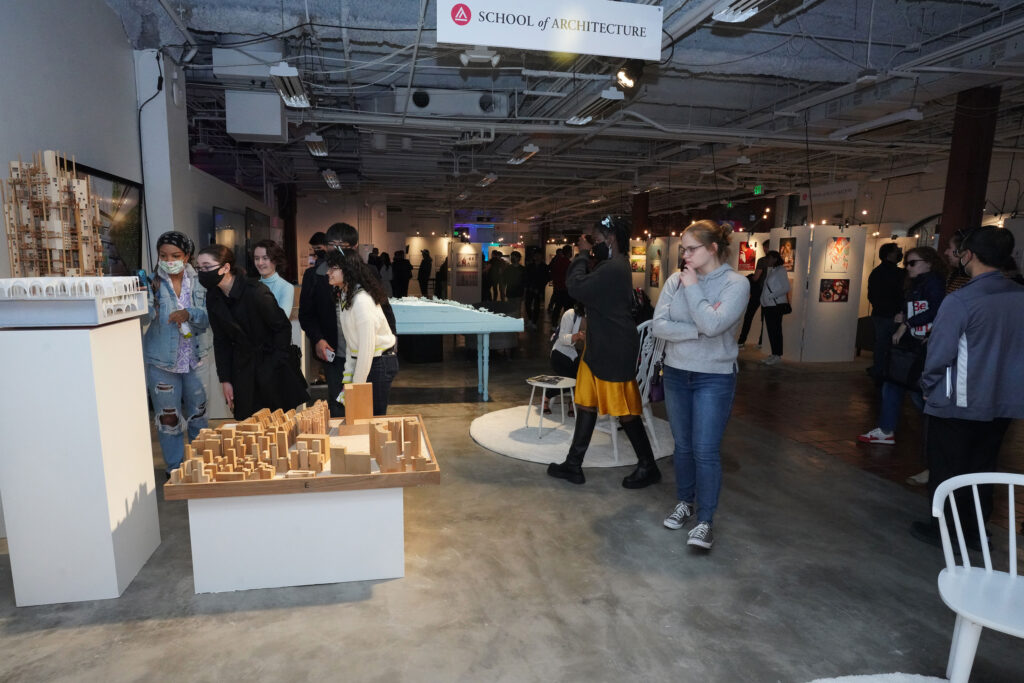 "I used more wall space, more mannequins, and fewer display cases than in the past," said School of Jewelry & Metal Arts Director Charlene Modena. "This allowed for flexibility in space design, an easier traffic flow, and took advantage of the natural light and huge windows."
Across the way, in another building, a selection of designs that recently walked the runway at the School of Fashion's Graduation Fashion Show greeted attendees. Lining the hallway entrance, the garments provided an opportunity for interested parties to take in the skill of the department's fashion design, textile design, and knitwear students up close.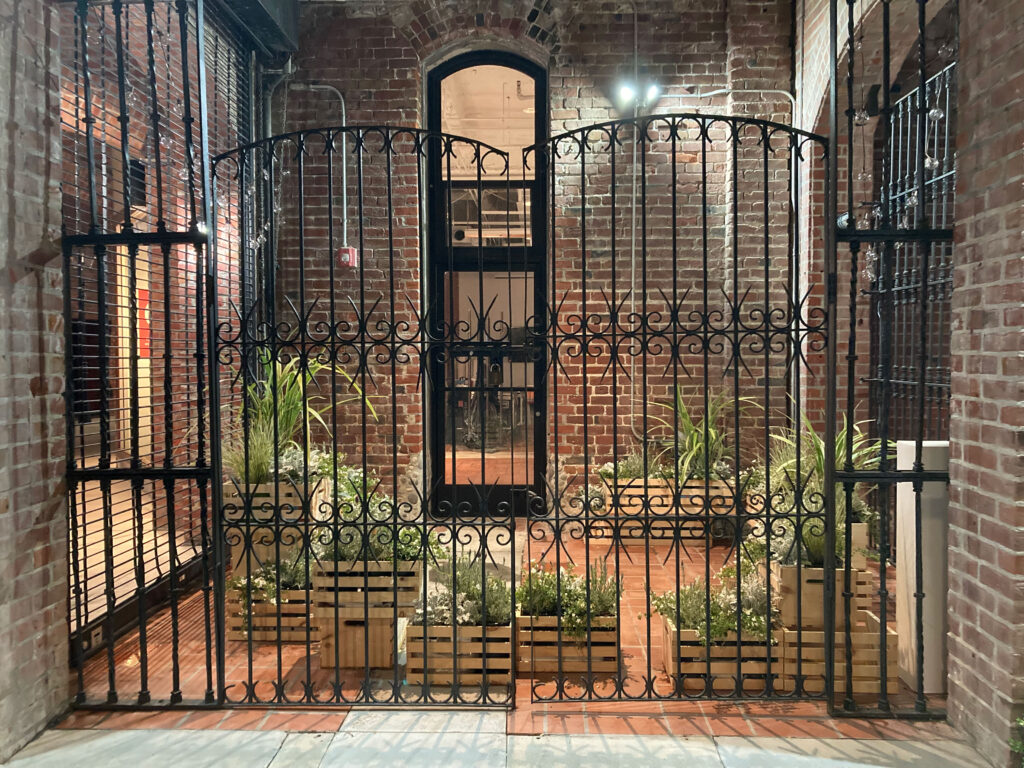 Attendees at the Spring Show could also immerse themselves in several art galleries—from the Schools of Fine Art (FA), Illustration (ILL), Photography (PH), and Visual Development (VIS), which all used their respective spaces to create an intimate gallery feel.
"The scale of the exhibit was excellent—not too overwhelming—and offered the casual visitor an excellent view of what Academy of Art University is all about," said School of Landscape Architecture (LAN) Director Heather Clendenin.
LAN featured their students' best work at Spring Show with a gallery of design concepts. The department showed a unique series of renderings that displayed student ideas for sustainable neighborhood parks, private residence gardens, and historic Bay Area sites.
Additionally, LAN was responsible for designing a small outdoor area that was placed adjacent to their display. Dubbed "The Cage," the project was the result of a week-long design charrette.
Getting interactive
One of the many highlights of Spring Show is the opportunity for the public to come in and interact with the art and projects on display. And this year, several departments' displays were created with this in mind.
The School of Music Production & Sound Design for Visual Media's (MUS) setup included four TV screens featuring music and sound effects from their students. Attendees could put on headphones to immerse themselves in the works that MUS students created for film, TV, and commercial projects.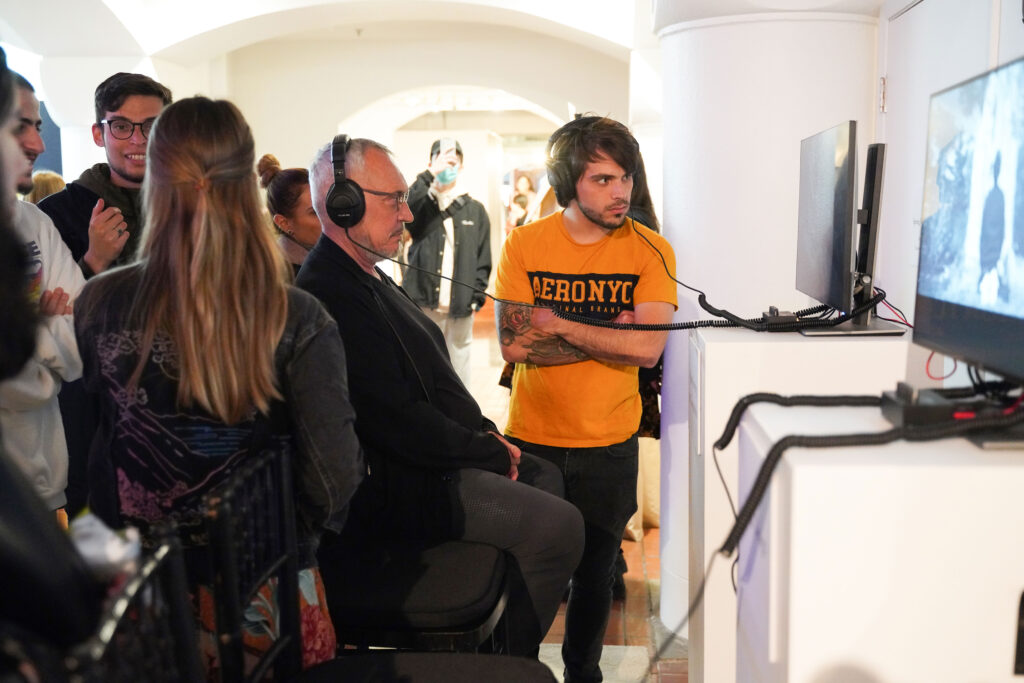 Likewise, the School of Game Development (GAM) had TV screens displaying work from students, including concept art and 3-D modeling. In addition, they had a mini-arcade for attendees to play video games created by GAM students.
The arcade contained four computers rotating 14 different games developed by students in the spring. "Stormrise," created by student Joe Fore, features a mysterious traveler who arrives on an island to help local villagers after a terrible storm. In "WickHopper," by student Justin Miller, players become a flame trying to hop on burnable objects and avoid being snuffed out by a damp underground environment.
"We have the full games that were made in our collaborative class," said GAM Director Brian Hess. "All those games are probably the most polished games that we've ever made." In a special industry collaboration, Hess shared that two of this year's games were made in conjunction with NASA. One of the games, "Astrobee," is a kid's game featuring a robot that flies around a NASA space station solving puzzles.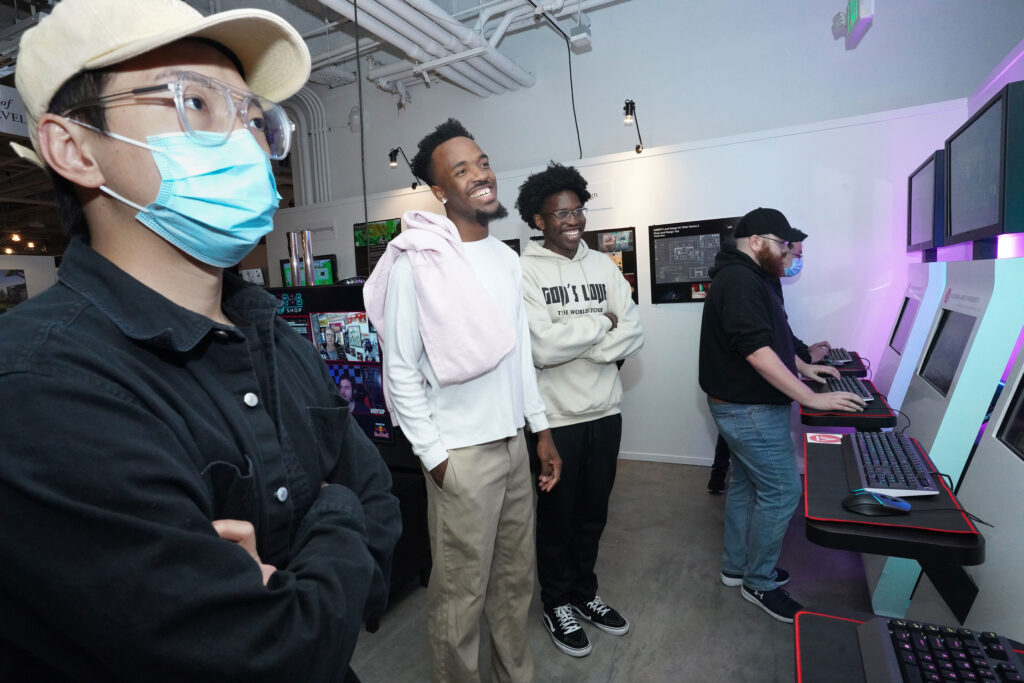 "It was a really cool collaboration," said Hess.
The other games included represented a wide range of themes and styles: "Sin Slayer" by Jiaming Yuan, "Fertile Land" by Renwei Wu, "PongKnight" by Patrick Pepito, "InkWell" and "Nightmare Delivery" by Justin Miller, "UpHill" by Fenix King, "Only Us" by Jacob Hebert, "Dark Fort" by Shanshan Jin, "Desync" by Tianzhi Shen, "R.U.P.P.E.R.T" by Aeden Buck, "Crypt Walker" by Daniel Vogt, and "Hickory" by Brendan Reilly.
Additionally, the School of Animation & Visual Effects (ANM) had three monitors playing their department's best student work in 2-D animation, 3-D animation, and visual effects. In a nearby room, ANM set up a small movie theater that played an hour's worth of short films from their students, as well as a recording of this year's ANM Spring Awards.
Gravity Sketch collaboration
During the opening afternoon at Spring Show, attendees filled one of the upstairs spaces where students from the School of Industrial Design (IND) were holding court as they presented design ideas ranging from augmented reality interactions to elaborate tech suits that track biometric data.
IND Director Antonio Borja explained that his department holds Spring Show workshops in the run-up to presentations, where students receive feedback from their instructors.
"We work on being able to tell a clear design narrative for how they came up with their idea and how their solutions are different or better than the other solutions in the marketplace," he said. "We like to call it 'Shark Tank training.' We train them to give us their pitch, make us care about it, show us how, and show us why it's important."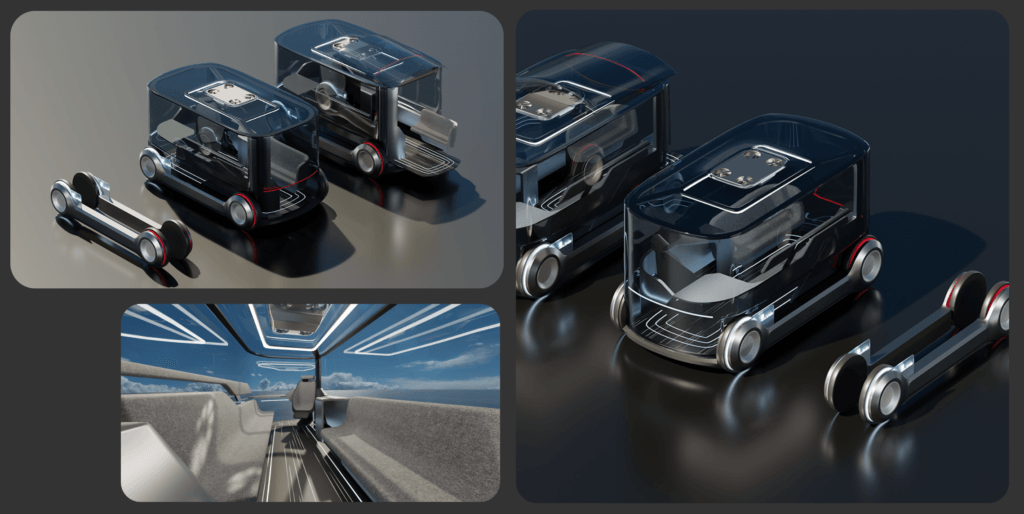 This year's presentation featured a collaboration with 3-D design and modeling software company Gravity Sketch. Using metaverse and virtual reality, IND students donned VR goggles and controllers during their presentations to present and explain the ideas behind their designs.
The teams presented their final projects in the metaverse using Spatial.io.
The concept "Air Shield" was presented by IND student Danny Kim. The design project was inspired by responses to the COVID-19 pandemic.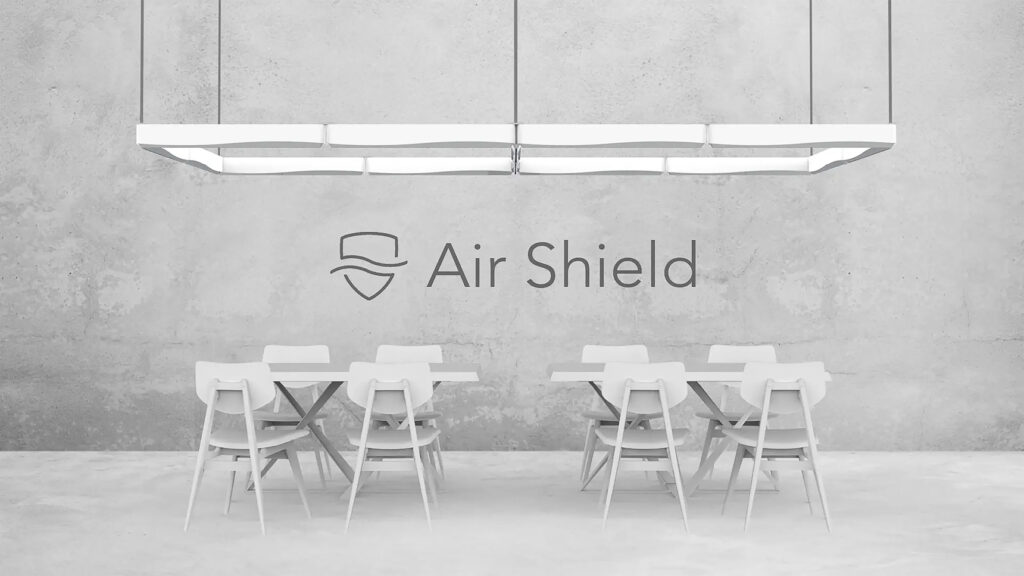 "The Air Shield is a device for restaurants and cafés that protects people from airborne particulates and diseases," Kim explained.
Other projects represented a diverse range of student ideas for products of the future. M.A. student Alex Cordeiro Neto presented his "Wellness Assistance Device"—a wearable device that tracks biometrics during exercise. B.F.A. student Cedric Le presented a car design for a new Chevrolet Corvette, and B.F.A. student I-Hsiang Tseng introduced a futuristic playground that converts children's energy into electricity.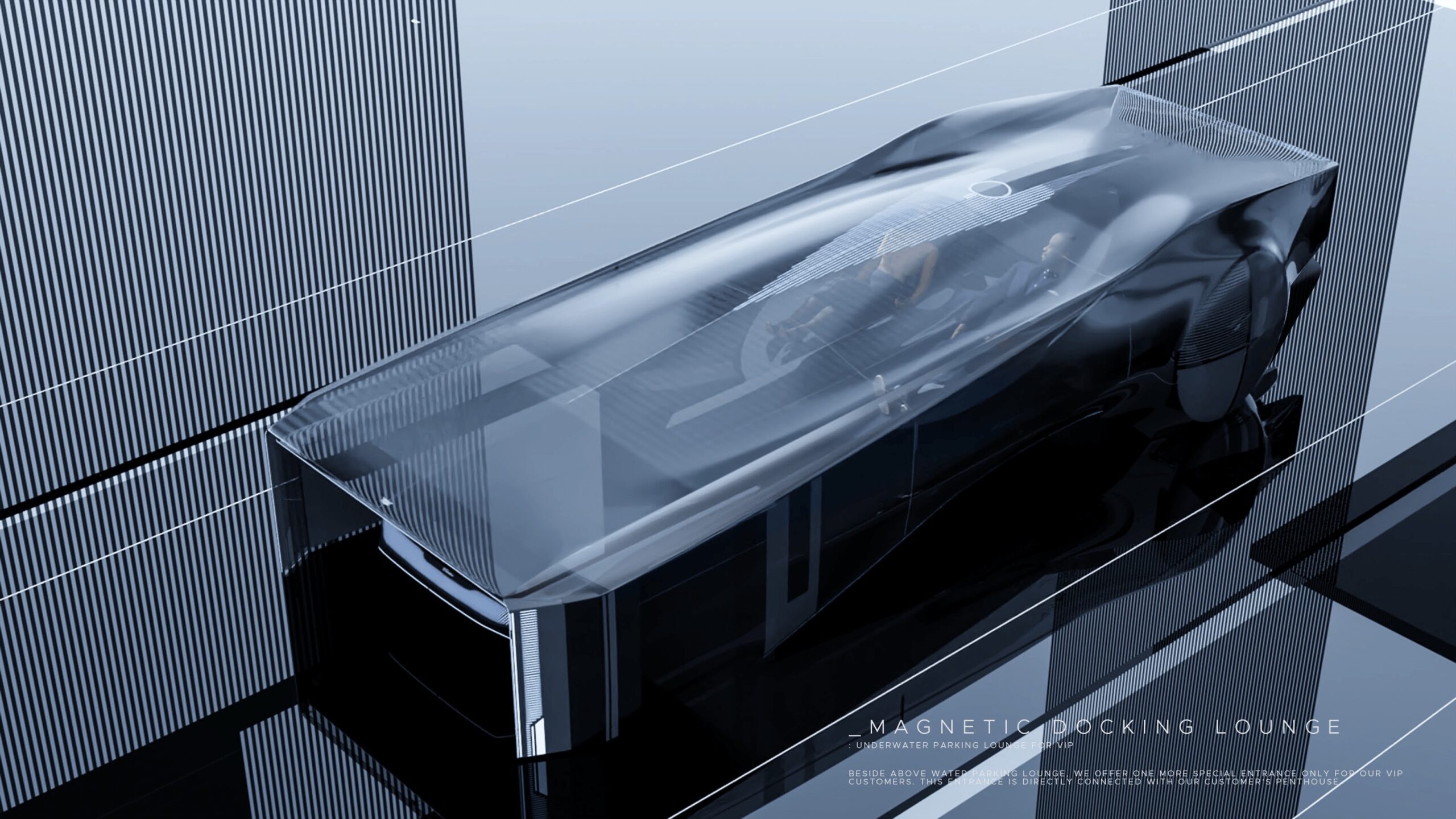 Two concept models from the Academy and General Motors collaboration were also presented: the Cadillac Axon and Cadillac Halioi. The design student for the Cadillac Halioi, Dong Joo Kim, and the student modeler, Jenner Poulsen, were both hired by General Motors.
Going live
Also making a splash this year was COM's live trivia game show, "Zoomdiggity."
Hosted during the evening, the trivia game show was professionally live-streamed right in the middle of the Spring Show action. While the show was directed, hosted, and produced by COM students—including M.A. students Vince Lontz and Ryan Gamboa and B.A. students Ella Lynn-Browne, Jesus Hernandez, Julia Ortega, and Nicole Shiau—attendees were brought on as contestants.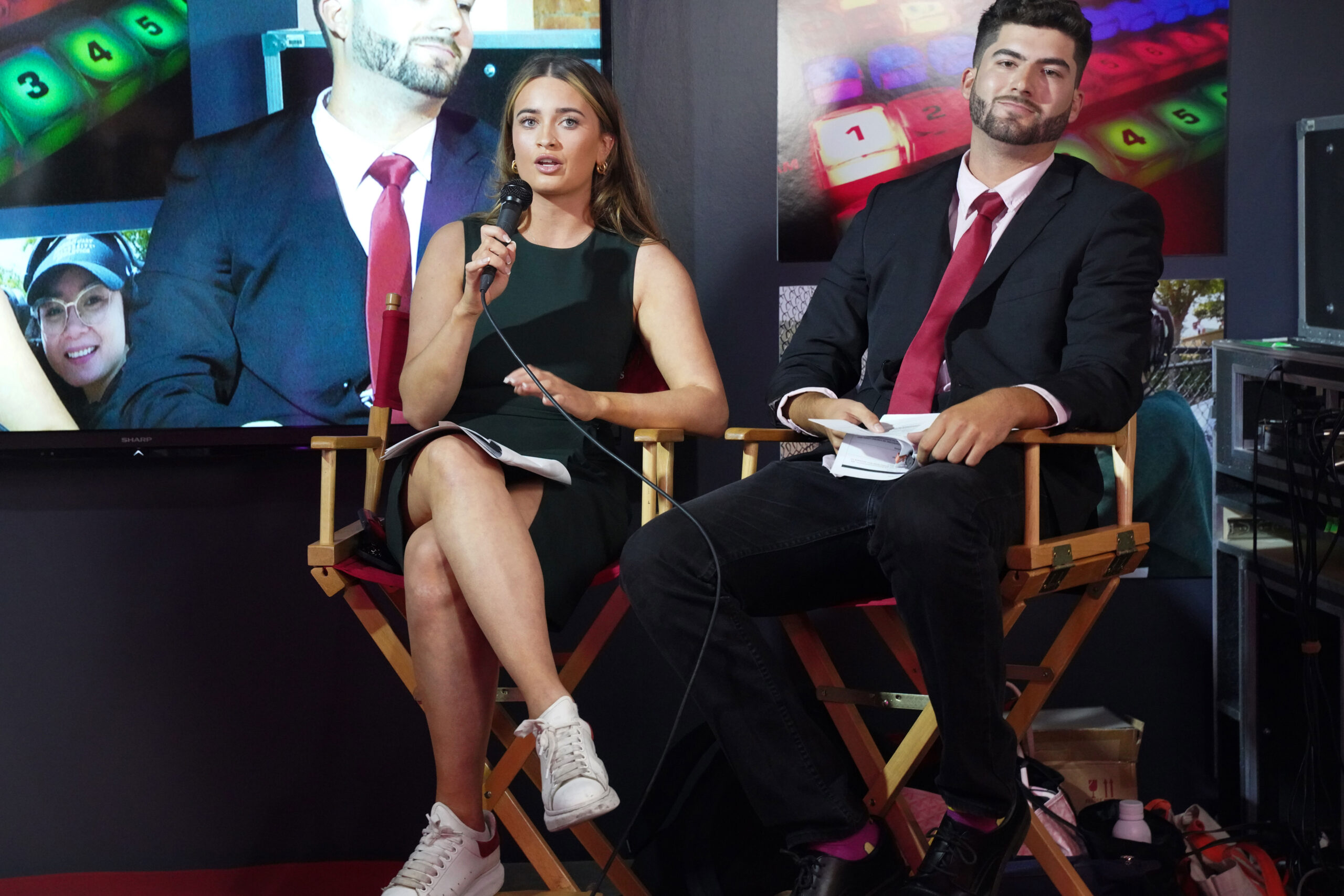 Kotton explained that the game show is part of the school's popular COM 400 class, which takes students through the whole process of creating and producing a real game show.
"It's a really good experience; it gives them a chance to create a show from the ground up," said Kotton. "We spend about a month of the semester designing the show, and for the rest of the semester, they perform the show."
Networking with industry
Students connecting with industry is a priority of Spring Show, and this year was no different.
To prepare, departments worked closely with their students on their portfolios and networking skills.
"Most students are really nervous," said Hess. "What we try to instill is that industry reps are just people. They've just been doing it longer. That's the only difference between the students and the industry people."
School of Graphic Design (GR) Director Phil Hamlett said that faculty members were right there guiding students through their interviews with industry representatives onsite at Spring Show.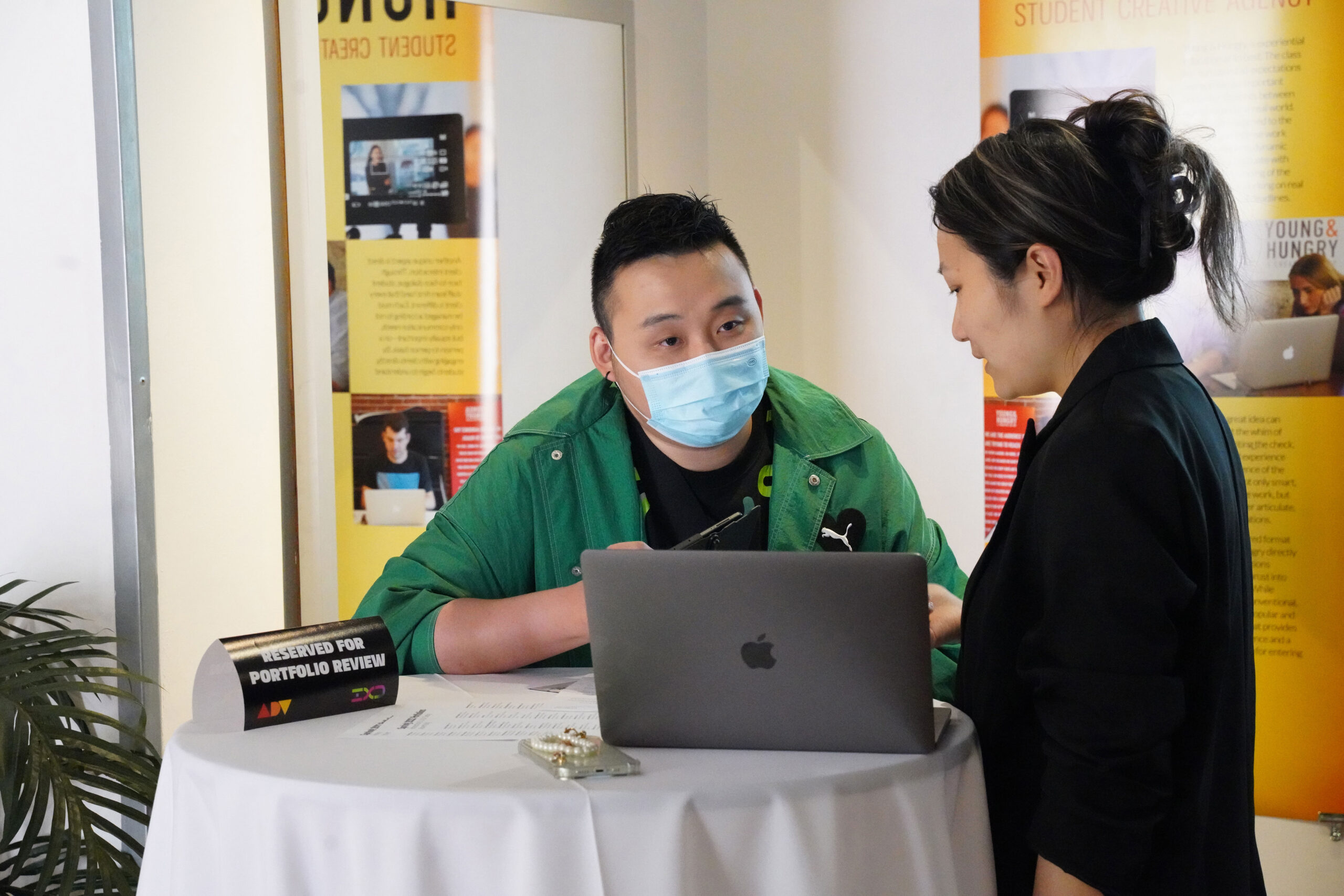 "We get to hear what they are saying for themselves and interject and help them with their responses," said Hamlett.
The GR Director shared that this year's Spring Show represented what his department hopes to do—transition students to jobs and reduce their nervousness about meeting with industry guests.
"Some students make connections at the show that actually turn into job prospects," said Hamlett. "And all students make connections that get them started in the networking process, securing business cards, and getting referrals. The overall effect is that interviewing becomes a happy thing, not something to be feared."
The venue itself provided more opportunities to connect with industry guests as well as the Academy community. Modena noted that the outdoor courtyard at the Cannery was a strong asset for networking.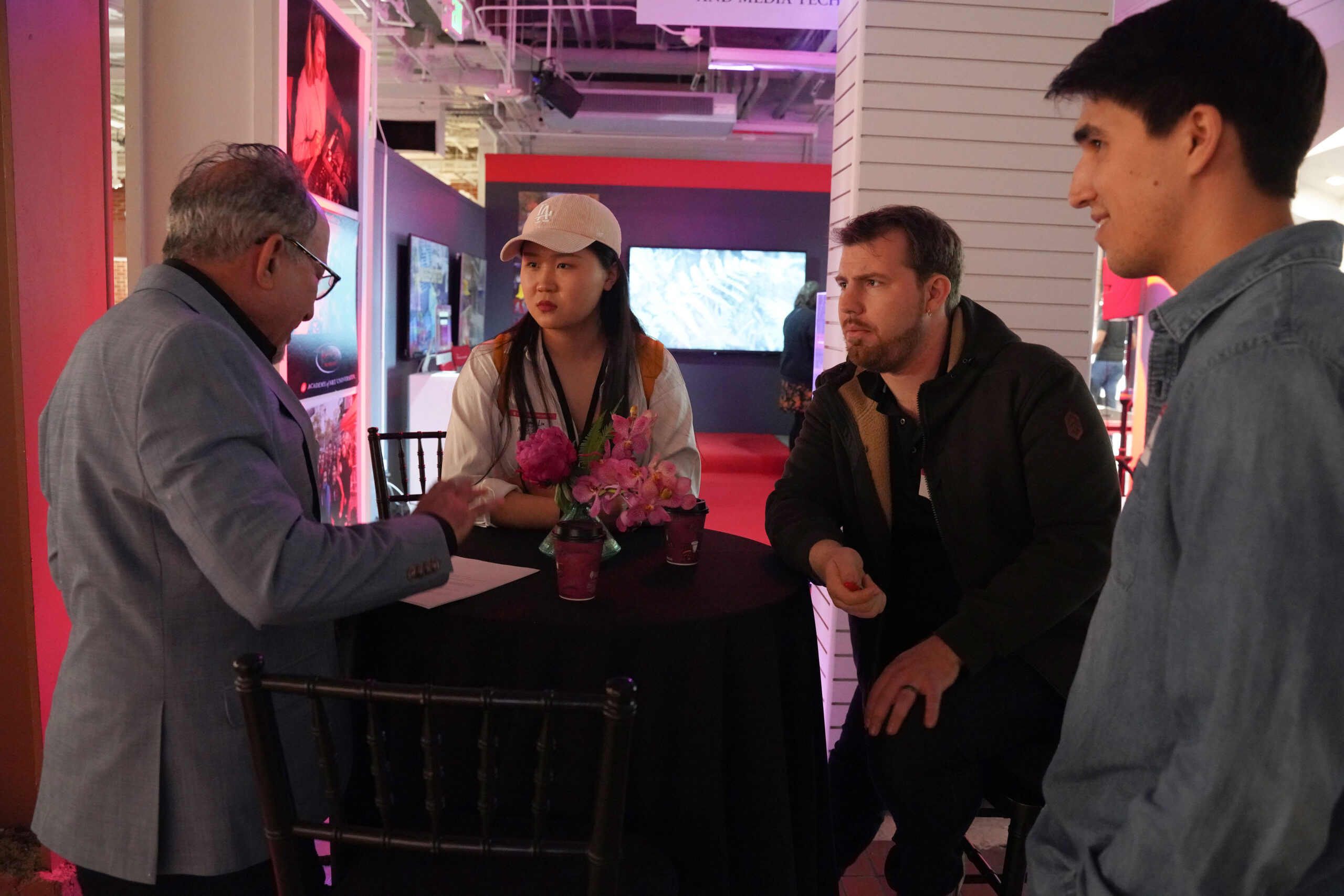 "The access to inside and outside spaces created energetic dialogue and interaction between all the departments," she said. "Having a space to sit outside and talk and meet was a huge plus."
Back together again
In addition to celebrating students' work, many in attendance mentioned that this year's Spring Show held special personal significance due to the COVID-19 pandemic.
"Spring Show is a celebration of the Academy of Art University, " said Academy President Dr. Elisa Stephens. "It's more than just a showcase of our students' journeys through their craft; it's a glimpse of the next generation of artists and designers. Students from around the world are represented with work created both virtually and on campus. After COVID lockdowns, to be back in person makes this year's Spring Show an event to remember."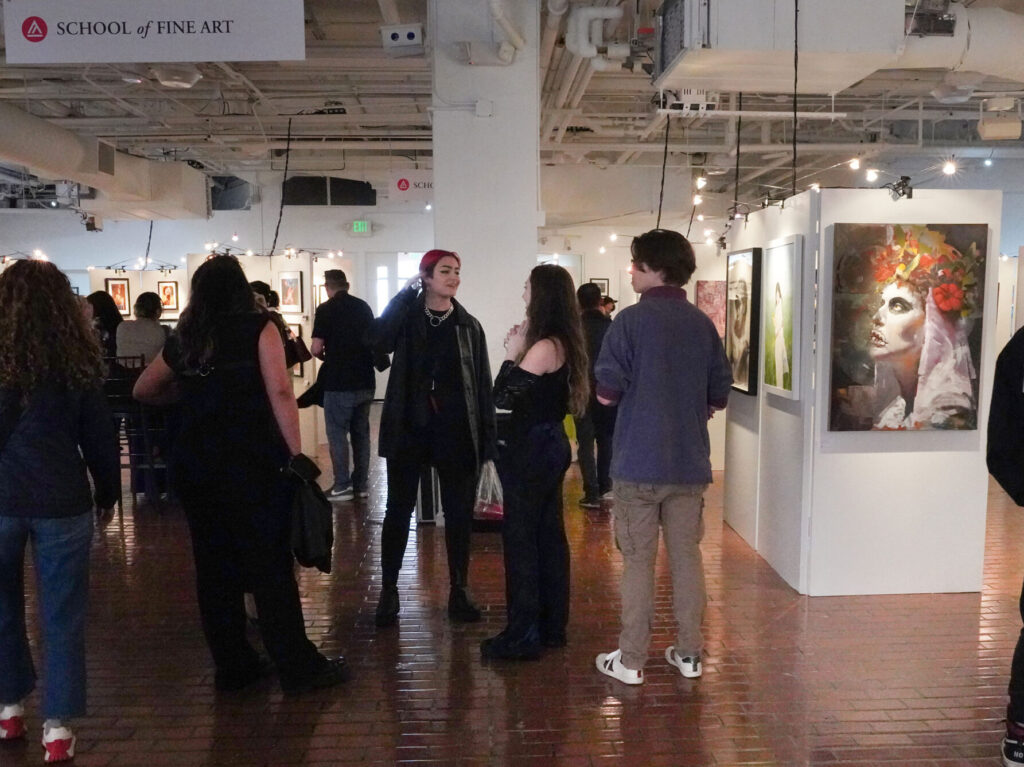 M.F.A. ANM student Tiying Zhao, who completed her degree in the spring, said that she moved to the U.S. from China to study at the Academy right as the pandemic started. Though she missed her friends in animation while doing online learning, reuniting at Spring Show was a highlight.
"I'm happy this spring we got to see each other," Zhao said.