By Caroline Andrade

For fans of "The Terminator," the character of Sarah Connor played by actress Linda Hamilton over the years is nothing short of iconic. It's no wonder that Sarah Connor forms an incredible basis for artists who enjoy creating their own personal interpretation of the character, from casual sketching to full-blown murals.

One such artist is Eddie Colla, whose tremendously sized mural of Sarah Connor—who is featured in the latest installment of "The Terminator" film franchise, "Terminator: Dark Fate,"—graces the northwest corner of Union Square in San Francisco on Post and Powell streets. "When I was young, I never would have thought that 30-something years later, I'll probably make a living as an artist doing these things," said Colla, who spoke with Academy Art U News by phone. "To that extent, it's kind of fun; like, life's funny just the way things work out."

Colla, a famed street artist and designer, whose work has been covered by the New York Times, the Chicago Tribune and the Huffington Post, shared that he grew up watching "The Terminator" movies and was a big fan of Hamilton following the release of the two original films. "I would say 90% of the reason I decided to do [the mural] was because of Linda Hamilton," shared Colla, laughing.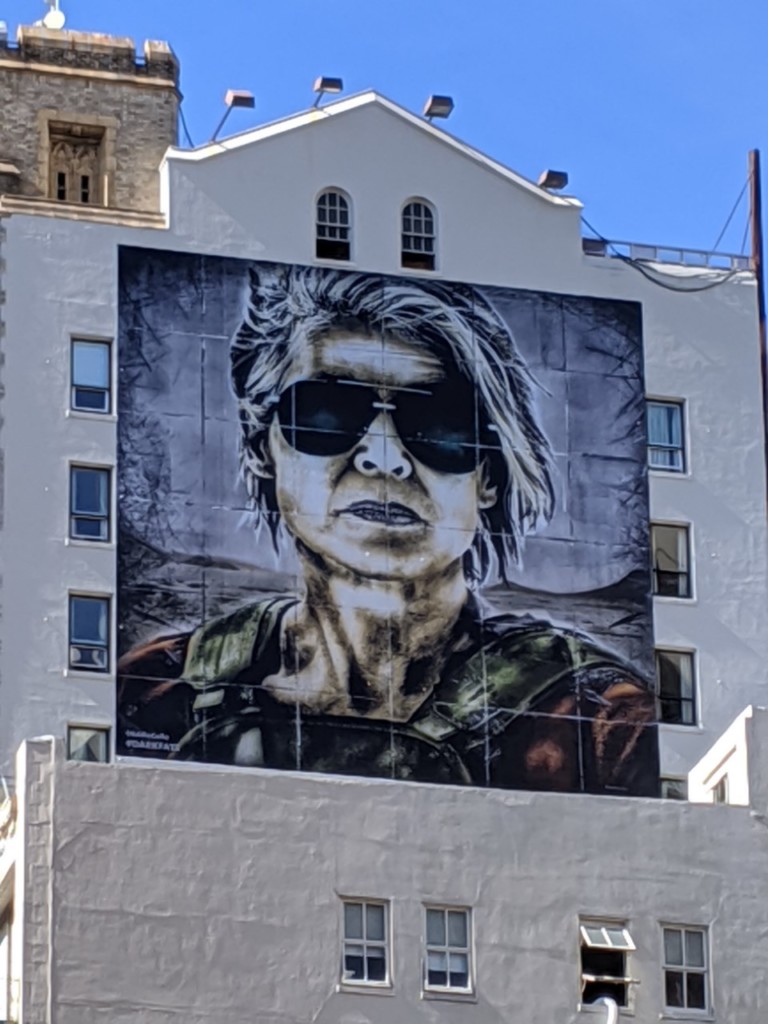 Colla's Sarah Connor mural was commissioned by Impermanent Art, an agency he had previously worked with, in collaboration with Paramount Pictures as part of the promotion for "Terminator: Dark Fate." Colla explained that he created the mural in his studio within a span of three days. The piece was partially an image transfer and was painted primarily using both acrylic and aerosol paint.

As the movie had not yet been released during the planning of the mural, Colla's source material consisted of stills from the film.
"I had no idea what it would look like and what the characters would look like. So, I took a couple of [the photos] and played around with different compositions," said Colla, adding that he sent four or five sketches/mock-ups to Impermanent Art who then submitted his work to Paramount Pictures for selection. "Paramount picked the one they liked, and from there, I went and made the final piece," he said.

The process was "pretty straightforward," according to Colla, as he already had a mock-up of the composition and knew what the color pallet would be.

Usually for larger murals, Colla prepares ahead of time by scouting the location and getting measurements and creating something specifically for that space. "Other times, it's not necessarily what happens," he admitted. "I'll have pieces that are sort of ready and pieces I want to do, and I'll just sort of wander around whichever city I am in and find places to put them and do it very sort of impromptu without much planning."
He advises students with an affinity for street art to just get out there and do it as much as possible. "Every time you go out, put something up and keep working; you'll learn something depending on what your process is. [For] most people, it's just like anything, the more you do it, the better you get at it," he said, adding, "The most important thing for any artist is to just keep working, even if you are making a work that's terrible, just keep going. That's the only way you get past the terrible part."
For more information on Eddie Colla, please visit www.eddiecolla.com. | "Terminator: Dark Fate" is now playing in theaters.