By J. Elliott Mendez
"I thought, 'Let me make something that I can use to be the voice of my people.'"
Azita Mireshghi is an artist and metalsmith. She's also an alumna of Academy of Art University who earned her M.F.A. from the School of Jewelry & Metal Arts (JEM) in 2016. Her latest work uses the unique design of a wearable piece of jewelry to combine art with political activism and bring the broader public into this present moment of the uprising for the Iranian people.
It's called "The Unity Cuff." Mireshghi describes it as "the Iranian superhero's cuff—and she's a woman."
In 2022, the death of a Kurdish Iranian woman, Mahsa Amini, while in the custody of Iran's morality police triggered what the BBC has since called "the longest-running anti-government protests in Iran since the 1979 Islamic revolution."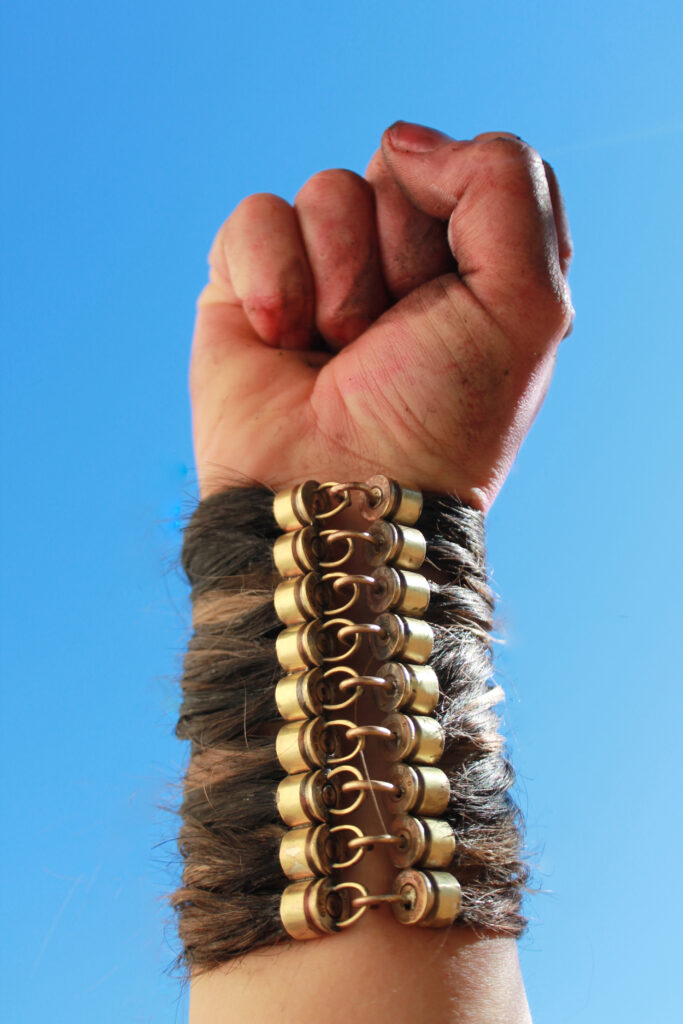 "Being an Iranian who lives in the U.S., I definitely have a level of privilege that people who are living in Iran don't have," Mireshghi said. "Iranians can't leave Iran; they don't have the financial resources, and most countries don't want to give Iranians visas for travel, let alone to live there. So, it [got] to this point where protesting wasn't enough for me. Protesting and educating myself is really the bare minimum an Iranian living outside of Iran can do."
Her piece, "The Unity Cuff," made of real women's hair and bullet casings, involved the painstaking process of cleaning, cutting, and soldering various parts of the bullet and weaving hair donated by women of varying backgrounds united in solidarity with the women of Iran. It's a moving endeavor that can be seen in a YouTube video titled "The Force of Unity." Mireshghi's labor is underscored by a galvanizing poem and accompanied by videos of women taking all manner of shears to their locks while reciting versions of the mantra Iranian protestors would shout—"Women, life, freedom."
"From a highly personal vantage point of sociopolitical challenges, Azita's work continues to search and inform," said JEM Director Charlene Modena. "Her work holds hands with many contemporary Iranian artists, who are using their art to stand up to painful daily events, to remove archaic stereotypes, and with hopes of establishing progressive discourse."
With this work, Mireshghi reached back to her time at the Academy, drawing on her experience crafting her M.F.A. thesis, "Nature as Empowerment," in which she focused on how jewelry causes emotional reactions by donning it, causing its wearer to feel confident or powerful. In that project, she studied animals in nature for design inspiration and tribal adornment for an understanding of how jewelry can be embodied with meaning beyond its attractiveness.
There's another reason, however, that imbues this piece with particular significance. To understand that, we have to go back just over a year ago.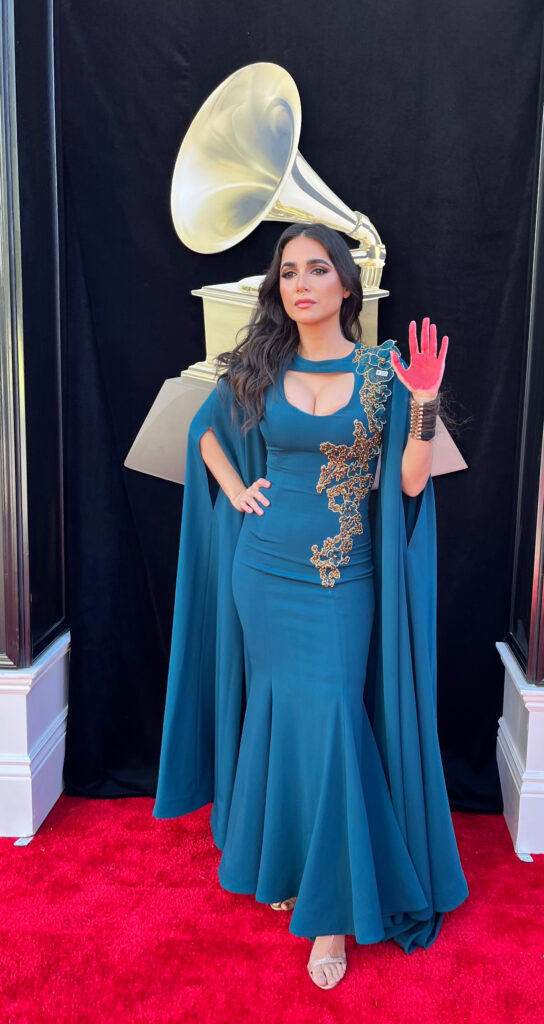 Art U News previously interviewed Mireshghi about her collection "Sublimation." Two very important things happened in her life between "Sublimation" and "The Unity Cuff" that propelled her into this moment. One was the Iranian protest that would begin in September of 2022. The other was something just as personal but a bit closer to home.
"As artists, our art can really come in waves," she said. "Now I'm at a point in my life where my art is a huge priority to me. It's not just something that I do on the side. It's something that I prioritize, and that's because of changes that [have] happened in my life. The only person I felt was my supporter in my family was my dad. [He] passed away, and something inside me [said], 'I need to not disappoint him.'"
Mireshghi's father passed in February of 2022, seven months before the tragic events that would galvanize the country in which he lived to action no matter the cost. Mireshghi went back to Iran for her father's funeral, and that was the last time she set foot on Iranian soil. Her father loved his country and loved whenever his daughter would take an interest in its various political movements.
Though she has had a love/hate relationship with the country due to its oppression of women, Mireshghi lamented the thought that she would likely never be able to return to Iran unless there is a complete regime change because it is just too dangerous for anyone who has spoken out. As one might expect, Mireshghi was, and continues to be, quite outspoken about the need for change. Still, even in the U.S., the threat of what can happen to supporters of the protests looms.
"I have started having recurring nightmares of having to go back to Iran and being stuck there or arrested there," she said. "It's something that is always there."
Mireshghi wanted to create a piece of jewelry that not only makes a statement, but that makes you stop and look and listen. She created "The Unity Cuff" to be a jumping-off point for people to learn and engage. She doesn't care if the public knows her name or if they know she made it—she did it for the people.
"Whatever they want to learn from that, whatever journey they want to take about understanding what's happening, that's the basic goal," she explained. "That piece is not about me. I don't care if anybody knows that I even made that piece. That piece is me trying to be of service to the Iranian people."