By Isabella Cook
Buongiorno, studenti!
For the first time in Academy of Art University history, the School of Fashion (FSH) will be headed abroad to Florence, Italy, joining the Schools of Fine Art, Architecture, Photography, and Illustration. From June 26 to August 12, Academy students will experience seven weeks of education and immersion in the fashion-forward city as part of the Study Abroad: Fashion in Florence, Italy program and earn six units toward their degree. Students of all majors are welcome to apply. (Please note: the Study Abroad: Fashion in Florence, Italy program is full for Summer 2023.)
"[Study Abroad] is all about expanding our students' industry awareness," explained FSH Online Director Iliana Ricketts. "This year, we decided to open this program up to School of Fashion students because we saw this as a great opportunity to expose them to the fashion industry in Italy and tailor the program to their area of study."
Since before the early days of the Renaissance era, Italy had already established itself as a leader in fashion, fabric, and finely-tailored fashion and costume craftsmanship. From medieval textile production of velvets, wools, and silks through the artistic and cultural explosion of the Renaissance (which brought even more extravagance to an already lavish industry), Italy's place of power in the fashion world is indisputable.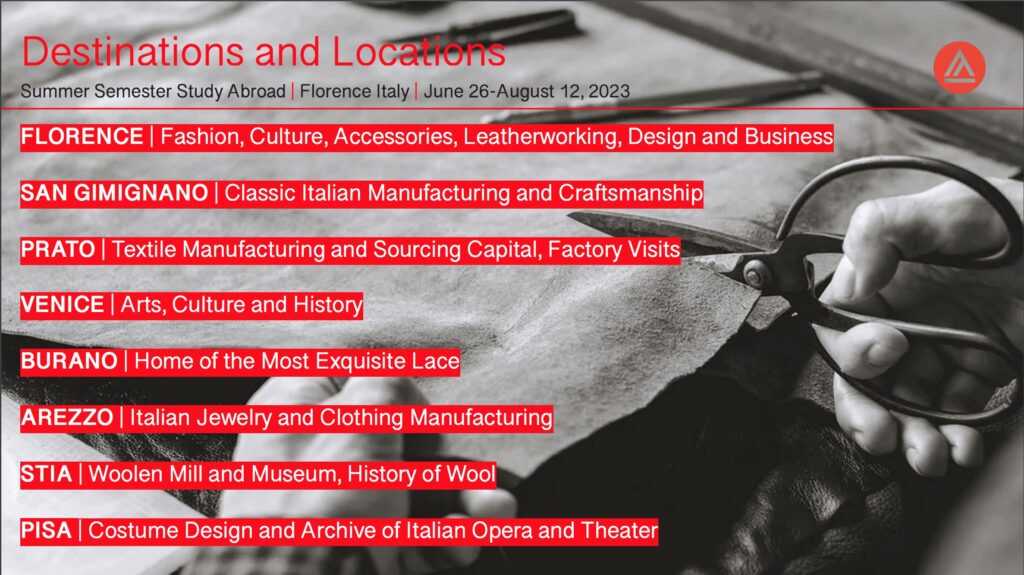 "There's a very specific kind of understated luxury and modernism to Italian fashion," explained Ricketts. "The Italians are very well-known for their exquisite tailoring, beautiful high-quality fabrics, accessories, and ready-to-wear market. And they're renowned for their quality of manufacturing. It's a great space for our students to learn."
While in Italy, students will have the opportunity to learn from the full spectrum of Italian manufacturing, with lessons in every imaginable facet of Florentine fashion—from lace to leather, hands-on fashion design to the back end of business and marketing, and from woolen mills to high fashion exhibits and trade shows.
"[Florence] is a place with a rich history of leatherwork and accessory-making, among other things," added Ricketts. "Since materials are the cornerstone of fashion, and this is where the high-quality materials are produced, the trip is about more than just looking at the final outcome—it's looking at the inner workings of the industry as a whole."
Students will be based in Florence; however, the program includes trips to other Italian cities, including Arezzo, Burano, Venice, Pisa, Prato, San Gimignano, and Stia. Each city will offer a unique experience to learn invaluable skills and insights from industry experts, museums, factories, archives, fashion and trade shows, and more.
While the program is open to all majors, each student's coursework and final project will vary to reflect their course of study. Regardless, all students in the program will participate in the same trips and lessons.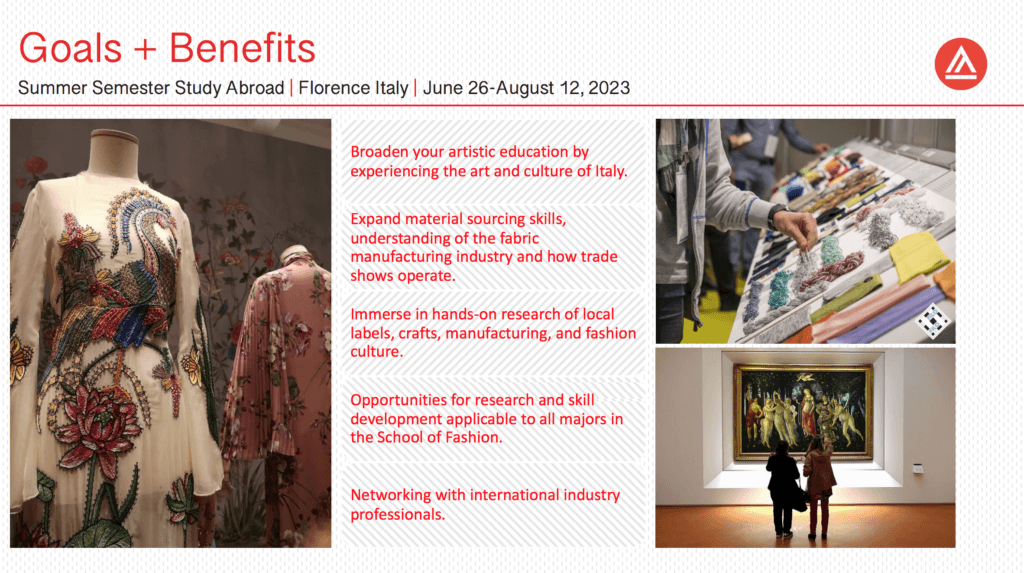 "The students are taking, in essence, two classes and, within the guidelines of the program, each of our program leads will give specific project briefs to their students," explained Ricketts. "The marketing student will get a marketing project brief, same for textile students, and so on. So everyone will attend the same locations, but the final assignments and products will vary depending on their area of study."
The Academy's Study Abroad program is open to any sophomore, junior, or senior students enrolled in a B.F.A., M.A., or M.F.A. program. The program is also available to personal enrichment students. As mentioned before, the Study Abroad: Fashion in Florence, Italy program lets students earn six units of credit toward their degree. The distribution of these units, and any other queries, should be discussed with an academic advisor.
The Study Abroad: Fashion in Florence, Italy program for Summer 2023 roster is currently full, but students are welcome to join the waitlist. Due to how quickly the Study Abroad slots filled up, FSH is considering expanding the program to allow more students in the future.
"[The program] has been so successful that it filled up in a little over a week," said Ricketts. "As this is the first time we are doing this, we wanted to keep it to one section of students with no more than 20 people. But this trip is a litmus test to gauge interest, and so we can follow through for coming years."
For more information or to RSVP for the final Zoom session on April 14th, contact Lindsay Chan at LChan@academyart.edu or call 415.618.3636. For more details on Academy of Art University's Study Abroad program, please visit: https://www.academyart.edu/art-degree/study-abroad/