By Isabella Cook
Every semester, Academy of Art University's School of Communications & Media Technologies (COM) offers a hands-on course (COM 720: Reality Competition Class) where students produce an entire show from start to finish, offering firsthand knowledge in television production, studio technology, and on-camera performance.
Last fall's course was led by COM Director Steve Kotton, a 30-year television industry veteran, and COM instructor Tiffany McElroy, a two-time Emmy Award-winning television journalist. Collectively, the two lent their wealth of knowledge on technical production and on-camera performance.
"Last Knight Standing"—named for the Academy's Urban Knight mascot—was a talent show conceptualized and produced entirely by COM 720 students. On a weekly basis, contestants (comprised of Academy students) showcased their abilities in front of a panel of judges. The prize? A free pass to audition for one of America's most acclaimed competitive singing shows: "The Voice."
"What was special about this class was watching the students come up with the concepts of the show collaboratively," said McElroy. "Each student brought their unique skills and assets to the class, and they all supported each other in so many ways, so the show could go on each week. Many took on different jobs [or] roles to learn new skills. It was so nice to guide them, but even better watching them gain more experience each week, get more confident, and enjoy themselves."
Produced weekly from Oct. 26 to Dec. 7, "Last Knight Standing" filmed each new episode in-studio at 79 New Montgomery. Students faced new and unique challenges, including overcoming different technical issues and handling differences in time zones. These curveballs only served to further prepare students for real-world scenarios in the field of communications and media production.
"I nearly dropped this class due to the time difference," said Mads Bueno, an M.A. COM student residing in Manila, the capital of the Philippines. "I had to wake up at 3:30 a.m. my time to make it. But after attending the first class and being assigned a role as a producer, waking up really early [became] an exciting time for me. My team produced the first and last episode, and I'd say it's worth the [bags under the eyes]."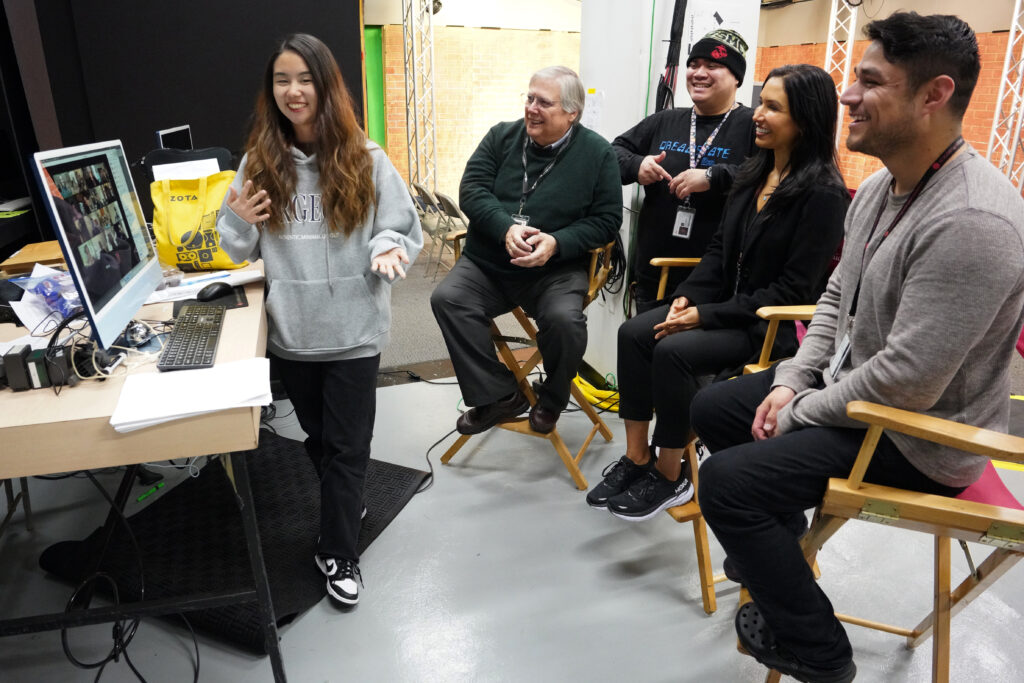 First day on set
On the first day of filming "Last Knight Standing," COM 720 students and show contestants filed into the on-campus studio; every corner of the room played host to an assortment of preparation. Hosts and judges settled into their on-camera attire, and those working behind the camera that afternoon set up cables. All the while, online students via Zoom provided liberal feedback and instructions to their on-campus counterparts.
Student Isaura Santos, a judge and Instagram host for the first studio recording of "Last Knight Standing," split her time before the show between filming content for social media and socializing with her fellow first-day judges and ART U Baseball players, Cannon Secrist and Dallen Turner.
"It's like this class is giving us the building blocks to become future hosts, judges, people who are at the center of this kind of profession," said Santos.
About an hour later, on-camera talent (hosts Melissa Leon and Ella Lynn Browne), production crew, and contestants got into position. The lights dimmed in the studio as the taping of the first episode of "Last Knight Standing" commenced.
The in-studio audience was privy to all the behind-the-scenes action as hosts practiced hitting their marks and getting their lines right, and the production crew positioned their cameras and adjusted microphones, including the production cues (both silent and verbal) between those behind the camera and those in front of it. And after each contestant performed their talent, audience members would hold up a sheet of paper indicating whether or not they enjoyed the act.
"This class is a good sample of what [entertainment and game shows] are like in the real world," explained Kotton. "Now that the students have settled on the show they want to produce and are actually in the studio, it's just a joy to see them as they experience, for the first time, the results and the sparks of focusing on one thing and bringing it all together."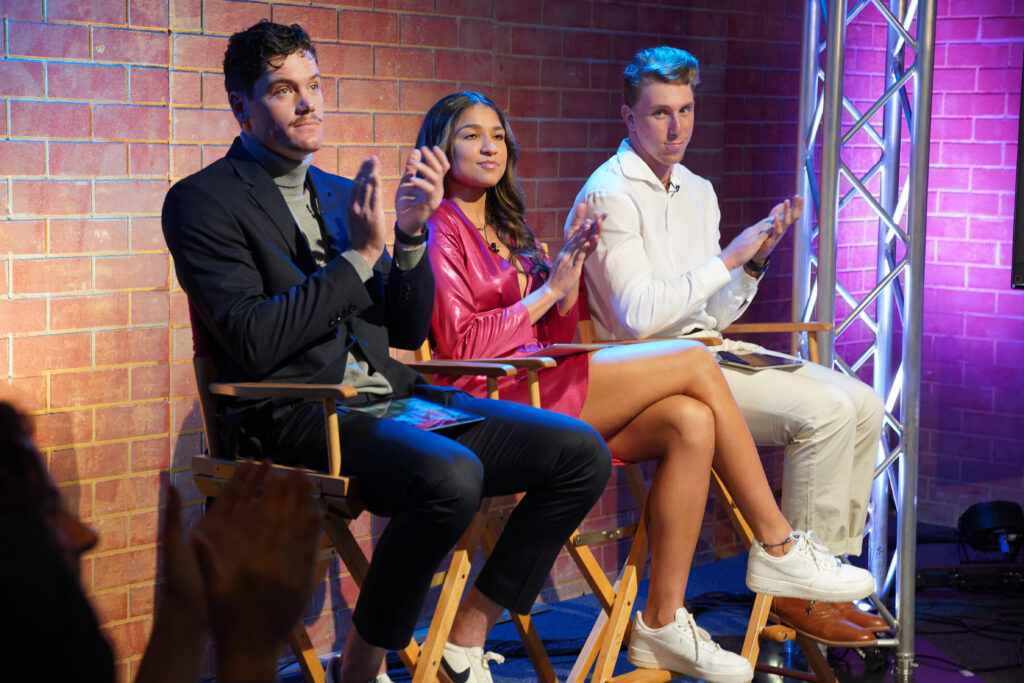 A finale with a twist
Filmed the second-to-last week of the fall semester, the finale of "Last Knight Standing" showcased not only the COM 720 students' growth but that of the performers as well. Singers Cole Shafer and Joel Ochoa were the final contestants in the competition, performing "Walk With Me" and "In Case You Don't Live Forever," respectively.
With the judges, Nicole Shiau, Vince Lorenz Carmelo, and Jesus Hernandez, providing their thoughts to the contestants, the final votes were cast, and it was time for the results. The hosts, Santos and Leon, revealed the winner of "Last Knight Standing" was Shafer amidst applause and confetti raining down in the studio.
However, there was yet one more surprise in store for the COM 720 students, instructors, and audience members when Shafer took the microphone, presumably to deliver a brief speech. Instead, he addressed his fellow finalist, Ochoa:
"Since I know the talent you've got, and I've still got things to work on, you're taking the opportunity—you're going to 'The Voice,'" declared Shafer.
The set of "Last Knight Standing" erupted in excitement as the hosts declared that this was a first in "Last Knight Standing" history. Both finalists were named winners that day, and the prize—as Shafer wished—went to Ochoa.
"The twist made for great television," shared McElroy. "It was such a surprise and gave the show a very Hollywood happy ending. I loved the surprise in the final show."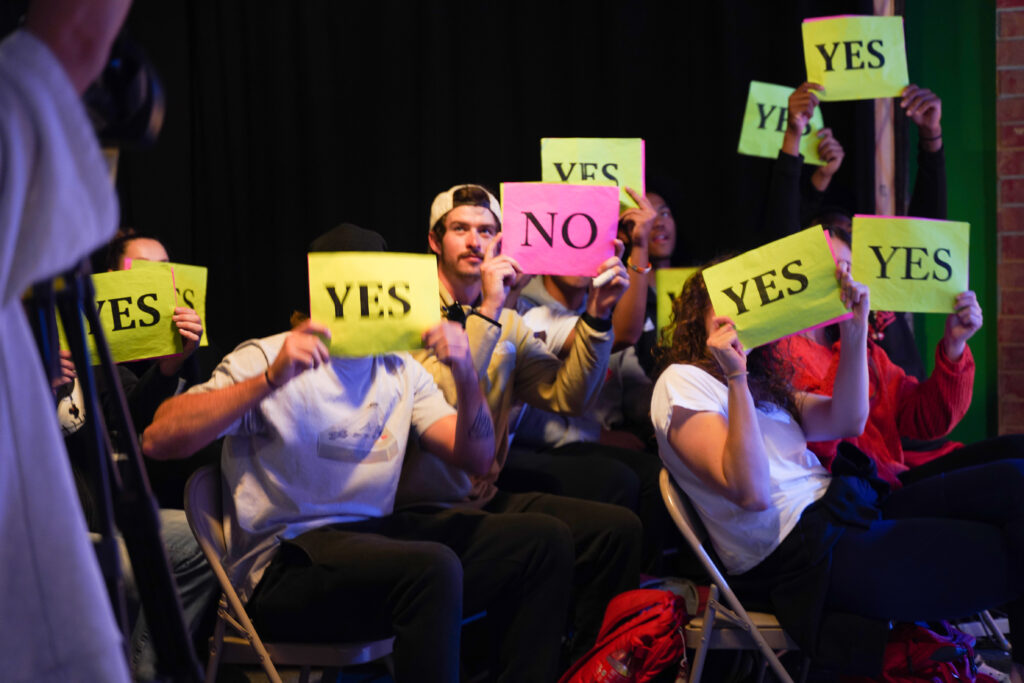 A last hurrah
On Dec. 14, COM 720 students met for their last class of the semester to reflect, share their thoughts and takeaways, and celebrate the end of an eventful show and semester. In the near-empty studio (most students opted to attend the final meeting virtually over Zoom), students and instructors shared a laugh together as they screened a blooper reel and reminisced about the show that took a class and made them into a team.
"If there was one team to make all this work, it would be us. We all came together and made this show work, and doing this class taught me the value of knowing how to take on any task," said Santos. "I judged and hosted this semester on the show, and both taught me two completely different things… being able to overcome obstacles. [I had] a camera that turned off, a wrong script. [W]hatever it is, you have to keep things going and keep things under control."
"I thought that ["Last Knight Standing"] was a huge team effort, and I think that the students did a wonderful job, especially with all the ups and downs this semester," added Kotton. "A lot of people got sick, and we'd end up four to five students down, and everyone would just put on a different cap, and we'd still put on a show. We did that more than once this semester. It builds character and solidifies skills."
Leon shared that she recognized the value in taking the course on-site in the studio and wouldn't allow herself to miss out on the opportunity—even though it meant flying from Los Angeles to San Francisco every Wednesday.
"When I learned what the show was going to be about and how it was going to be conducted, I knew I had to be there in person," said Leon. "Even though I don't live around the corner, I still decided to fly in from Los Angeles to get that hands-on experience and see in person what it feels like to host a show. Every flight was worth it because I learned so much and was able to get out of my comfort zone as the host. I would definitely do it again and am thankful for the [instructors], students, and Academy of Art for this unique experience."