By Isabella Cook
It's not often that two Academy of Art University alumni and former student-athletes find themselves on the same broadcast news team. However, for School of Communications & Media Technologies (COM) graduates Ryan Gamboa (M.A. '22/ B.A. '20) and Dante Williams (B.A. '21), their post-academic paths reunited the two at KRTV 3 in Great Falls, Montana.
"I think working with Dante is a prime example of being good to others and staying connected with your classmates," Gamboa told Art U News during a recent interview. "Dante and I were never close in college, but we had classes together and had a great professional relationship. Keeping those connections from school can help you reach your goals. More importantly, Dante is a familiar face that feels like home and family in a faraway place where I am alone. We have built a friendship that I'm sure he never thought he'd have, and I can say the same… I'm grateful to have him here."
"Ryan has been great," added Williams. "A familiar face in an unfamiliar place, and he has made the transition very easy. We've grown together as friends and work associates, making it enjoyable to come to work."
To the Academy…
Gamboa came to the Academy in 2018 after spending two years at Butte College, located near his hometown of Red Bluff, CA. While initially pursuing a post-collegiate athletic career, he was a two-sport athlete playing baseball and football. When an injury prevented him from competing, Gamboa was presented with an alternative that would change his life's path: his coach at the time, Anthony Ferro, offered to let him announce the games instead.
"My announcing stint carried into football season," explained Gamboa. "During that time, I realized just how much I loved speaking and having my voice heard, and I changed my major."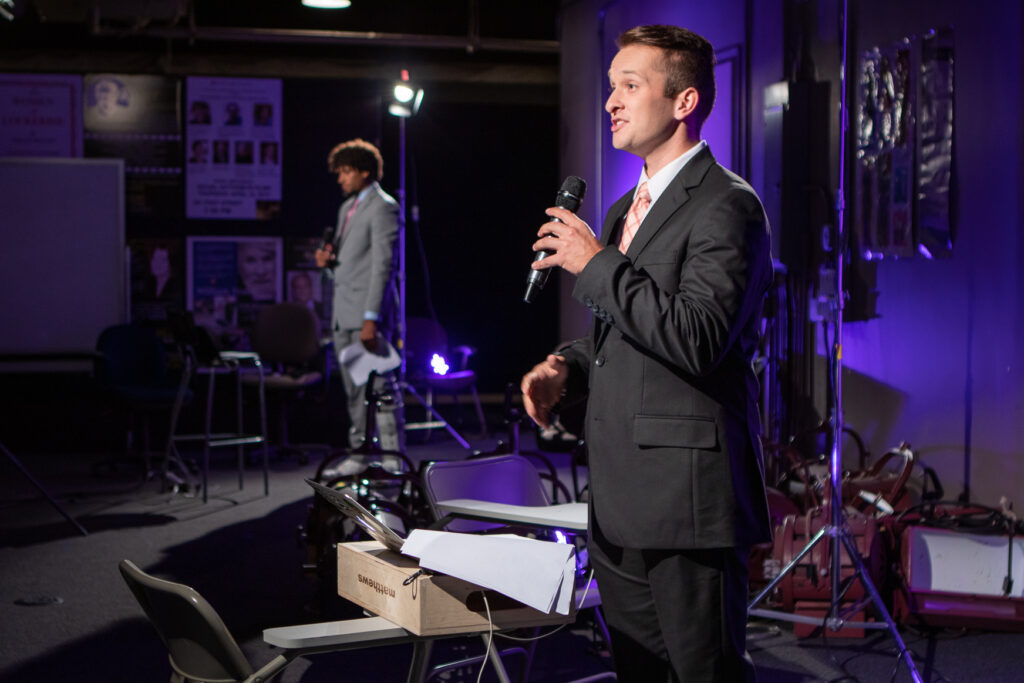 After getting a taste of broadcasting, Gamboa began taking communication classes. When the student-athlete received a scholarship to play baseball at the Academy, he continued his broadcast education and was given an opportunity to be on camera.
"I loved it," he said.
"I found that announcing and public speaking came naturally to me, and so did being in front of a camera—it was just something I was good at and felt comfortable doing," said Gamboa. "And I kept getting great feedback from everyone: coaches, directors, teammates, classmates… so I stuck with it and put my all into becoming the best I could be. I couldn't have done it without the support of my coaches and directors. Without their guidance and them nudging me, I wouldn't be where I am now."
The Los Angeles-based Williams arrived at the Academy on a basketball scholarship in 2016. Coincidentally, the student-athlete also experienced an injury at the Academy in the fall of 2017 in his pursuit of becoming a professional basketball player. The dislocated ankle led Williams to re-evaluate his path. He did a brief stint in the School of Advertising before beginning his journey in COM, which he considered a better fit for his skill set.
"I was grateful to have a college experience and to play college basketball," said Williams. "Going to the Academy was a blessing in disguise. If I hadn't gone there, I wouldn't be in the position I am now."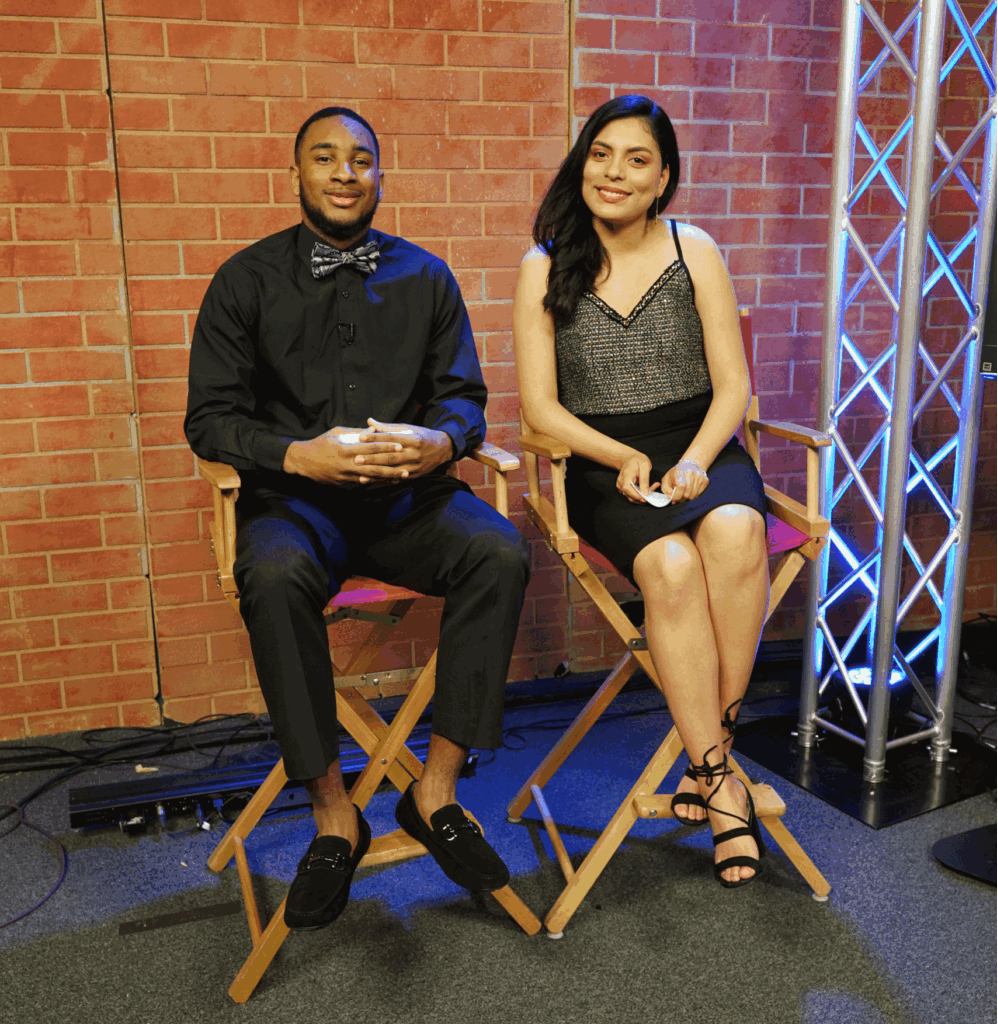 Both alumni took classes with current COM Director Steve Kotton, including COM 720: In-Depth Project: Studio Entertainment Series, a hands-on course that provides students with real-life practice in all aspects of live production.
"They made sure that everyone knew how to do everything: using a camera, hosting, judging, and critiquing," said Williams.
…and beyond
Gamboa, who has worked with KRCR News Channel 7 in Redding as well as PAC-12 Networks and Barstool Sports, joined the KRTV 3 news team as a weekend anchor and multimedia journalist in June 2022.
"After I talked to the people at KRTV, we negotiated my contract, and the rest happened so quickly that I was just in shock," shared Gamboa. "Suddenly, I realized that I was moving to Montana. It was such a big change after living in San Francisco for so long."
What wasn't unfamiliar territory was the job itself. As a work-study and studio tech at the Academy, Gamboa's experience working in the COM studio—ranging from coiling cables to managing the lights—came in handy from the get-go.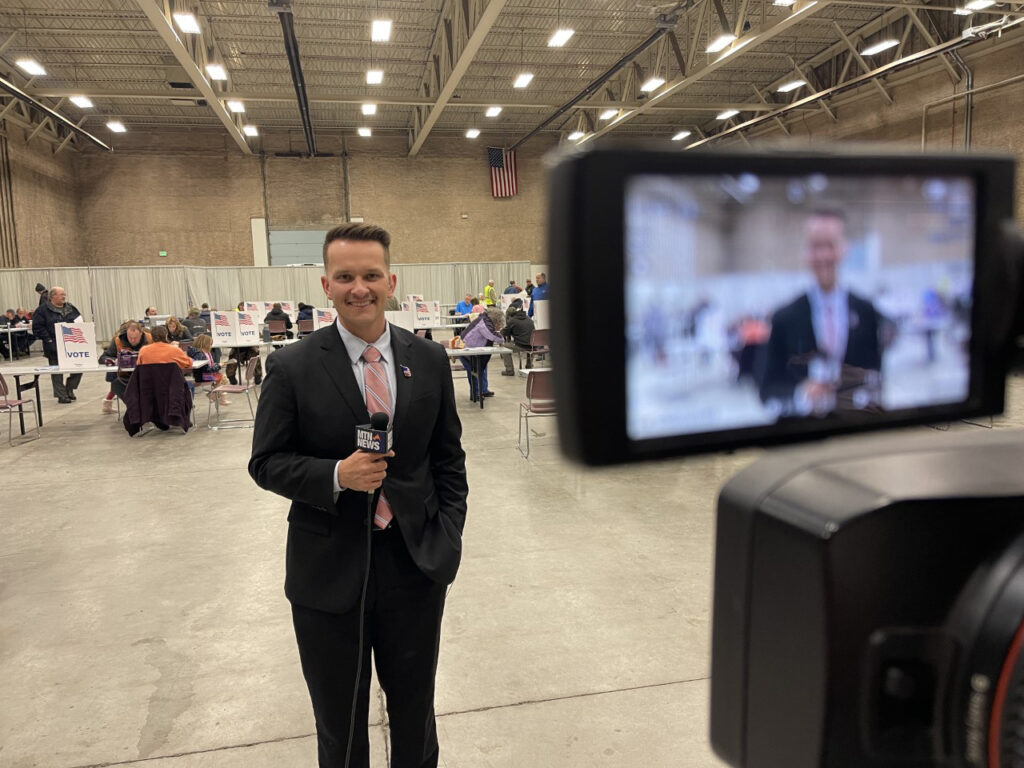 "[KRTV] just threw me to the wolves, and my vast knowledge of how a studio works and how it runs in the back end made for a really easy transition to KRTV," said Gamboa. "We actually use all the same equipment I used at the Academy, and it almost feels like there really was no transition at all."
Williams accepted a position at KRTV 3 in October 2022 as a sports reporter and multimedia journalist. Previously, he had been working as a production assistant at CBSLA and as a freelance sports journalist for The562.org.
"Right now, I'm an on-camera man, but I still have to go out to games, film, edit, be on camera, and tell a story as well," shared Williams. "Everything I did at the Academy is what I'm doing right now."
"I'm very proud of their achievements so soon after graduation," said Kotton. "It is an affirmation of our program that provides good foundational skills and opportunities to practice those skills in 'hands-on' projects in and out of the classroom."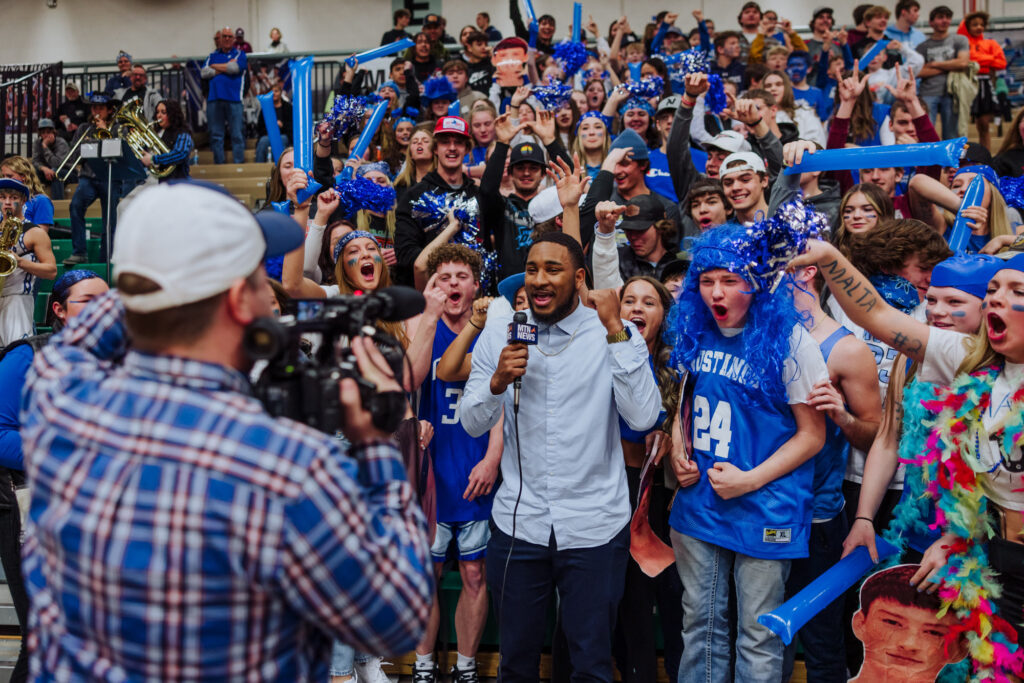 Another foundational skill the COM alumni took in during their time at the Academy: networking. Williams noted that it's been central to his post-college career pursuit.
"If you have your mind made up and you know what you want to do, then get as much into the process as you can," advised Williams. "Stay in contact with your instructors, keep a hold of your work for your résumé, and have good relationships with your classmates."
Gamboa's advice to Academy students is "to dream and dream big" as well as to gain the skills needed to succeed."My dream is to report for '60 Minutes.' I have a lot of work to do to reach that goal, but without having that dream, there is no way I can achieve anything. On a real note, students need to focus on their writing. It isn't just looking pretty on camera and glamour. To be good, you need to write well."