A design from Anna Yinan Zhou/ORAZ. Photo courtesy of Anna Yinan Zhou.
By Greta Chiocchetti | Additional reporting by Kirsten Coachman
When School of Fashion alumna Anna Yinan Zhou graduated from Academy of Art University in the spring of 2019, she hit the ground running towards her goal of creating her own fashion brand. Zhou wasted little time, using the momentum she built in the School of Fashion, drawing especially upon her senior fashion showcase, "Unbreathable," a dark and elegant collection inspired by heartbreak and the suffocating emotions that it can bring up.
"I knew that I wanted to continue the work I had been doing at school, and I envisioned my brand as kind of an extension of that," said Zhou, who spoke with Art U News over Zoom earlier this year. Just a few months after earning her B.F.A. in March of 2020, she did exactly that. Zhou founded ORAZ (which stands for Original Anna Zhou) in New York.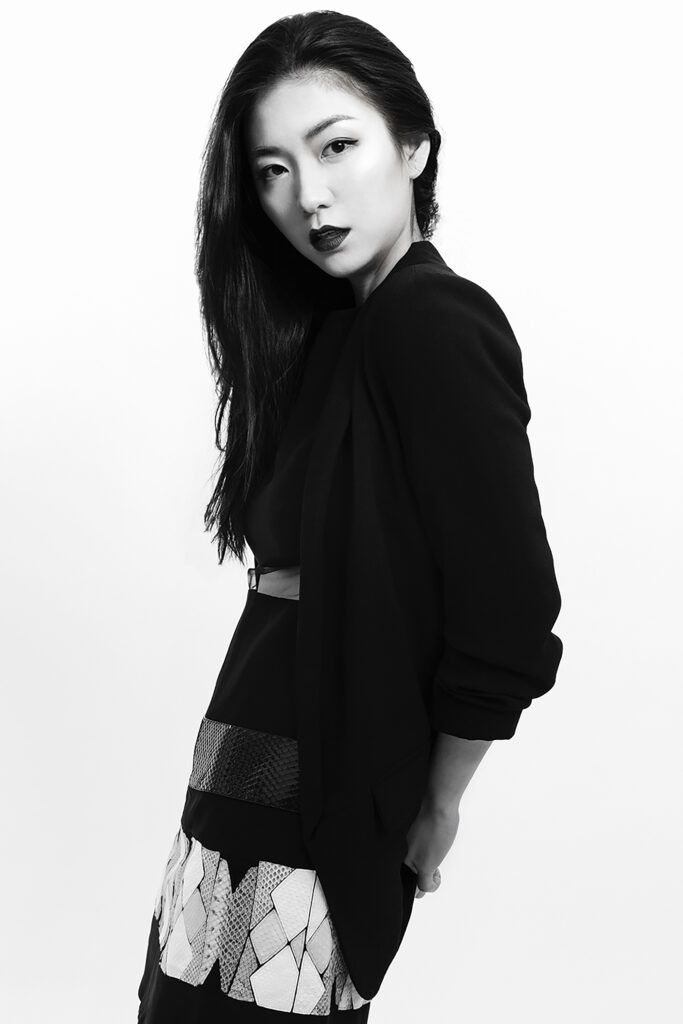 "When I started designing, the message I wanted to send suddenly became very clear to me," said Zhou. "Most importantly, I want to empower women—I want women to feel proud and confident about themselves, to celebrate any body shape, to celebrate any type, style of a woman. So for me, I think that translates into this very bold, yet very feminine style. I would call it 'darkly romantic.'"
That clear design vision led to what Zhou called a "once-in-a-lifetime" opportunity this past year. She had a chance to prove her chops on season 19 of Bravo's beloved fashion reality competition "Project Runway."
"To say it was an honor is an understatement," said Zhou. "It was this huge opportunity to take a risk and step out, and I told myself, 'Let's do it. This could open some doors.'"
Despite never previously watching "Project Runway," Zhou, who grew up in Shanghai, China, made a lasting impression in the competition with "hit after hit," according to fashion designer, "Project Runway" mentor, and season four winner Christian Siriano, who stated as much during her exit interview.
Zhou later shared via email that it was the "technical skills and design fundamentals" that she learned during her studies in the School of Fashion at the Academy that helped her in the competition.
"[It] made me one of the strongest designers on the show," she said.
A standout moment for Zhou was taking the win during the Winter Olympics challenge. The designers were paired up—Zhou worked alongside Bones Jones—and asked to create looks for two iconic figure skaters: 1998 Olympic gold medalist Tara Lipinski and two-time Olympian Johnny Weir.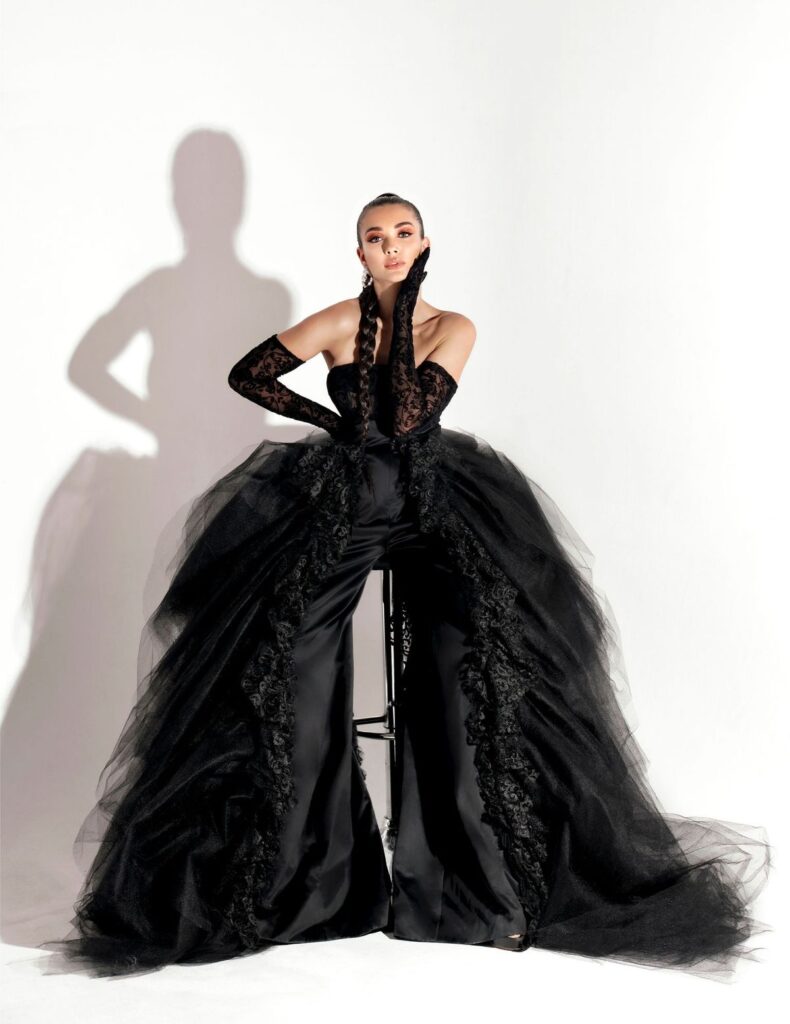 Zhou and Jones's complementary icy looks struck a modern yet elegant chord that ultimately earned top scores from the judges (Nina Garcia, Brandon Maxwell, and Elaine Welteroth, as well as guests Lipinski and Weir).
"All I wanted to do for you was make you stunning," Zhou told Lipinski during the feedback portion of the episode.
As the judges privately deliberated the winner of the challenge, Welteroth raved over Zhou's dress.
"This dress is stunning," said Welteroth. "This is stunning on the runway, this would be stunning on you (Tara) on camera. I can see that there is this nod to the ice, but it felt subtle, and it didn't feel too on the nose."
After Zhou was announced as the overall winner of the challenge, Lipinski told her that she was "so honored" to have the opportunity to wear the designer's dress. "It was fresh and romantic and glam, and I just can't wait to put it on."
Lipinski and Weir wore the winning designs while providing commentary during the figure skating competitions at the 2022 Winter Olympic Games in Beijing, China, earlier this year.
Her connection with Weir on the show resulted in the creation of an additional look for the two-time Olympic athlete to wear for the closing ceremony in Beijing. Zhou thanked the athlete on Instagram for giving her "this special moment and for bringing this outfit to life!"
Zhou continued to wow both the "Project Runway" judges and the audience with her avant-garde yet timeless designs on the show while overcoming a bit of a learning curve.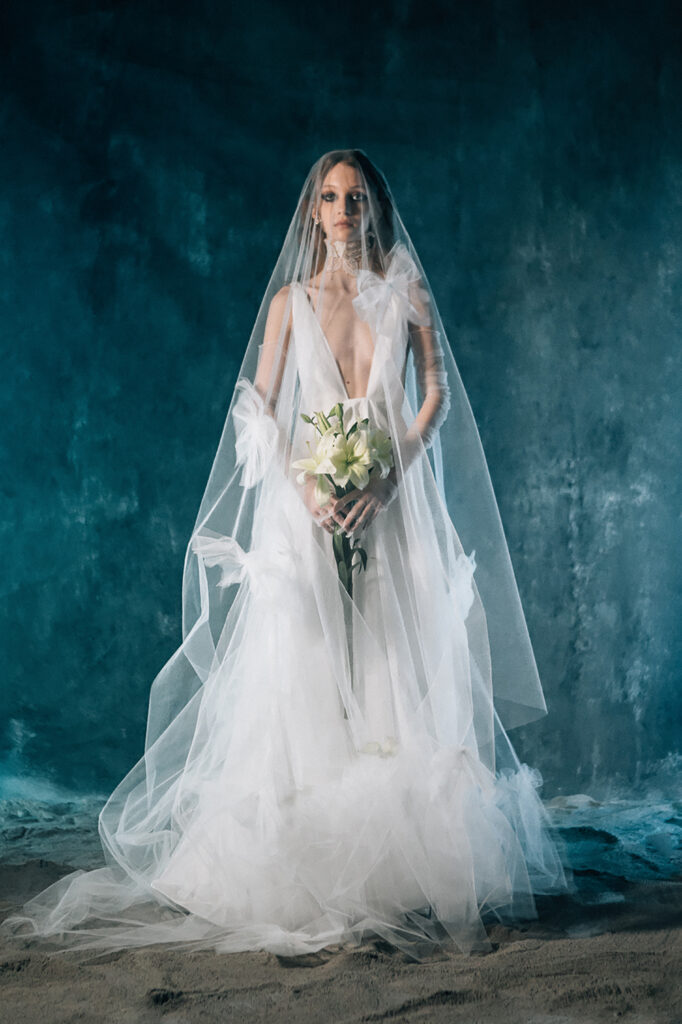 "Not seeing the show first was both an advantage and a disadvantage for me," explained Zhou. "Because I hadn't been watching, I didn't really think about it as reality TV—I always saw it as a fashion competition first. But then at the same time, because I hadn't seen it, I wasn't really familiar with many of the challenges, and I think I was designing for myself and how things related to my own aesthetic sometimes, instead of for the expectation of the challenge."
In what would be her final "Project Runway" challenge, Zhou was tasked with designing a dress fit for the "Real Housewives" reunion special. Each designer was paired with a different cast member (Zhou was paired with "The Real Housewives of Orange County's" Gina Kirschenheiter). Though Kirschenheiter loved the finished product—a structured and full-coverage avant-garde dress with exaggerated shoulder pads—the judges agreed that it just wasn't a "reunion" dress.
"I wasn't familiar with the reunion special; I thought it was just like a party," Zhou said with a laugh, referring to the final episode at the end of each season of the "Real Housewives," in which cast members often air out their grievances with each other. "I didn't realize until later that the reunion is so dramatic. I still love the dress that I designed, but maybe if I had a chance to do it again, I would go for more of a ball gown."
Though she didn't make it to the end, Zhou expressed gratitude for her time on "Project Runway." She shared that the opportunity to be on the show while surrounded by other designers was an invaluable experience.
"Getting to watch how the other designers worked was so amazing," said Zhou. "You see how others do things and you're able to get inspiration from them."
Next up for the ambitious designer, Zhou is taking on a new role: Mom.
"I'm about to have a baby," she shared back in February with a smile. As of publication, Zhou has welcomed her new addition. "So I will definitely need to take some time off and focus on my next big project—my child!"
---
Watch Anna Yinan Zhou below on the "Project Runway After Show."