By Rob Garcia
A 2017 graduate of Academy of Art University and accomplished alumna of the ART U Women's Basketball and Track and Field programs, Jasmin Guinn appeared on the Jan. 17 episode of NBC's "The Titan Games" hosted by Dwayne "The Rock" Johnson. ART U Athletics caught up with Guinn to learn more about her experience on the show.
First off, how are you doing now and how was your recovery?
I'm doing pretty well now. I'm still recovering. I was about 90 percent recovered and had a minor setback so now I'm back to about 60 percent, but it's okay I'll get there.
With the Herculean Pull, obviously very ironic that you and Ashley Huhn went for the same pole to start. What was the importance of being adaptable in that competition?
Being adaptable was what won me the competition. Before it started, I was strategizing for about two hours after I found out that's what I was doing. I knew Ashley was stronger than me, but what I didn't anticipate was us going to the same pole to begin with. Once I felt her on the other side, I tried to pull with her, but immediately knew that wasn't going to work so I had to try and buy time so I could move to the next one without losing too much ground. I pretty much just held on as long as I could while she pulled.
I knew from the jump I had to get to the gold pole first. I honestly tried to end it in one pull because I wasn't going to be able to win a dead tug-of-war with her. I needed leverage. I actually learned from that first pole battle we had that if I locked my legs I could actually counteract her strength so she would have to use more effort. I think being a point guard helped me. I was always taught to think five plays ahead.
Can you talk a little bit about just the challenge of pulling that golden pole one-on-one with another person you can't see?
I honestly wasn't really phased by the fact that I couldn't see her. I knew going in if we had to battle on one of those silver poles I was going to be the one that had to let go, so I was pretty prepared. The main battle for me was pinpointing the exact moment that I was going to let go and move onto the next pole.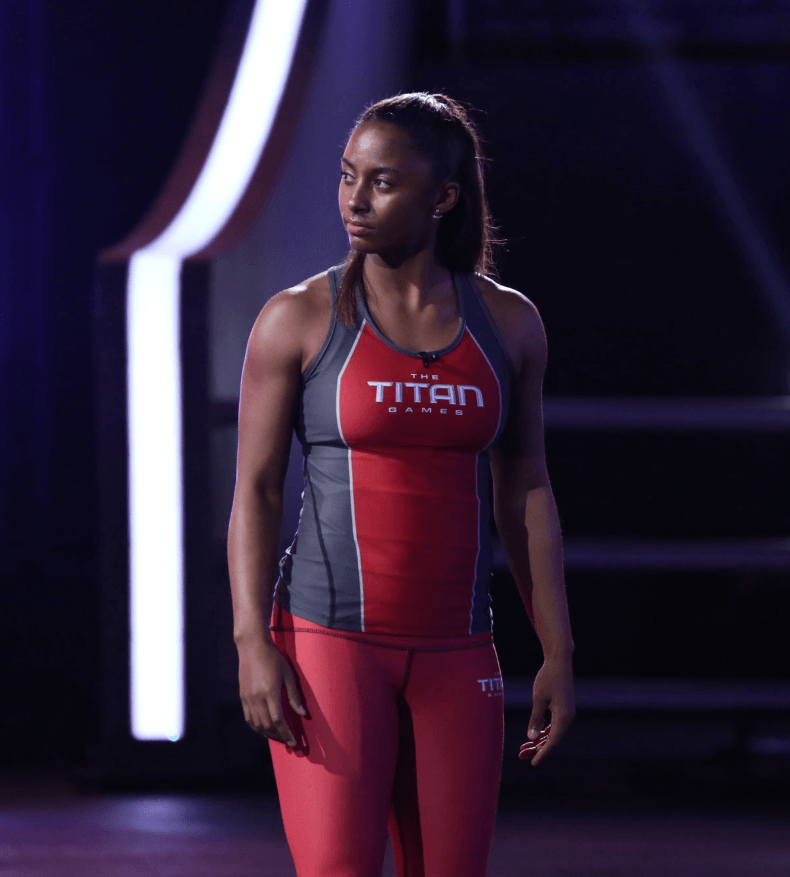 What did it feel like to win the Herculean Pull?
It felt great! But I was exhausted. I don't think I've ever felt my body hurt that much. It was worse than Mount Olympus and that's where I actually got hurt.
Anyone who knows you knows your fearlessness, whether it be on the court, on the track, or wherever, but Mount Olympus undoubtedly brings an intimidation factor. What was your mindset going into Mount Olympus versus Jess Griffith?
Going into it, I was trying to think of a strategy. I anticipated Jess would beat me on the "Gates of "Olympus." I thought I'd catch her on the "Rolling Ascent" and then she'd catch up to me on "The Cliffs" and we'd be even cranking the "Torch Crank." It was going pretty much how I anticipated until I fell on the rollers and hit my knee. Those were wood, so it was painful. I had gashes and bruises all over my legs. And then I almost broke my hand on the first punch. Needless to say, I've been taking kickboxing lessons recently.
Those familiar with your work certainly know your willingness to fight through adversity as well. What was going through your head when you got up after the fall?
When I fell, I landed with my leg straight on that soft cushion. So I wasn't really prepared for that give and my knee popped, and it just was like a dead leg. My legs were taking so much damage from falling on the rollers to kicking through the wall. I was about to stay down there and just wait for the medics on set to get all the way up there to me. That's why I was there that long. But [at] that moment, I remembered when I got hurt on the basketball court and didn't finish. That game was the one time in my entire life I hadn't kept going. I remembered that when I fell. I felt miserable that I didn't go back in that game and I'll never get that back. I didn't want to feel that way again so I got up and finished with one leg.
What has the public response been like since your episode aired?
The response has been overwhelming. The Rock posted on his Instagram that moment with me on Mount Olympus and tagged me, and my phone stopped working for a day because I didn't think to turn off my notifications. I've had so many people tell me how inspired they were by me. I have hundreds of direct message requests. Someone even called me a local heroine and another person called me the next Wonder Woman. It's crazy to think that millions of people have seen this and how people have been motivated by it. One woman even said she's been inspired to beat cancer. I never expected anything like this. I stepped into the Titan Arena just to compete. I never expected to become a face people look at and feel inspired by.
It really seems like there's a strong community of support among the "Titan Games" contestants. What has it been like to be part of this initial launch with that pioneer group of 64?
The group of 64 titans is incredible. The support we show each other is something I've never experienced. Even the producers commented on how incredible this particular cast is. Each person has not only achieved amazing things, but they are all so nice and so humble. It's incredible to see.
Building from this experience, what's next for Jasmin Guinn?
Who knows really? The sky is the limit. I've always wanted to make a difference and reach underprivileged youth to help give them hope. That's why I started in animation. So I could tell stories to kids that inspire them and help them see the magic that I saw in film, because, to me, hope is the promise of achievement. I'm still working towards that goal, but this experience could change a lot.