Interlaced with a dedication to hard work, Academy of Art School of Industrial Design and track and field alumnus Aric Armon's career journey is truly inspiring. Working with some of the best professional athletes in sports today while also guiding the future of the industry, Armon is approaching the completion of his seventh year as a footwear designer for adidas.
Drawn to design at a young age, Armon could often be found tinkering with his sports equipment while on the track or baseball and football fields. Changes to his facemask or writing all over his track spikes were commonplace for the Milpitas native. When he wasn't building a boat for his dog to ride in the pool, Armon was painting his shoes in high school and soon his creative energies found a focal point: footwear.
"There was something always really interesting to me about shoes because shoes are a mix of so many different things," Armon said. "It's fashion, it's performance, it's innovation, it's style; there's such a variety of shoes and anybody can find something they like. Some of them really serve a purpose and I was always driven to that. I always looked at the shoes I wore and really tried to dissect what made them better for performance."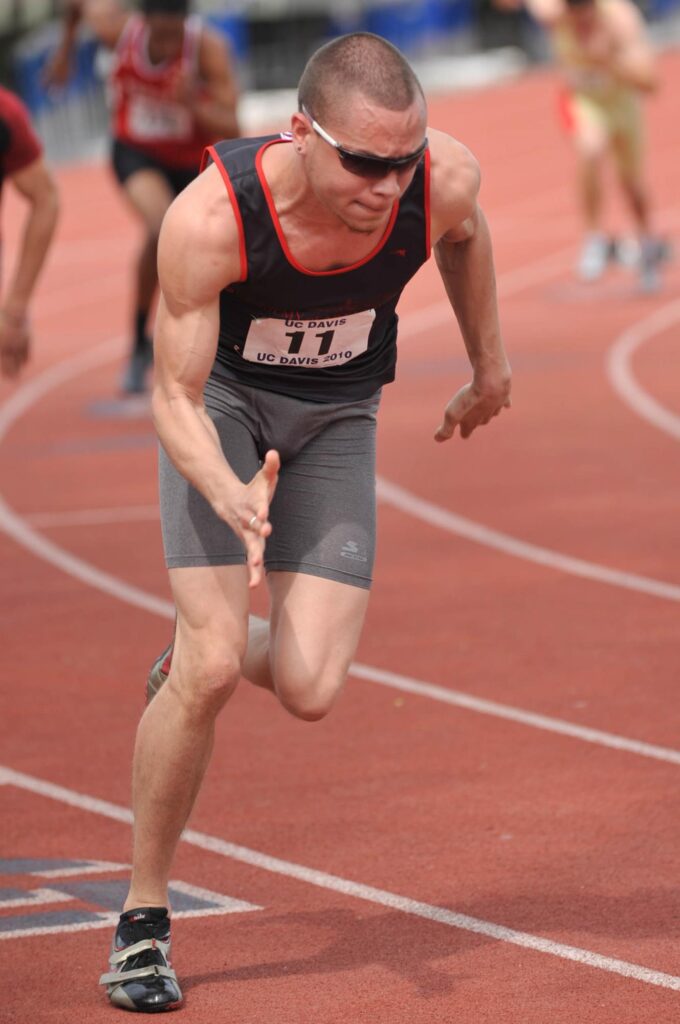 Armon began his collegiate career at West Valley College, running track while learning from an art teacher who let him express himself freely. Earning Most Valuable Freshman honors and All-League twice while establishing his artistic foundations, he discovered the fledgling Academy of Art Track and Field program at a meet one fateful day. After a positive exchange with then Head Coach Victor Hudson, Armon ran two seconds faster than he ever had in the 400m and his dream became a reality when he was offered a scholarship to the only art school in the NCAA in 2009.
Thriving both as an industrial design student and an athlete at Academy of Art, Armon served as team captain of the Urban Knights Track and Field team in 2010. A pioneer in the second year of the program's existence, he competed on relays and in various sprint events including the 400m, his specialty. Drawing the comparison between the miles of practice necessary to succeed to the endurance toward a design career, Armon saw his best 400m come at the American River Invitational on April 3, 2010 before his PacWest Academic All-Conference Team honor at the season's end.
"Once I got to ART U, I really focused on my education; it was everything I was born to do," Armon said. "I learned how to problem-solve with my hands and my head and absolutely loved it. I realized I needed to put in a lot of work to get to where I wanted to be and [School of Industrial Design Director] Antonio Borja helped me along the way. His class was the first drawing class I had, and I remember him talking about how you needed to put in the miles sketching to get better and there was no way around it. It was something that correlated to track for me. It turned it into a competitive outlet, both against myself and my other classmates who helped to push me."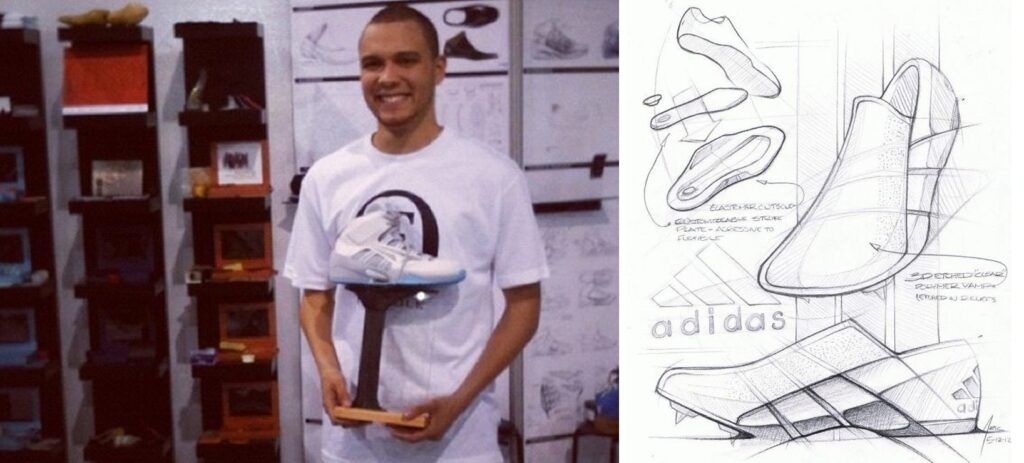 In the final leg of his collegiate career, a huge opportunity presented itself. Handed a flyer by one of his classmates, Armon learned of the 'Future of Footwear' competition hosted by Pensole, a Portland-based design academy started by former Jordan Brand design director D'Wayne Edwards.
"I submitted a sketch for the for the competition and ended up winning which enabled me to get a scholarship to go up there and that's kind of where my career took off," Armon said. "I got to interact with a lot of designers who gave me a lot of good feedback. I got to implement that feedback and create those relationships that led me to my [adidas] internship. I came up to Portland literally two days after I graduated from Academy of Art and started my internship, which was awesome."
It did not take long for Armon to succeed in his inaugural stint with adidas, absorbing all he could across multiple sports before watching as his graphic, a samurai sword baseball bat concept that he conjured up in his first few months, sell and appear across numerous platforms. After his six-month internship concluded, Armon was brought on as an associate footwear designer in adidas Originals.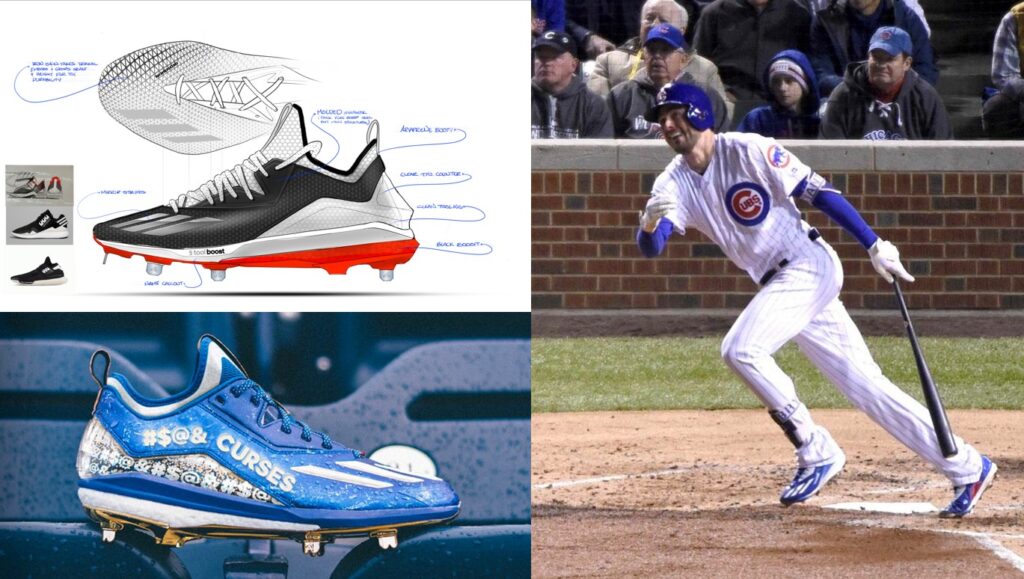 One of Armon's first projects was a Boost baseball cleat that would be officially released in 2016 on the feet of Major League Baseball third baseman Kris Bryant of the Chicago Cubs. It was a year the team would win the World Series, ending a 108-year championship drought, and Bryant was named Most Valuable Player of the National League during the regular season so Armon's work was suddenly on global display.
"There's two sides of having your shoe on an athlete," Armon said. "One is it's awesome to see them performing, but, on the other side, if that shoe fell apart, it would have been the end of everything because this is their curse-breaking run for the World Series. They ended up winning and it was amazing that like a cleat help break a curse of all things. That was the very first time I saw something I had designed worn by an athlete at that level."
In 2017, Armon next transitioned to a project that would develop into the work he does today as the lead designer for adidas' line of Freak football cleats. Flipping the conventional process for developing a product, Armon and his team tackled the idea of what the human body would look like as it evolved to play football. Complete with drafts showing tendons and muscles locking a foot down, the concept progressed into a prototyping phase and soon Armon found himself talking through functionality with future wearer NFL quarterback Patrick Mahomes of the Kansas City Chiefs. Testing their hypotheses using a high-speed video, the team completed their design ahead of Mahomes' historic 2018 campaign.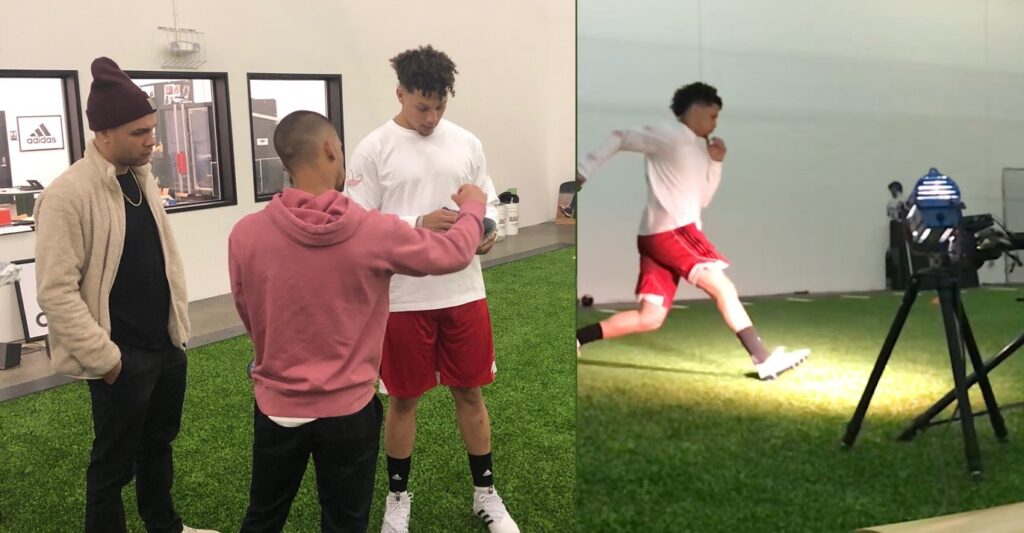 "It was really just a great experience because it was not just about what I wanted, but about what he wanted to make it so that he could perform at his best," Armon said. "We really took those insights that he gave us and, when Patrick went on to win the Super Bowl and get Super Bowl MVP, for me as a designer, it was really exciting to see that happen and be part of that moment."
Alongside his breakout success, Armon has committed not only to his own career track, but those who will one day follow him as well. Through adidas' partnership with Liberty City, a neighborhood in Miami, he has enabled youth to imagine a future in the footwear industry. Broadening the perception that becoming an athlete is the only way to emerge, Armon's sessions seeing young children realize these exciting new possibilities has worked to only further propelled his mission.
"Teaching is growing into a passion of mine, as I feel like it is now my duty to pass the knowledge that has been given to me along to help the next generation take it to new heights," Armon said. "There isn't a central resource for what it takes to be a footwear designer, and a lot of the knowledge is locked inside the industry. My hope is to share this knowledge to help bridge that gap between the industry and our consumers to encourage kids that being a professional athlete isn't the only way to make something of yourself. Imagine if the footwear industry went from 'Buy these shoes and play like pro' to 'Learn the design and business behind shoes and be a pro.' There is also a huge misconception, especially in families of color, that 'art equals broke,' but that simply isn't true. There are so many careers in art and design that those communities just don't see because those fields are not diverse to begin with. That is why representation is so important; just existing allows kids to dream about all the jobs no one tells them about."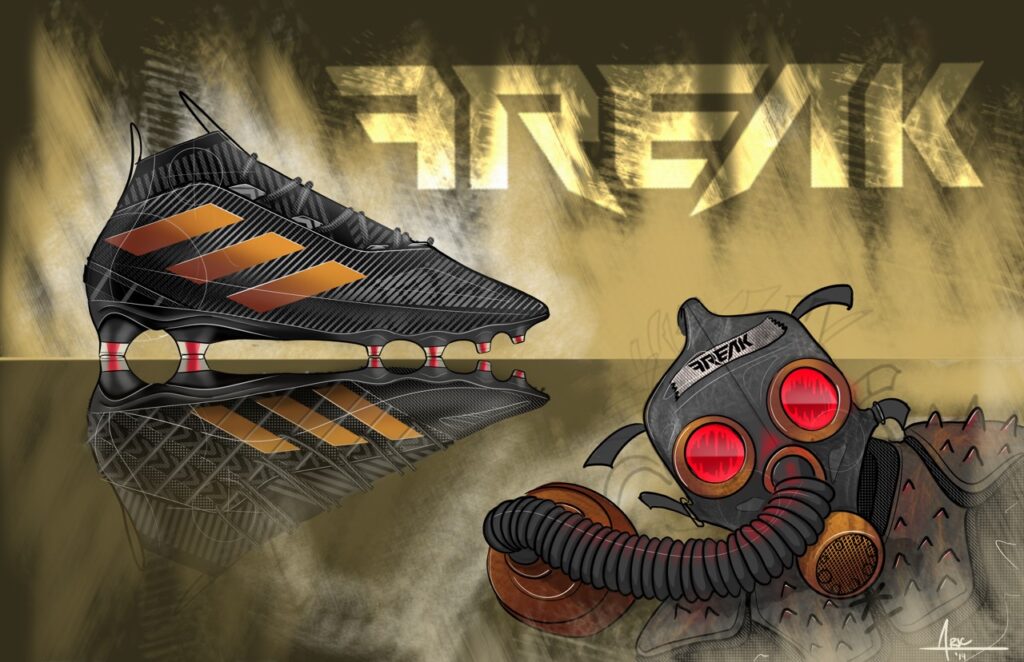 Reciprocating the creative inspiration he once received, Armon also spent time as an adjunct instructor at Academy of Art in 2019. He designed a curriculum for students, demonstrated technical skills, offered insights, and provided feedback all with the goal of preparing future footwear designers.
"Once you get to a certain point, it's more about sharing and allowing other people to take over," Armon said. "So one of the things I'm working on currently is getting kids to design Patrick's next cleat and being able to share the experience that I had and allow other people to have it. It is a pretty impactful thing to share the love and show people how to do that. That has become my big thing that I'm pushing for now."
Whether he is crafting cleats for the next MVP, mentoring the coming generation of the footwear designers, or doing both simultaneously, Armon will always hang his hat (or spikes) on hard work.
"Some people want to just hop [into the industry] and think they can do it right away, but it's not about that. You really have to put in the time and effort," Armon said. "Patrick Mahomes didn't become Patrick Mahomes out of nowhere. He had to throw that football thousands of times. So as a designer, if you want to get into this industry, or any industry to be honest, it's about putting in those thousands of hours, those thousands of sketches, and just working your way through it. Through that process is how you get there."