Peering into the viewfinder to see the image of Meg Williams' career thus far, her passion for photography is perfectly clear. A three-year member of the Academy of Art Volleyball team and 2015 School of Photography graduate, she has since gone on to thrive on staff with the San Francisco 49ers. Williams currently serves as a manager within Photography and Asset Management, recently eclipsing six and a half years with the franchise.
During her collegiate career at ART U, Williams' path progressed as she gained tremendous experience from a series of internships. The summer of 2013 saw her working with Sports Illustrated then she departed her volleyball career in 2014 to pursue an opportunity with the Kansas City Chiefs. Additionally, Williams spent time interning with the Portland Timbers to round out important training for the professional photography career that awaited her.
"Each of these internships prepared me for the fast pace and long hours of the job as well as introduced me to the variety of work that comes with covering an NFL team and its stadium," Williams said. "Team photographers have to be well-rounded. Most know that they have to be proficient in sports photography, but it's also important to know food, architecture, still life, portraits, documentary, marketing, headshots, and events to name a few. On top of that, I have to know how to edit. A huge part of my job is data asset management, where I am tasked with organizing and cataloging images to make them easier to find for future uses."
At the end of her stint with the Chiefs, Williams found herself on the verge of graduation, but as her reputation had continued building, the San Francisco 49ers expressed interest in her work. While some college experiences might relax in the months leading up to commencement, that was quite the opposite for the Class of 2015 member whose internship with the Red and Gold left little time for sleeping.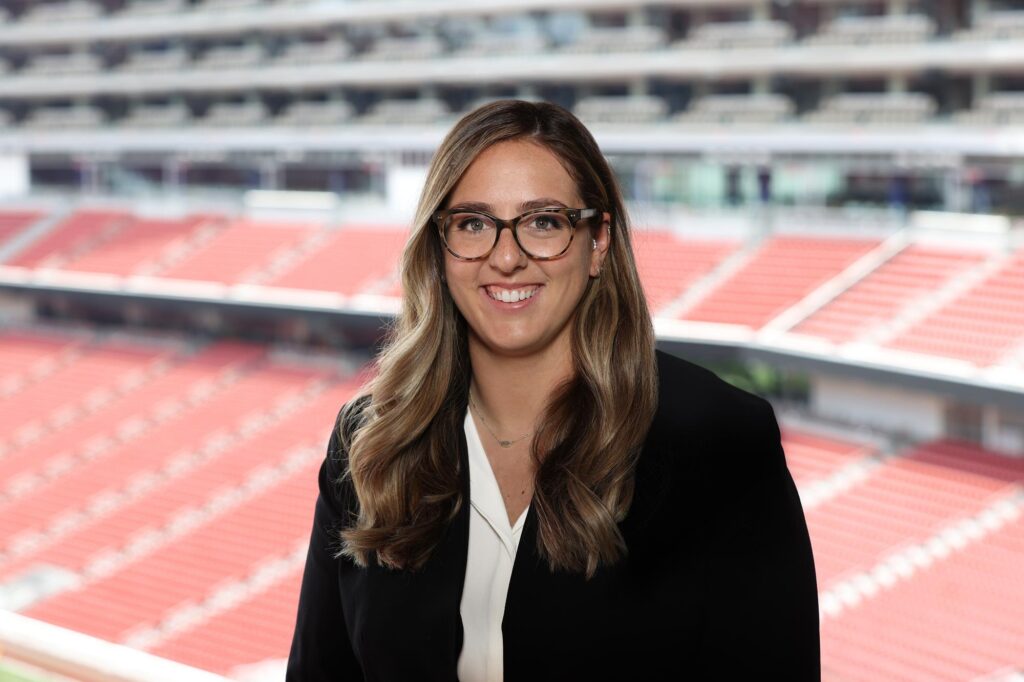 "That last semester was tough, but I made it happen," Williams said. "I'd drive down to Santa Clara at 6 a.m. and work until 4 p.m. Then I would head back to the city and do evening classes from 7 p.m. to 10 p.m. I'm so glad I did because all that hard work landed me a full-time position with the team."
The year-long internship with the 49ers led Williams to be brought on staff as a photo editor and assistant team photographer for a year before she was hired as a full-time team photographer in 2017. The four years that followed allowed her to not only document the team, but also a wide variety of other events for Levi's Stadium. Among the highlights were Super Bowl 50, WrestleMania, the NHL Stadium Series, and concerts featuring artists like the Grateful Dead, Coldplay, and Taylor Swift.
"If I had to choose one of my favorites, it would be the two Grateful Dead shows," Williams said. "The band's connection to the Bay Area was felt so strongly with their fans channeling the '60s. The sunsets were unbelievable and there was a stunning rainbow. That combined with the rich history of the Bay Area and the 'Summer of Love' with the technology-driven present and future. It was amazing to truly cover a moment in history."
Despite all the glitz and glamour of pro sports and musical acts, Williams finds some of her most satisfying moments come during the "Friday Night Lights" series, an annual collection of doubleheaders between local high school football teams held at Levi's Stadium.
"The look on players' faces when they walk onto the field reminds me why I love this job," Williams said. "The pure love of the game is on full display. It's amazing that my job allows me to cover such a wide range of events. It's a true testament to the amazing venue that is Levi's Stadium."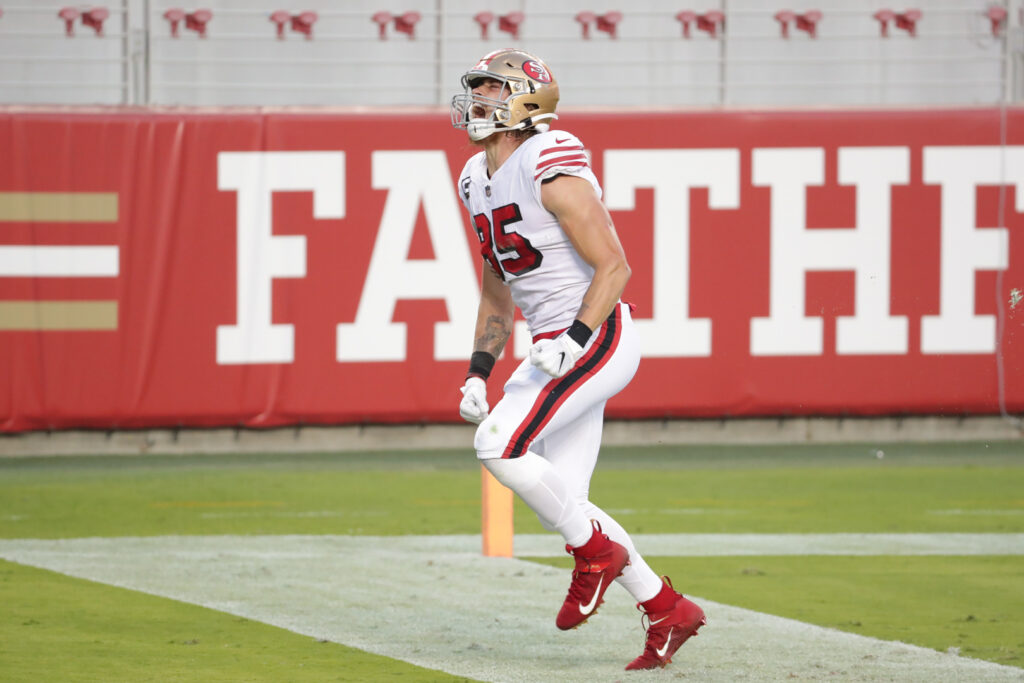 There is not necessarily an "average day" for Williams who became the San Francisco 49ers manager under Photography and Asset Management this past June. Saying "no two days are alike," she explains how there are typically three to seven events to photograph each week that might include a hospital visit, gala, surprise classroom appearance with players, corporate party, fan club gatherings, and new merchandise for the team store.
"During the season, we cover various events and then practice once a week," Williams said. "The rest of the workweek is spent working on data asset management and fulfilling requests internally and for external media outlets. This doesn't sound that glamorous, but it's incredibly important to have a well-organized photo library. All the hours spent photographing are irrelevant if you can't find the images to use in the future."
Just like for the athletes she photographs, gamedays present Williams' most intense responsibilities. Serving as a crewmember with 49ers Senior Manager of Photography Services Terrell Lloyd, she works with photographers, grips, and an editor to document all aspects of a given game. As an average home contest yields an eye-popping 25,000-35,000 images, Williams must ensure all are properly sorted, cataloged, and have the necessary metadata before they are sent to stakeholders. Given the broad range of shots obtained, organizing them all for future usage and fulfilling requests for images becomes a week-long task.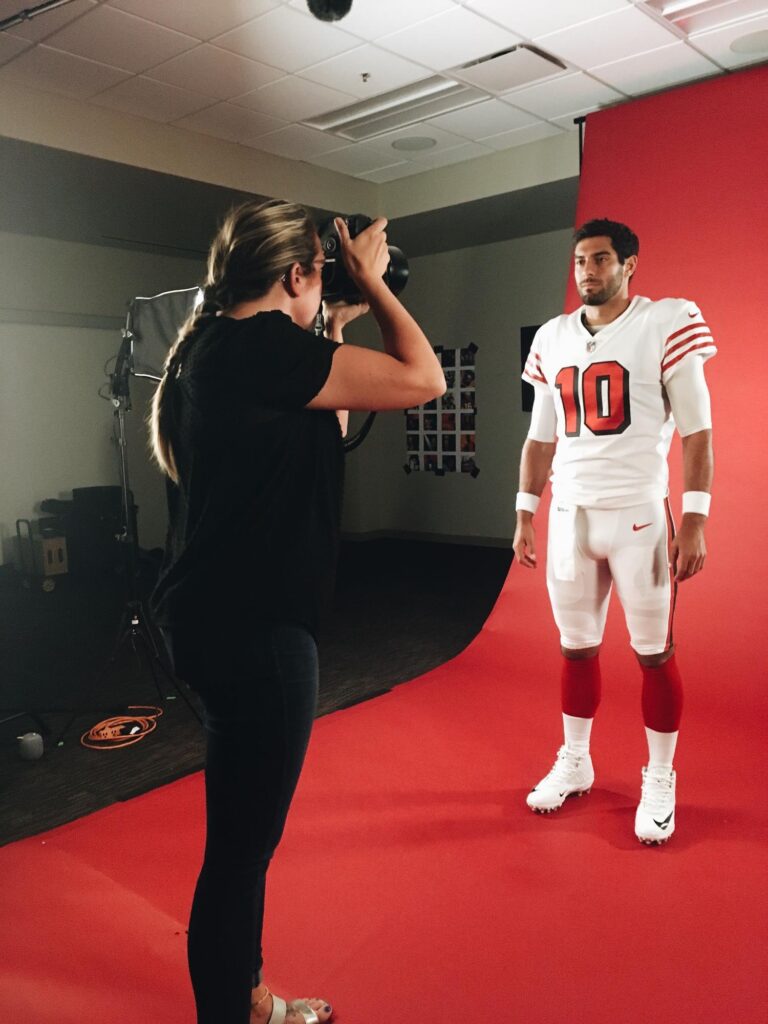 "It's our job to cover all the pageantry of games, from the game action to fans in suites, flyovers to pregame locker room speeches, halftime performances to tailgates – all the beauty that is an NFL game," Williams said. "Game action is a very small portion of what we do, but extremely important. The crew is divided up across the sidelines so that we can have plays covered from multiple angles. We work as a team so that if someone gets blocked we have a different look. One of my favorite aspects of gameday is that we shoot with wireless transmitters so that after a big play happens we can send images in real-time to our editors. Next time you're watching a 49ers game, check out one of our social channels and see how quickly our crew gets up images after a touchdown."
The beauty of teamwork was regularly exemplified in Williams' collegiate career with Academy of Art volleyball. She was an integral member of the Student-Athlete Advisory Committee for three years and epitomized the balance of both worlds as a two-time PacWest Academic All-Conference Team selection and two-time D2 ADA Academic Award honoree. Williams now draws upon what she learned in her time as a student-athlete daily.
"My time as a student-athlete has greatly shaped me into the person I am today," Williams said. "It taught me grit, time management, collaboration, perseverance, and how to tap into my creative side more fully. I first realized that my two biggest passions in life were athletics and photography while attending Academy of Art and from there set out to make it my career. My coaches, teachers, and classmates helped mature my creative eye and support my ambitions to be a team photographer. I'm so grateful [for] all the new skillsets that I learned in my classes because I use each one of them in my current job. I'm glad I took all those Photoshop classes, still life, location lighting, and documentary. My teachers acknowledging that I was taking an unconventional path in pursuing sports photography and supporting me chasing my dreams was key. I grew into the confident photographer I am today because of being an artist and an athlete."
As she approaches her seventh year with the San Francisco 49ers, Williams has her aperture and focus set on the team's future success.
"I hope to be continuing to document 49ers history and, with any luck, the team's sixth Super Bowl win," Williams said.