By Nina Tabios
As a former athlete turned designer, Aric Armon knows a thing or two about practice. When he was a member of the ART U Track and Field team, Armon ran the 400-meter, an arduous race notorious for testing mind over matter.
"There's no faking in the 400. Those last 11 meters, your legs are locking up, you can't breathe anymore, there's no more oxygen in your blood," the Adidas footwear designer said to an audience of aspiring designers via Zoom. "It's a pretty unique race because whoever worked the hardest is going to win. And for me, that translated really well to design. It's about putting in the miles to eventually get better."
Armon's lessons on the field would become a valuable insight for anyone tuning into the Behind the Laces webinar held on August 11. He spoke about his journey from the turf to the Adidas headquarters in Portland, Oregon, where he has spent the last seven years coming up with the high-tech performance shoes worn by top athletes like Chicago Cubs 2016 World Series MVP Kris Bryant and Super Bowl LIV MVP, Kansas City Chiefs star quarterback Patrick Mahomes.
"Shoes are like a mix of so many different things; it's fashion, it's performance, it's innovation, it's style," said Armon, who graduated from Academy of Art University's School of Industrial Design in 2012. "Anyone can find something they like. But some of them really serve a purpose and I was always driven to that, I always looked at the shoes I wore and really tried to dissect what made them better for performance."
Armon kicked off the webinar with a timeline of important shoes. A pair of shoes he doodled in high school. A photo of the track spikes he wore to set the personal record that earned him a scholarship with the Academy the next day. Following that, his first sketches as an industrial design student. Then, a basketball shoe he developed at the Pensole Footwear Design Academy in Portland, where he would launch his career as an intern at Adidas.
Throughout the evening, prospective students chimed in with questions in the chat. Several asked about his process as he demonstrated a quick sketch and he explained that the most important part of a shoe is the idea.
"The thing with sketching, especially ideation sketching, is that it's not about creating a render, it's not about being super accurate, making it all shiny," Armon said. "It's really about using drawing to come up with ideas, it's not about how well the shoe looks. No one is buying the sketch, they're buying the shoe. Use that to get someplace new."
Process was a popular topic during the discussion, especially around the Adidas Freak, the football cleat he developed specifically for Mahomes. Armon explained how changing his thought process inspired his initial concept, which was then refined through extensive prototyping, testing, and player feedback.
"We really started with thinking if a human evolved to play football what would their body start to look like," Armon said. "There was the idea of cleats starting to grow out of your bones, you have extra sets of tendons and muscles that really lock your foot down. It's really about giving you more abilities than you had before and that's the goal, you want to extend the functionality of the human body when you're thinking of sport and innovation."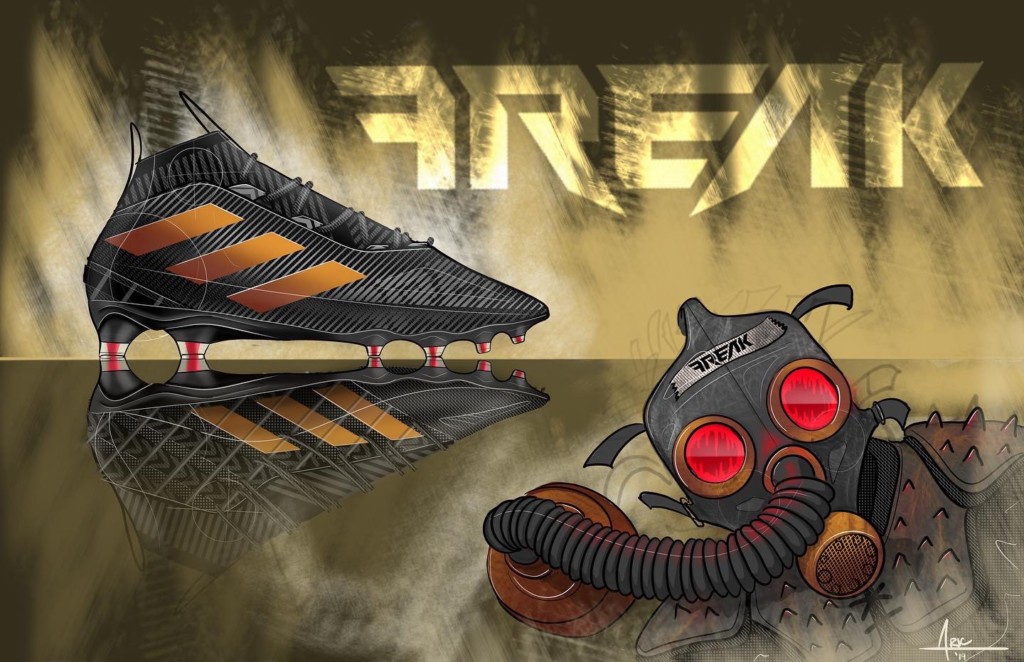 Speaking of innovation, one attendee asked, "How much science goes into creating a shoe?"
Science, as it turns out, plays a huge role in performance shoes. Insights, data, high-speed video, different machines to test cleats are all available at Adidas. "It's objective. There's truth behind it," Armon said. "Either it works or it doesn't. No matter if someone thinks it's going to work or thinks it's cool, if it doesn't work, it doesn't work. If it's uncomfortable, it's uncomfortable."
When asked how to deal with creative block, Armon was quick to reveal that even he isn't immune to it. What often helps is being surrounded by like-minded teammates.
"Even when in school, if you surround yourself with people who are passionate, it wears off on you," he said. "Just being around people who are driven and have different ways of thinking, that builds it up pretty quick. Those [creative valleys] help remind you of your passion and having relationships with the right people is one of the biggest drivers behind that."
With the footwear industry being competitive, many in the webinar were curious about how to get their foot in the door with companies like Nike and Adidas. Everyone has their own path of getting in, he responded, but like any discipline, there is one constant: Practice.

"Drawing is a skill you develop through practice. It's the same with a sport," Armon said. "You're not going to be LeBron James just because you say you want to be—you have to go out there and shoot thousands of shots. Keep doing competitions, reach out to people in the industry, ask for advice. Use all that to get better and build relationships throughout that process."
Watch the full Behind the Laces webinar below.