KAHUKU, OAHU, HAWAII – Both the Pacific West Conference team championship and individual title were awarded to Academy of Art Women's Cross Country on the morning of Saturday, Oct. 23, out at the Kahuku Golf Course. With all five of its qualified runners inside the top 19, ART U dramatically captured its first team championship on the women's side with senior Natalia Novak becoming the program's third individual winner to date. In the second race of the day, juniors Saba Khvichava and Hudson Lockette were also among the top 19 finishers for a fourth-place men's squad.
In a 6k race that saw numerous lead changes throughout, Novak reached the first of two splits in fourth and less than a second behind the leader, Biola's Lynette Ruiz. After exchanging the top spot with Ruiz, Novak was still just a fraction of a second back by the second split. Then, over the final 2k, Novak not only grabbed the lead but eventually crossed the finish line four seconds ahead of Ruiz, taking first of 80 total runners with a time of 22:15.1. Tied for third in program history with her sixth career top 10 finish in just two seasons, Novak became the third individual PacWest champion in program history behind Jenny Bergren's 2012 title and graduate student Hasna Kaarour won most recently in 2019.
"I never really thought I would be a PacWest champion in cross country since my distance is more 1500m and 800m," Novak said. "It took a lot of hard work being champion on the track and cross country is a completely different thing so you have to change the training, but it all came together with Coach Bruce [Jackson]."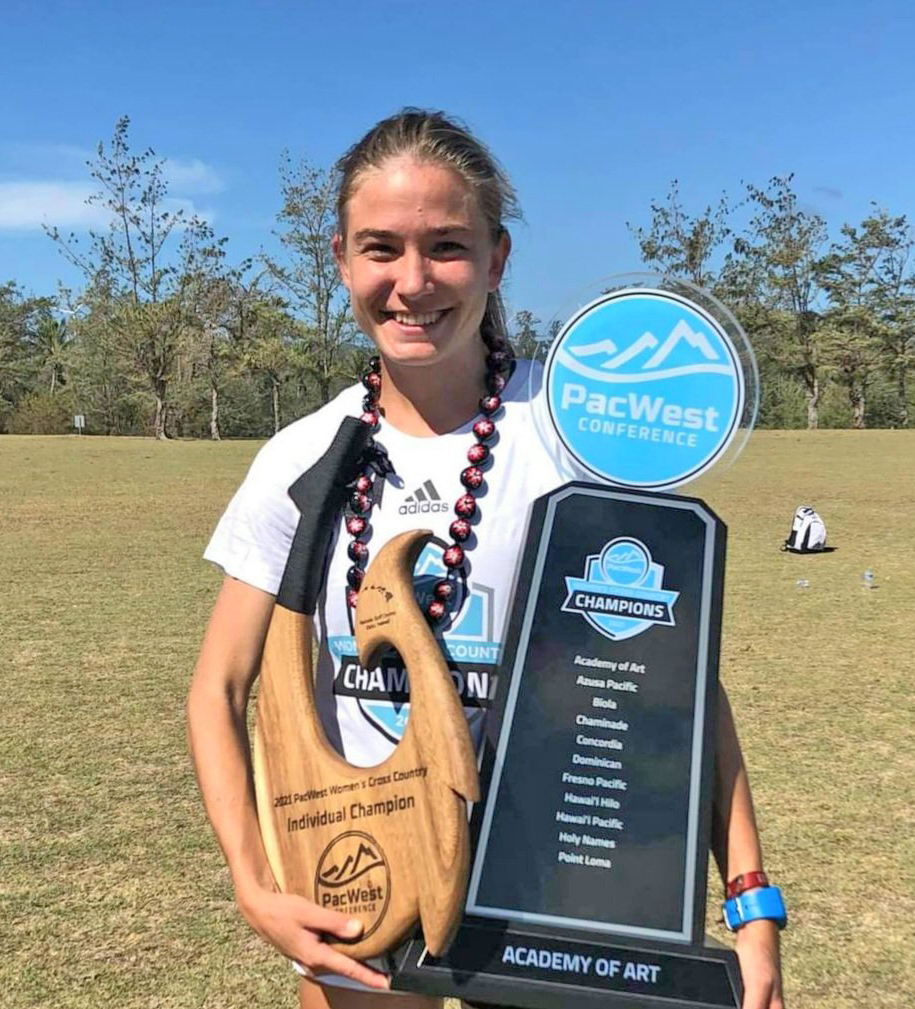 With Novak and Ruiz for much of the race, Kaarour had her eyes on defending her title, but would take third overall at 22:31.5, her second-fastest time this season. Additionally, with her seventh career top 10 finish, the landscape architecture major moved up to take sole possession of second in ART U history.
"Hasna led the way two years ago and since Natalia came into the program, they have worked together, pushed each other at practice, and helped learn from one another," said Interim Head Coach Bruce Jackson. "I'm very happy for Natalia continuing on from her All-American track season and this cross country season is an indicative precursor to a great track season."
Also sporting her second-fastest time of the year at 23:00.1, sophomore Delanie Dykes steadily worked her way up from ninth to eventually seventh across the finish line. Redshirt junior Audrey Rosencrans started among the top 10 at the first split and, though she dropped to 14th by the second, a strong finish put her 12th overall with a 23:20.7 mark. The biggest move of the day came from freshman Lina Hanich who passed seven other runners over the race's final 2k to take 19th overall, sporting a time of 24:01.0 across the line.
"Everybody had a good day, and I think everybody worked hard the whole season in workouts, in races, and it all just came together today," Novak said. "We won by one point and everybody's effort shows in the results. It was helpful to have [Ruiz and Kaarour] around me. They were pushing me throughout the whole race, especially Hasna. It's always good to have a teammate by your side during the race."
As a team, Academy of Art (42) collected its first championship by a single point, besting Biola (43) by 0.19 seconds when all was said and done. All five Urban Knights received All-PacWest Team honors with Novak, Kaarour, and Dykes on the First Team, Rosencrans a member of the Second Team, and Hanich joining the Third Team.
"It was a good feeling," Jackson said. "We talked about how a piece of paper doesn't mean anything because in the preseason we were picked to win, but all year we talked about going through the journey and the process. This race symbolized all of that because at the first split we were first, then Biola took the lead at the second split, and then our team really progressed at the end of the race to jump back up and win by one point."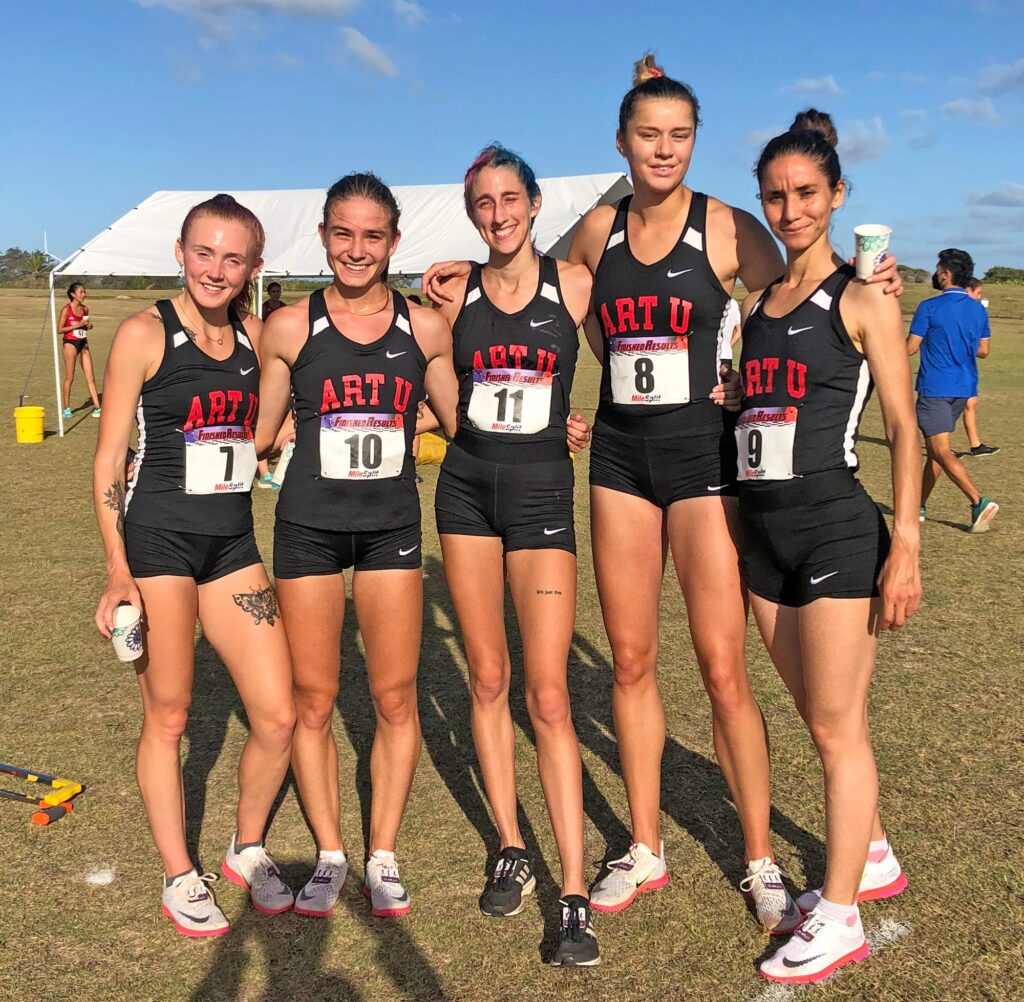 It was a close 8k race for the men as well with a mere second determining final team placements. Khvichava was among the top five after the first split and ended up taking 16th overall with a 26:13.2 mark to lead ART U. Following a huge 14-competitor jump up between the first and second splits, Lockette crossed the finish line in 19th overall at 26:17.9.
Right with Lockette at the first split, junior Markus Anderson Deakin delivered a steadier climb among the racers, up to 34th then 29th by the 8k's end. His 27:11.1 time checked him in at 28th toward the team score while graduate student Abdelouakil Mustapha was not far behind at 33rd overall (32nd toward the team score) with a time of 27:29.8. Graduate student Owen Day rounded out the Academy of Art qualifiers with a 28:36.3 good for 43rd of 68 overall (36th toward the team score).
Collectively, the Urban Knights (131) finished fourth out of the nine PacWest teams in action. Led by the race's top three finishers, including individual victory Patrick Kiprop (24:38.2), Fresno Pacific (38) won the team title ahead of Azusa Pacific (51). ART U edged Concordia (132) for fourth thanks in large part to Lockette's big move midway through the race.
"It was a solid effort from the men today in tough conditions," Jackson said. "They beat the piece of paper that had them projected preseason to finish in fifth. They have grown as a unit all season and will continue heading into Regionals."
The postseason continues with Academy of Art next in action at the NCAA Division II West Regional Championships to be held at Ash Creek Preserve in Monmouth, OR, on Nov. 6.