By Kirsten Coachman
To experience a Wes Anderson film is to be immersed in a cinematic space—rich in detail—of the Oscar-nominated director's own design. And in the case of "The French Dispatch," the audience is transported to the fictional town of Ennui-sur-Blasé, France, via the pages of The French Dispatch of the Liberty, Kansas Evening Sun.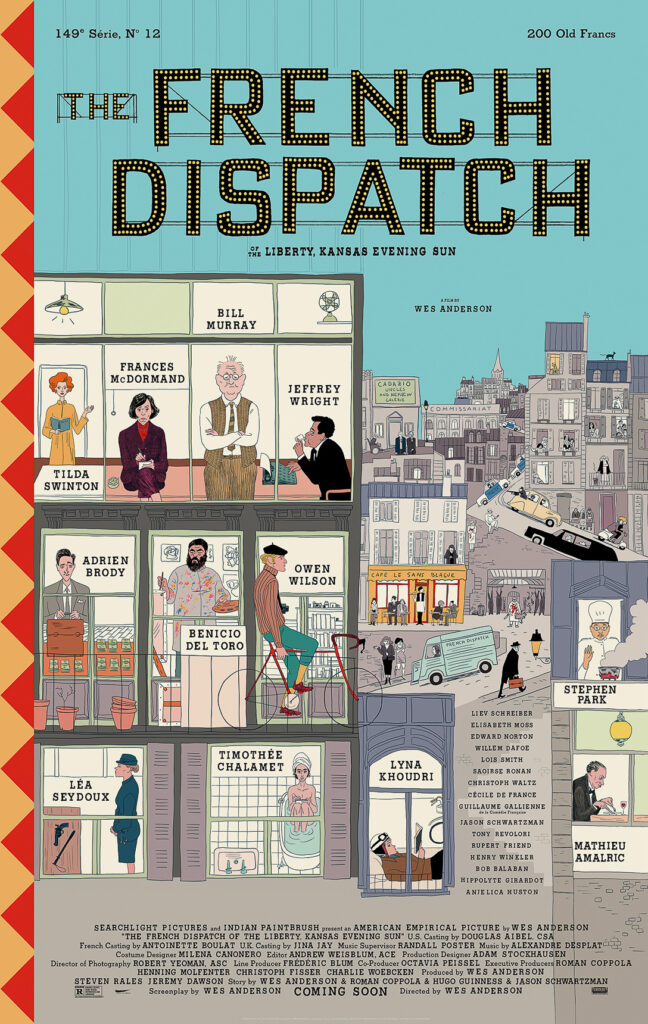 "The French Dispatch," which closed out this year's Mill Valley Film Festival on Oct. 17, is nothing short of a marvel as Anderson's love and admiration for journalism—especially, The New Yorker—and French cinema comes alive on the big screen.
The film, which runs just shy of two hours, is quite the star-studded affair. The cast boasts Anderson alumni, including Bill Murray, Tilda Swinton, Frances McDormand, Adrien Brody, Saoirse Ronan, Léa Seydoux, Jason Schwartzman, and newcomers Timothée Chalamet, Jeffrey Wright, and Stephen Park.
Presented as three long-form feature stories—"The Concrete Masterpiece" by writer J.K.L. Berenson (Swinton), "Revisions to a Manifesto" by writer Lucinda Krementz (McDormand), and "The Private Dining Room of the Police Commissioner" by writer Roebuck Wright (Wright)—this remarkable group of actors infuse Anderson's distinct brand of visual storytelling with warmth and humor.
The film had its world premiere this past July at the Festival de Cannes 2021, and Park, like his character, Lt. Nescaffier, has since found himself tasting a new flavor.
"Being in this movie, going to these festivals; these are all new flavors to me," he told Art U News during the film's San Francisco press tour. "I'm just trying to savor everything—every moment of it."
Working with Wes
Stepping into Anderson's world isn't just any ordinary approach to filmmaking. During production on location in Angoulême, France, everyone stayed in the same hotel, which created a collaborative camaraderie among castmates and the crew.
"For me, a big part of working with Wes is the dinners because we're all living together," shared Park. "We sit down, and we break bread together and get to know each other. Also, some of the designers—Robert Yeoman, the DP, is there every night, Sanjay [Sami], the key grip [is there], so it's like we become this family.
"So, when we get on set, it just is like a natural evolution of us talking about the movie or what the scene's about, making sure we have our lines down, and then it just kind of is all this one organism. Wes will talk to you about whatever needs to be spoken about before we start shooting, if there is a concern, and then you just kind of feel your way through it. … We're all in this sandpit playing together; it's very playful and exploratory and open. It's really just fun."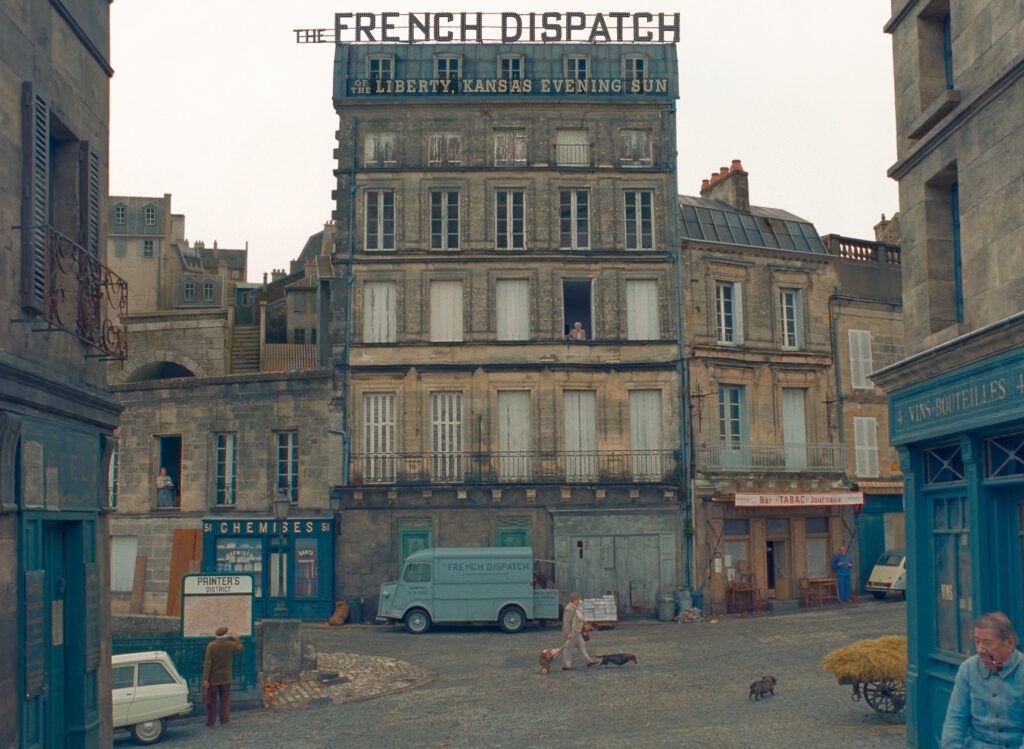 Park is currently working with Anderson on his next film, and while the experience of making "The French Dispatch" was "completely unusual" for the actor, he admitted, "It's going to be hard to work with somebody who's not working this way."
"It's so beautiful and fun because most of the time, you kind of feel separate, especially now with COVID," he explained. "There tends to be, quite often, a sense of hierarchy and who's got power and who doesn't have power. So, all of that stuff doesn't really exist so much in Wes's world because he's very kind and treats everyone with respect. Everybody's like that. Everybody is very grateful to be there, just having a good time, and believes in Wes's vision."
Lt. Nescaffier
In the film, Roebuck Wright has been assigned to write a piece on a bowl-cut wearing chef, Lt. Nescaffier, who serves at the pleasure of the Commissaire (Mathieu Amalric) in Ennui-sur-Blasé.
Park found inspiration for his character in a season three episode of Netflix's "Chef's Table," which features Buddhist nun Jeong Kwan from South Korea. Kwan is renowned for her vegan temple food and the care and thoughtfulness she puts into preparing her food for others.
"The intention of Nescaffier was to imbue food with love, so it was really about connection," said Park, who also cited the meditative process of Tibetan Buddhist monk's sand mandalas and the Japanese tea ceremony. "Everything is done with complete mindfulness and presence, so it's like doing everything at this heightened state. Everything is done with a pure intention. So, that's kind of what I see Jeong Kwan doing, and that's what I was attempting with Nescaffier."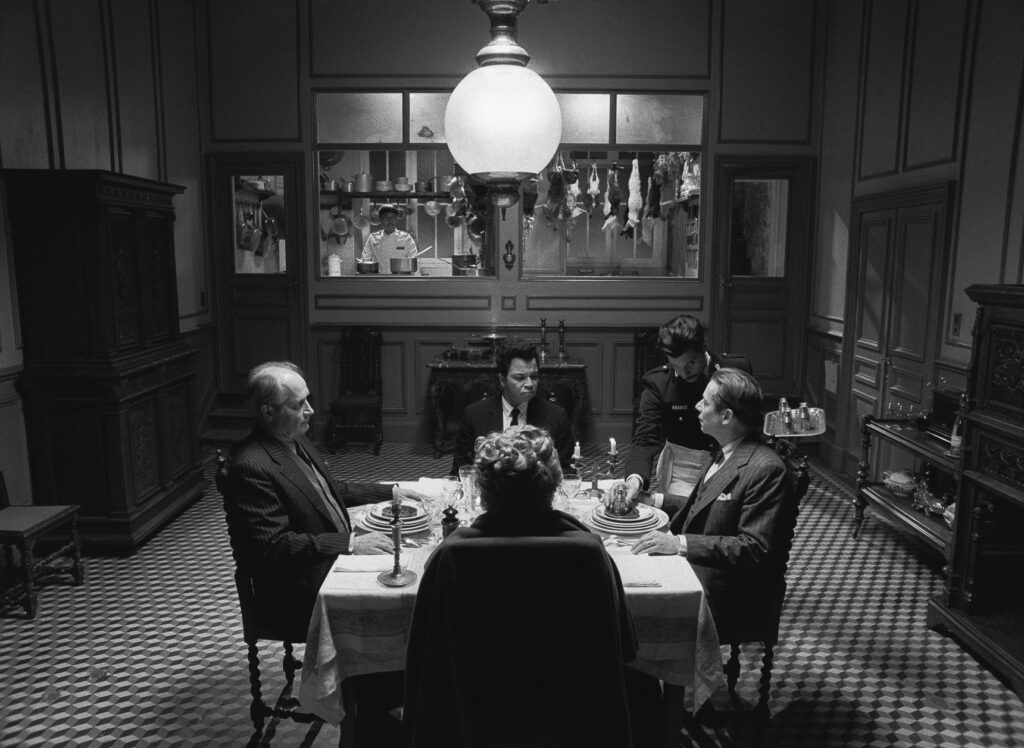 Advice for student actors
Throughout his career, Park has had the opportunity to work with some of the most illustrious directors in the industry, starting with Spike Lee in "Do the Right Thing" (1989). He later worked with Joel and Ethan Coen in "Fargo" (1996) and Bong Joon-ho in "Snowpiercer" (2013).
After working with filmmakers of a certain caliber, Park felt like he could relax more, trust himself, and not be as self-critical. "They empowered me, in a way, with a sense of confidence about what I'm doing," he said. "So, there's a lot less noise for me."
When it came to advice for student actors who might be struggling with insecurities related to their craft, Park shared that he's "big on meditation," and that he's found it to be "extremely helpful" both as an actor and in life.
"It's about cultivating presence and getting out of your head," he explained. "Meditation is really the practice of just being aware, so you're not completely absorbed in your thinking."
Noting the importance of stillness in creativity, Park added, "There's something very creative about what you could call 'the still point.' The still point is something that you start to get a sense of, especially through meditation. [T]he essence [of stillness] should be the beginning of any creative act; if you don't know how to be still, then you lack a certain kind of power. There's a lot of power in stillness. So, cultivating stillness, getting out of your head—to me, meditation helps with all of those kinds of things."
"The French Dispatch" is now playing in limited release in San Francisco. The film opens nationwide on Friday, Oct. 29.