By Greta Chiocchetti
Following a year of attending classes online, Academy of Art University students from across multiple disciplines were thinking deeply about travel and when the world would be safe to venture out into again. Those who tuned into Zoom classes around the globe—from their homes in Korea, China, Europe, and the East Coast—were already imagining their return to campus in San Francisco.
During the Spring 2021 semester, students in the School of Industrial Design's (IND) corporate-sponsored class were tasked with designing the future of long-distance travel for Volkswagen Group. For these students, the innovations seemed limitless.
"Since we haven't been able to really travel much ourselves lately, it was definitely something that we had a lot of fun exploring and conceptualizing," said IND student Jenner Poulsen, who led a team of designers to conceptualize "Urban Cowboy," a futuristic vehicle that pairs with an AI companion to take users on thrilling, personalized cross-country adventures.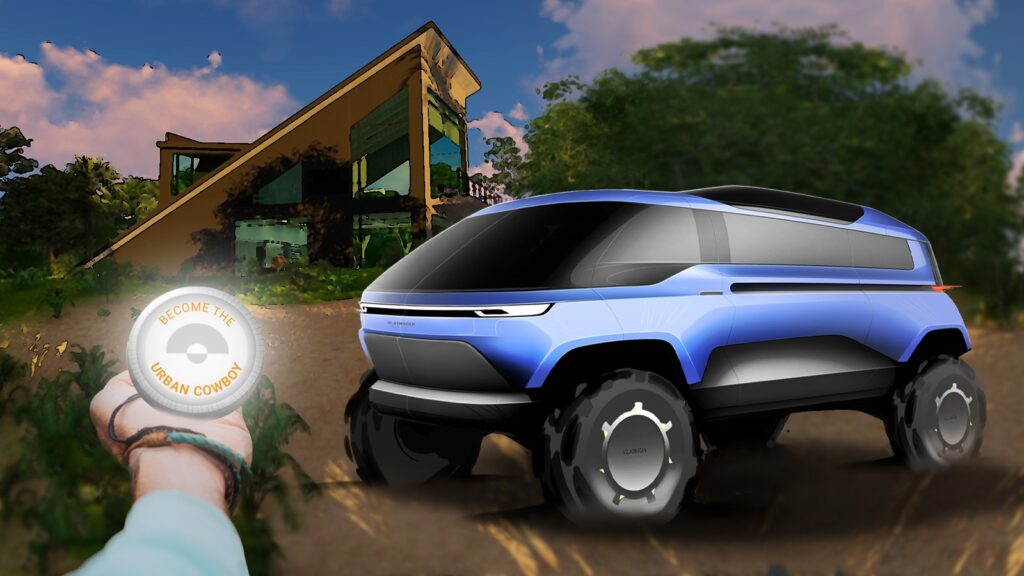 Academy students from the Schools of Interior Architecture & Design (IAD), Graphic Design (GD), Advertising (ADV), and Web Design & New Media (WNM) collaborated with IND students as they dreamt up designs for the future of long-distance travel. Their real-world design challenge: In what ways can long-distance travel—including all the touchpoints between point A and point B—be innovated? Over the course of 14 weeks, they conceptualized, pitched, designed, and prepared to present their designs.
Twenty-eight students were handpicked by faculty and sorted into five teams to participate in the cross-disciplinary collaboration. With regular visits and valuable feedback from Volkswagen Exterior Automotive Designer Alexander Ksoll and Senior Design Manager Yuval Appelboum every few weeks, students developed close relationships with industry all-stars. The semester culminated with presentations to a panel of industry professionals on May 20 for the chance to win the $10,000 Edwin T. Meyer Design Competition Scholarship for Most Innovative Design as well as scholarships from Volkswagen Group.
"It started out with my personal contacts from the industry, [IND Executive Director] Tom Matano's personal contacts, and networking with our friends from the industry," said IND Director Antonio Borja of the sponsored class's beginnings. "Our friends have been really generous with their time, and as you can see, financially as well. Success breeds more success; you do these collaborations, and you have really good results, and then other people in other companies want to be a part of it, too."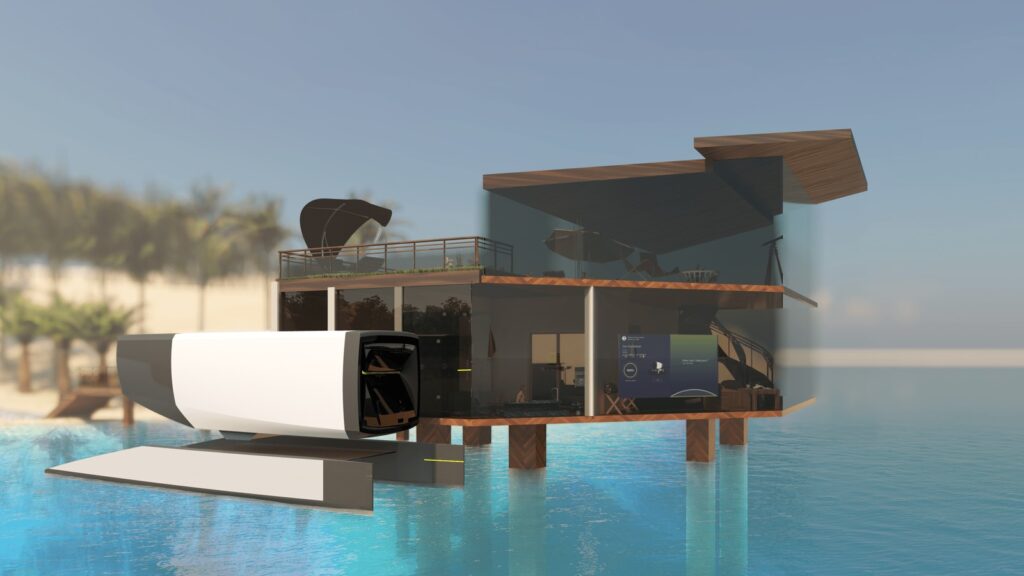 The judging panel included Rhys Bonahoom, head of industrial design at Samsung's Design Innovation Center, and Nichole Rouillac, founder and creative director of Level Design SF, both IND alumni (2008 and 2005, respectively). Also in attendance were Living Spaces Furniture Director of Product Mark Bolick, Delve Design Studio Lead Matt Bettman, Subaru Product Planning and Design Dept. Manager Shin Imai, and Ksoll. Judges were asked to score students' projects by the same standards Academy faculty judge students when vetting submissions to Spring Show—the university's exclusive showcase of top student work across its 22 departments. The judges offered valuable feedback throughout the presentation with an eye on each project's design process, innovation, visual communication, and design narrative.
"It's really cool to see the type of deliverables evolve over the years from the Spring Show," said Bonahoom. "I remember, as a student, it was a completely different format, completely different deliverables, and there wasn't as much cross-pollination between different skill sets and different majors. It really does lend itself to a very compelling product in the end. My compliments to the students. It was really fun to soak it up and enjoy it."
Innovations abound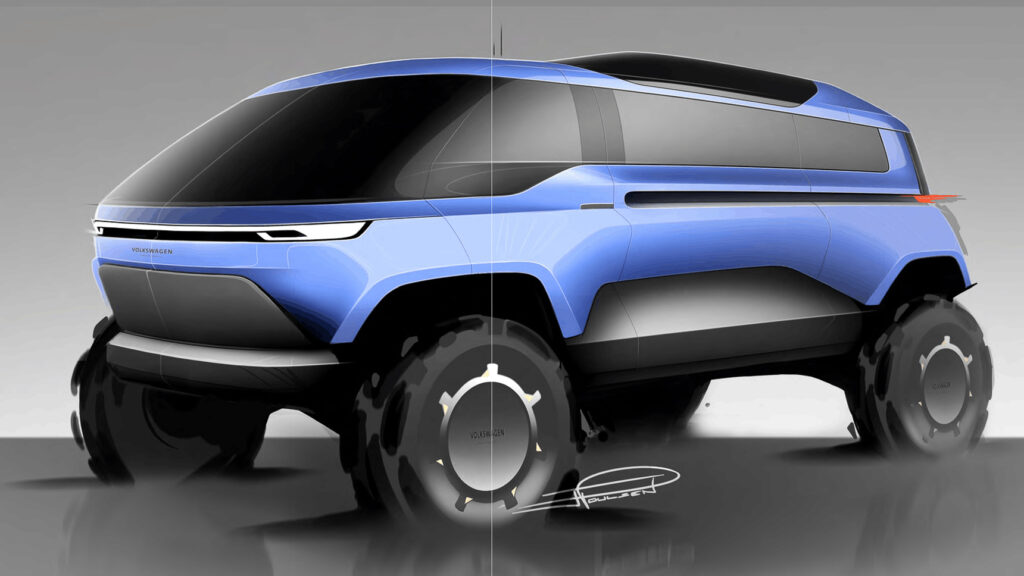 Earning the title for the Most Innovative Project—and securing the generous Edwin T. Meyer scholarship—was Team Urban Cowboy (Poulsen, IND; Elihue Taylor III, IND; Bianca Oquendo, IAD; Emma Delaby, IAD; and Ruimeng Wang, WNM), an idea that was conceived by team leader Poulsen in the early weeks of the semester.
"It really struck me—the emotion and feeling of this new age cowboy," said Poulsen. "It was a really collaborative process with my team, which I was really thankful for. I started with the sketching of the vehicle, but pretty soon after that, from the storyboards, we created the architecture design and this companion device—this handheld smart device that sort of calls back to a cowboy or a traveler's companion."
It was the IND student's first time in the sponsored class and his first interdisciplinary collaboration, an experience that translated to a real-life work opportunity.
"It was probably one of the best experiences I could have asked for. Having the ability to work with these other students in other departments … I learned a lot more about car design and user experience design through this process because of those teammates," said Poulsen. "They really taught me a lot about even my own department. And then I ended up using those experiences to help me through an internship this summer at General Motors as a creative clay sculptor."
Biophilic design
Taking the title of Best Transportation Design was Team Outreach (David Y. Kim, IND; Jaeyoung "Jenny" Kim, IND; Jiaxuan "Josh" Xu, IAD; Anmoal Midha, IAD; Yuan "Michelle" Gao, WNM; and Zhuwei "Janelle" Li), which developed a sleek and adaptable nomadic vehicle that seamlessly attaches to exchangeable pods, allowing users to integrate with their environment fully. Its biophilic design—emphasizing our connection to nature and the natural world—reflects a trend that can be seen across industries.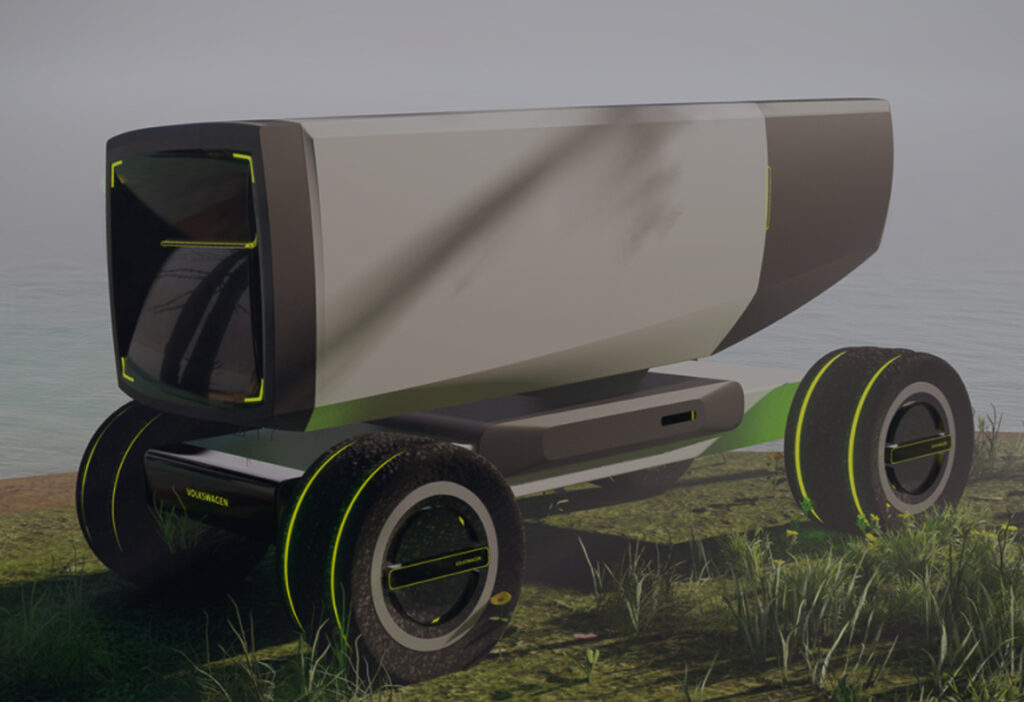 "Biophilic design is something we definitely teach," said IAD Capstone Coordinator Tom Collom. "It's this idea that if we can bring nature into our spaces into our interiors, just through simple things like more natural light, more access to views to outside to nature to trees, more use of natural materials around us that we interact with—wood furniture, natural stones, colors that are really rooted in nature, even artwork that's inspired by nature—people feel better. It can calm you down in stressful situations. We're seeing it become very prevalent in the field because it makes intuitive sense. And there are measured, positive effects."
Team X Hub (Henni Hietala, IAD; Vi Do, IAD; Hyunsoo Kim, WNM; Worawong K., IND; and Yujeong "Stella" Kim, IND) had a connection to nature in mind with their "reimagining of the pit stop," a modern, user-friendly solution to the resting points that break up the large distances between the American landscape. Rather than stopping at a desolate truck stop for some fast food, X Hubs would connect travelers with centers where they can access lodging, entertainment, and local excursions to enjoy American national parks.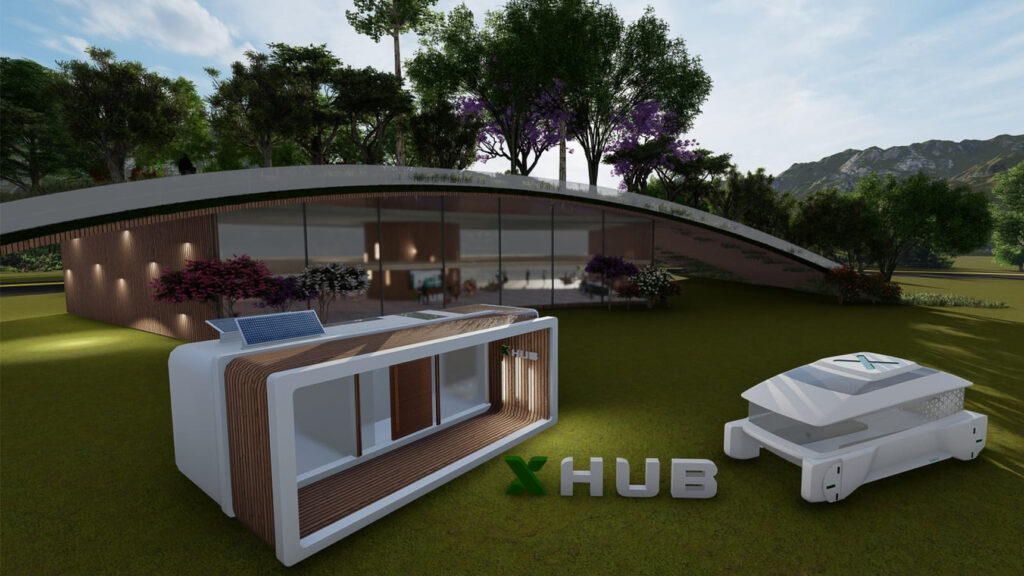 "We explored a lot about fostering connection and tried to make the X Hub a place where people could meet new people and make those connections while they're on their journeys," said team lead Hietala. "We also have certain areas within the excursion center that address those needs—there's a spa/rejuvenation area, there are excursions to go off on, food areas. We looked at it from the perspective of the journey and what a user would want and need and tried to address that in our designs."
Cross-discipline collaboration
The design challenge was David Y. Kim's fourth semester in the sponsored class. He shared that collaborating across disciplines with Team Outreach has made him a better designer.
"What happens is—usually—that we work on our projects from our own department and that's all we really know," explained David. "But the strongest part of the sponsored project, I think, is being able to communicate with designers from other fields and work as a team, rather than being solo. That's actually the biggest thing that all the companies that are sponsoring us are always surprised with—how well we knew each other and how well we worked together."

Zhuwei "Janelle" Li oversaw Team Outreach's UX/UI—user experience and user interface (graphic layout)—design. This included helping to create elements, like a holographic user interface, to streamline the process.
The collaboration offered the WNM student a chance to design a product outside of her comfort zone.
"I will say, from this project, I found out how innovative I can be with my design," said Li. "Because, usually, I'm designing for the current market, using a mobile app or website. But designing the hologram screen, for example, is not something that a lot of people in the market are doing. I think that this really sparked my talents and taught me to think in a really innovative way in the future."
Research-informed design
Li's team contributions drew heavily from research collected from extensive user interviews.
"We learned from our surveys that most people travel in pretty small groups and that people like to take road trips because of freedom and flexibility, but that planning and finding hotels is a difficult factor," said Li. "So, in our product, we wanted to solve those problems and make the process more intuitive."
On Team Orbis (Santiago Bastidas, IND; Anthony Jackson, IND; Vassa Linova, IND; Yunhua "Trista" Tu, WNM; and Aicha Modi, IAD), market research interviews informed their solution to long-distance business travel.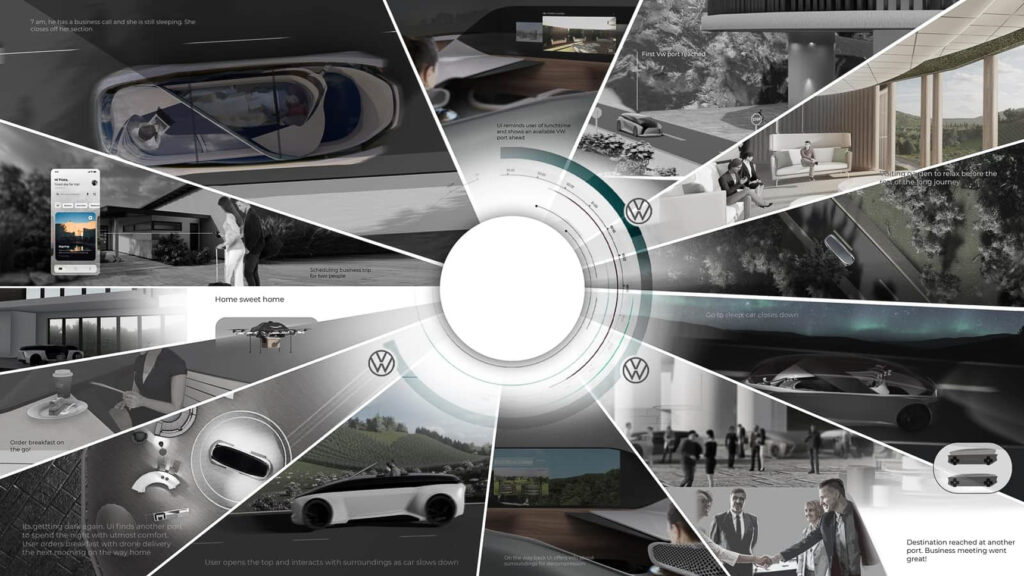 "What we found in our research is that people actually prefer to travel by car than fly because it gives you a sense of freedom and it gives you a sense of connection. You're constantly connecting with your surroundings," said team lead Bastidas. "What we wanted to know was, how do we open that window? How do we maximize this to decompress from those long business meetings?"
The solution? A sleek re-imagining of the traditional car interior: incorporating a central divider that creates two separate working, eating, sleeping, and living areas within a self-driving car. With a smart user interface that makes planning the trip, pit stops, and excursions a snap, the Orbis connects to lodging ports by becoming a part of the architecture, serving as a sleeping area.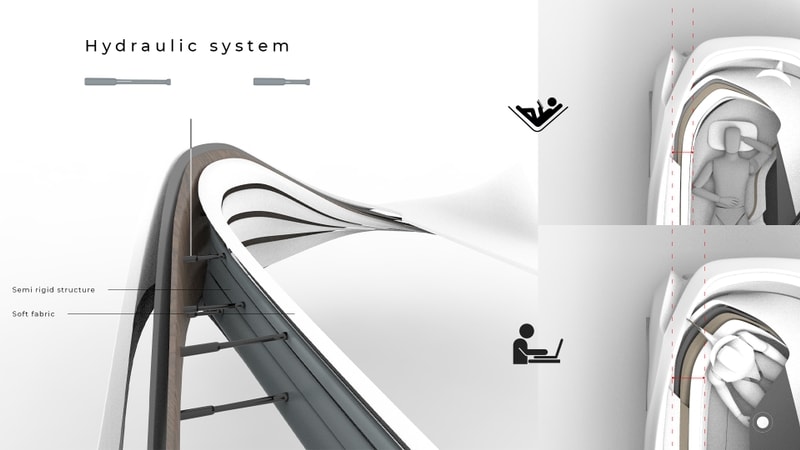 That's where the interior designers come in, Collom said. Though many IAD students remark that they "don't want to design a car," when they hear about the sponsored class, they realize that interior design and car design actually go well together.
"These brands are seeing huge, massive shifts in their industry, from self-driving vehicles to the fact that a lot of young people don't want to own a car. So, they need to adapt to the way things are changing," explained Collum. "They're really interested in not necessarily just how their vehicles change and adaptive, changing technologies and so forth, but how they integrate into your everyday life, which could then lead to other business opportunities for them. So that's why IAD was called in—to hear how they think mobility can fit, and better weave into their lives, their work lives, their personal lives, their vacation lives, and all of that. [W]hen you see the interiors—we're looking at cars coming up in elevators, and they open up into your apartment and become an extension of maybe your office or bedroom."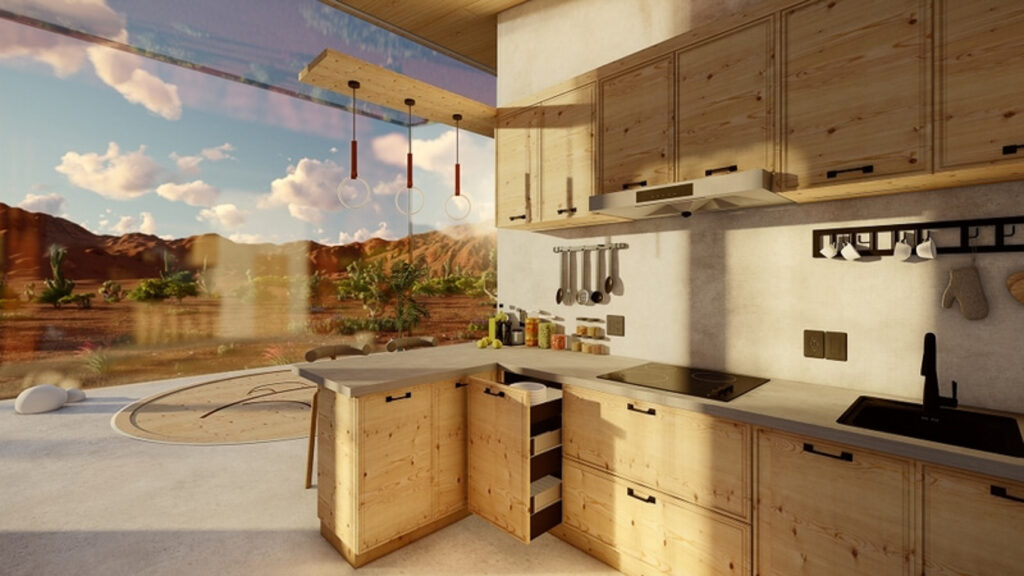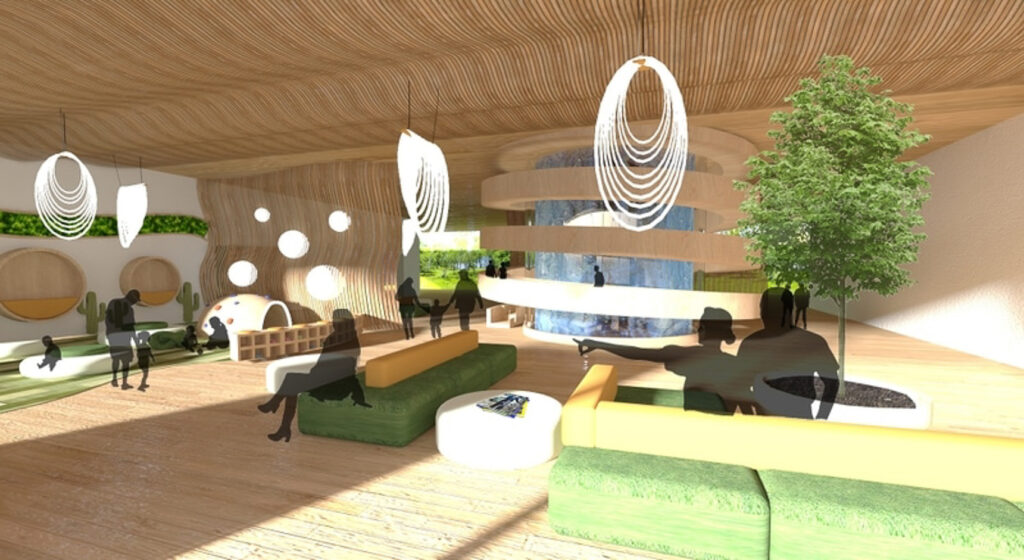 Responsible for making sure the entire class's design and website design was cohesive was Team Kinship (Veronica Alcocer, ADV; Sasha Coughlin, GR; Reyna Valencia, Anagha Varrier, WNM; and Veronica Rodriguez, IAD). For Alcocer, self-proclaimed as "not a car person," learning how to advertise vehicles involved a learning curve.
"For advertising, it's just kind of something you have to get used to. We have the privilege of getting to choose a lot of our own spec work for clients or brands in our portfolio. But, you know, when you're in an agency, you don't necessarily get to choose the account or clients," said Alcocer. "Usually, when you get hired, you get an account set up to work on. And it may not necessarily be a product or service that you use yourself. So, you have to find a way where you can relate to it or get excited about it—just whatever that insight is, whatever it is from learning from other people. It's a weird soft skill to develop, but the collaborative classes definitely helped with that."
Beyond the exceptional work that came out of it, IND's corporate-sponsored class creates real-life work opportunities, said Borja.
"Because of the collaborations that we've done in the past, [our corporate sponsors] saw the work that our students were doing there and they hired not only students from industrial design but also students from the web/new media program for UI and UX design," said Borja. "It led to our students infiltrating the Volkswagen Innovation and Engineering Center California in Belmont. I believe we have over five designers in their studio that are recent grads. That's a big step for us in the sense that we're now becoming one of the programs that they look to hire from every year."
---
See all of the students' designs at https://vwjourney.webflow.io/.
Congratulations to the Volkswagen Group scholarship winners: Trista Yunhua Tu, Team Orbis (WNM, UX/UI); Santiago Bastidas, Team Orbis (IND, interior); Jiaxuan "Josh" Xu, Team Outreach (IAD); Sasha Coughlin, Team Kinship (GR); Veronica Alcocer, Team Kinship (ADV, branding); and Anagha Varrier, Team Kinship (WNM, website).