By Greta Chiocchetti
This past summer, Academy of Art University School of Fine Art Director of Sculpture Steve Krochman welcomed alumni Stephen Bouska, Angella Holguin, and Howard Taikeff to share their tips for sculpting a successful career in the industry.
"I've been teaching at the Academy since 1996—I imagine before some of you were born," Krochman began, addressing an audience of both current and prospective art students on Zoom as a part of the Academy's ongoing free weekly art webinar series. "Over those years, I've had the pleasure and privilege of working with some really talented sculptors, artists, painters, and drawers. And the panel we have today is no exception."
Krochman kicked off the evening by asking the alumni panel to share their unique paths into the Sculpture department and later, into the industry.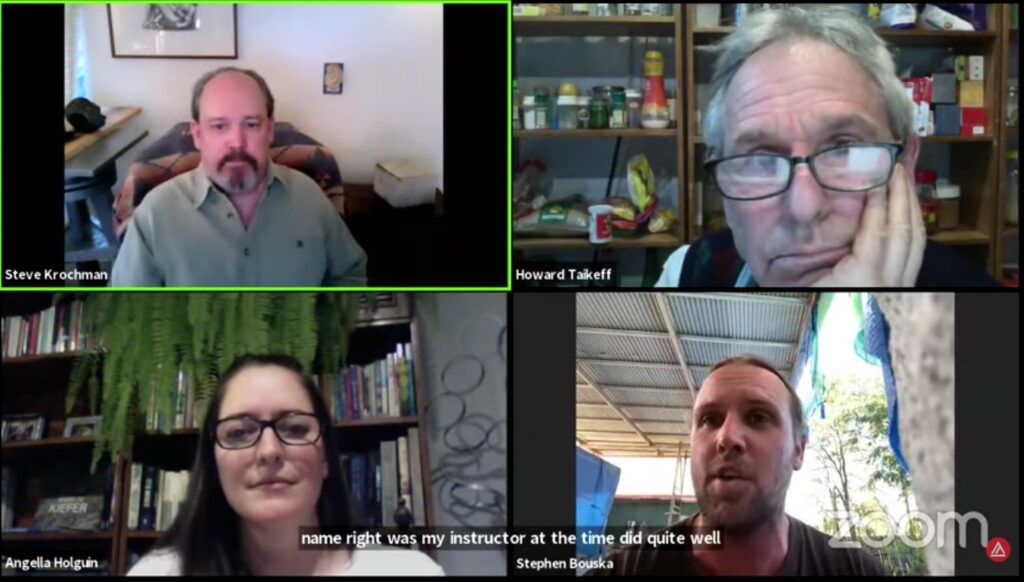 Bouska, a 2017 B.F.A. graduate, spoke about what brought him back to school after spending years training under master masons and carvers in the United States and beyond. Though he had practical experience in architectural carving, marble work, and masonry under his belt, he decided to pursue a fine arts education so he could explore the many forms art can take.
"One of the recipes for success that I saw in the trade was that the best [carvers] all had training in fine arts," said Bouska, who operates a stone carving practice out of Rio Linda, California. While Bouska wanted to specifically focus on carving, modeling, and mold-making at the Academy, he was able to take a variety of classes that allowed him to find his own unique style.
"I was able to be exposed to ceramics, different glazes … I took bronze casting, I took jewelry arts," Bouska said. With a strong foundation from his art classes, Bouska went on to produce some impressive work. With a nod to the great masters of the past, he creates elegant architectural stone carving and marble work; from neoclassical columns reminiscent of ancient Rome to sculptures painstakingly carved out of Italian statuary marble, like the life-size carving of a woman's form, "Tullee," (which is currently on exhibit at the Brookgreen Gardens in South Carolina).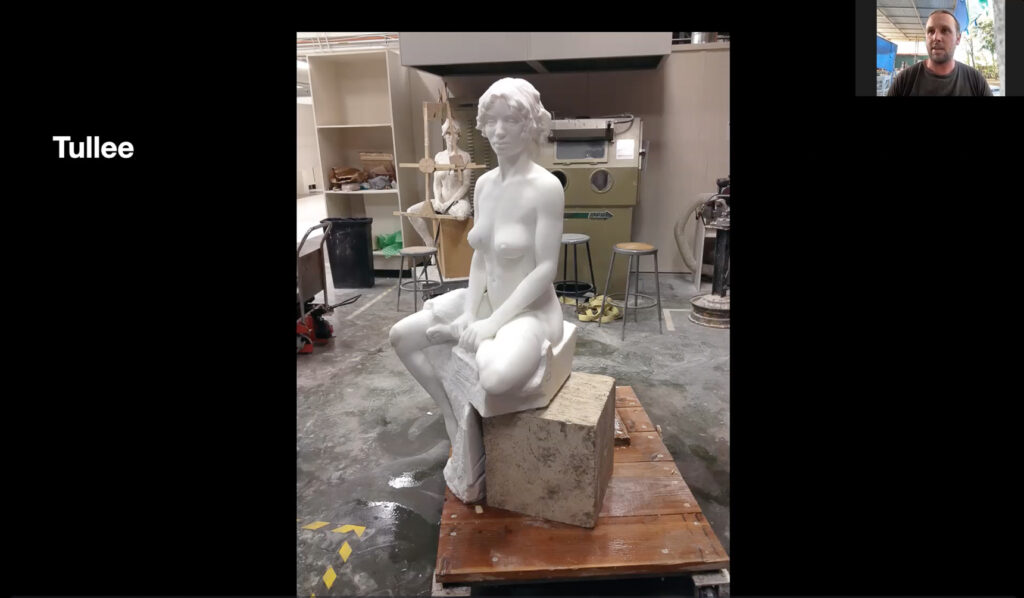 Taking a combination of on-site and online classes helped Bouska build out a professional network—both with industry-professional instructors and fellow Academy peers.
"The networking opportunity, the classically-based training—all of it—elevated my craft to a point where now, I'm the consummate professional that I had always hoped and dreamed to be," Bouska said.
For Holguin, a mixed-media sculptor who graduated from the program with her M.F.A. in 2017, the Academy's robust online program made it possible to sharpen her skills—with the flexibility of taking them remotely.
"I was looking for universities with programs online, and I considered the Academy the best one to fulfill my expectations," said Holguin from her hometown of Mexico City. "I did my first classes online, and then decided to take a year in San Francisco on-site. It was incredible, because [the Academy] has everything I needed to make my dreams come true."
Holguin's design skills were elevated throughout her time in the program, but she also gained practical skills that helped propel her career forward.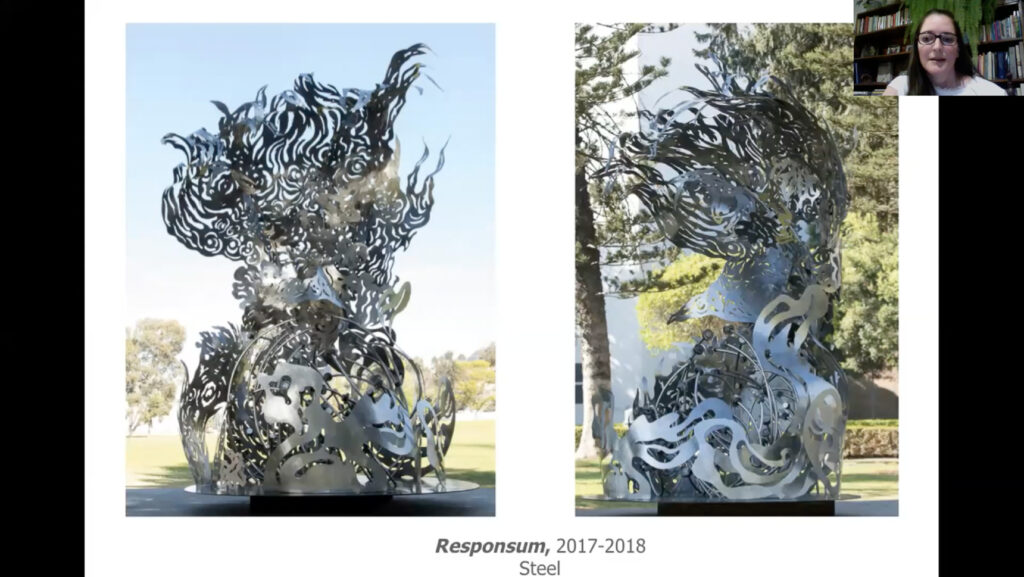 "It was harder for me in the beginning because English is not my first language. I learned the basic requirements so I could take part in weekly discussions—the critiques had to be well-thought-out and constructive," said Holguin. "I have also been teaching thanks to my master's degree—I teach ceramics."
Holguin has used her Academy education to help propel her 10-year-long career in sculpture. She bases much of her work around cutting, bending, and welding steel to create grand, elaborate metalworks. In "Responsum," a public sculpture commissioned by Secretary of Culture for the Mexican city of Querétaro, Holguin, along with 10 other artists, was assigned to artistically represent one of several moral values—hers was the value of "responsibility."
Working with sheets of metal delicately stamped into organic, swirling shapes, Holguin created an abstract plant figure with a cluster of gears at the bottom—which she dubbed "the seeds of correspondence." The gears, which add a moving element to the piece, symbolize the importance of corresponding with each other and our environment.
Next, Krochman introduced Taikeff, a 2018 M.F.A. graduate and a practicing sculptor for over 35 years. Taikeff, who earned his degree completely online, is currently a professor at the Universidad San Francisco Quito.
Exhibiting his work in both solo and group shows for the better part of 20 years, Taikeff has also been commissioned to create both private and public monuments. At the Academy, he explained that a blend of theoretical—what he calls "craft"— and practical training made everything click.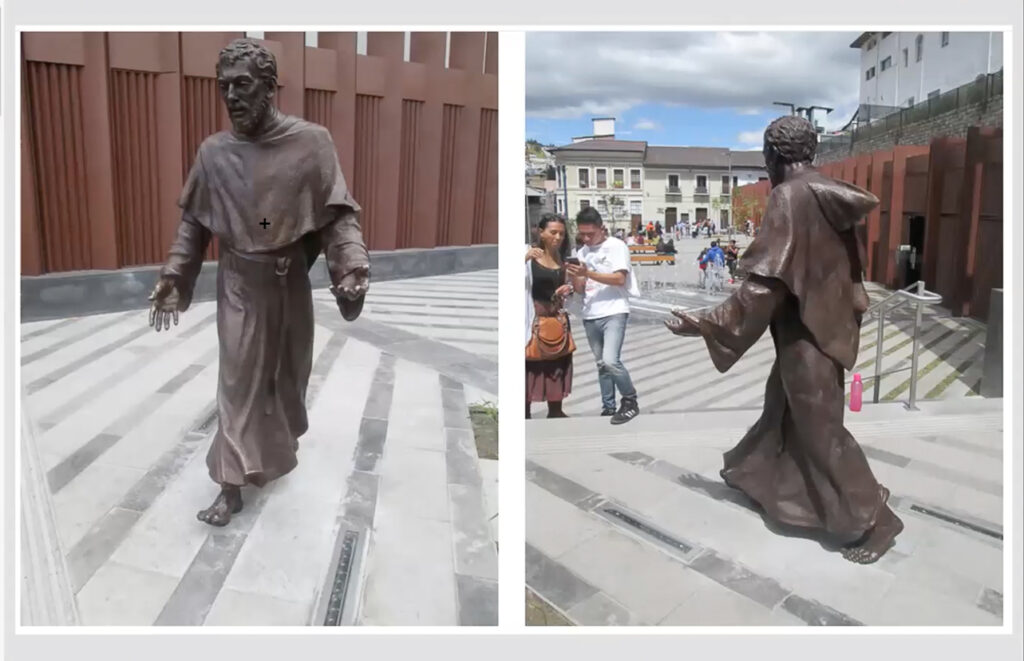 "When you make art, you also have to have craft, because if you don't have craft, you can't realize your dreams, so you know that's one thing that at the Academy you focus on," said Taikeff. "But not just craft—craft is a great part of it—but if you can't write, how do you express your ideas? If you don't know how to sculpt, how do you express your ideas? So this idea of craft and concept are always at play with each other, and you have to develop both of those."
Taikeff explored a specific concept during his time at the Academy while working on a series of "counter-monuments" for his thesis project: critiquing social and political events and figures by turning traditional iconography on its head. In his piece, "Dicktators," Taikeff swaps the traditional marble pedestal for missiles, where he places busts of some of the most controversial leaders of the 21st century. In another, "State Burro-crat," Taikeff cleverly plays on the Spanish word for donkey, portraying an official with his head and rear end swapped, standing atop a filing cabinet bursting with shredded forms.
"If you write an article, it may get archived, but a sculpture doesn't go away," said Taikeff. "That's what I was really confronting in my work."