2020 Olympic Games
Thursday, August 5 – Friday, August 6 (Wednesday, Aug. 4 – Friday, Aug. 6 PT)
Tokyo, Japan – Olympic Stadium
Live Results | Live Video
THE RETURN
Two years after closing the book on a tremendous collegiate career, Academy of Art Athletics Hall of Famer Mobolade Ajomale will make his second career appearance representing Team Canada in Tokyo, Japan, for the 2020 Olympic Games. Coming off six first-place finishes in his last seven times contesting the 100m dash, Ajomale rejoins his teammates in the 4x100m relay as they challenge the world's elite.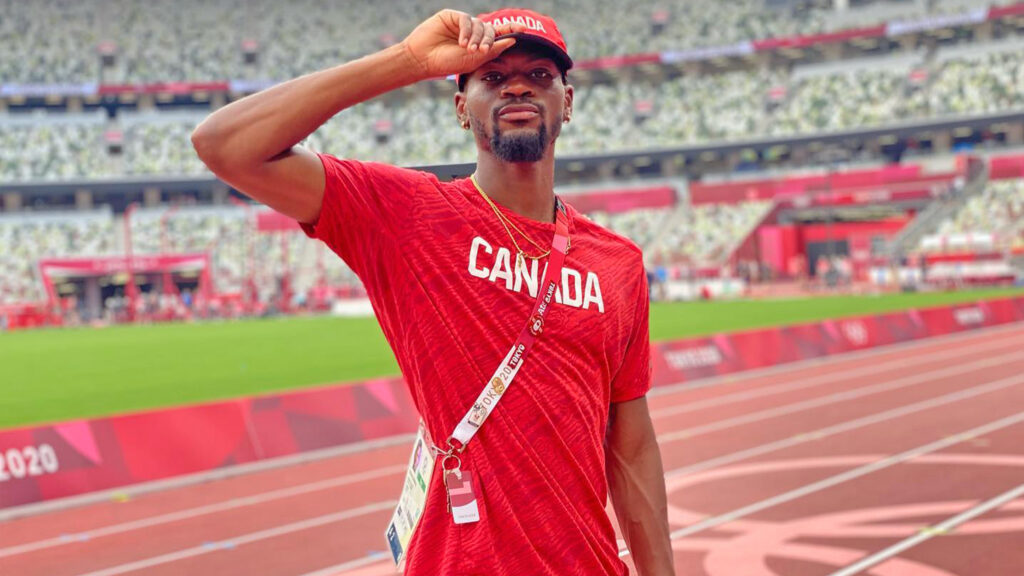 THE STARTING LINE
The men's 4x100m relay prelims are set to take place at Olympic Stadium in Tokyo on Thursday, Aug. 5 at 11:30 a.m. GMT (Wednesday, Aug. 4 at 7:30 p.m. PT). The following day features the 4x100m finals at 10:50 p.m. GMT (Friday, Aug. 6 at 6:50 a.m. PT).
Remember to follow @ARTU_Knights via the athletics app (Apple App Store, Google Play Store) and on Twitter & Instagram, as well as "Like" the Urban Knights on Facebook for score updates, videos, and recaps.
THE COLLEGIATE CAREER
An inductee into the inaugural Academy of Art Athletics Hall of Fame last year, Ajomale ended his collegiate career as a 10-time individual champion, 20-time All-American, and had his name atop eight different event categories in the ART U record books. Beyond the program, Ajomale remains the second in NCAA Division II in the indoor 200m (20.67), third in the indoor 60m (6.57), eighth in the outdoor 100m (10.17), and ninth in the outdoor 200m (20.45), among other marks. Propelled early by his Olympic bronze medal in 2016, he finished as a two-time NCAA Division II National Track Athlete of the Year (Indoor 2017, Outdoor 2018), six-time DII West Region Track Athlete of the Year, and four-time PacWest Track Athlete of the Meet. Ajomale became the first student-athlete in ART U Athletics history to be named PacWest Athlete of the Year twice after collecting the honor in 2018.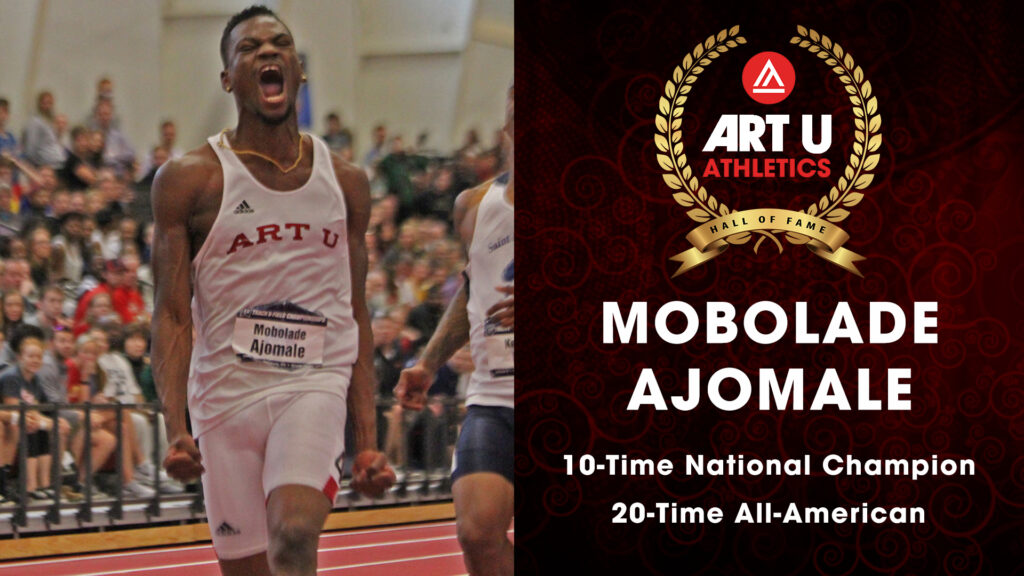 THE PROFESSIONAL CAREER
Following his breakout freshman campaign, Ajomale got his first taste of the Olympic stage in the summer of 2016. Anchoring the Team Canada's 4x100m in the event's qualifying round, the native of Richmond Hill, Canada received the baton after Akeem Haynes, Aaron Brown, and Brendan Rodney, pushing for a time of 37.89 to help send his country's squad into the final. There, 100m bronze and 200m silver medalist Andrew De Grasse took Ajomale's place and a 37.64 Canadian record ensued with bronze medals for all relay members.
In the lead-up to this year's Olympic Games, Ajomale returned to action for the first time in over a calendar year in 2021 at the High Performance Invite #5 in Toronto (Feb. 26), where he won the indoor 60m with a time of 6.73. From there, he would compete in Louisiana and Texas during the outdoor season before returning to Canada for a busy month of June. Ajomale placed first in the 100m at both the Johnny Loaring Classic in Windsor (June 12) and the Inferno Track and Field Festival in Guelph (June 16), running wind-aided times of 10.14 (+3.3) and 10.07 (+2.6) before a 10.36, which earned him third-place finish at the Canadian Olympic Trials (June 25). At La Classique D'athlétisme De Montréal (June 29), his final individual 100m saw him go 10.17 for the top finish once more.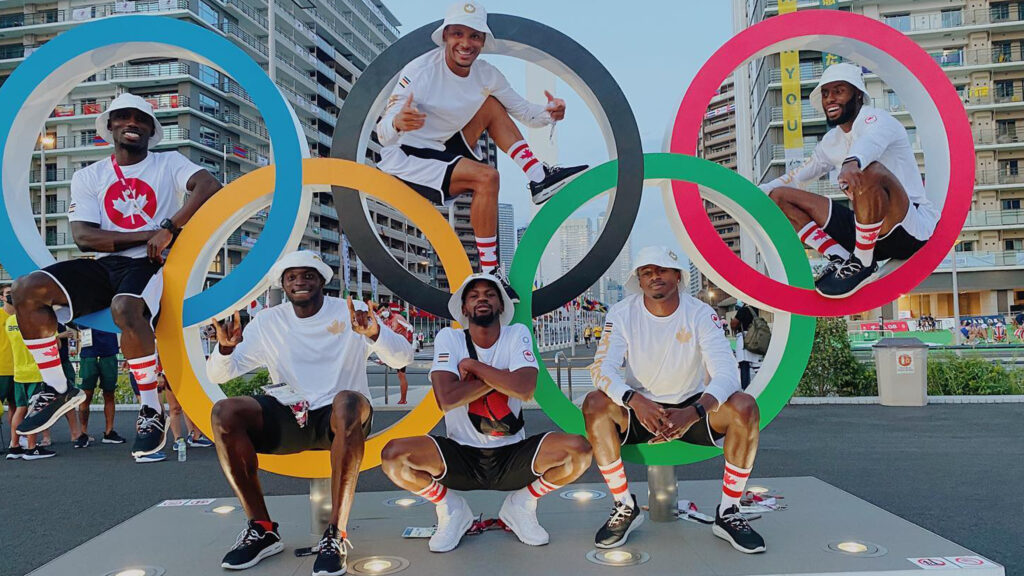 THE TEAM
Alongside Ajomale in the 4x100m relay are a collection of Canadian's top sprinters, including Andre DeGrasse, Aaron Brown, Brendon Rodney, Jerome Blake, Gavin Smellie, and Bismark Boateng. DeGrasse, who competes in his second Olympics after his aforementioned 100m bronze and 200m silver medals in Rio, ran a wind-legal season-best of 9.99 at the Tom Jones Memorial Invitational in April. Ahead of a third-place Ajomale (10.36) in the Canadian Olympic Trials 100m final were Brown (10.12) and Blake (10.27), while Rodney (10.43) and Smellie (10.58) followed. As a 4x100m team, the combination of Boateng, Blake, Ajomale, and DeGrasse combined for a season-best 38.29 at the Müller British Grand Prix in Gateshead, England (July 13).
THE COMPETITION
The 2016 Olympic Games in Rio saw Jamaica's 4x100m men's relay claim a gold medal after posting a time of 37.27, while Japan's 37.60 edged Canada's 37.64 for silver. This year, the top times ahead of Canada's 38.32 have come from Great Britain (38.27) and the People's Republic of China (38.29), while Germany (38.32) and Jamaica (38.33) are just behind. Great Britain's team of CJ Ujah, Zharnel Hughes, Richard Kilty, and Nethaneel Mitchell-Blake delivered their time alongside Team Canada at the Müller British Grand Prix while China's collection of Zhiqiang Wu, Zhenye Xie, Bingtian Su, and Zhihong Wang produced their time in March. Germany's quartet of Julian Reus, Lucas Ansah-Peprah, Owen Ansah, and Marvin Schulte came through with their mark in June, and Jamaica's Asafa Powell, Julian Forte, Yohan Blake, and Oshane Bailey had their performance in May.