In what has undoubtedly been a history-making season, #4 seed Academy of Art Men's Basketball punctuated the 2021-22 campaign in a big way by playing strong team basketball to defeat #2 seed Azusa Pacific for the first time since 2013 by a final of 73-70 on Saturday and hoist the program's first Pacific West Conference Championship trophy.
"To win a PacWest Championship when you've gone through so much adversity is a testament to our team, sticking with it through the ups and the downs," said PacWest Coach of the Year Scott Waterman. "I'm so excited that these guys will get the opportunity to experience the NCAA Tournament as it has been something we have talked about all year. Tonight's game was another high-level NCAA Division II basketball game against a really good team, but our guys, as they have all year, stepped up and made big plays when it mattered."
It took strong team basketball for a full 40 minutes for the Urban Knights (20-11, 13-7 PacWest) to become the first Northern California school and first #4 seed to claim the PacWest trophy, going wire-to-wire with the Cougars (20-9, 15-4 PacWest). It was a memorable run through the postseason, as the Knights upset both the #1 and #2 seeds en route to their first tournament title.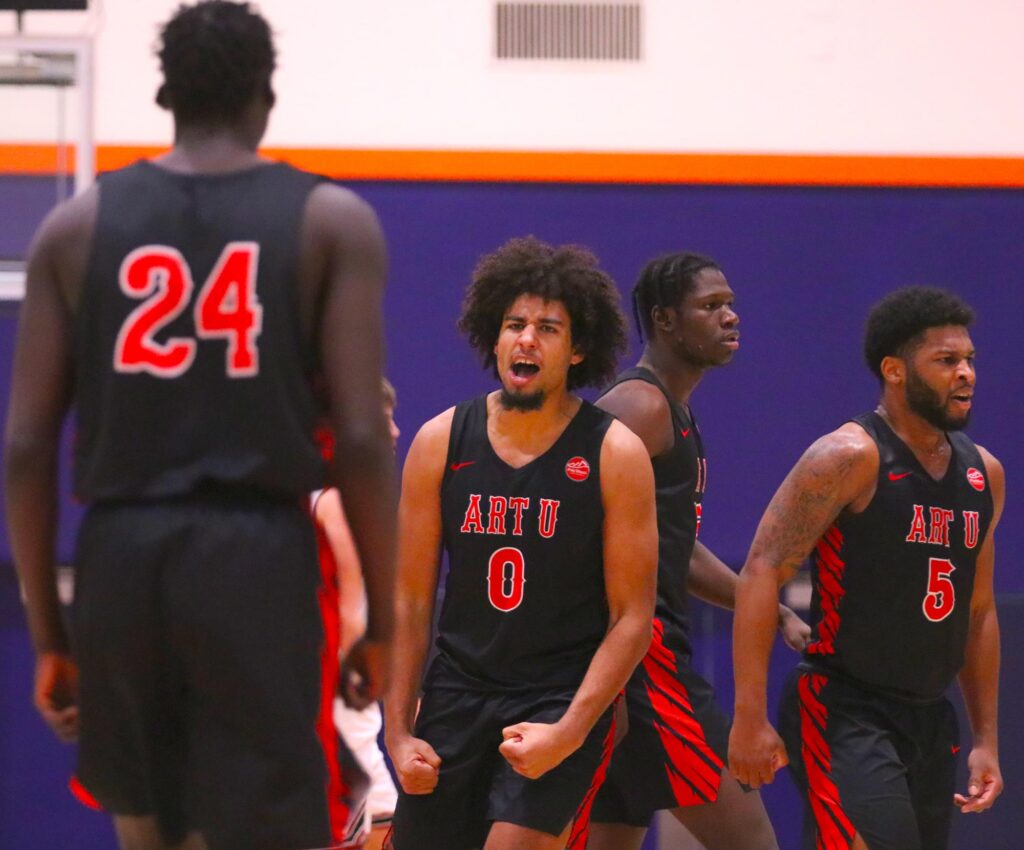 "It was a war for sure," said ART U graduate student guard Joshua Bagley. "It was fun, two great teams competing 100 percent trying to get this [PacWest Trophy] right here; it was the most fun in my life."
It was APU that started the game out on top, building a 7-2 cushion in just the first four minutes, though no one could have predicted that would be their largest lead of the game. The ART U response was swift, reeling off an 11-0 stretch that featured a pair of buckets from junior forward Mike Asante, and was capped off on a three-ball from graduate student guard Deang Deang.
Becoming a game of runs, the lead would flip-flop a handful of times in the first half, with neither side being able to establish a lead larger than four points until the final 30 seconds of the frame, graduate student guard Denny Slay drained his only 3-pointer of the game to put the Knights up five. However, a foul away from the ball with 0.2 seconds left would put Ken West of APU at the line, where he drained both to make it just 35-32 going into the break. Key in the half were Asante and sophomore forward Latrell Williams, as Asante poured in 16 points while Williams nearly snatched a double-double in the first period alone with nine points and nine boards.
Though Academy of Art's lead would jump up to six points on two separate occasions within the first three minutes of the second half; it would slip away quickly with an 8-0 APU run as the Cougars briefly retook the lead. The lead would be very short-lived yet again thanks to a pair of clutch triples from graduate student forward Adrian Byrd-Jelinek, cashing both in the span of three possessions to kick off a 13-2 run that gave ART U its largest lead of the game at nine points, one they would not relinquish again. The first of those triples came after a crucial steal by Deang, while the second was set up off yet another swipe, this time from Slay.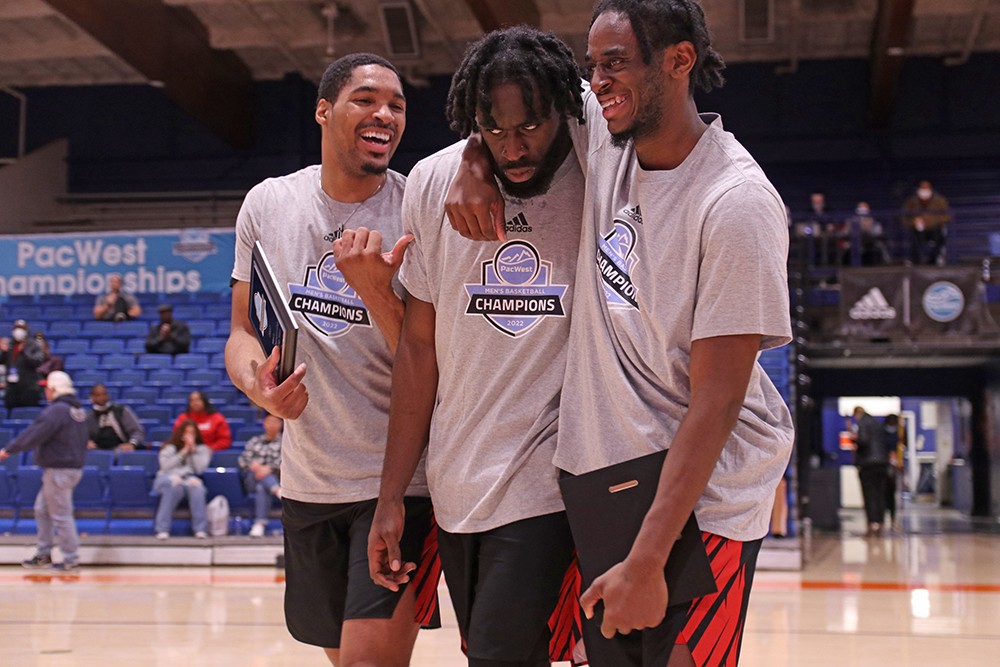 Every time from that point forward when the Cougars would try to claw their way back into the contest, there were the Knights and, more specifically, Byrd-Jelinek who stopped them, as he poured in 15 second-half points, including a trio of 3-pointers after being kept out of the scoring category in the first half.
Despite holding that nine-point lead on two different occasions, the last occurring with nearly five minutes left on the clock, APU once more made it a game down the stretch with solid work from the free throw line to ultimately cut the deficit to just one with slightly over two minutes to go in regulation. Again the Knights found a way to stay in the lead, receiving a pair of layups from Byrd-Jelinek and Asante sandwiched around a Slay free throw to once more lead by six and put Azusa Pacific in a position to have to foul.
While ART U is normally active on the defensive end, their best defense down the stretch came from the charity stripe, where they were a perfect 8-for-8 over the final 17 seconds to preserve their 10th win in their past 11 contests, further extending the program record for wins to 20. Those free throws down the stretch would prove crucial, as APU would not relent thanks to a pair of three-pointers over the same stretch but could come no closer.
Tonight's win marked the third time this season that Academy of Art has recorded a five-game winning streak. Also, a program record, the Knights are just one shy of matching the school record of six wins in a row that they accomplished earlier this season.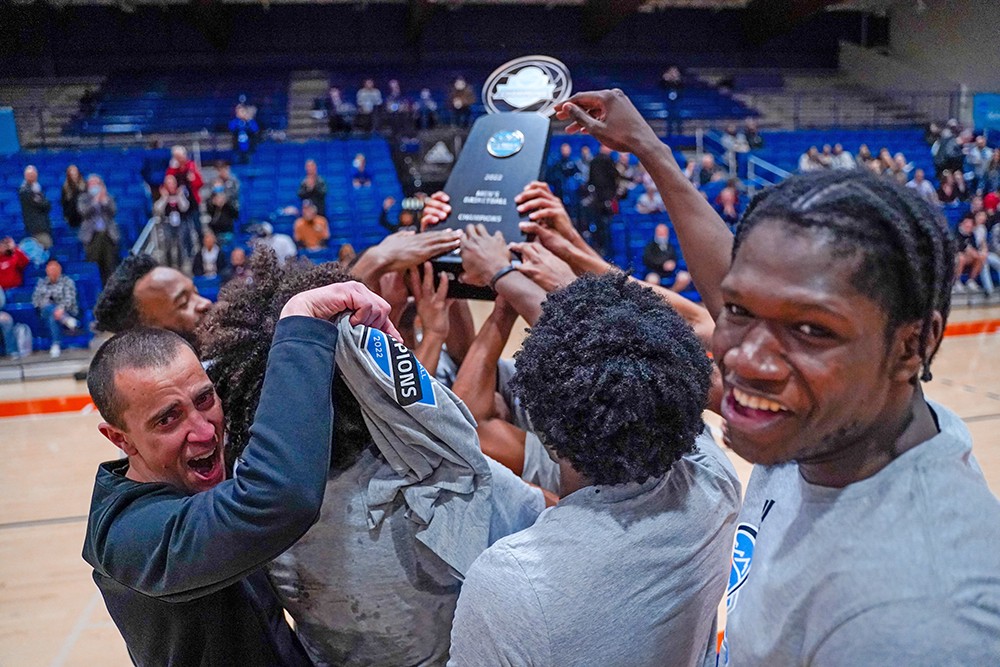 "We've told our guys all year that we have the talent; we just need to put it all together for 40 minutes game after game after game," Waterman said. "It's a building process, and these last four days have been an accumulation of that to get to this point in time."
After nearly finishing with a double-double in all three games, including a 16-point and nine-rebound effort tonight, Asante was selected to the All-PacWest Tournament Team while also being recognized as the Tournament MVP. Joining him on the All-Tournament Team was Williams, who posted two double-doubles in three contests after he closed the night with 11 points and 11 boards for his 10th of the season. The third Urban Knight on the All-Tournament team was was PacWest Defender of the Year and junior guard Klay Brown, doing a little bit of everything in the final as he collected eight rebounds (six on the defensive boards), four assists, and three steals to go with six points, all of which came from the foul line.
Also reaching double-digits offensively tonight in addition to the 15 from Byrd-Jelinek was Slay, adding 10 points with half of those coming from the free throw line where he was 5-for-6.
While Academy of Art did not record double-digit steals as they had in each of the previous two rounds of the PacWest Championship Tournament, ending the game with nine, they increased their season total to 325 steals and need only four more in the first round of the NCAA West Regional to break the PacWest single-season record.
"It means everything [to win a PacWest Championship]," Waterman said. "Men's basketball, three years ago, never had more than 12 wins. Essentially two years, if you take out the COVID-19 year later, we have a PacWest Championship and 20 wins, and this is hopefully just the beginning with where we're going to go with this thing. We're incredibly excited right now."