By Kirsten Coachman
When Writer Stefani Robinson set out to write a script based on the true story of the virtuoso violinist, composer, and master fencer Joseph Bologne, she aimed to recapture the excitement she felt when she first learned of him as a teenager.
"I think I was just astounded by the fact that he lived the life that he lived. … This guy has lived like 40 lives in one, but that was amazing to me. And that no one really knew who he was," the Emmy Award-nominated "Atlanta" writer shared during a recent virtual media roundtable. "When I was younger, I just felt like I was reading about a comic book character—like it was a fairytale."
"Chevalier," in theaters this weekend, opens with what Robinson describes as "the violent rap battle," introducing audiences to the composer in bold fashion as he crashes Wolfgang Amadeus Mozart's concert.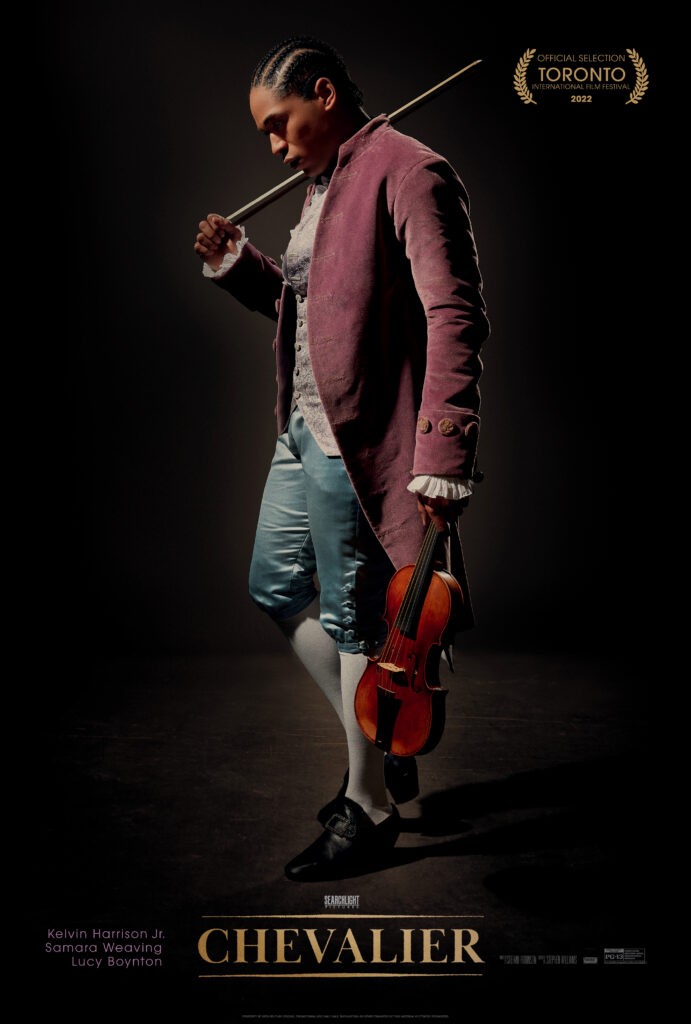 From there, the film goes back to Joseph's early years. Born to an enslaved African woman and a French plantation owner, he is sent away to boarding school as a child and excels in fencing and the violin. Working his way up through society, he garners favor with the Queen of France, Marie Antoinette (Lucy Boynton), dubbing him Chevalier de Saint-Georges. As the Chevalier bids to lead the Paris Opera, a clandestine affair threatens his ambitions.
Helmed by Stephen Williams in his feature film debut, the Emmy Award-winning "Watchmen" director revealed that he, too, hadn't heard of the Chevalier before reading Robinson's script, which was part of why he wanted to help tell his story.
"As soon as I read [the script], it became apparent to me that it was a movie. That this guy—Joseph Bologne—had lived a life that was so rich and so cinematic in its essence," explained Williams. "And yet, he was largely unknown and had been largely erased from our kind of collective human story."
When it came time to find a director, Robinson said it wasn't all that challenging. Knowing Williams's passion for the script, she had "no question in [her] mind that he needed to direct this movie."
"He's an incredibly talented director from a technical perspective, but he understood the heart of the movie and the heart of what I was going for, and I didn't have to explain myself," said Robinson. "And it's nice to work with people creatively when you don't have to explain yourself."
Additional "good fortune" came to Robinson and Williams in the form of actor Kelvin Harrison Jr. Playing a real person isn't new to the actor, who portrayed Fred Hampton in Aaron Sorkin's "The Trial of the Chicago 7" and most recently filled the shoes of B.B. King in Baz Luhrmann's "ELVIS." When it came to taking on the role of Joseph, he revealed that he was "obsessed" with this character.
"I couldn't believe he existed," said Harrison Jr. "I just loved the character, what he was giving, and the 1700s, like, I couldn't believe it. The stories about this dude were like he was with all these older women, and he was just [a] flyboy. He was androgynous. He was a bit of an enigma, you know? He was a party animal, a man about town. And I was just like, 'Who is this brother? I wanna play him.'"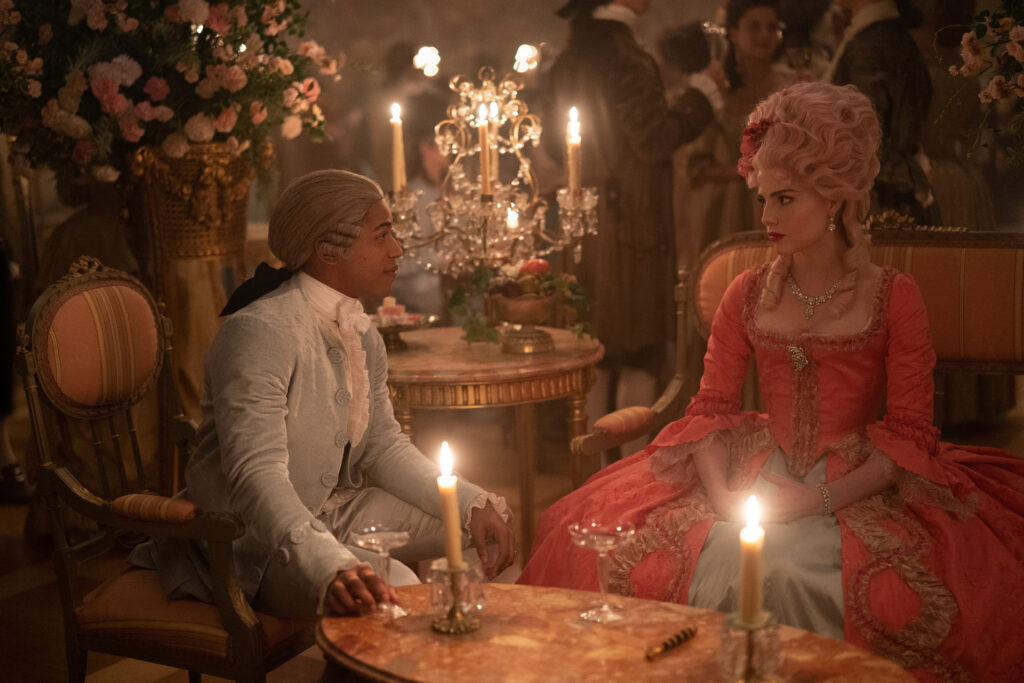 Though the violin was the first instrument the New Orleans native ever played, learning the Chevalier's unique set of skills posed a challenge for the actor.
"I was pretty good—I was pretty quick at it [laughs]," said Harrison Jr. about his previous violin experience as a kid. "But after Katrina, the program I had went away, and I lost the violin. And then I started playing piano and trumpet. … So this was the first time I picked up a violin in probably a little under 20 years."
As he prepared for filming, Harrison Jr. trained on the violin for seven hours a day. "It was intense," he shared, laughing.
Following the passing of his father, Joseph is reunited with his mother, Nanon (Ronke Adekoluejo), who moves in with him. Adekoluejo, who has appeared in "Doctor Who" and "Ready Player One," shared that navigating the intricacies of Joseph and Nanon's relationship was possible in part thanks to her scene partner.
"I got to work with an exceptional actor who creates space and is generous and loving and caring, and it allows you to explore all those things," said Adekoluejo. "You know, like, what does it mean to be someone's mother but also so close in age? She was 13 when she gave birth to him, and their relationship is detached. They'd been separated. So, she comes in wanting to love on him and be mom, but he's a man; he's not a boy. So luckily for me, Kelvin was like, 'How do we do this? Do you wanna do this? Are you comfortable doing this?' … And that just was fun and safe because sometimes work like that can feel unsafe."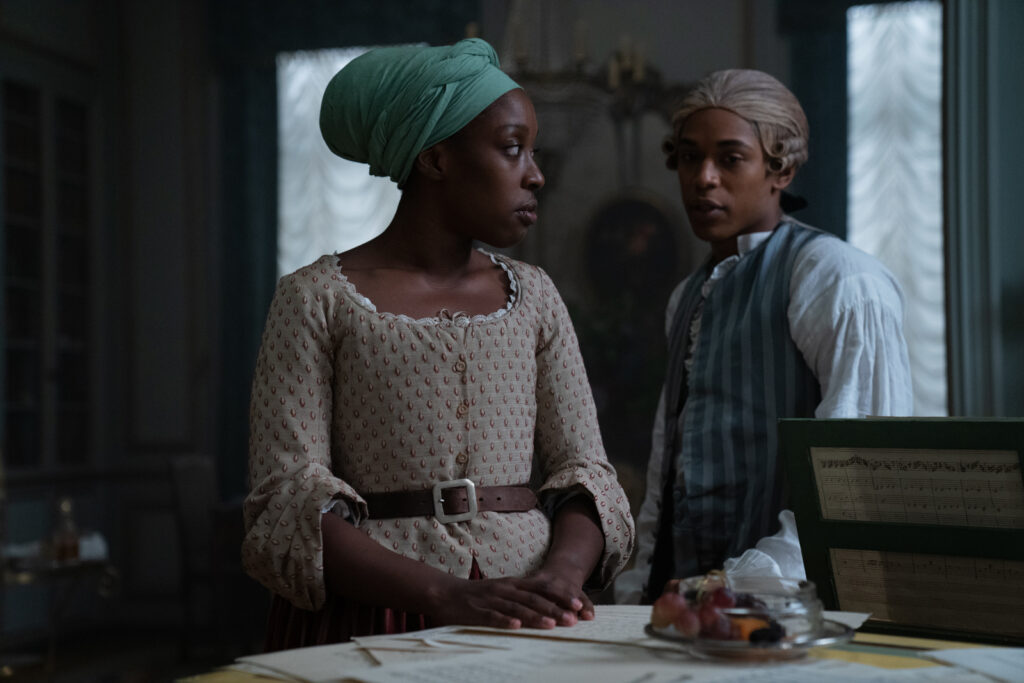 One of the biggest challenges for both actors was finding information on their characters' real-life counterparts. As Adekoluejo noted, "There's a lot of history that hasn't been written down," which called for some creativity.
"It was quite hard to not really find much about Nanon," she explained. "So I had to go and answer questions myself that I wanted to figure out—where she was born, what did she eat, what did she see growing up, and stuff like that."
Harrison Jr. took the few things he did find about Joseph and looked for the common threads between them to try and connect the dots of who the real man was.
"You take the big themes out of it, and you go, 'Alright, someone said he was a dancer. Somebody said he was a ladies' man. Somebody said that he told off such and so,' he explained. "[You look at] all these little things and go, 'What does that say about somebody?' And then, 'Who said it? And what were the laws at the time, you know, who was in power at the time?' You start to have to do all that stuff, and I approached it like I was in story mode on a video game. I was like, 'Alright, here we go. Let's go through the journey and see what happens."
When it comes to audiences, Williams hopes that people enjoy themselves while watching the film and that they learn something new—whether about Joseph or that historical period.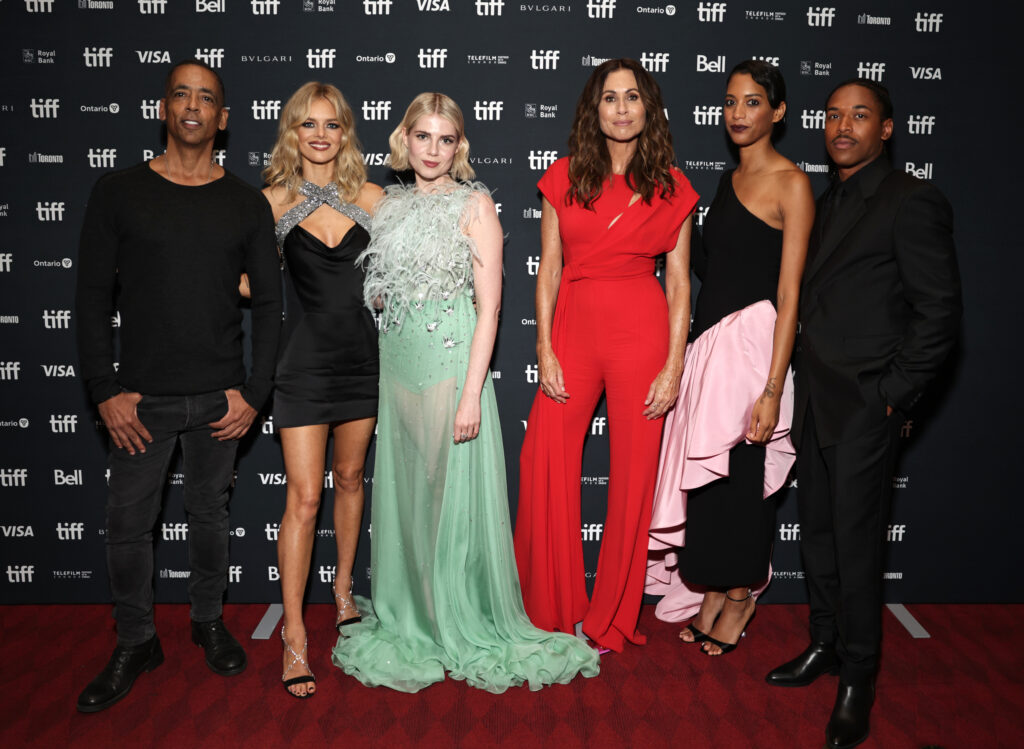 "Hopefully, it helps inform something about yourself and your own life journey, and the ultimate decision that I think we all have to make," said Williams, "which is to come into a sense of our own self and a sense of empowerment and a sense of self-awareness and live from that place."
Robinson echoed his sentiment and added: "I hope people leave with the courage to be themselves and to liberate themselves in whatever ways that means to them."
"The message I hope viewers go and receive from this film is that we have to find out about our stories that have been shared with us, that we haven't been allowed to bathe in, relish in, and inspire us," said Adekoluejo. "I hope it makes people say no, that they don't have to take what is given, that they go for bigger, greater, more, and that they really don't limit themselves or what they are capable of achieving in this life. All of us are Joseph."
"Chevalier" is now playing in theaters.