By Isabella Cook
Academy of Art University School of Illustration (ILL) alum Forest Stearns recently celebrated the unveiling of his expansive mural, "California Remix," in the California State Library in Sacramento. The mural, comprised of 29 canvas panels (each nearly 7.5 feet tall), now spans all four corners of the library's Gillis Hall in an artistic homage to the diversity of California.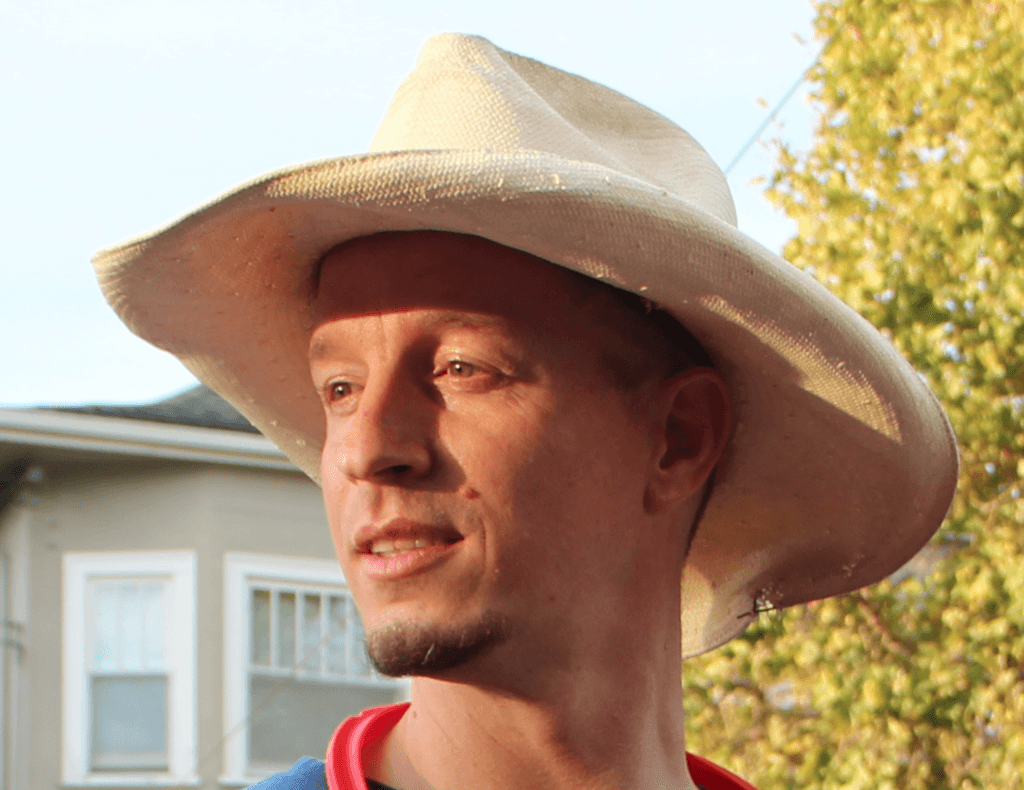 After Stearns earned his M.F.A. from the Academy in 2010, he worked as the Art Director of DeviantArt, Inc. Later, he joined Planet as the Principal Artist and Founder of their Artist in Residence program, where he designed multiple large format paintings that were engraved onto small three-unit "cube satellites" (10x10x30cm, called "Doves") through his unique application of laser etching and silk screen technology. Stearns was the first to have an outward-facing art exhibit in Earth's orbit, effectively proving that the stars are the limit for him.
"It's not where will Forest go—it's where won't he go," said ILL Chair Emeritus Chuck Pyle. "Today, California and the Silicon Valley, but tomorrow…"
Stearns is currently the Creative Innovation Consultant and Artist-in-Residence co-founder with Google Quantum AI in Santa Barbara. He is the principal artist at DRAWEVERYWHERE Studios, and in his words, his job is to "draw people together."
Gillis Hall and its history
The California State Library is more than just a library—it is the state library of California, a title that carries significant historical weight. Since its inception in 1850, the library has served the state for over 150 years as a hub of the legislature, knowledge, and public service. The library was built in the late 1920s and was officially open and operational by 1928.
Gillis Hall, named for California State Librarian James Louis Gillis, resides on the third floor of the State Library and serves as a reading room for the public. Since 1928, the walls of Gillis Hall have played host to the artwork of Maynard Dixon (1875–1946).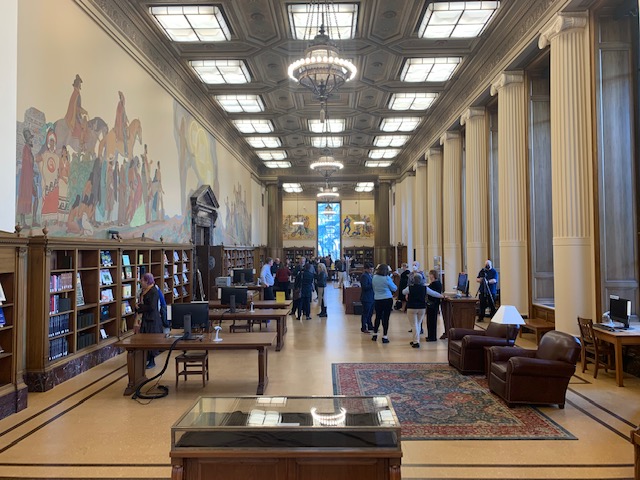 "Maynard Dixon was no slouch; he was an epic Californian artist, incredibly influential, and a fine art painter," shared Pyle. "And now we have Forest doing the same thing today and on a much grander scale than they allowed Dixon to do."
Dixon is best known for his paintings of the American West. In the year preceding the dawn of the Great Depression, Dixon painted a mural in the middle of Gillis Hall, which remains displayed in its full glory nearly 100 years later.
"If you don't know Maynard Dixon's work, he's a California classic of Southwest artwork; he's an amazing illustrator," said Stearns. "I told Chuck Pyle about being offered this ambitious and honorable mural project… and he said, 'Forest, no big deal, but you're going to be legendary if you nail this next to Maynard Dixon.'"
"The artist that you want"
Two months before the COVID-19 pandemic lockdown began, California State Librarian Greg Lucas commissioned Stearns to create a mural to hang next to and fully encompass Dixon's grand production in Gillis Hall. The mural needed to stand alone as a piece of artwork worthy of the architecture and historical legacy State Library and had to coexist and complement the pre-existing work of one of California's most accomplished historical artists.
As luck would have it, Stearns and the principal creative consultant, California Arts Council (CAC) Executive Director Anne Bown-Crawford, already knew each other. Shortly after earning his B.F.A. from Humboldt State University, Bown-Crawford hired Stearns and members of his art group Empire Squared to instruct ninth through 12th-grade students at the Arcata Arts Institute in 2006. She had been avidly following the rise of his illustration career ever since. When Lucas asked if she knew an artist up to the task of painting the Gillis Hall mural and breathing contemporary life into the vast space, Bown-Crawford immediately had Stearns in mind.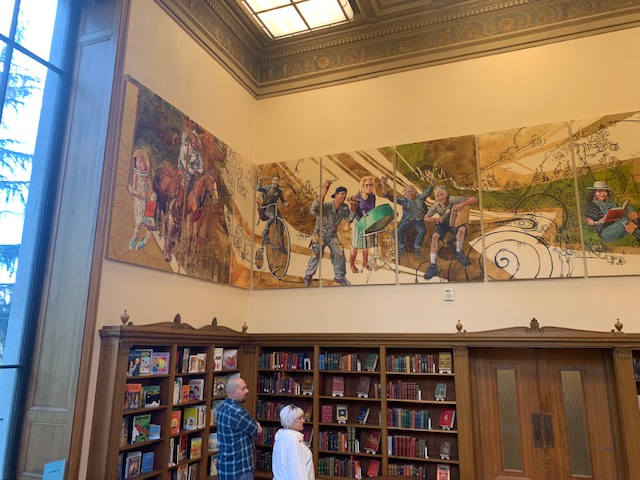 "[Bown-Crawford] said, 'I know this guy named Forest, he's amazingly prolific, does big, impactful work, and he's really good at empathetically listening and then creating—he's the artist that you want,'" said Stearns.
"In the professional art world, your work speaks before you do," said Pyle. "You can blabber all you want, but your artwork is your identity, and the very first time Forest opened his sketchbook—to me, it was immediately apparent that Forest was already mature. [He] had a message and was relentless in the amount of creative energy he was putting into pursuing it. For an Academy student, that relentless creative energy is invaluable, and it is the only thing that guarantees you a career in the arts."
Finding inspiration in everyday people
During the early months of the pandemic, Stearns had no access to the library or the models he initially planned to use to create the mural. His original idea—to hire an array of models to represent California's diversity—fell through due to the impact of COVID-19.
"Nobody was coming to work for modeling agencies," explained Stearns. "I could not find professional models that wanted to sit in front of me because COVID was happening, and everyone was, ultimately, scared for their lives."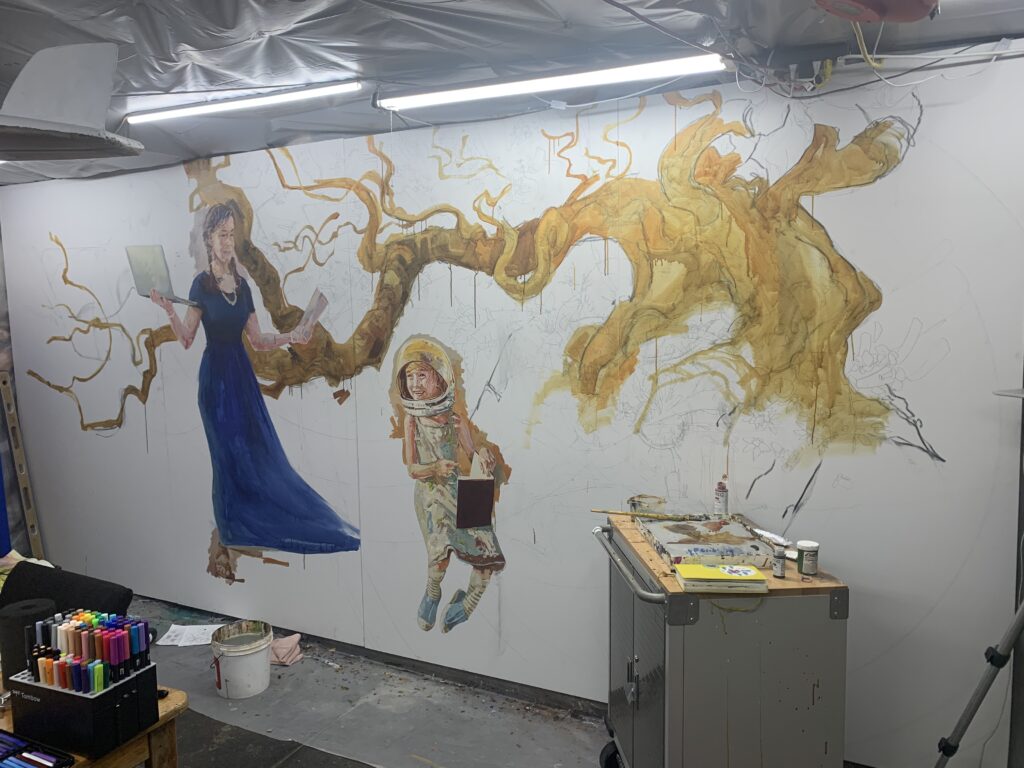 But this challenge, combined with the extra time Stearns now had for the brainstorming phase of the mural, led him down an entirely different path—one that would define the character of "California Remix." Stearns began observing the people around him and realized that the true models of California's beautiful diversity were the people he saw daily.
"I have a basement garage studio here in North Oakland, and I'm on a street that is urban, and I have a bunch of very beautiful and different-looking neighbors," said Stearns. "So, I started looking around and started seeing the really beautiful and stylish gangster lesbian women, and the hippie old-school tattoo-covered surfer San Francisco lady, and the people in my life that play sitars, and the people in my life that build guitars. So, I'm thinking through the Rolodex of my mind of who's different from the last person that I know and trust that I can [photograph]."
With a clear direction for his piece, Stearns began photographing, drawing (and re-drawing), Photoshopping, and manipulating the images of his models to come together ultimately and comprise a single work of art.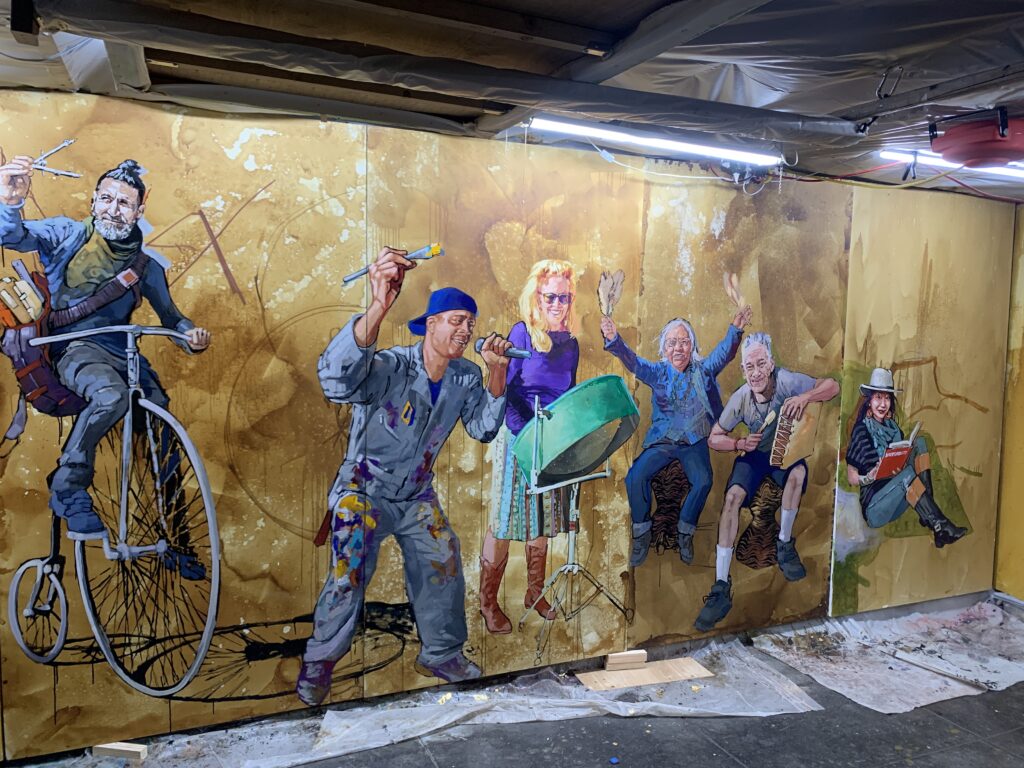 "As the piece started to develop on paper, I started to get an idea of how I was going to create it physically," said Stearns. "The more work that I put into the mural, the more I developed it, the more I developed ideas, the more I developed the composition and building the frame of these things, it ended up going from a 20-foot piece to a 100-plus-foot piece going on every single corner of [Gillis Hall]. Every corner of the room has murals that wrap the corners and come out into the space and come to almost meet the Maynard Dixon piece in the middle."
The mural took over two years to complete, making it the longest project of Stearns' career. The final result: 29 canvas-covered panels on plywood frames, meticulously painted in acrylic and transported to Gillis Hall. They were shipped, staged, and installed at the end of 2022.
Unveiling "California Remix"
The California State Library held a celebratory gathering on Dec. 5, 2022, to commemorate the successful installation of "California Remix." At the event, Stearns spoke to the audience—Pyle was among them—and acknowledged the history and the hard work that went into the mural's completion.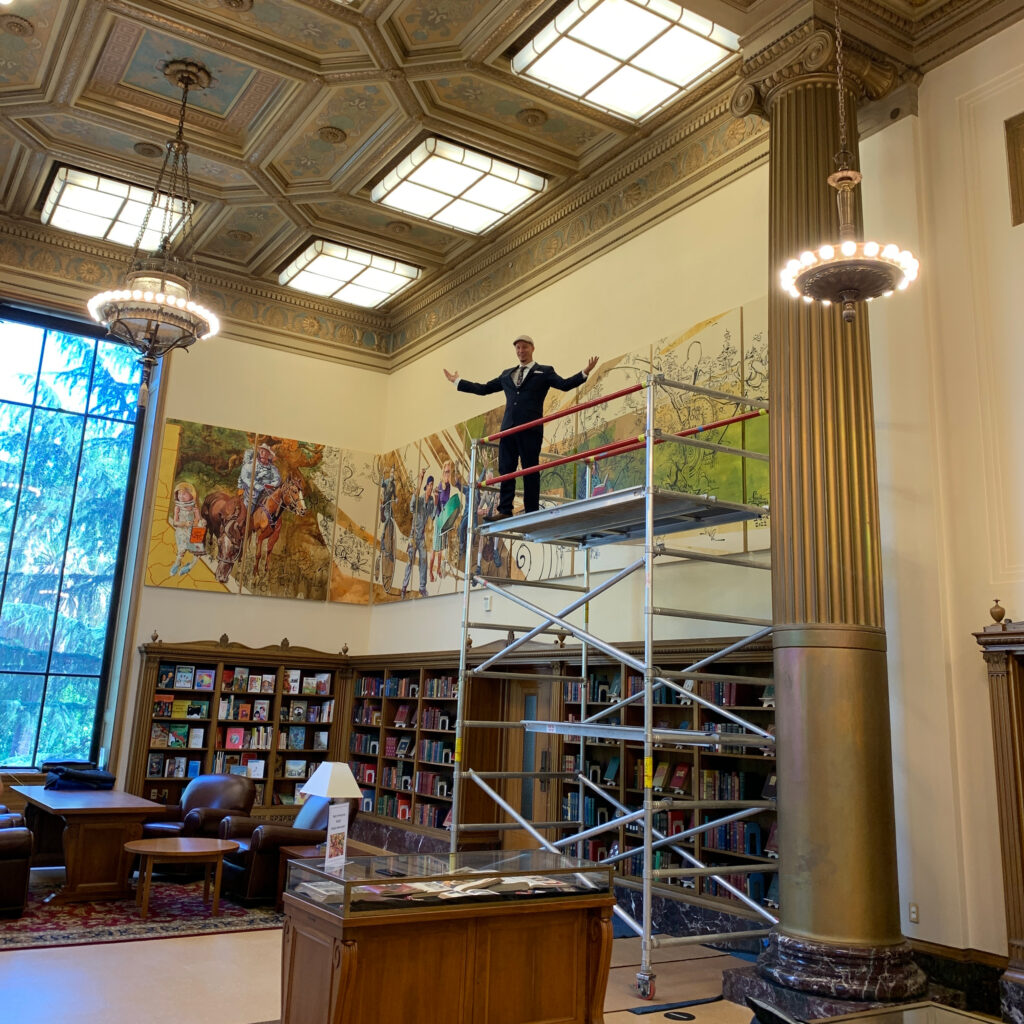 For Pyle, the mural unveiling was yet another joyous moment to see one of his former students thrive in his profession.
"It's one of the great pleasures of having been where I was at the Academy to be included in moments like this," said Pyle. "I've highly prized the fact that the school really gives a damn and strives to provide the education students deserve, and Forest is one of those great examples of that process. Even if [Forest] fails, he's failing forward, and that relentless motion forward just leaves me staring gape-jawed in admiration and surprise every time."
"Yes, and?"
Stearns attributes his success in the art industry largely to his ability to, in any given situation, inquire, based on improvement and design thinking: "Yes, and …" Meaning, practice and artistic ability are both important. The skills of self-reflection, curiosity, and learning from oneself are just as integral to the creative process. He asserts that when one knows how to ask "Yes, and …" to an artistic pursuit or client brief, it elevates the artists' engagement from the realm of just practice and technical proficiency to one of full communication, empathy, reflection, and prowess.
"Full circle: practice and reflection," said Stearns. "Yes, and …"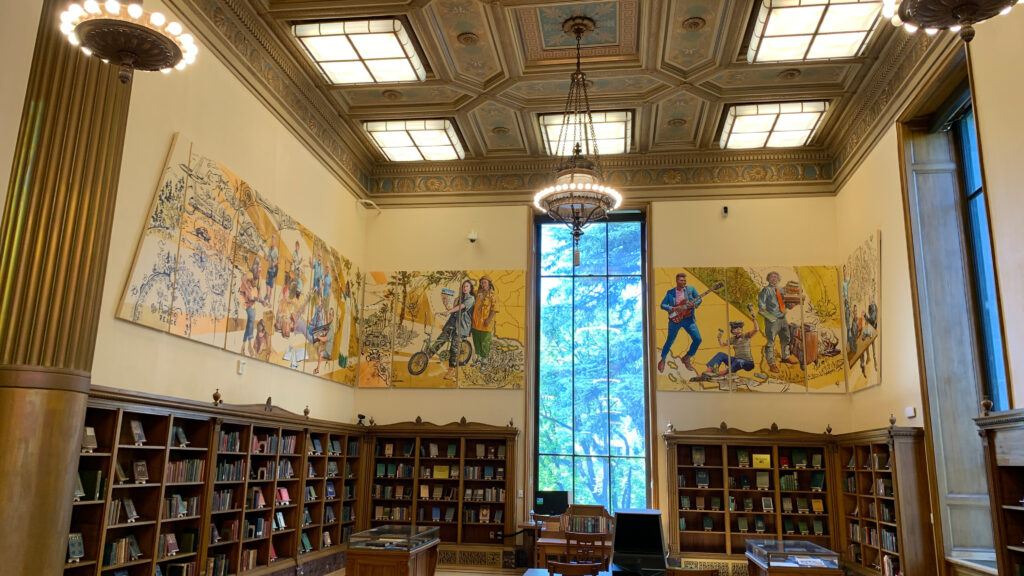 "These connections Forest can make, his omnivorous hunger for knowledge and his bottomless pit of energy and curiosity are so crucial because they allow him to communicate through his chosen voice: a paintbrush," said Pyle.
According to Stearns, the ability to say "Yes, and …" to the clients who commission him, to any project or problem is what separates him from other artists, and should be what those who want to become influential in their creative fields should strive to learn.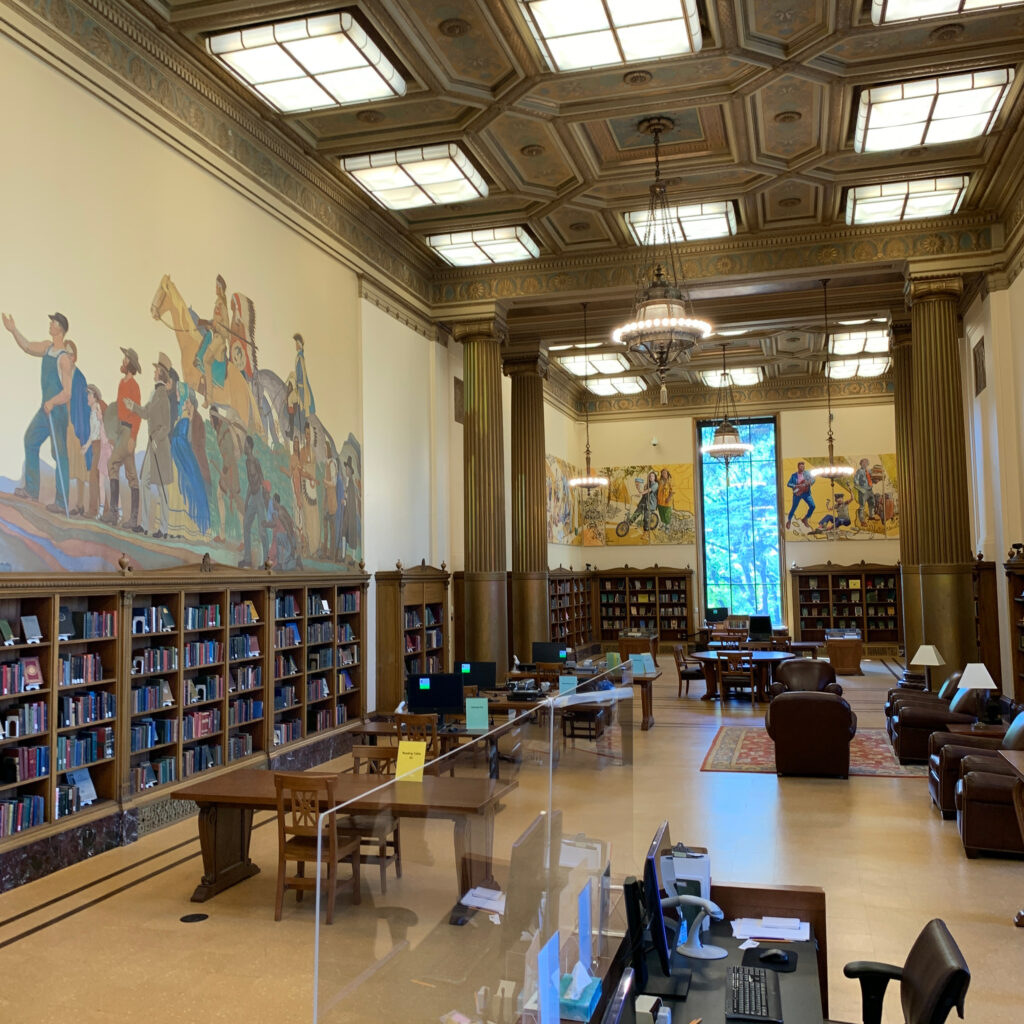 "[Gillis Hall] is a gorgeous, ornate space that needed to have a beautiful piece say 'Yes, and …' to the architecture," concluded Stearns. "It wasn't just making a piece of art; it was making a piece of art to resonate in this 100-year-old library that is absolutely architecturally stunning… you have to make work in common conversation, and then you're doing the work you want to do with the world."