By Kirsten Coachman

When Academy Art U News sat down with actors Kelvin Harrison, Jr., Taylor Russell and writer/director Trey Edward Shults last month to discuss their new film, it was nothing short of a lovefest between the trio.

Harrison ("Luce") and Russell ("Escape Room") play siblings Tyler and Emily Williams in the emotionally gripping and visual tour de force, "Waves," written and directed by Shults ("It Comes At Night").

At the center of the film are the Williamses, an upper middle class African-American family residing in South Florida. At first glance, they're a seemingly tight-knit unit, but the cracks between them begin to show. Split into two parts (Shults described it as "a ying and yang—two spiritual halves making one whole"), the first focusing on Tyler, the high school wrestling star, who begins to spin out under the mounting pressure and expectations of his father. The second part shifts focus to Emily as she and her family cope with a devastating loss and she begins to heal through an unexpected new beginning.

The ensemble cast rounded out by actors Sterling K. Brown ("This Is Us"), Renèe Elise Goldsberry ("Hamilton"), Alexa Demie ("Euphoria"), and Lucas Hedges ("Honey Boy"), Shults confessed that he "just felt so humbled and blessed [with] the best family of actors I could have dreamed of."

And the feeling is mutual.

"I was grateful and excited that I was even being considered to be a part of it," said Harrison, who admitted he cried upon reading the script.

Russell added: "Just the composition of it and the experience that you had reading the script—now thinking about it, the script and the movie from start to finish, it's been the most wild, most beautiful, unique experience I've had working on a project." She commented that Shults' script was unlike anything she had ever read. "I loved the character and you don't get a young woman like this on-screen. It's rare and special."

When it came to assembling his celebrated cast, the writer/director said when he would find the right person for each of the respective parts, "you just know." Shults explained further: "They've already auditioned, so you know they're crazy talented and right for the role. Then you just feel an intuition and connection with them as human beings."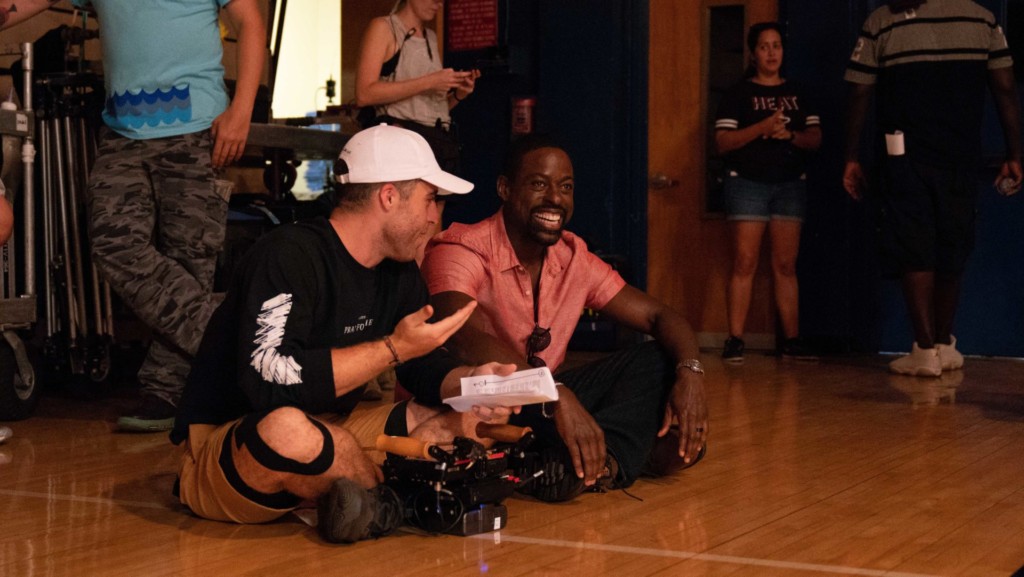 The writer/director trusting that innate feeling received much praise from his two leads.

"[H]e actually uses auditioning in the way that it should be used," said Russell. "Which is, 'What can this person do? Are they right for the role? And if they are, I trust it.'"

"It's confidence," remarked Harrison. "He's a confident director."

Russell, who shared that the audition process was a good indicator of what the rest of the experience of working with Shults would be like, emphatically agreed. "It's true. He's not questioning his decisions and he's really allowing the artists he chooses around him, from the set deck—like everybody—even our wardrobe," she said. "You just really trusted Rachel [Dainer-Best], and you were like, 'You're good. I get it, do your thing.' So it's just a good director."

"It's a very collaborative medium," Shults said. "Surround yourself with talented people that are good people and collaborate. I think good things come from it."

The trust and belief in his cast and crew allowed Shults to create an on-set environment for his actors to approach vulnerable scenes, such as one shared between Harrison and Russell, when Emily comes to her older brother's aid in the middle of the night as to not wake their sleeping parents. Shults explained that for a scene like that they would go in and get the technical side of it ready to go and then turn the space over to the actors to work. "Hopefully it feels like we're just there for support, and it's a trusting environment, and everyone's tuned in and on the same page," said Shults.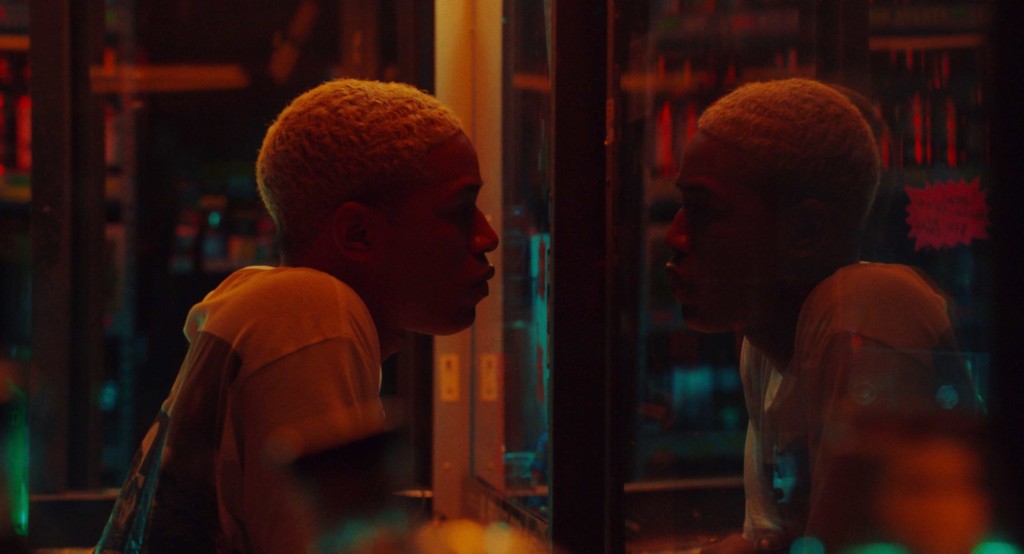 Harrison considered it a privilege to be able to show up and not have to worry about anything else other than being in the moment with his scene partner, in this case, Russell. "I think especially with that scene, I wasn't worried about where the camera was and knew Trey was going to photograph me in the best way possible," he said. "I'm thinking about all the other elements so I can just come in, I'm focused, I know what the scene calls for. I'm present she's here, I can look her in the eye and know we're safe, cause I know we're good. And we go in and we do the thing. That also is a privilege. That doesn't happen often. I think that just is a testament to Trey and the kind of filmmaker he is."

With a very specific vision in mind, Shults wrote the script with the music embedded within it. Almost a character of its own, the music of "Waves" features songs by Frank Ocean, Animal Collective, and Kendrick Lamar, fused with a score composed by Trent Reznor and Atticus Ross. "The way it was written, [I] was just trying to put everything on the page for exactly what this movie was going to be," said Shults, who revealed that he sent artists letters fully explaining his intention behind wanting to include their music in the film. "We always knew the soundtrack was going to be an intense thing to go after. A lot of it is, honestly, just getting blessed."

While the actors didn't use the soundtrack in their personal preparation for filming, they said that it did help inform the story as they read through the script. "[L]istening to the soundtrack with the script, you really get a sense of what the movie's going to be," said Russell. "You can kind of picture exactly what it is and the crescendos in it."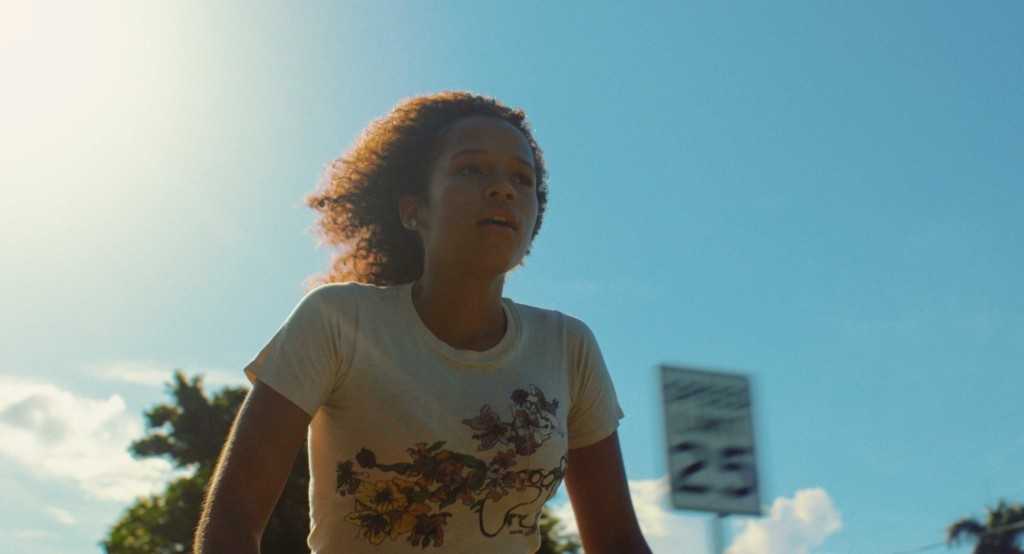 "It definitely did tell us about tone," said Harrison. "I understood what movie we were walking into and what were the beats, what were the bigger moments; you kind of have a sense of it so when you walk into it, you go, 'Okay, so this is that moment.'"
Over the course of the 135-minute film, "Waves" takes audiences through the emotional tides of the Williams family, painstakingly explored through expressive camerawork and color. Shults really hopes audiences engage with the film through to the end and "that it feels empathetic and human." "We're all very complex," he said. "I hope it feels like it's understanding and I hope you feel some love and empathy."

"And everyone's just doing their best," Harrison added. "This family is just doing their best to raise this boy, to raise their daughter, to make this marriage work. Even the kids are doing their best, and I think more people need to give themselves way more credit than they do."

For Russell, it was the film's message of forgiveness that she found to be the most vital, especially in the midst of today's cancel culture. "We can all be better at that, I know I can," she said. "And to do it when it's really hard and when you feel ungraceful is when you should."

"Waves" is now playing in San Francisco.