By Nina Tabios
Collaboration at the Academy of Art University may look different these days, but Associate Director for the School of Fashion (FSH) Flore Morton perfectly explained why it's so important for her students to keep pursuing cross-departmental projects.
"Collaborating with people that are just as passionate as you can only lead to more than the sum of your individual talent," Morton told a Zoom room full of budding creatives. "This is when the magic happens."
Morton, along with School of Photography (PH) instructor John Vano, has seen firsthand what students can accomplish when they work together. Since 2013, Morton and Vano have organized and hosted the Academy's Styling Event, a semesterly gathering where fashion and photography students can meet and discuss potential photoshoots. In the past, these meetings have produced designer lookbooks and editorials fit for publications like Paper, i-D, Vogue, and the student-produced 180 Magazine.
"The better collaborator you are, the better images you'll produce, and you have better chances to get published," Vano said. "It's all beneficial to everyone whether you're a photographer, stylist, model, or designer."
On Sept. 17, over 130 students from across the globe tuned in to the Academy's first-ever virtual Styling Event. Fashion designers, stylists, journalists, photographers, models, and hair and makeup artists tuned in from places like San Francisco, Los Angeles, Florida, New York, and as far out as England, South Korea, and Austria. Morton admitted that while nothing could replace the buzz at previous Styling Events, this online edition was a success in its own right.
"It was a good test drive to see how we can make it happen, no matter what," Morton said. "We want [our students] to keep building their portfolios, so we wanted to give them the tools to make it happen."
One of the most pressing topics of the day was how to conduct safe photoshoots. Photo studios at 625 Sutter are open this semester and in order for students to book, they must abide by safety requirements: spaces are marked for social distancing and masks must be worn at all times, with an exception for the model when they are ready to shoot. For stylists, Morton encouraged them to coach their models on how to dress using a changing scarf to reduce contact.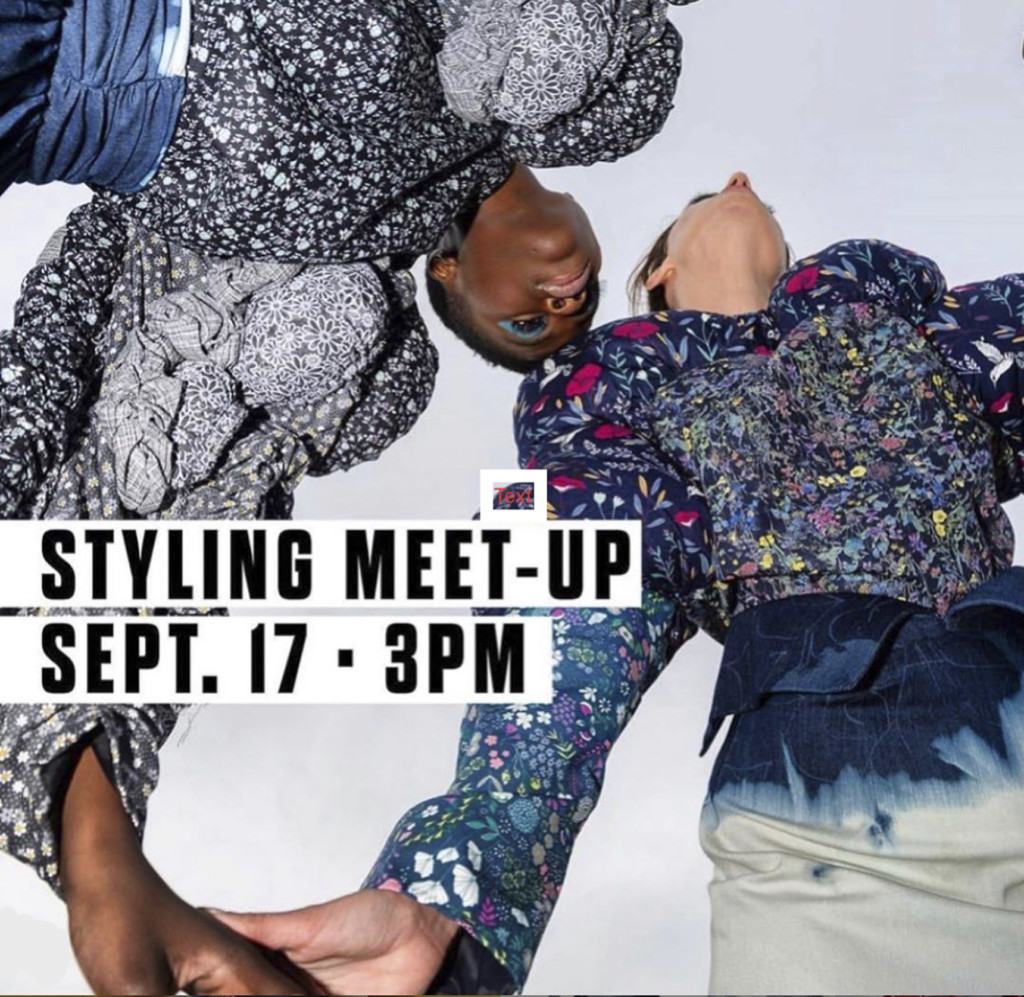 With safety procedures in place, students were then put in small groups via breakout rooms. They chatted with each other about upcoming projects, exchanged Instagram handles to get a feel for a potential collaborator's aesthetic, vibe, and share contact info. Tirdad Aghakhani, an M.F.A. photography student in San Francisco, said he followed a new crop of potential models, designers, and stylists: "In an art community, you need connections. I need stylists, models and, every year, Flore helps us find that."
Like Aghakhani, Jen McGowan, a 2016 B.F.A. photography graduate also in San Francisco, is always looking to build up her portfolio. She also attended the Styling Event to collaborate with students and offer some early industry experience.
"When I was a student, I always wanted more experienced people to work with, but it was hard because they were always asking to be paid," McGowan said. "It's just a really great way to keep connected with students who are trying to pursue their major. The Academy did so much for me when I was in school, so it's just fun to give back and help."
It's not uncommon for one photoshoot to lead to several others. Arohhi Vazir, an M.F.A. art direction student and first-time attendee, booked a series of photoshoots as a makeup artist working with one of her stylist classmates and a photographer they met at the event.
"Since it's a creative field, I thought it was very difficult to meet people, collaborate with them, how to understand their ideas," Vazir said from her home in San Jose. "But when Flore sent us this email about a networking Zoom meeting, it was unique, and I thought this was a real good effort to show [students] that you can still collaborate even if you are still at home."
Even overseas students like Racheal Simeone, a B.F.A. fashion design major, could plant the seeds of a future collaboration once they come back stateside. Simeone, who is currently staying in Brighton, England, hopes to come back to the Bay Area to photograph her senior collection when she graduates in Spring 2021.
"I wanted to meet people that I could work with in San Francisco because their lens is what's going to make my collection come to life," she said. "The basis of what I'm designing is inspired by San Francisco history and my life there, so I feel like it'd be more authentic if it was shot [in the city]."
Each registered attendee was sent a master list of everyone in attendance to hopefully help them find more collaborators within their respective regions. While Morton and Vano hope that one day they can go back to the 200-plus in-person styling events, Zoom will do for now.
"I think we're going to keep this Zoom component no matter what," Morton said. "It was so great to have online students with us, and I think they were very grateful to be part of it and some actually found each other. So for me, that's worth it. We want everyone to be safe and also to keep creating magic for their class projects."