By Greta Chiocchetti
In the opening scene of "Sound of Metal," Amazon Studios' latest picture, heavy metal drummer Ruben (Riz Ahmed) delivers an explosive, ear-splitting performance in a dark club alongside bandmate and girlfriend Lou (Olivia Cooke). But when his hearing fails, threatening the future of his career and life as he knows it, he quickly begins to unravel. 
Though the music is definitely central to the story, it's the seemingly mundane sounds captured in the film—the sound of a dripping coffee pot, the sound of a gust of wind rustling leaves on a tree, the sound of distant traffic—that truly set the stakes for what Ruben is about to lose.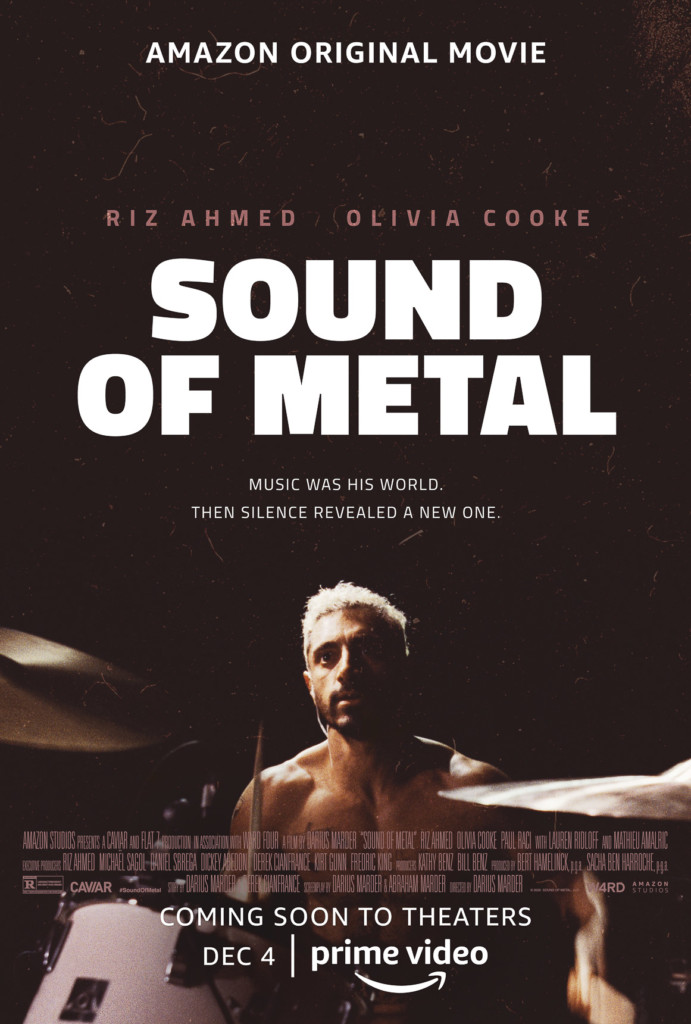 Yes, "Sound of Metal" is a film about a musician who suddenly loses his hearing, but it's more importantly about Ruben's winding journey to self-acceptance when his identity and hope for the future is thrown into freefall.
It's Ahmed's stellar performance, often relying on his big expressive eyes rather than dialogue, that carries the picture. The consequences of his hearing loss extend well beyond music alone—Ruben is a recovering heroin addict whose sense of self is devastated by his hearing loss—and Ahmed masterfully portrays the frustration and rage that grips Ruben as he tries to cope.
After being left at a halfway house for recovering addicts who are hearing-impaired—without Lou—Ruben meets even-keeled manager Joe (Paul Raci), a Vietnam vet and former alcoholic who lost his hearing after a bomb went off. It's here that Ruben is given his first—and most difficult—task: to learn how to be deaf. Though Ruben resists embracing his new reality, Joe's placid yet firm role in the house slowly brings out a different side of him. Raci, who grew up as the hearing son of two deaf parents, settles into his character, Joe, naturally.
Though Ruben struggles to accept his new reality and thinks a cochlear implant will be the solution to all his problems, Joe insists that "We're looking for a solution to this," pointing to his head, "not this," gesturing to his ear. This deaf community doesn't view themselves as disabled, a message that director Darius Marder ("Loot," "The Place Beyond the Pines") drives home in the film's resolution. 
Ending as it began—with a tight closeup of Ahmed's face—"Sound of Metal" sensitively and authentically explores the experiences of a community that is often left out of the conversation.
"Sound of Metal" is now streaming on Prime Video.