By Nina Tabios
It was a content creator's euphoria as Academy of Art University students across multiple departments filled the atrium at 625 Polk during the Spring 2020 Fashion Styling Meetup on Feb. 13. There was a familiar buzz of creativity as fashion students from styling, design, and journalism exchanged ideas and info with photographers, models, makeup artists, and hairstylists—if you were in the business of collaboration, this was the place to be.
This semester's meetup seemed to be their most expansive yet. At the first meetup in 2013, School of Fashion Associate Director Flore Morton and School of Photography instructor John Vano intended to just connect fashion stylists and photographers. But with each passing semester, the pool of creatives—and their range of skills and interests—grew.
"The energy in this meetup is really contagious. You can tell that the students need each other but they are also very happy to find creative souls that they can work with," said Morton, who oversees the fashion department's undergraduate styling and graduate art direction programs. "They're going to try with different people and eventually they're going to find the right person that they really click with."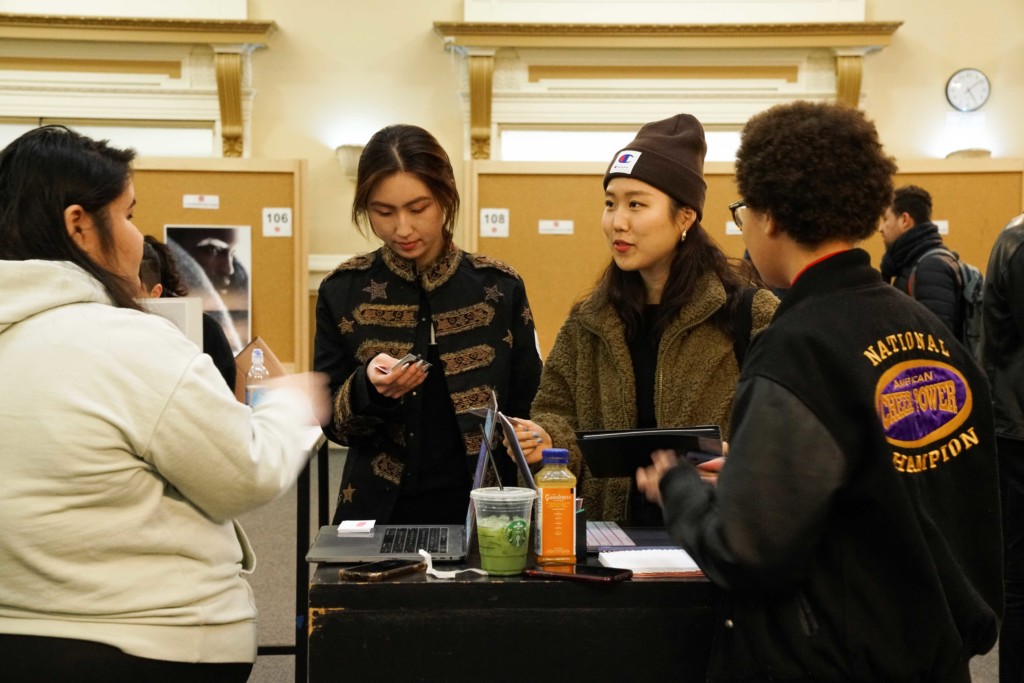 A rule of thumb for networking: the more people you know, the more opportunities you'll get. Many of the students, especially seniors working on their thesis projects, were repeat customers looking to find new collaborators and creative partnerships. Oftentimes, these connections even resulted in work outside of the classroom.
"I'm a wardrobe stylist and I'm always looking for photographers, makeup artists, hairstylists, models, anybody I can collaborate with," said styling student Anita Johnson, calling the meetup a go-to resource these past three semesters. "I've worked on so many different photoshoots outside of school just from coming to the meetups."
Within an hour of the event, Chelsea Keaton already booked two shoots.
"I get a lot of work and it keeps my portfolio up to date," said the styling student. For this spring's meetup, Keaton was looking specifically for male models. "I've worked with a lot of female models so now I'm switching things up. It's cool to have male models and new people come in every year."
Photography student Timothy Hanson was also in the market for fresh faces. Models, stylists, and designers can supply subjects for multiple shoots a week, so Hanson's approach is to be open to connecting with everyone.
"Everybody that's here needs help with their work in one way or another," Hanson said, with his portfolio perched on a chair. "It's more about figuring it out and trying to make something happen with whoever I'm working with rather than having something preconceived. If you go in with blinders on, you can miss out on something really cool."
Shahzad Bhiwawndiwala, on the other hand, was looking for something very specific.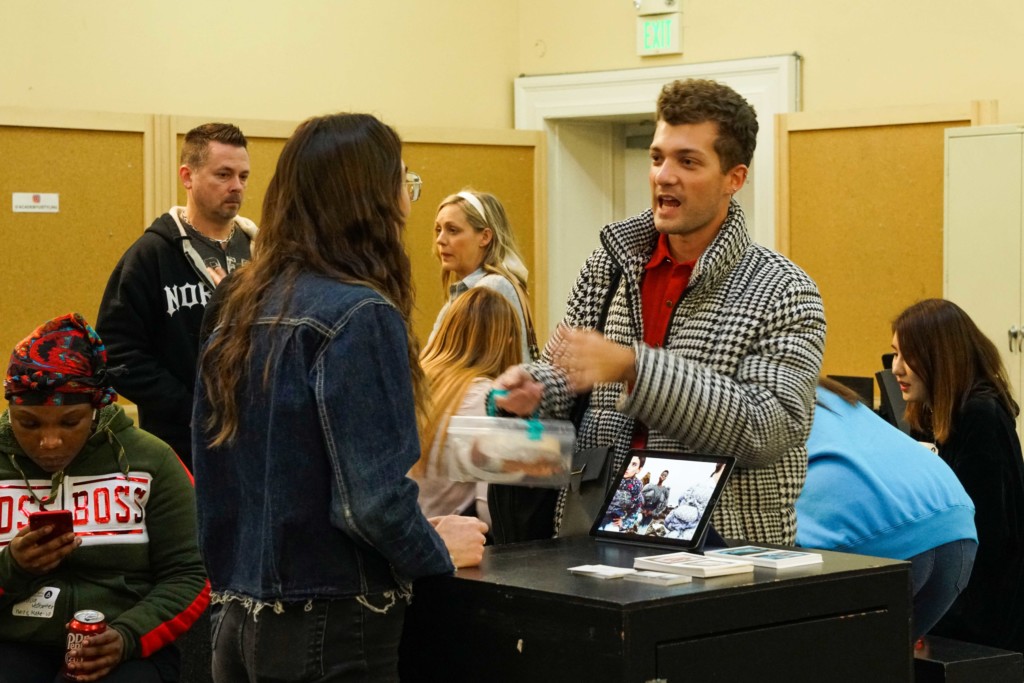 "I'm currently working on my senior thesis project and I'm looking for people who have a flair for the futuristic style," said the photography student, who had high praise for each person he's met through the meetup. "You're going to find people who one day will be someone out there. This is definitely an event you need to attend if you intend to get into the editorial world."
This is especially true for the models, makeup artists, and hairstylists in attendance. Julian Valdes, an instructor at the Cinta Aveda Institute, a beauty school located on Kearny Street, said most of his students' work involves "services behind the chair." When he school received an invite to the styling meetup after working Beyond the Front Row's Runway Repurposed show last fall, he hoped the event would open doors to additional creative endeavors.
"This is somewhere to give [students] a chance to expand their horizons and do something more creative," Valdes said. "It's hard to find stuff like this on your own. This brings us all together, [which] is really helpful and inspiring, it gives people motivation to really try and do their own things on their own."
For fashion design student Maria Acevedo, who is deep in creating her senior thesis project, the styling meetup is where she hopes to find the right people to bring her vision full-circle. And she isn't looking for just anyone—Acevedo hopes to build a passionate team and was confident she was in the right place to find them.
"I want it so we are all working on something together. It's all collaborating for the same cause," Acevedo said. "A lot of people see fashion as a competition, but I see it like we need to help each other to make our creative work better."