New full-time ANM faculty member Rey Hernandez talks the art of sculpture, freelance tips, and finding one's style
By Cristina Schreil
Meet Rey Hernandez, a new full-time faculty member in the Academy of Art University's School of Animation & Visual Effects (ANM).

Hernandez is a sculptor, 3-D modeler, and character artist. Launching his career in the fine art world, he's also worked in the collectible sculpture market. Clients have included A&E, HBO, Universal Studios, the San Francisco Giants, the Winter Olympics, and more. As an art director at a Richmond-based design firm, he's also crafted custom sculptures for museums and zoos—including the Marine Mammal Center and the Monterey Bay Aquarium.

An Academy alumnus himself, Hernandez has been an instructor at the Academy for two years, spreading his knowledge of anatomical accuracy. He teaches multiple undergraduate and graduate ANM classes based on character design and character modeling.

We sat down with Hernandez to chat with him about his career, an unexpected shift to digital sculpting, and what it takes to be a successful independent artist.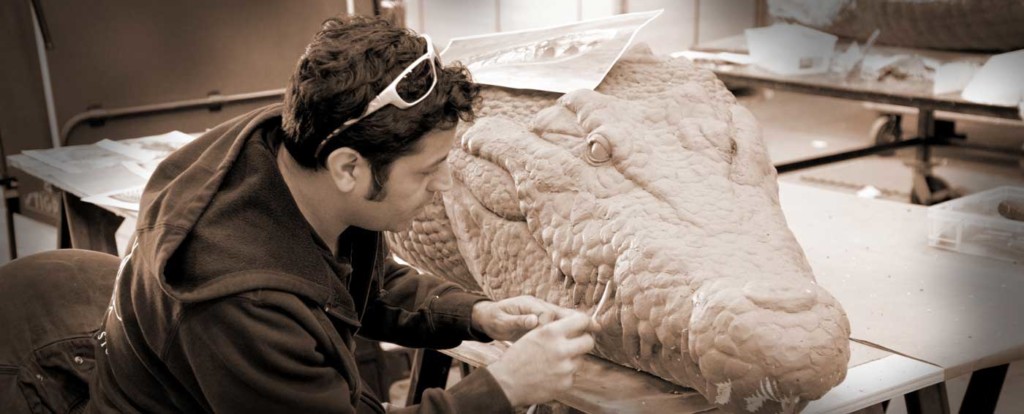 Have you always been creative and artistic?
Yes. Actually, all my family members have been as well. I grew up in Greece—half of my family is from Greece, on my mom's side. They paint churches and are sculptors. My dad's side, the Spanish side, are all artistic as well.
When did sculpting, in particular, speak to you?
I was actually planning on being an illustrator—that was my focus. I was always drawing people, monsters, whatever. [Laughs]. [In school, before the Academy of Art University], I took a sculpture class and just got hooked.
Tell me about your studies and how you learned your craft.
Originally, I would just approach it in [a] more classical way; I did a lot of bronze sculptures. And that was it: do it in clay, make a mold, make a wax copy, pour in bronze. Since then, I switched over to doing it all digitally. It's either 3-D printed or a CNC machine, so that's the way I've been going lately with my personal fine art and some of the freelance work I do as well now.
When did that shift from traditional bronze to digital happen for you?
I was doing fine art bronze and was selling in galleries here in San Francisco. For me, the shift was one slow year [when] I realized how dependent I was on the commercial market. Once I realized I was kind of dependent on people buying in galleries, I started doing more commercial work, which led me towards the digital side. I reevaluated and chose a more affordable medium for people.
How did that work in the fine art sculpture world?
Since I was going away from the fine art world and more to commercial, I was leaning towards collectibles and companies that produce them. I started finding different companies, reaching out to them and saying, "Hey I'm available, do you have any work?" I was a little aggressive. You have to be, actually, as a freelancer. It's amazing; if you don't do that, they forget sometimes. [They say], "Oh that's right! Oh, we have work for you!" You can't just wait for a job to come to you.
What's your process in sculpting something digitally—for a collectible, for example?
It varies per project. But right now, for about 90% of my freelance, I'll get some source artwork. A project I'm working on right now is for Universal Records. What they send me is images. I look at the pictures and then just do a sculpt of them in ZBrush, digitally, and it goes back to them for approval. It's usually a back-and-forth process with, either the artist if they're still alive, or the family approving the artwork, and the managers … Once it's approved, for the commercial work, I usually don't print it myself; it gets sent to a factory in China and mass-produced.
What are your personal projects?
My personal work, what I'm doing is basically creating my own creatures and characters and having fun with that. With those, I'll 3-D print them and make molds and make resin casts and sell the resin casts. So it's like my own little product line. Just to have some fun. But right now, what I'm working on is developing some new sculptures to cast in bronze again. I've gone full circle.
Do you believe in researching other forms of art as a sculptor?
I absolutely agree with that … what I always recommend is a sketchbook. I always tell everyone, you [have to] have a sketchbook—not to be a better illustrator, but just to be a better observer and learn how to see. If you try to sculpt something out of your mind, you might not always know those details and intricacies. But if you observe more and create mental notes of everything around you, you start to get a bigger visual library. And also, you never have an artist block because you always have a sketchbook to look at!
What do you like about teaching at the Academy?
I really do love helping the students. It's amazing to see. I had one student, for example, who wasn't quite sure of themselves yet, but towards the end of the semester, something just clicked. To see them go, "Oh I got it!"—I think it's rewarding to see students grow like that. Once that light turns on, things switch.
What is a guiding philosophy you've had throughout your career?
Even when you're tired, just keep doing it. [Laughs]. Really, there's been days where I really don't feel like it. You know, I'm just tired—I don't feel like going to the computer, I don't feel like grabbing the clay. It's so easy to just take a break and say, "I'm not really inspired today." But, if you just get on the computer or just open your sketchbook and just start doing it, next thing you know you're well into creating the next awesome piece. Just jump in.