Hava Turner is a film director graduating with a Bachelor of Fine Arts in motion pictures and television.
Turner was born and raised in Saint Louis, Missouri, and with a longtime background of being a student-athlete, she enrolled as an undergraduate at Academy of Art University in 2018 to pursue her ideal path of being both an artist and a track sprinter.
Turner's passion for filmmaking stems from her belief that film has the ability to change one's perspective and push the boundaries of the mind. During her time at the Academy, Hava directed the university's first virtual reality narrative short film, directed a Best Documentary nominee at the NXTUP Film Festival, worked on "The Matrix: Resurrections" as well as directed many other short films and projects.
During this time Turner also was an NCAA DII Track and Field one-time All-American, seven-time All-Region, and three-time Academic All-PacWest honoree.
Turner plans to move to New York and pursue opportunities that expand her knowledge as a director and create stories that encourage her viewers to think beyond the surface.
---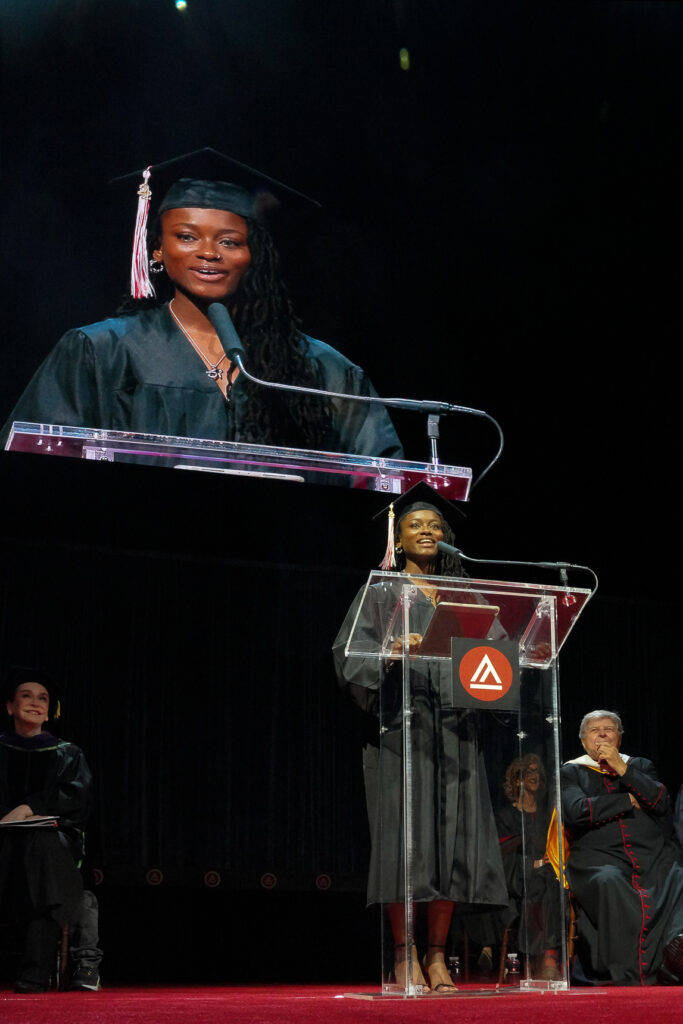 Turner delivered the following speech to this year's class of graduating students.
Good morning and welcome fellow graduates, faculty, family, and friends. Thinking back, our first semester at the Academy was a transitional period in our lives. For me, I moved over two thousand miles away from home to a new city. I carried aspirations of learning what it took to become a film director, all while balancing being a full-time student and athlete. That moment in time was very intimidating for me, and maybe it was for you too. Some of you became the first in your family to go to college. Some of you experienced a major culture shock. And some of you decided to blaze a new, unexpected trail and pursue a career in art.
Through the years, many of us have experienced both personal and universal obstacles on the way to this moment. We live in a society where we are encouraged to keep moving, keep grinding through, and never look back. But what we fail to realize is that this lifestyle frequently overshadows the acknowledgment of our successes. As an athlete, my mind is always in drive mode, always looking ahead with little time to slow down and see what I have accomplished.
During my time at Art U, I endured hip surgery, two knee surgeries, and kidney failure. To be honest, at one point I felt I couldn't catch a break. I was so hyper-focused on the things that didn't go as planned and how I could work harder to do better that I wasn't able to have perspective on my life as a whole. It wasn't until I was given the opportunity to prepare for today and reflect that I fully realized all that I had achieved!
So with that, I am here today to tell you to stop right now, slow down and embrace this moment. Take the time to recognize all the things we accomplished despite those obstacles:
We fell in love, and out of love, and then back in love with our work. We created fashion lines and acted in our first movies. We got our scripts made, interned at our dream design firm, had our first group shows, and produced podcasts. We might have even learned how to do our own laundry and get around a big city, like this, all by ourselves.
It might seem cliche, but these are the moments we must remember when times get tough. And I believe we must not get caught up in measuring our success only through the acknowledgment of others because the acknowledgment that means the most comes from within.
Congratulations, graduates!