Glen Schofield began drawing at the age of five. He graduated from Pratt Institute with a B.F.A. majoring in illustration. He also has an MBA from Golden Gate University.
Schofield got his start in games as an artist in 1990 and moved up to producer and then started directing games in 1997 at Crystal Dynamics where he eventually was promoted to GM of the studio. He moved to Electronic Arts and made, among other games, "Return of the King," "James Bond," and then created and directed "Dead Space" which won dozens of awards including Best Action Game of the Year. He was promoted to GM of Visceral Games.
He left EA to co-found Sledgehammer Games for Activision where Schofield directed three "Call of Duty Games: Modern Warfare 3" (also Action Game of the Year), "Advanced Warfare," and "World War 2."
After almost 10 years, Schofield left to found his latest game studio, Striking Distance Studios, which is currently working on a sci-fi horror game. Schofield has worked on about 35 games in his career.
Schofield is married with three kids.
---
Schofield was bestowed an honorary doctorate by Academy of Art University President Dr. Elisa Stephens on Thursday, May 19. He delivered the following speech to this year's class of graduating students.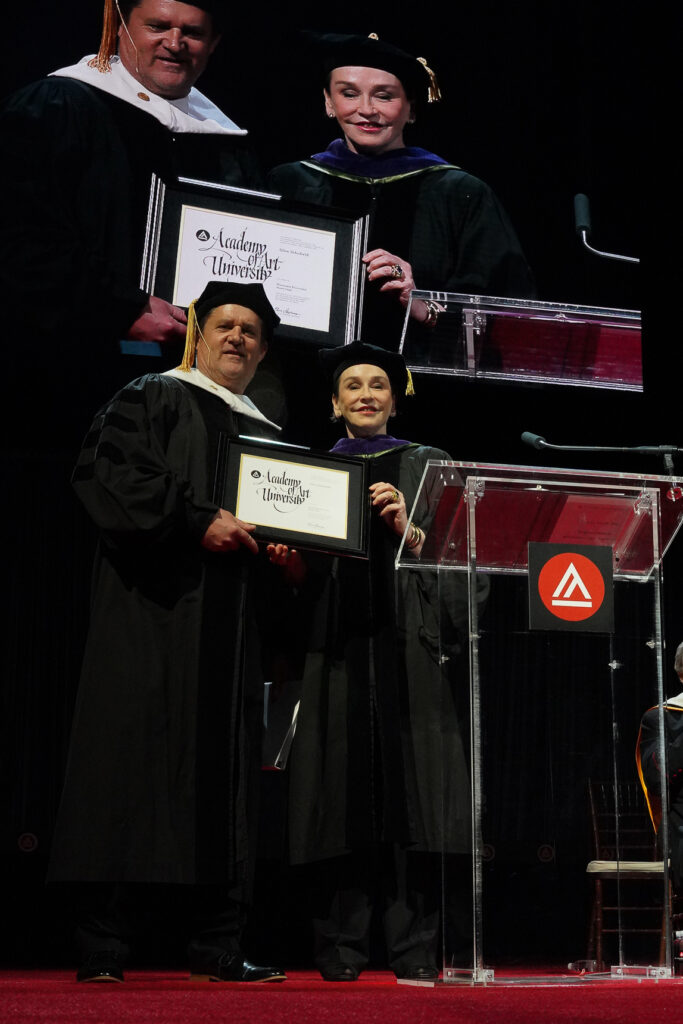 Good afternoon, everyone, and congratulations, graduates. What a great day!
First I'd like to thank you for that introduction and video. It's extremely humbling and a little bit surreal to see your career on the big screen like that. And thank you to the president, Dr. Stephens, and the Academy of Art University for this incredible distinction.
When I received Dr. Stephens' letter saying that the university wanted to award me an honorary doctorate, I was surprised, thrilled, and genuinely honored. To get something like this from a top university that I highly respect, well, that's truly amazing. I appreciate it very much. Thank you.
I love what I do, and I feel so blessed that I've been making video games for 32 years. I've run teams, directed games, and even founded two studios. It's been an amazing ride.
Being an artist and a creative person is all I ever wanted to be. I knew that from an early age. I drew and painted all the time. I still do. I am so thankful that my parents were open-minded enough to let me go to art school and pursue my dreams.
I'm sure that you're all here because you've chosen a path that you really enjoy and are passionate about. And by graduating today you have taken that first huge step toward starting your career. A degree is your foundation. It's the first thing we look at in a resume when we're hiring right out of school. And you're all starting with a fantastic foundation from this university. What you learned here these past few years is so valuable. I know the education you received here gives you a head start on your career.
I know that because I've been hiring from the Academy of Art University for over 20 years. They are my go-to university for creativity. And I've got over 20 alumni in my studio right now. My daughter graduated from here two years ago and is already moving up the ladder as a video game artist. I also know the teachers and professors are some of the best. I've even worked with some on video games and I know others because I taught here myself and met many of them. They are professional, they care and they know their craft. You are leaving here with enough knowledge to not only start in your field but to also excel. You have received an excellent education.
Now, to the parents, grandparents, and family members who have stood beside you throughout this journey, I bet some of you were a little bit worried about your kid wanting to be an artist or designer or making video games for a living. My dad was too. He was a construction guy from a tough part of Jersey and his son wanted to be an artist? It wasn't easy for him but he supported me. He knew that this is what I wanted to do and I would work hard at it.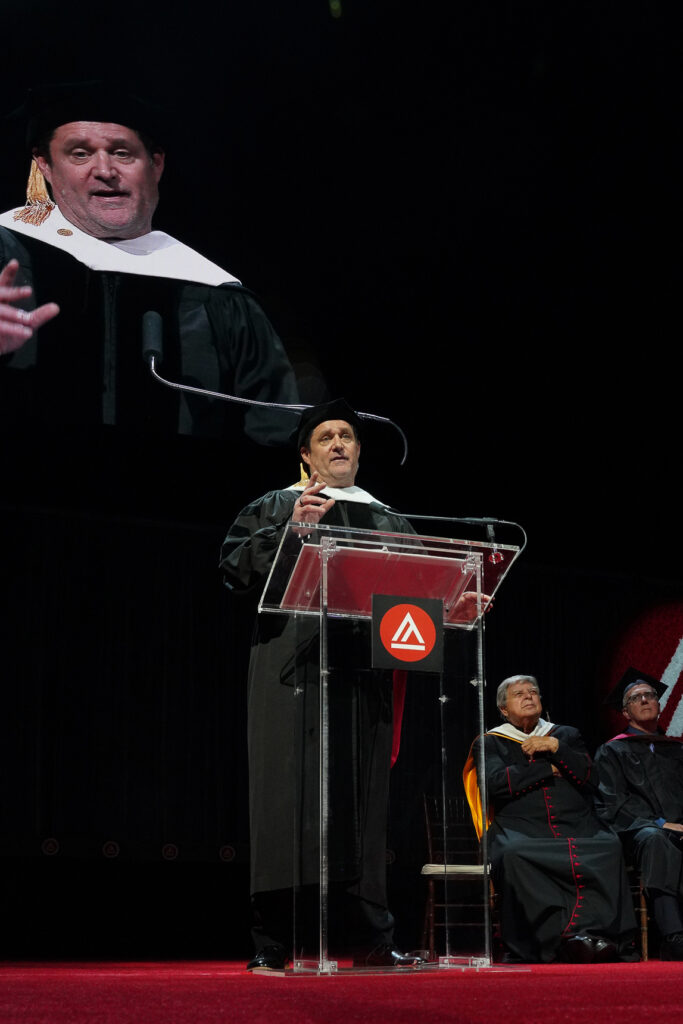 And to all of you parents who felt the same way, they'll thank you for supporting them. I know I did and still do even though my dad has passed. Doing what you love to do for a living is pretty special and also quite rare. One of my designers came to me last night and sat down looking quite beat. I said, "You're looking a bit tired." He said, "Yes, but I wouldn't trade it for the world." You all made the right decision.
Let me try and make you all feel even better about your decision. You are graduating at an amazing time for jobs. There are jobs for artists, concept artists, 3-D artists, designers, producers, engineers, programmers, and more. It is a fantastic time to be starting your career. The game industry is growing and creating jobs everywhere, everyone I know is hiring including me. It is now a $247 billion dollar industry. Creative companies are hiring across the country as well. The tech industry needs thousands of people for the metaverse projects alone. Who knows, some of you could be pioneers in that huge new endeavor. Your timing couldn't be better.
But even though there are a lot of opportunities, you still need to do some legwork to get in the door. I've been hiring people my entire career so here's just a little advice that I've learned. They're my four P's of interviewing: patience, persistence, passion, and be polite. Patience because companies don't always work so quickly, persistence says you want the job, passion shows you'll give your all, and polite, well that's just the right thing to do, especially when someone is offering you a job.
And one last thing, before you interview, just spend a few minutes researching the company and people you're interviewing with. Knowing a bit about the place you're going to interview with is pretty important. And it's very important to those doing the interviews. I know It is for me.
So, enough advice.
Today is a great day. You now have your degree and enough knowledge to start your career wherever that leads you. I look forward to seeing what this generation accomplishes and the new creative ideas that spring from your imaginations. And personally, I can't wait to see what new innovations you bring to my field of video games.
Thank you, again, Dr. Stephens and the Academy of Art University for this honorary doctorate degree and for all the alumni that have worked for me. And to you, new graduates, have fun, enjoy your work, and follow your passion! And don't forget to play video games.
Thank you, everyone!