By Greta Chiocchetti
It's the most wonderful time of the year!
Students and faculty from across Academy of Art University's Schools of Art Education, Entertainment, Fashion, Fine Art, Graphic Design, Illustration, Interior Architecture & Design, and Landscape Architecture designed and decorated trees for the second year in a row as part of Ghirardelli Square's Christmas Tree Stroll and design competition.
The department behind the winning tree would receive a gift basket filled with goodies from Ghirardelli Square merchants as well as a $1,000 donation to the charitable organization their choice. On Friday, Nov. 26, the School of Fashion's tree, "Gilded Garbage," was announced as this year's winner. They are donating their $1,000 to Intertribal Friendship House in Oakland.
The department upcycled dozens of donated and found objects, including knick-knacks, hardware, and textiles to create a glamourous, golden Christmas tree display. Their tree combines two of fashion's current foremost trends—sustainability and gold—in its design.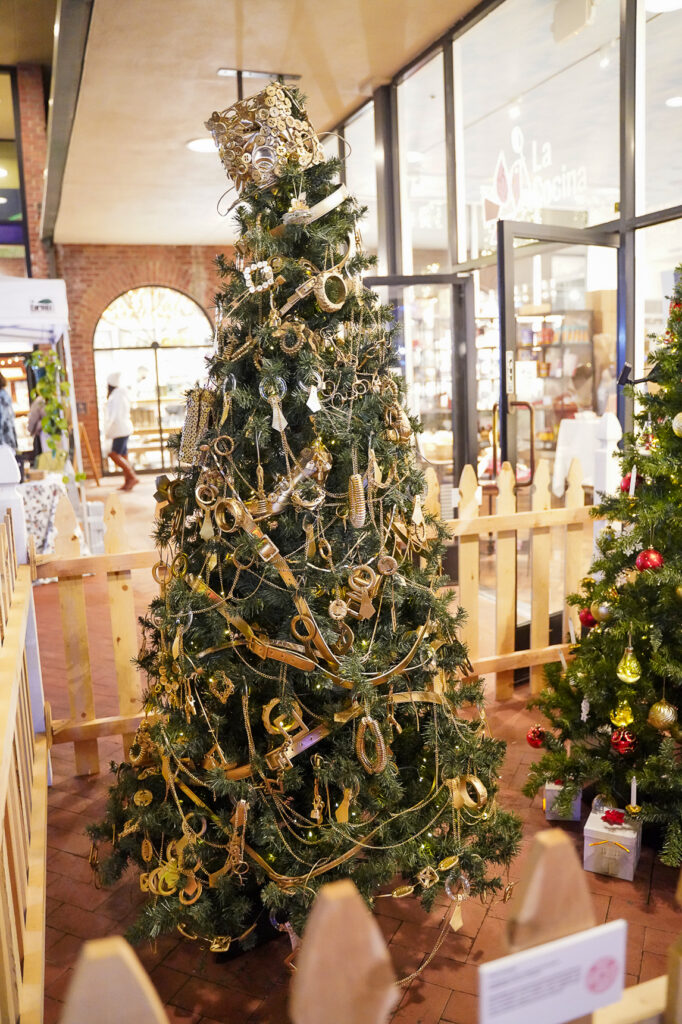 "The concept of a golden tree came from fashion's current obsession with all things gold at Schiaparelli, Versace, and the Fendi-Versace collaboration project, 'Fendace,'" explained School of Fashion Executive Director Simon Ungless. "As a group, we decided to have some fun with an imaginary hacker collaboration and call it 'VERSADEMY.'"
Thanks to many generous donations to the School of Fashion from Dugger Shore, Eileen West, GAP Inc., and Williams-Sonoma over the past couple of semesters, no new materials needed to be purchased to complete the tree's festive decorations. All that was required was a great deal of creativity and hot glue. The department held a couple of on-site workshops to work on their tree's decorations, providing an opportunity for students and instructors to spend quality face time together after many months apart.
"It was great to have a group of people working together at 625 Polk after so long of being remote," said Ungless.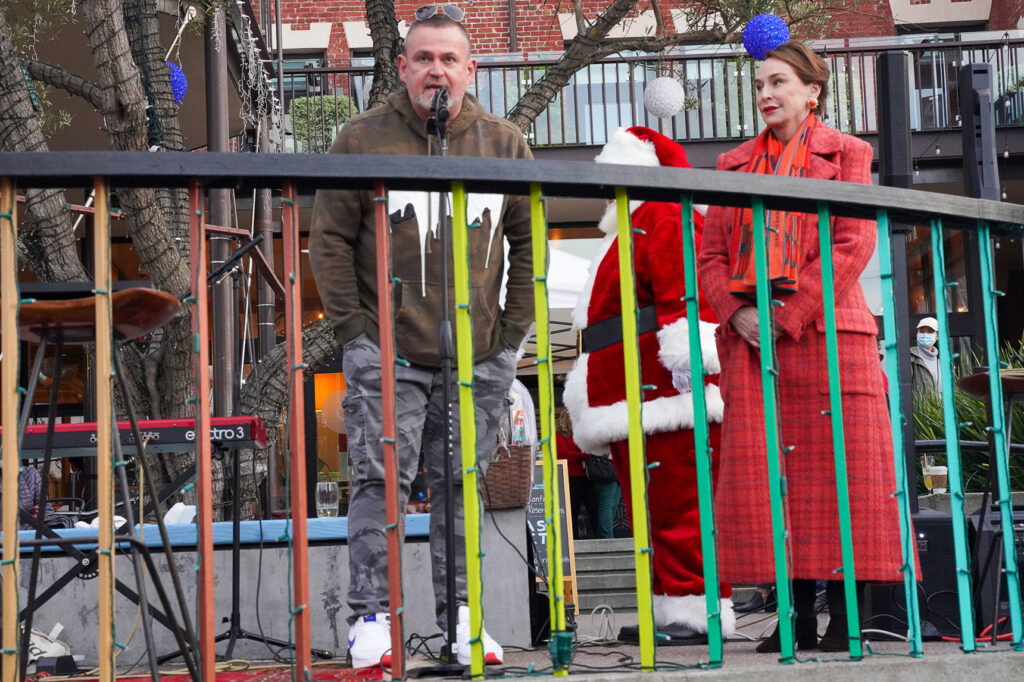 Fashion students and faculty reimagined belts and chains into gilded garlands, cuffs, and rhinestone-studded high heel shoes as ornaments. Capping off their tree's look is a fabulous top hat fashioned out of wire and buttons.
"At first, I had to think about it for a minute because the materials I had available to me did create sort of a technical challenge," explained B.F.A. costume design student Patric Wang, who spent about a week crafting the hat. "I wanted to create this illusion that the buttons were just kind of floating around this wire rim."
Making use of the plethora of donated buttons, B.F.A. textile design student Krithika Sengottaiyan crafted a miniature coat covered in them.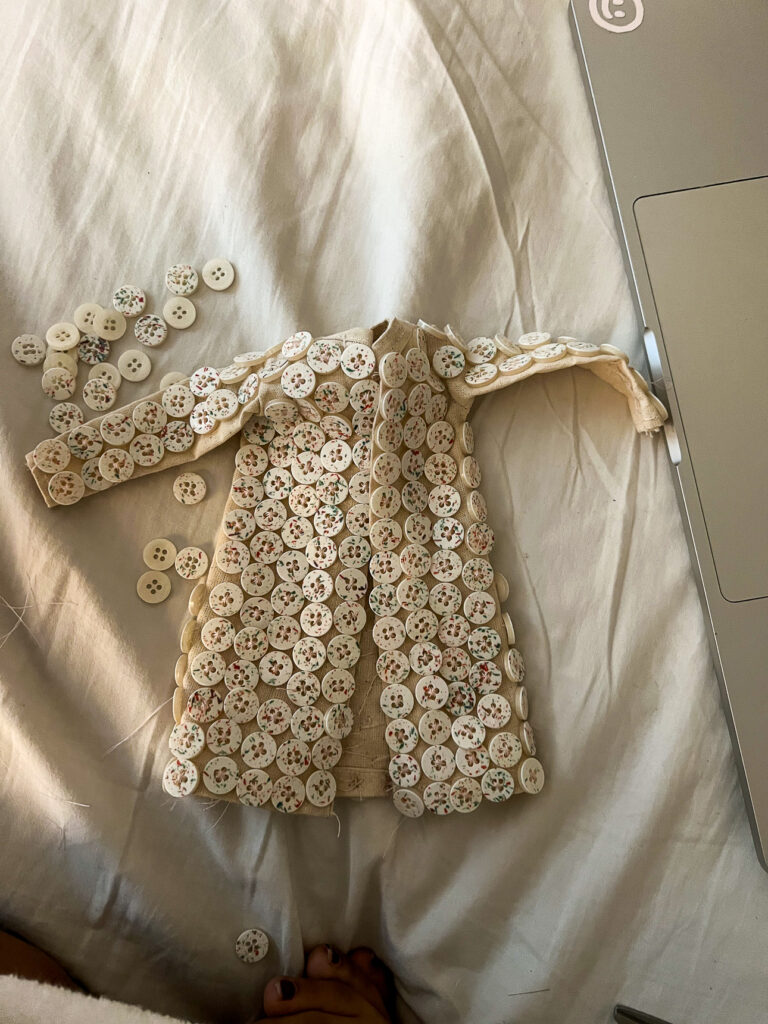 "I love winter coats, and I thought it just summed up our department so well," said Sengottaiyan, who used loose scraps of muslin from the department's sewing classes to craft the ornament. "I was so, so happy with it once I sprayed it gold and saw it come together."
The School of Fashion took an all-hands-on-deck approach to their tree's design by including those who were not locally based in San Francisco. Distance didn't deter online B.F.A. fashion design student Brenda Stuntz from participating in the department's project.
"I was in textiles class and [Assistant Director of Textiles Rhona MacKenzie] asked me if I wanted to be involved in the project even though I was remote, and I said, 'Of course!'" shared Stuntz, who resides in Oregon. "I was really grateful that she and Simon worked together to find a way to include me."
From home, Stuntz produced a Swarovski crystal-encrusted tutu ornament and shipped it to San Francisco. The design was fitting for the student, as she previously received commissions from dance studios to create performance tutus.
"I started making them for my daughter when she was taking dance classes, and it's actually what got me into fashion design in the first place," said Stuntz. "Seeing the amount of pride and joy that the things that I created brought to these girls, the amount of confidence that they gained, is kind of my driving force now as a designer, and I don't want it to only be when people are on stage. I want it to be in their everyday lives."
View all 11 of Academy of Art University's trees below. The trees will remain on display at Ghirardelli Square through the end of the year.