Pictured above: Actress Madeline Weinstein wears black cargo pants featuring spray painted designs by Makayla Godden on HBO series, "Mare of Easttown."
By Greta Chiocchetti
Three years into her program in the School of Fashion at Academy of Art University, Makayla Godden had a midpoint review that changed the course of her career.
"They told me that I wasn't a fashion designer," Godden said with a chuckle, "which was really brutal in the moment, because in my head I was like, 'Yes I am!' But I think I needed that honesty. I wasn't happy with what I was doing, I wasn't pushing myself very hard and just kind of going through the motions. I still needed to find my place in the fashion world."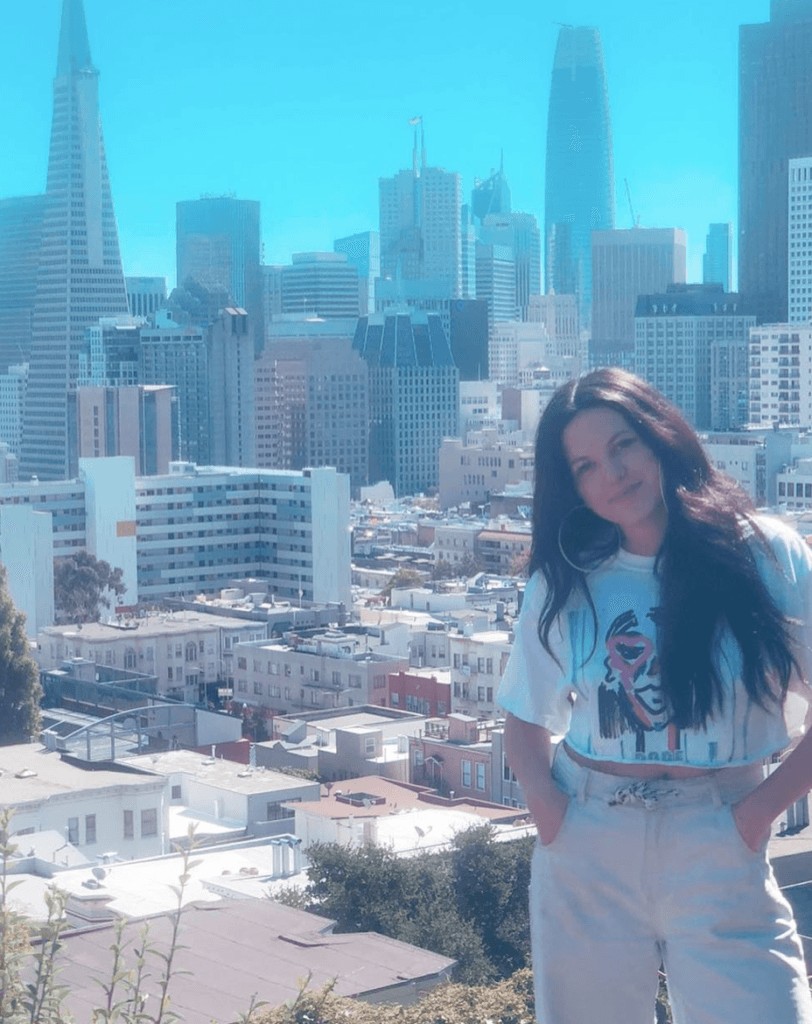 Godden, who arrived at the Academy without a background in sewing, struggled to find her place in the School of Fashion. When a t-shirt screen printing side hustle proved successful among classmates and teammates on the Art U Women's Soccer team, she transitioned to textile design, where she found more freedom to express her unique style.
But just as she was preparing for the School of Fashion's Graduation Fashion Show in Spring 2020, the pandemic hit, forcing the department to reimagine its in-person showcase as an online event. Godden graduated and moved back home with her parents in Fresno, a decision that she says was difficult to make but ultimately led her toward bigger and better things.
"Even though, at first, it was hard to suck up my pride and move home, it's such a weird time right now and I decided that was the best thing to do," she said. "My dad helped me set up a studio space in his garage where I could screen print. My apartment in San Francisco was so small, it just wouldn't have been possible to have something like this. Space is such a luxury."
Over the summer, Godden transformed her vision into her brand, Mak Made It, an online boutique where her colorful, vibrant, and one-of-a-kind prints give upcycled vintage pieces new life. Her hard work paid off after a collaboration Godden worked on was spotlighted on School of Fashion Executive Director Simon Ungless' Instagram page early last summer.
"Makayla was one of the students that quickly proved herself as a leader when we had to go into lockdown back in 2020. She very quickly built herself printing facilities at her parents' home and continued with the fashion and textiles collaboration that she had embarked on while we were still on campus," said Ungless. "As we went past the first two weeks of lockdown, it became apparent that we would not be having a show in 2020, so I decided to use my own social media platforms to promote the star talent of the year. I'm followed by several industry people that are looking for new talent and in positions to make decisions—and the rest is history."
One of those industry professionals was costume designer Meghan Kasperlik, who was working on a project for HBO, which turned out to be a new series starring Kate Winslet, "Mare of Easttown." When Kasperlik saw Godden's work on Ungless' Instagram story, she zeroed in on a particular pair of pants—black oversized cargo pants with an abstract white print along one leg.
"It was a new experience for me, because everything I make is one-of-a-kind, and they asked me to make three identical pieces," said Godden. "They needed extra for the stunt double. It's really hard to recreate the same thing again, and I was worried I wouldn't be able to make three versions that I really liked!"
The pants Kasperlik spotted had been upcycled from a thrift store find, like the rest of the Mak Made It line. After cleaning and prepping the black cargo pants, Godden spray-painted on the design—a funky pattern of faces.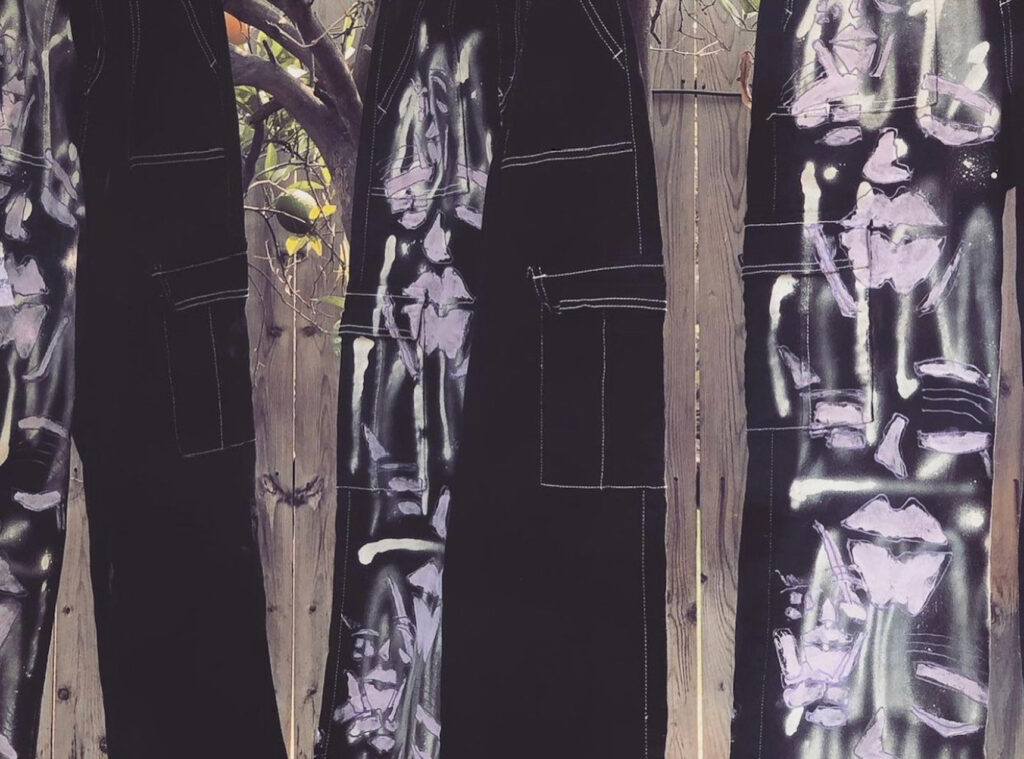 "I think Makayla's work attracted Meghan Kasperlik because of her quirky drawings of faces and people, the sense of fun in her designs and illustrations along with her good sense of color," said Assistant Director of Textiles Rhona MacKenzie. "I hadn't heard of the show and when it eventually came out, I watched it to see how her pants featured. I got hooked. The show is excellent and keeps you on the edge of your seat until the very end."
Though she knew they would be featured somewhere in the show, Godden had no idea where her pants would appear until she watched "Mare of Easttown," for herself. In episode three, the character Becca, played by Madeline Weinstein, suddenly gets sick—all over her one-of-a-kind cargo pants.
"I was watching, all excited, and I thought it was hilarious that the actress literally throws up on my pants," said Godden. "It was a once-in-a-lifetime opportunity, so I'm definitely not mad about it."
"[Pastor Mike Todd says], 'It's only crazy until it happens.' And I feel like that's like the mentality that anyone should have, grinding in school," said Godden. "When they have those dreams and those thoughts of 'Oh, I want my designs on so-and-so.' It is possible! This is just the beginning for me—a little throw-up on the pants. But I just feel like it's so cool to know that I—and anyone that's right next to me at school—can do the same thing."