By Greta Chiocchetti
As muralist Irene O'Callaghan was putting the finishing touches on her latest piece—a whimsical undersea scene featuring charming cartoon sea turtles, narwhals, and jellyfish—she looked forward to presenting her work to the girl who inspired it. 
O'Callaghan, an illustrator who graduated from Academy of Art University's School of Illustration (M.F.A., '19), involved nine-year-old Zoe in the creative process, drafting a unique design for a bedroom mural that would make the space feel like her own. The resulting subaquatic scene, featuring colorful schools of fish and undersea creatures that seem to dance across sea-blue walls, was perfect for Zoe, an animal lover who dreams of one day becoming a marine biologist.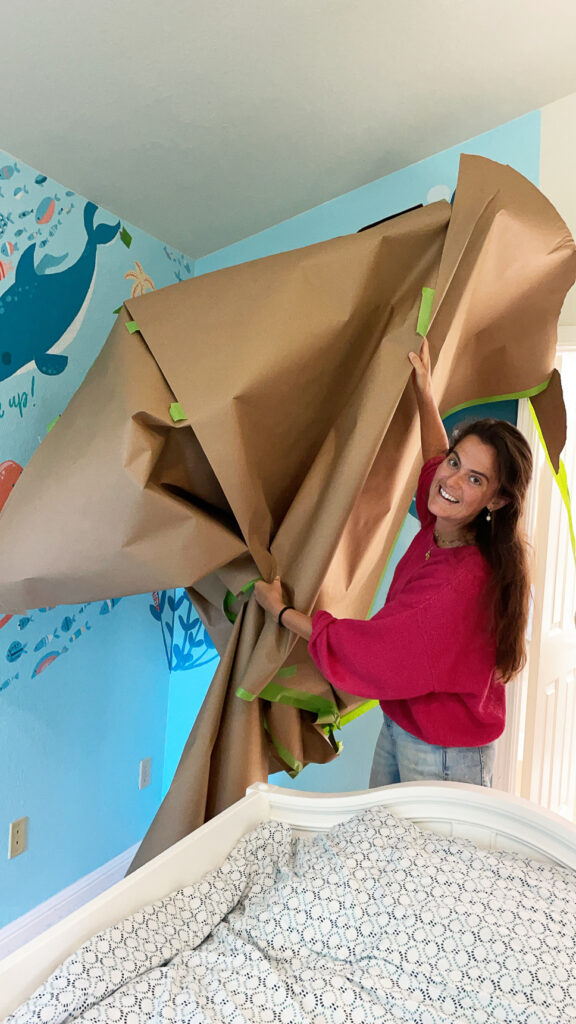 But on the day O'Callaghan planned to present Zoe with her finished custom-made mural, she couldn't be there to see it. She was in the hospital receiving treatment for complications related to her leukemia.
Zoe's father, Tom, taped large swaths of brown butcher paper over the magical scene so his daughter could experience the unveiling with O'Callaghan after she finished recovering.
For O'Callaghan, co-founder of the nonprofit Mural Wish, the organization donating Zoe's mural, this is part of the deal. Mural Wish's mission is to deliver spirit-lifting murals to the bedrooms of critically ill children at no cost to their families. Along the way, O'Callaghan has learned to navigate the ups and downs that families must go through along their loved ones' healing journeys. 
"It's all about bringing some joy into their lives," said O'Callaghan, who founded the organization last winter with her partner Christian Vuerings. "Art is an incredibly powerful thing, and giving the children something that was made especially for them—including them in the process—can actually help them along in their healing."
Since its start last winter, Mural Wish has donated three murals. The recipients were 12-year-old Jazz, who has sickle-cell anemia, three-year-old AJ, who was treated for medulloblastoma in 2020, and Zoe.
After solidifying a partnership with UCSF early this year, Elyse Cann, a child life special events coordinator at the hospital, joined Mural Wish's board. Cann helps to ensure O'Callaghan and her team of artists have the tools they need to interact with the children and their families safely. Recently, Zoe's mother Jennifer joined the board, bringing her expertise of working with grants in the medical and education field as well as the essential perspective of a parent of a critically ill child.
When Zoe was diagnosed with a particularly aggressive form of blood cancer, her mother Jennifer explained, everything moved quickly. Two weeks before the diagnosis, she was playing and climbing trees. Soon, she was too weak to climb into her bunk bed and had to move into her parents' bedroom so they could supervise and care for her.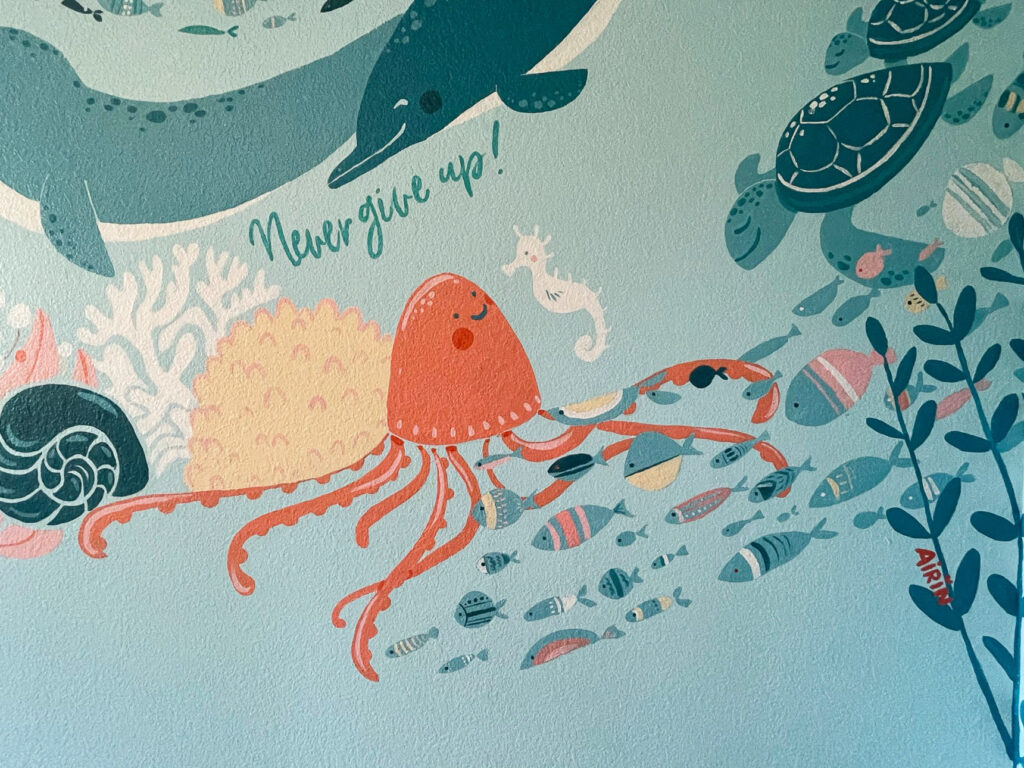 "We were right in that process of trying to figure out what we should do to make this room feel like [Zoe's] when we heard about Mural Wish," Jennifer said in a recent video from Mural Wish's Youtube channel. "And we thought, 'Oh my gosh, that would be perfect!' because we have this huge, blank white wall and we have no idea what we want to do with it."
That's where O'Callaghan came in, colored pencils in hand. After sketching out Zoe's ideal design, O'Callaghan got to work, creating a colorful corner for Zoe in her parents' bedroom. With the help of Diana Ramirez, a School of Visual Development graduate (M.F.A., 2019) from the Academy, the mural was painted in just two sessions.
"When I paint for Mural Wish, I'm donating a mural, so I'm painting in return for nothing, which is exactly what I want," said O'Callaghan. "It's essentially just giving back to the community. When you feel very grateful for what you have in your life, it's time to give something back."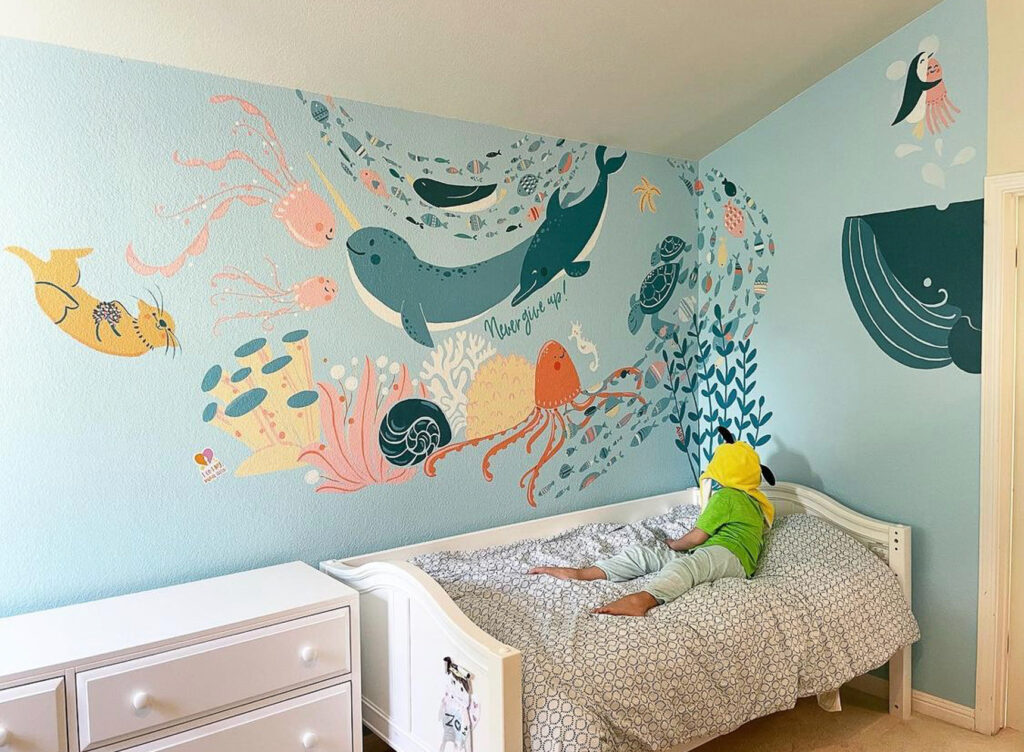 When Zoe regained her strength, it was time to reveal the mural. As she walked into the bedroom, Zoe couldn't contain her toothy smile.
"It's so cute!" she exclaimed, tracing the smiling sea animals. In the center of the mural was an important reminder: the words "Never give up!"
"When you have cancer, it makes you, like, work harder," Zoe said in the video. "It makes me stronger. It means that I should never give up, even when things are hard."