By Greta Chiocchetti
Academy of Art University School of Illustration student Steven Shepard's stunning piece referenced from a portrait of an eastern European man by Pierre Gonnord is dimensional and detailed. Upon close inspection, you can see each skillful brush stroke creating freckles, wrinkles, and painstakingly-painted individual hairs on her head. The smooth, almost glazed, look is reminiscent of oil paintings. 
But it wasn't made with oil paint, or even a canvas—Shepard's portrait, which took first place in the Academy's Art U At Home contest, was painted completely in Photoshop with a tablet and a stylus. 
"I use the same approach as if I were working in acrylics or in oil—I started with a really detailed line drawing and then blocked in the basic color schemes, but a little darker than the reference," explains Shepard of his process. "From there, I built it up with the brush strokes—I mean, you're not using a brush, it's a stylus, but it ends up looking like brush strokes."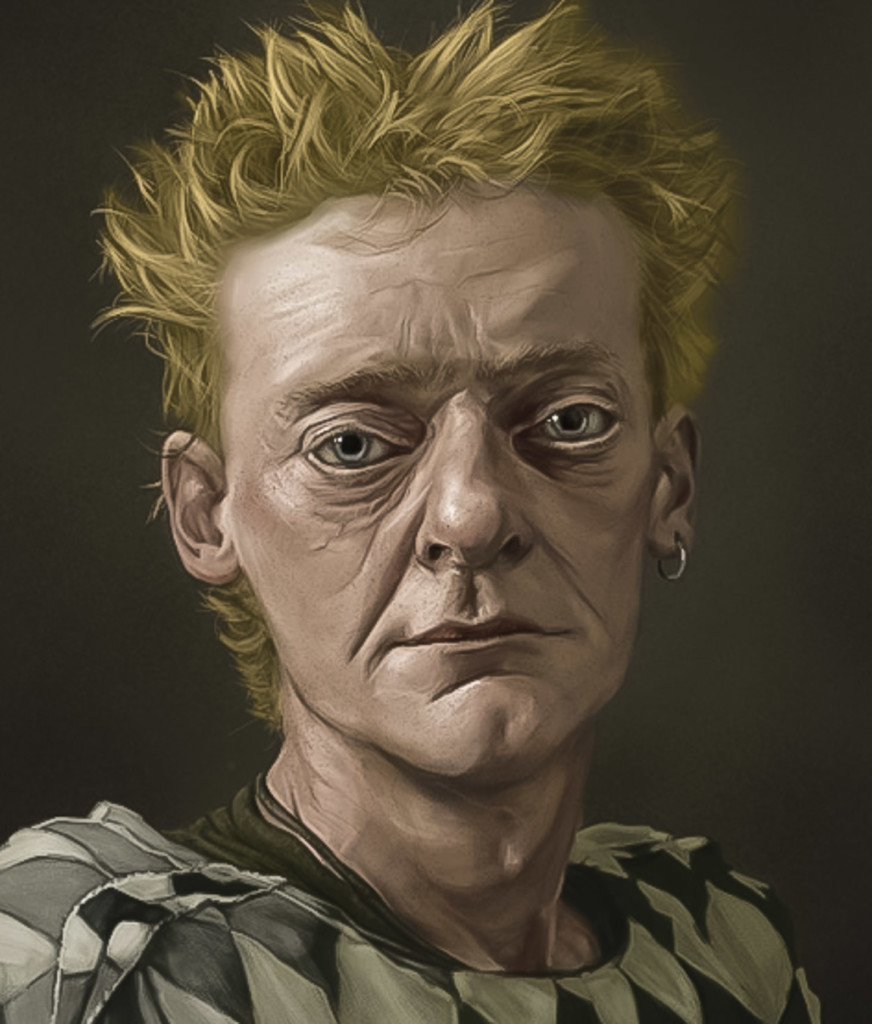 Selected out of over 100 submissions, which were posted to Instagram using the hashtag #ArtUAtHome, Shepard's portrait won him the grand prize of a deluxe art kit and a shoutout on the Academy Instagram page.
Although it's clear that Shepard is a skilled digital artist, it certainly hasn't always been this way, he says. This past semester, he tried his hand at the medium for the first time in Gregory Eichholzer's GAM 233: Elements of Digital Painting class, and it did not come naturally at first.
"It was through the sheer workload of the class that I finally got in enough practice to get comfortable with it," said Shepard. "For the first 11 weeks, we were assigned to draw different kinds of cubes with different textures and made up of different things like rocks, glass…"
While it took many hours of hard work—Shepard's final portrait took him between 20 and 25 hours to perfect—his efforts are reflected in his art.
"I'm so thrilled about it—it's always fun to see where people take themselves," said Eichholzer of Shepard's progress throughout the semester. "I just try to teach people stuff and the rest is really up to them. It's evident in his final portraits that once he got a hang of the blending, you can see the results of that hard work."
In an interview with Art U News, Shepard detailed his journey of returning back to school after serving in the U.S. Navy and the gratification of mastering a new skill.
Why did you choose to submit this particular piece to the Art U At Home contest?
It was actually the final project from my Elements of Digital Painting class and, if you saw some of the stuff I did in the beginning, it really was a culmination of what I had learned throughout the semester. And so that piece came out probably better than anything else that I created throughout the semester.
When I was submitting, I didn't go in looking to win the contest or anything. I was just proud of what I achieved, and I want[ed] to share it. As an artist, you create a piece of work and you want people to see it. The whole purpose is to send it out into the world and let people see it. So, that was a big motivator for me.
What did you think of the other submissions under the #ArtUAtHome tag?
When I was submitting, I went through—and certainly after I got the message that I had won the contest I went through even in more detail. There's an extra level of intrigue there now. [Laughs] And honestly, there were some submissions that really impressed me; if I was a judge, I might have come the other way and awarded someone else because there were some really impressive submissions by other people in that group.
It was cool that they decided to open up this contest to the public as well as the Academy community; it was great to have this place that was kind of highlighting the Academy community and what we were doing but then opening it up to a broader world and audience, and letting all of us come together, kind of just having this space where everyone can appreciate each other's artwork.
As an Illustration student, what prompted you to take classes in game development, like GAM 233: Elements of Digital Painting?
I studied illustration before transferring to the Academy, but that was back in 2000 at the ArtCenter College of Design in Pasadena. And I don't know if you can imagine, but Photoshop was still kind of in its early years, and I learned how to create artwork in Photoshop and do digital manipulation. I ended up working as a photographer for a number of years, so I use Photoshop a lot, but I'd never digitally painted—I'd never owned a tablet before, and I hadn't really gone through the process which is basically like picking up a new tool. I was starting at the very beginning, which was a little daunting because I have experience in other areas. But for me, it was really valuable to be able to use as many artistic tools as possible that were available to me, and I saw it as a good challenge for myself.
How did digital painting prove to be different from traditional illustration?
Luckily I had the basics down before starting the course, so that certainly helped. But it's a new process and something that's unfamiliar, so there was definitely a learning curve. At the beginning of class, I was having the hardest time just making a straight line. I'm pressing my stylus down to make a mark where I want to make a mark, but it's not showing up exactly where I want it. It was super frustrating and hard in the beginning—and it seemed ridiculously time-consuming for something that I felt shouldn't take me so long.
In the end, it's a new tool, so it's going to take a while to get the hang of it. Through just the sheer workload that our instructor Greg Eichholzer assigned, I got plenty of practice. For most of the semester, every week we were just drawing cubes and slowly working our way up with textures and details. Finally, by the time we got to the portraits, I was much more comfortable.
Now that you've found your way around a tablet, are you leaning more towards traditional or digital illustration?
I have a lot of experience with traditional art techniques, but I really don't know where I'm gonna end up and how much of my work is going to be digitally-based versus analog. I'm definitely going to go back to those traditional techniques. I'm just gonna think it's a wonderful thing—that at the end, I'm proficient in both of those. And the more tools I have, hopefully, the better art I can create, the more artistic choices are available to me.
What brought you to the Academy?
I spent time in the military—I was in the U.S. Navy for five and a half years, and then worked as a Department of Defense civilian for almost another 10 years. And now I am taking advantage of my GI Bill benefits. I live in Monterey, and the Academy of Art is a good school and it was close enough that I could do a hybrid program, going up and taking a few classes in person and a few classes online. Obviously now all of them will be online, which I am sort of disappointed about, but so far, my experience with remote learning has been great.
What are you hoping to do after graduation? When I went back to school, people asked me, "What are you doing?" because I'm not a spring chicken anymore. I'm entering school pretty late in life. What I'm looking to do is to really hone my skills and get them up to a professional, competitive level and to make connections within the industry that being at a place like the Academy of Art gives you. And then just seeing where I fall and hoping the opportunities open up. I don't know what that path will be—and I don't want to close any doors. I'm kind of hoping it'll present itself as I approach the last semester and am getting ready to leave school, and I think it will with the proper preparation and hard work.