By Nina Tabios
When Zhongfang "Aka" Zhang was looking for inspiration in 2019—her final year as a graduate student at the School of Jewelry & Metal Arts—she turned to an old Chinese proverb about Shakespeare: "There are a thousand Hamlets in a thousand people's eyes."
While the saying alludes to the many interpretations of the English playwright's classic literature, Zhang found the motivation to turn her 2-D illustrations into 3-D wearable works of art.
"I studied illustration for many years, so when I started to study jewelry art, my biggest problem was that I could not consider my work from a three-dimensional perspective," Zhang explained via email. "Now, I can switch freely between 2-D and 3-D. For me, this is a big improvement, and I believe my ability to create illustrations helps make better jewelry."
Almost a year later, one of Zhang's pieces continues to make a statement. In August, her bronze headpiece, "A Thousand Eyes No. 1" was named the first-place winner for Apero, a monthly juried and curated fine art publication. As the top prize winner out of 30 featured artists—all established and emerging names in photography, illustration, sculpture, and painting—Zhang earned herself a two-page feature, curator review, and her winning artwork splashed on the cover of Apero's September 2020 issue.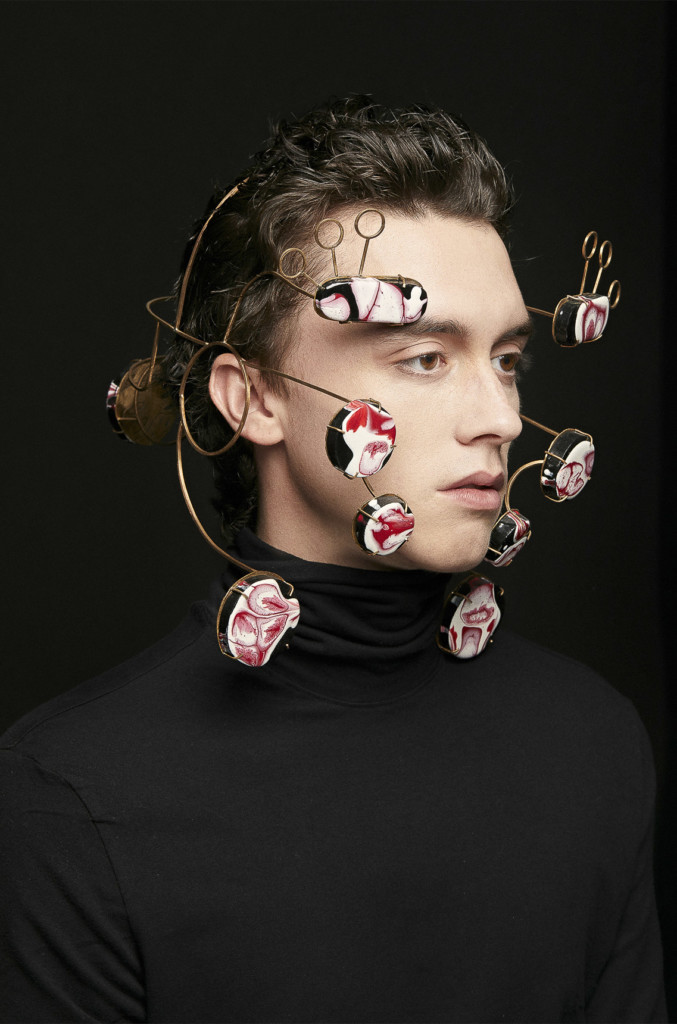 For Zhang, landing the cover came as a surprise. But as curator E.E. Jacks wrote, "A Thousand Eyes" is "highly imaginative and precise" and showcases Zhang's ability to create "an edgy yet reflective piece that bends the boundaries of composition and expression." For this project, which was crafted in instructor Killean Evans' Group Directed Study class, Zhang used an array of techniques to bend the brass wireframe holding the characteristic, jutting "eyes," which are made of wood and colored resin.
Zhang recalled that her goals for "A Thousand Eyes" were about experimentation but also about reaffirming her perspective as a multi-disciplinary artist.
"The art of new jewelry is often thought to be incomprehensible and seems to have no correlation with daily life. But, in fact, no matter what form, art is always derived from life," Zhang said. "'A Thousand Eyes' represents endless possibilities; it also stands for perceptions, experiences, comprehension, imagination, and recreation."
Although Zhang singlehandedly created "A Thousand Eyes," the attention the piece is receiving is partly due to the work of Luyang Tian, a 2019 M.F.A. graduate from the School of Photography. Introduced by a mutual friend, Tian photographed Zhang's final projects for her portfolio and the two collaborated on how to best style them for photos.
"Aka gave me a few ideas at first and she wanted the photos to have a clearer vision of her artwork—we should see colors, we should see details, we should see shape," said Tian, who coincidentally also had his own photography featured in the September issue of Apero. "I offered up a few ideas from previous shoots and she definitely loved one concept called 'Human Toys,' because the background is a perfect pure black, which gives the audience a very stable and very high contrast effect. It makes the objects pop up perfectly."
"I think [Luyang] is a very dedicated person when taking pictures," Zhang said of Tian. "I wanted to shoot photos with a strong artistic style, and he was very good at taking portraits, he [could] stimulate the emotion of the model. I thought the photos worked out well in the end."
Making the Apero cover feels like a double-win for these Academy alumni, but for Zhang especially, it's an invaluable experience to be recognized among other artists around the world.
"I have always been a very introverted person, so this recognition is a boost [to] my self-confidence," Zhang said. "I did not expect to win first place. When I found out, I immediately emailed the director and teacher and called my parents and shared the good news with them. It was really exciting at this difficult time."