The evolution towards high fashion menswear is inspiring, and School of Fashion students and alumni are there at the forefront
By Nina Tabios
As 2019 comes to a close, it's time we recognize this era as the decade of menswear. Once deemed predictable and typical, men's clothing has found its place in the spotlight under the beacons of high fashion houses and luxury designers like Dior Homme and Thom Browne in the 2000s. It has been elevated, then broken down and redefined to house some of the most creative, innovative ideas in fashion, from luxury streetwear to sustainability and the blurring of gender lines.

And wherever the industry goes, Academy of Art University's School of Fashion is moving right alongside it. With Executive Director Simon Ungless at the helm, fashion design students like Chelsea Grays (M.F.A. '19), Qing Guo (M.F.A. '19), and Christopher Cabalona (B.F.A. '19) grasped what classifies as menswear and translated it into their own defined and respective visions. Having recently shown their collections on the industry's biggest stage at New York Fashion Week in September, Grays, Guo and Cabalona have taken the first step into seizing their own moment in menswear.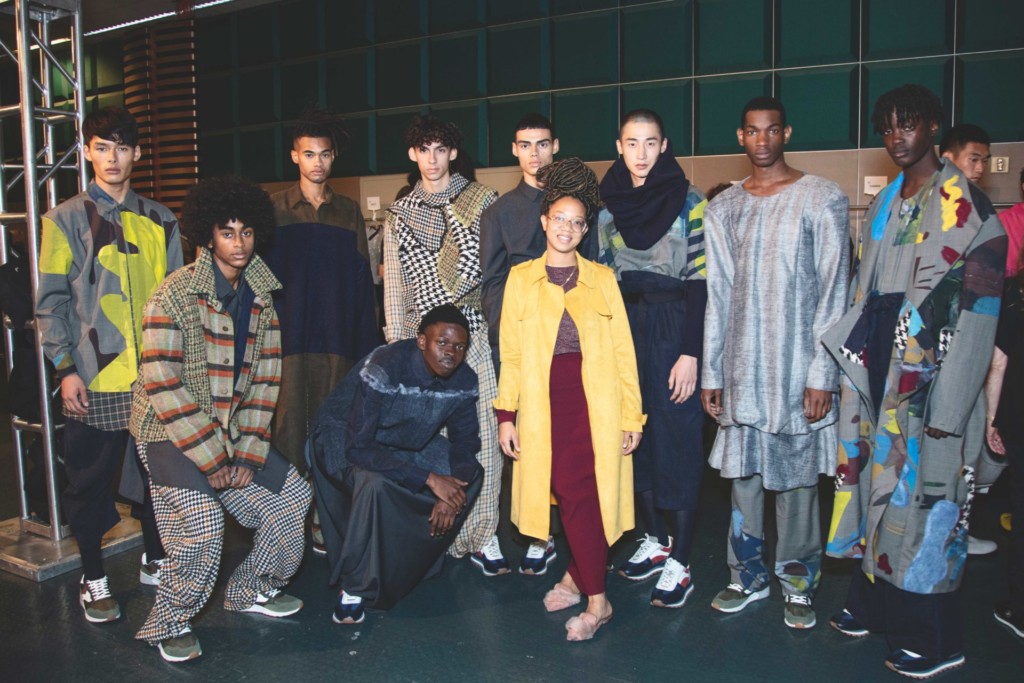 "People ask if I'm proud, but I don't actually know what that feels like," said Ungless. "I feel more honored to have been able to work with such people through the path they've created. That's what I really feel—privileged to be able to work with such talent. Because it's not everywhere."

Armed with the core knowledge and basic fundamentals, School of Fashion students will continue to follow menswear's rise into the new decade. But before we can see where they take it, Academy Art U News takes a look back at where menswear has been and what makes the Academy a leader in its charge forward.
It started with a suit
Since the advent of fashion, menswear has always centered around the suit: a shirt, trousers, a jacket and maybe a vest, if you're feeling fancy. Since the 18th century, men have donned suits which were modernized with slimmed-down legs and waist and broadened in the shoulders and chest. Considered both classic and quintessential, there was also much to be desired.

"If you're creating the same stuff in menswear, then it would be boring," said Cabalona. For his graduate collection, Cabalona exaggerated each of the suit's fundamental pieces: cropped jackets, elongated sleeves, tail-coat vests, and bell-bottom pants, embellished with silver hardware. Traditional, yet distinctive in all the right ways, Cabalona's work was a standout at NYFW (along with Grays, Cabalona was listed on i-D's "8 emerging designers to watch" article earlier this year).

Ungless recognized Cabalona's taste for the finer things in menswear. "It was about shape, the proportion, and the subtle details by eliminating color and eliminating fabric texture," the executive director said. "It was that type of thing he did to really bring attention back to the clothes without all the bells and whistles added onto them."
It wasn't until the early aughts when Ungless noticed the turn of the menswear tide when LVMH hired Hedi Slimane to elevate its men's outfit, Dior Homme, in 2000. Menswear was immensely dwarfed by womenswear, but Slimane's hiring signified the sea change.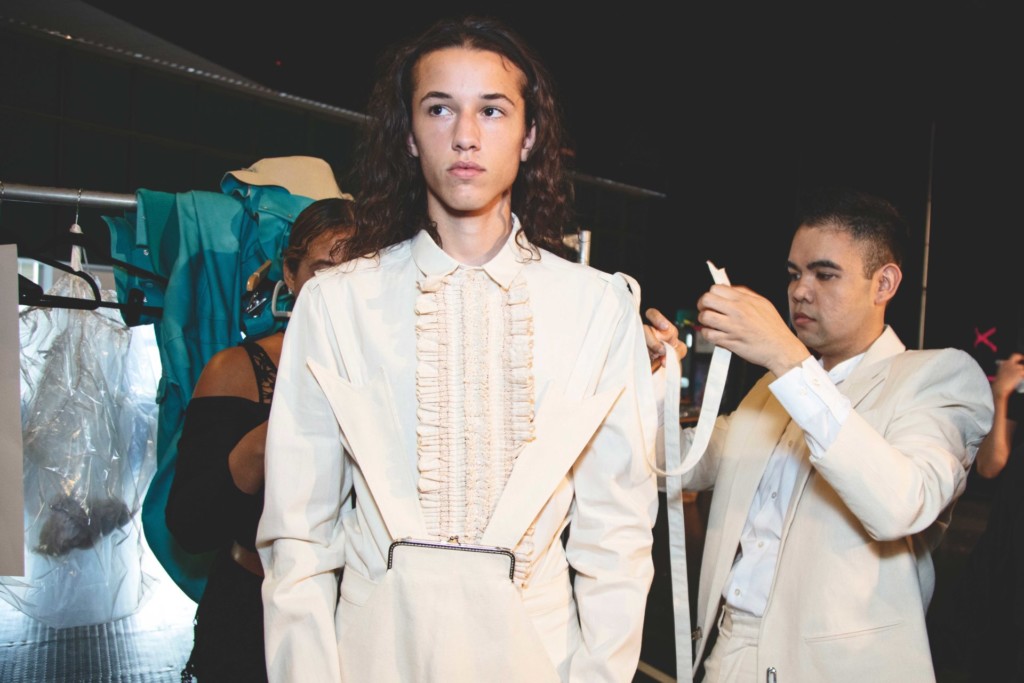 "Up until that point [menswear] would've been something that was there but you would see it in retail. It wasn't such a big thing in terms of shows and collection," explained Ungless, a former collaborator and confidant of the late Alexander McQueen. "It all started to come together when people really started to pay attention to the volume of revenue that could be made through menswear."

With impeccable timing, the School of Fashion offered its very first menswear courses in 2001. But for graduating seniors like Jirawat "Bote" Benchakarn (B.F.A. '01), it was too late to formally switch his concentration from womenswear. He was already doing experimental men's collections to go along with his womenswear projects, applying Academy-taught techniques where he could, though he struggled with tailoring.

"I had to self-teach myself a lot," said Benchakarn during a call from Bangkok. "When you're a student, especially if you're a student like me, you want to break the rules. But you have to learn the rule first before you start breaking it."

Following graduation, Benchakarn worked as a buyer for designer labels in Europe, America, and Japan. But by 2007, the over-decorated men's clothing wore out its welcome in his wardrobe. He yearned for simpler, more classic looks, so he started to manufacture the basics—Oxford shirts, trousers and blazer—that would eventually become JBB, his boutique menswear brand that would pioneer Thailand's contemporary men's fashion.

"Everything I do is very classic, very basic. But within that constraint, I have to add a little bit of something," explained Benchakarn, who works to keep JBB exciting and relevant as menswear continues to evolve.

The marginalized are no longer muted

As the industry turned towards menswear as a source of new revenue, so did more men. Ungless started to notice an increase in male students within the department, and not just in design, but in all aspects of the business.

"There has definitely been an increase in fashion classes, textiles, knitwear design. There's more awareness to the male population that fashion can be an industry for them," he said.

With that comes an outpouring of undiscovered, if not marginalized, voices in menswear. Runway fashion was never accessible to the common public but high-end designers and brands pulled inspiration from underground subcultures with regularity. And yet, it's only been the last few years where designers and brands from these areas are finally offered a seat at the table.

Following the trajectories of Virgil Abloh (whose fashion career started in 2009) and Demna Gvasalia (who founded Vetements in 2014, and is now at Balenciaga), a whole new wave of creatives are mastering opulent, streetwear-minded men's apparel. Rhuigi Villasenor found affluence with his flea market inspired brand, Rhude; Samuel Ross of London's A-Cold-Wall* makes experimental, ready-to-wear garments; even Academy graduate Brandon Kee made a splash on season 16 of "Project Runway" (B.F.A. '16) translating his youthful menswear aesthetic to womenswear.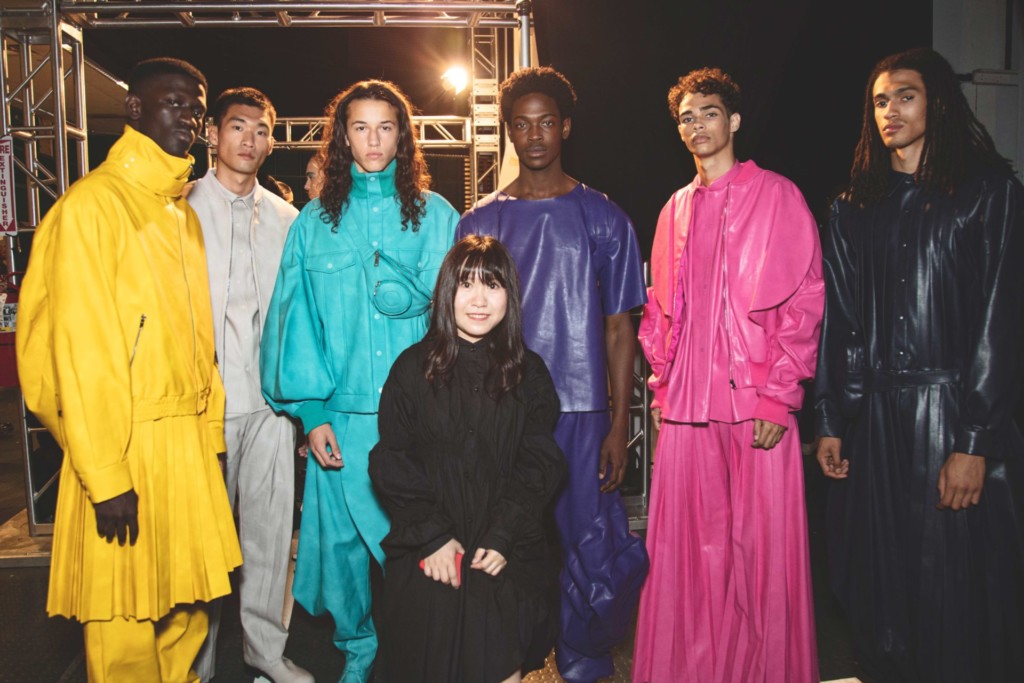 "That's my goal in menswear," said Guo, who's own NYFW collection, featuring monochromatic looks made of vegan leather punctuated with innovative detailing, carries hints of Ross's aesthetic. "To do separate, ready-to-wear pieces but when you put it together or when you style it can still be really fashionable."

Menswear is also becoming more fluid. Fashion, oftentimes, moves along with the swirling culture around it. Collections are becoming more unisex and indie designers like Ryan Morar (B.F.A. '13), an Academy graduate, are deriving womenswear elements and injecting them into their menswear lines. Morar's Jetpack Hom(m)e can simultaneously be worn by the Anderson .Paaks and Billie Eilishs of the world.

"Every few years [at NYFW] we see this men-in-skirts kind of thing—is it going to happen, is it not going to happen?" Ungless said, mentioning that some gender boundaries previously set in stone by the industry are just being broken down. But blurring gender is more than just putting men in dresses; per Leo Solodukha, Academy menswear instructor and former technical designer for brands like Gap and Espirit, a garment's purpose needs to align with the body and mind meant to wear it.

"I like it when designers create collections off of an idea," Solodukha said when asked what excites him the most about his students. "Not just out of the blue, 'Let me design some pants and a jacket.' But have some idea behind it."
The next generation of new voices
As menswear stands today, there's no telling where fashion's next emerging voice will come from. It could come from those early dreamers like Diego Rivera (B.F.A. '20), who stared wide-eyed at the runway shows of Alexander McQueen, Terry Mugler and imagined stars wearing their ball gowns.

Or, it could come from the lost boy, Armando Caruso (B.F.A. '20), who made his worldly perspective real and tactile through fabric. Caruso, who originally studied sports management at Syracuse University, arrived at the Academy teeming with ideas but no way to express them.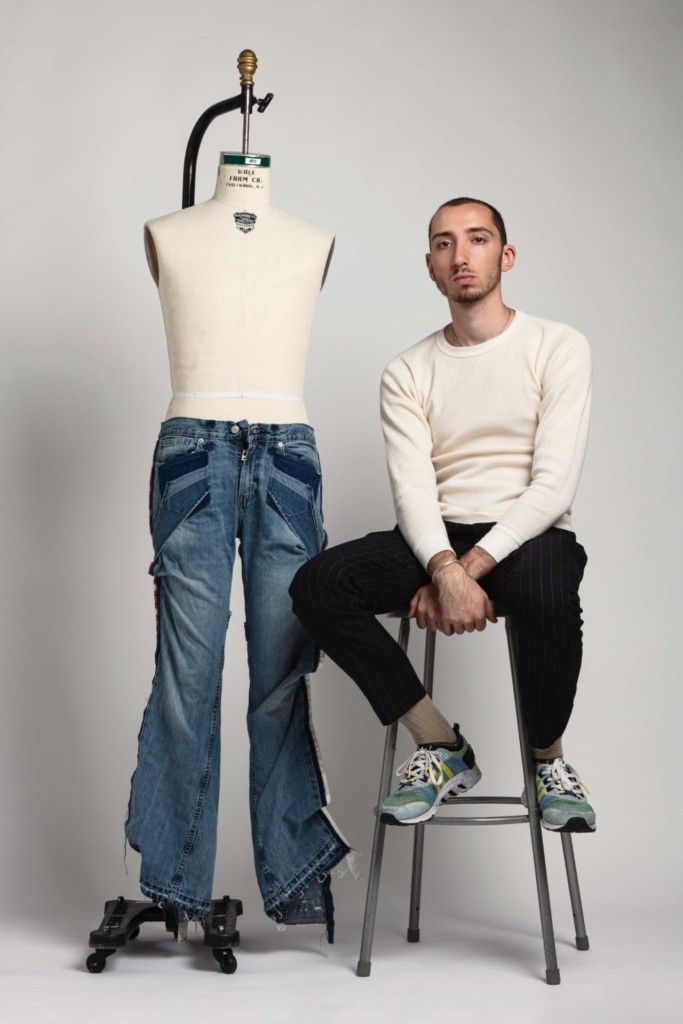 "I've learned so much because I came with no background knowledge. I just came with my own creative background," said Caruso. He was always drawn to clothes and what they represented for him—in particular, Ralph Lauren, Jordan sneakers and the like. In the same way, he was obsessed with literature, performance art, and music but had a hard time translating those interests; fashion was his answer.

"Up until I was here, even making the decision was going with the flow. It wasn't so premeditated. But since I've been here, I've grown to be obsessed with it," said Caruso, who crafts subtle, yet precise details in his designs. "I like to build my collections as a narrative arc, as a story."

"I did midpoint for him and I could see this incredible thought process but not the hand skills to communicate that in a 2-D way," Ungless said. "Then seeing him again last semester and seeing the thought process still there developing, still staying high-level but having grasped the hand skills to be able to communicate his ideas in a two-dimensional way and then follow it through into the 3-D. It's what we do here."

Rivera, on the other hand, always knew he wanted to add some theatrics to menswear. But he also yearns to be part of the conversation of subverting norms, especially for queer men of color. His thesis collection explores Latino stereotypes and culture, "blowing them up and throwing them into your face, to take the stereotype back from the western media."

"I definitely think there's a silliness to it all—an aloofness. It's kind of a political statement, but it's a funny political statement," he said. About ankle-deep in developing his concept, Rivera reimagines the Latino machismo as feminine, dainty and romantic. "Which is something that we've never really seen in fashion or the media."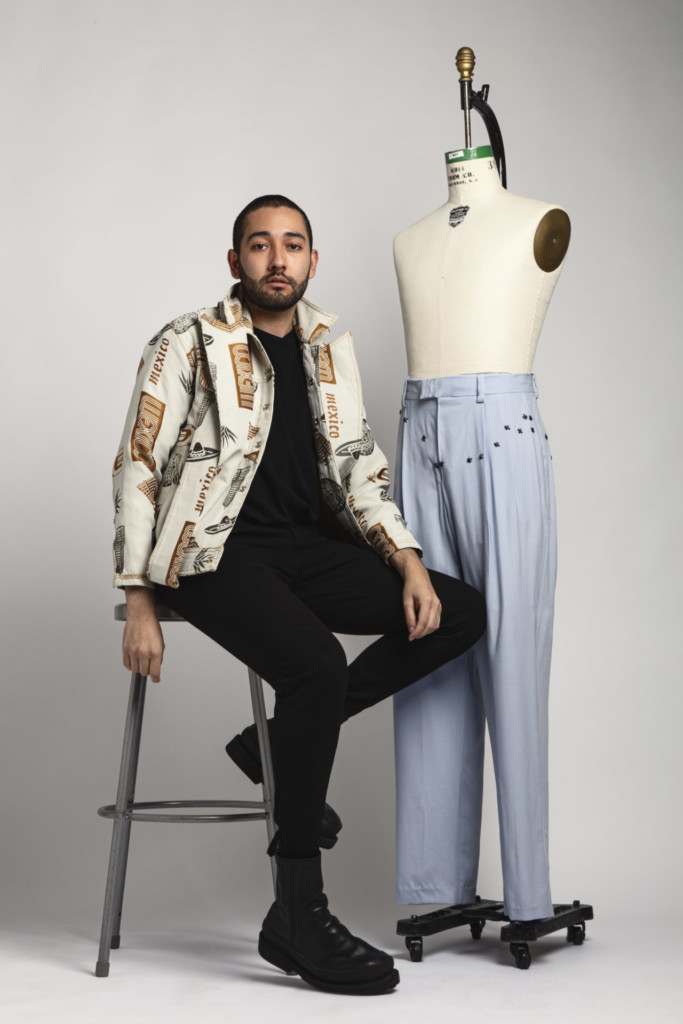 Both Caruso and Rivera are expected to show their thesis collections at the Spring 2020 Graduation Fashion Show. Although they have only been designers for a short time and may not be the only ones debuting a menswear collection come next semester, Caruso and Rivera have exhibited a vision and drive to mark them next in line as the Academy's standout menswear designers.

While they are still mastering the fundamental trousers, shirt, jacket under the tutelage of veterans like Ungless and Solodukha, these designers continue tugging at the seams of menswear.

"They go out, they hang out, they're in the mix, they really know what's kind of going on. And I see that a lot with them and that reflects in their work," Ungless said. "They are absolutely interested [in] what's going on, not just in fashion but in music and art and politics and everything. And that is all the things that really affect what we do in fashion."

"Menswear used to be confined, where it has to be this," said Caruso. "I think it comes with the time we're living, people opening their arms to this free life in general and not really pigeon-holing people where you have to wear this, you have to wear that. People want to express themselves and designers now are able to be more creative."