By Greta Chiocchetti
Over 90 creatives from across the Academy of Art University community and all corners of the world came together—virtually—to take part in the Styling Meetup on Thursday, Feb. 17. The biannual networking event offered a space for fashion designers, stylists, journalists, photographers, models, and hair and makeup artists to mingle and find potential collaborators, encouraging creativity without boundaries or borders, thanks to the power of Zoom. 
As in years past, this year's Styling Meetup, hosted by the School of Fashion's Associate Director Flore Morton and School of Photography's Technical Director Edwin Vargas, focused on the importance of networking while at school and how to get the most out of the Academy's state-of-the-art facilities. 
"You never know who the person that you were working with before will turn into. They could end up being your boss," said Vargas. "It's so impressive when you walk into a new job and you find out that person went all the way up [the ladder] and now is directing a whole new production. You never know who could hire you later, so always appreciate every single person you work with."
Each registered participant was sent a list of all the creatives in attendance in the hope of fostering connections and future inter-departmental collaborations. In addition to stoking the sparks of creativity, Morton encouraged attendees to stay in touch, stressing the importance of maintaining a professional network.
"So many people passed through our programs and are still friends, they're still working with one another, and they help each other find jobs—sometimes they shoot for big publications together," said Morton, referring to collaborations that have landed in the pages of publications like i-D, Paper, Vogue, and the School of Fashion's 180 Magazine. "Don't just be ultra-focused on your own project. If you have some downtime in the semester, maybe it's a good time to help someone else out."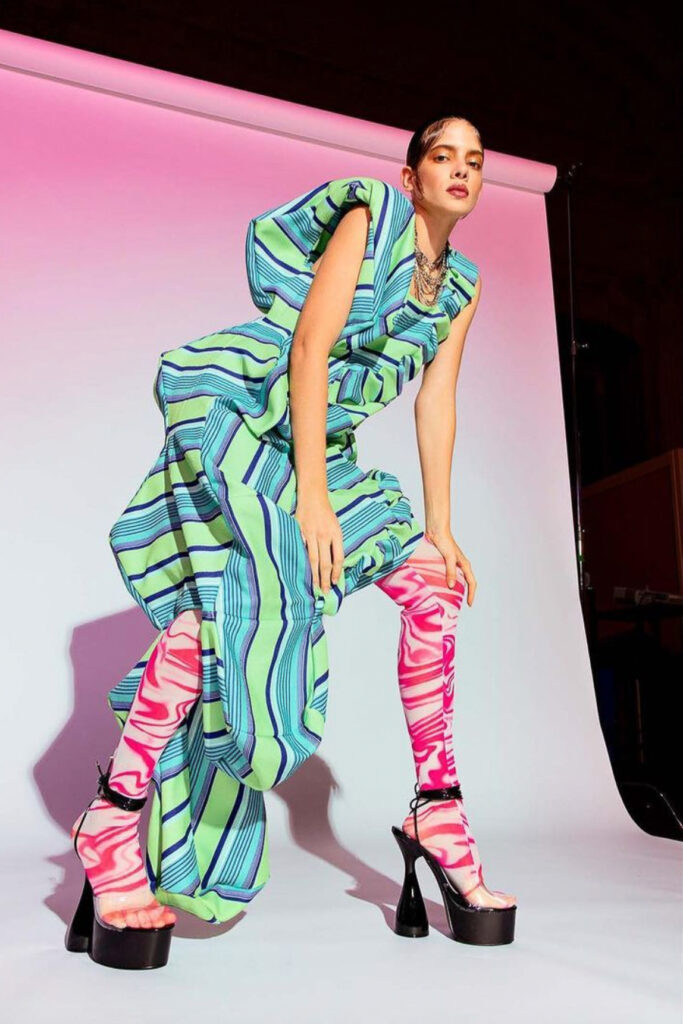 In addition to making a great addition to one's portfolio, cross-departmental collaborations often result in higher quality work, noted Morton, who launched the School of Fashion's styling track in 2013 and has seen a shift over the last eight years that the Styling Meetup has been held. 
"The quality of the shoots over time became dramatically better," said Morton. "I always stress to my students that a big part of their success at the Academy is going to be from leveraging the amazing resources we have here. As a stylist, you have access to a stunning closet, while the photography students have incredible studios—why not put those together?" 
 "Artists inspire other artists.  It's true!" said Academy President Dr. Elisa Stephens. "No matter where your passion lies or where your craft takes you, it's important to have a network of other creatives to collaborate with and to push you to do your best work.  I'm proud that the Styling Meetup didn't let distance—or the ongoing impact of a global pandemic—get in the way of artists inspiring artists at Academy of Art University."
After a brief orientation, students were placed in breakout rooms for a few "speed dating" rounds, as Morton called them, to swap social media handles, chat about upcoming projects, and get inspired. Surbhi Sachdeva, an M.F.A. fashion marketing and brand management student, was looking for opportunities to collaborate after taking her first intro-level styling class last semester. She wondered if anyone would be interested in working with someone who was still learning the ropes.
"Absolutely!" said PH instructor John Vano, who also happened to be in the breakout room. "I teach [fashion and beauty photography], and I do have a lot of people in my class that are looking for stylists, and obviously, makeup and hair as well. Ultimately, the goal is to get them published since they're shooting spreads in my class."
Alexandria Okon, an M.A. fashion art direction major, was also looking to build up her portfolio. "I'm doing some shoots this semester, so I'm looking to work with photographers that do fashion shoots, and hairstylists and makeup artists," Okon said. "I'm also a nail artist, so I collaborate a lot for that with students here."
For first-time attendees, networking amongst peers from other departments can seem daunting. Vargas, who has taken classes in the School of Photography, can speak firsthand to the benefits of networking over time.
"I understand the frustration of some of the newer students who attend the event and don't necessarily make the connections right away, but over time, they keep practicing, and it's a skill that they build over time," said Vargas. "It's one of those things that, over the semesters, as you develop your portfolio and keep coming back to the meetings and learn how to interact with other creatives, then you get the sense that, 'Wow, this is working.'"
Though students and faculty alike were missing being able to convene in person, Morton notes that the virtual element of the meetup will likely be a mainstay, even long after it's safe to hold the event on campus again.
"I wasn't really aware of any collaborations between Academy students outside of the Bay Area before we started holding this event," said Morton. "Doing it this way allows everyone to take part, regardless of where in the world they are. Before, students would have to depend on me knowing someone in L.A., for example. This way, there's no middleman. Their creativity doesn't have to be limited by geography."
For students who were unable to attend this semester's event, stay tuned to @academyustyling on Instagram for details on the Fall 2022 Styling Meet-Up.