Two textile design graduates are putting their creative skills to good and varied use in the industry
By Nina Tabios
Ashley LeMay found textiles because she "wanted to get her hands dirty."
"I like being able to get messy and make a mistake, but then work off of it," explained the 2018 Academy of Art University School of Fashion (FSH) graduate and textile coordinator for Pottery Barn Teen. "For some people, it takes too long to get to the end result, but the whole process, I think, is fun."
Emily McCarty, fellow 2018 textile design alumna and assistant designer for Calvin Klein's Color & Concept team, said she used to spend almost half a day in the lab when she was working on her senior collaboration with Hanh Nguyen (B.F.A. fashion design) for the 2018 Graduation Fashion Show.
"Textiles is just a little bit different of a creative outlet. The more I got into textiles, the more I enjoyed the process of creating a collection," McCarty said. "You feel very accomplished from that whole process, and, so with all the extra time I had, I was spending 10–12 hours at school working on that collection. When you're doing something like that all the time, it [would be] hard to not fall in love with it."
Sometimes referred to as 'happy accidents,' designing textiles is often not one process but many and can be a little bit of art meets science. As LeMay explained, FSH textile students get a hands-on experience by learning on industry-standard textile lab equipment, including repeat yardage print tables, heat transfer presses, steamers, over 700 silkscreens, and much more. The curriculum starts with surface level prints then graduates to fabric manipulation such as burnout, discharge, and experimenting with pigments.
According Assistant Director of Textiles Rhona MacKenzie, the specialty has been a part of the school since the department's early days, yet only became a designated track in 2017. Not relegated to just fashion, textile students have collaborated on projects with the Schools of Interior Architecture & Design and Industrial Design.
"Though textiles are primarily under fashion, it could also be for interiors, sofas, lamp shades, design on a water bottle, greeting cards, wrapping paper. Anything with a pattern, or a color, or a texture is a textile design," said MacKenzie, adding that her graduates work in an array of companies across the pattern industry, from The North Face and Levi's to General Motors and Chrysler.
Logging in lab hours at school was just the start of LeMay and McCarty's design careers. Before graduating, LeMay interned at Mission Pets where she moved through different design-oriented roles and taught herself Adobe Illustrator. Now as a PB Teen textile coordinator, LeMay is "at the center of the design process" through her responsibilities of coordinating with vendors on swatches, fabric samples, and quality checks.
"I am able to communicate with people from a lot of different teams, like the merchants and the buyers," LeMay said of her role. "I'm able to see how the chain really works and how everyone really interacts with each other."
McCarty, who carries a more fine art perspective in her work, participated at the Council of Fashion Designers of America (CFDA) Fashion Future Graduate Showcase in New York City where she met the Calvin Klein representative that would eventually hire her. Now, she's working hands-on with the brand's underwear design group, perfecting repeat prints.
"Having done that project, I wound up moving here (to New York)," McCarty recalled. "I would have never foreseen it, but I'm happy to be here."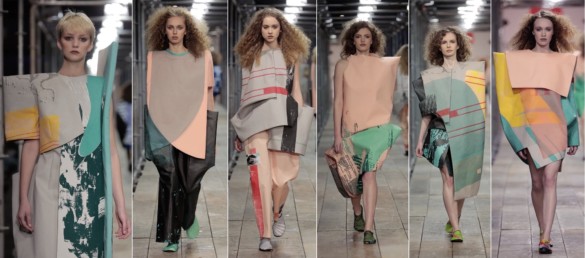 Instructor Jennifer Jeon taught both LeMay and McCarty in Applied Textiles 2 and Senior Portfolio classes. While both are very talented, Jeon said LeMay and McCarty are incomparable; LeMay has a more step-by-step design approach based on market research, whereas McCarty's designs rely on her abilities as a technical artist. Equally important, Jeon said, is how both of these students embody the bigger program philosophy of being personable, teachable, and being curious to the world around them.
"It was good to see how they [grew] up from when they were at the beginning level to the senior level in their portfolios," Jeon said. "They were always open to different approaches, always wanted to be challenged. We want our students to be a pleasure to work with, and have a good energy, and be creative."
And for those qualities, LeMay and McCarty thank their instructors.
"Every opportunity to get to network is ideal and your teachers are often the best people for that too," McCarty shared. "The teaching staff is really what helped me change my work ethic and direction my career is going in, because they're all really incredible people that just care a lot about their students. And that's not something you find everywhere."