Richard Jennings is a creative leader and visual storyteller with extensive experience in graphic design and development for multiple mediums.
Jennings graduated from Academy of Art University with a B.F.A. in graphic design—experiencing both in-person and online learning. His love for creativity plus a drive for self-education led him to pursue and earn his M.F.A. in graphic design from the Academy in 2019. He has since leveraged this achievement to help motivate and inspire those around him, and he exemplifies the belief that it's never too late to follow your passion.
Starting his career later than most in the industry, and with no access to mentors or diverse role models, Jennings paved his own path. This sense of initiative drew him to a range of fields within the creative community.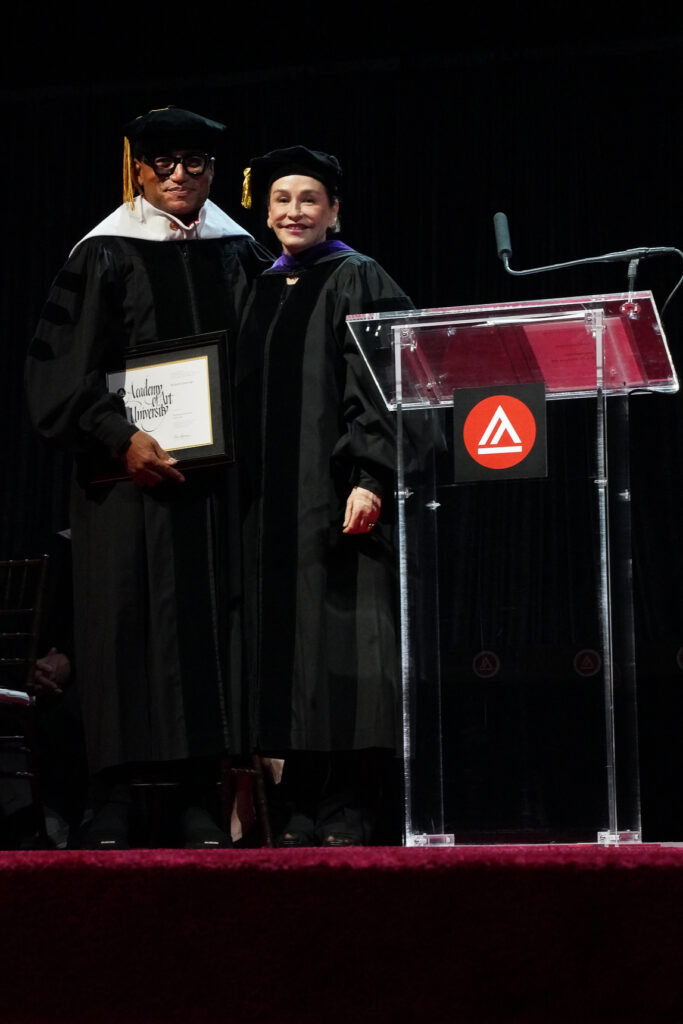 His first stop was in packaging, followed by training manuals, which sparked his passion for clarifying dense information and mastering hierarchy. Soon after, Jennings worked at Old Navy, leading their internal design team—and his love for fashion began. After leaving San Francisco for New York City, intending to stay in fashion, Jennings landed a job in the music industry, where he launched a fruitful career as an art director.
At Arista Records, he designed artist packaging and marketing materials for Whitney Houston, Toni Braxton, Aretha Franklin, Santana, and many others. Soon, he moved to Warner Music Group to oversee the internal design team, focusing on creative marketing campaigns, merchandise production, and release operations. Shifting gears in 2013, Jennings welcomed the unique opportunity to rebuild a team from the ground up at the premium broadcast company HBO, where he would oversee the Design + Production group.
Today, the expanded department specializes in key art, motion design, environmental, merchandise, design and style guidelines, identity, presentations, and out-of-home. His team is pivotal in setting the company's standard of excellence and brand integrity. Jennings is currently the SVP, Design + Production for HBO/HBO Max in the DTC Marketing arm of the newly formed Warner Bros. Discovery.
Among the myriad lessons that Richard learned from the Academy, perhaps the most important is that a creative's greatest gift is the act of giving back. He currently serves on the Advisory Council for the coalition Diversify by Design (DxD), which looks to catalyze racial equity and justice across the design profession's entire ecosystem. The organization's tenets are 1) Exposure: Providing youth with exposure and access to design, 2) Education: Making design education accessible and inclusive, 3) Experience: Providing opportunities that are meaningful and practical, 4) Employment: Increase representation and hiring of POC candidates, and 5) Empowerment: Ensuring designers of color are supported, empowered, and encouraged.
Jennings can also be found on the Webby-nominated Wix podcast series "Now What?" discussing design transformation and sources of inspiration, his work in making the design industry more inclusive, and what organizational evolution looks like during a global pandemic.
Jennings has made it a point to live each day filled with inspiration and creativity. He currently resides in New York City with his husband, David.
---
Jennings was bestowed an honorary doctorate by Academy of Art University President Dr. Elisa Stephens on Wednesday, May 18. He delivered the following speech to this year's class of graduating students.
Hello everyone and thank you to Dr. Stephens and the Academy. I am completely humbled, honored, and filled with an immense sense of gratitude. I never dreamt that this is where I would be standing one day; it proves that if you live your life with passion, it leads you to the most unexpected places. As a kid, my mother said to me, "If you make decisions based on money, you will never truly be happy, but if you make decisions based on passion and happiness, then the rewards will be bountiful."
I am not here to tell you that my life has been easy because it has not. But, I can say that those challenging moments have defined me. It is how you leverage those lessons you've learned that matters. True growth and opportunity happen in tough times.
I would like to share with you seven things I have learned over the years.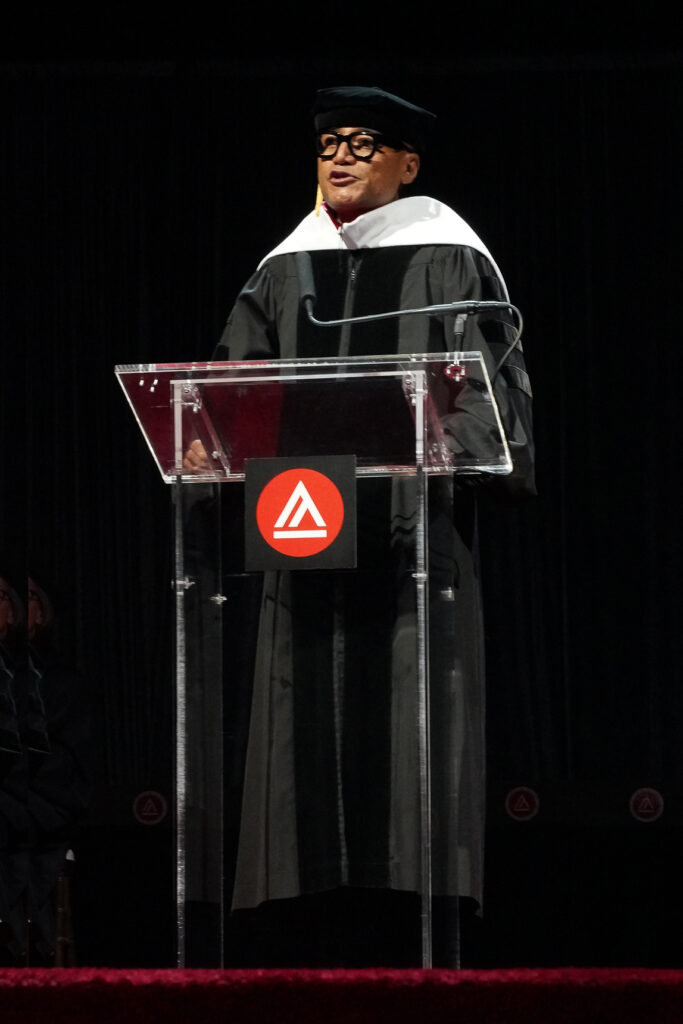 As creatives, our responsibility is to visualize solutions for others. We are all unique, and so is each creative problem. Your point of view and shared experiences in life is an important part of discovering the solution. At the core of our responsibility, we must understand human behavior and engagement. Because you are visual storytellers.


You know what it is to be inspired because you live it every day—inside and out, and you know great ideas come from everywhere. We are enthusiastic, empathetic, and inspiring problem solvers. So, you must live in the power of possibilities.


Always focus on the goal. The journey is seldom from point A to B… you may often travel to C and D, but keep your eye on the goal of getting back to B. It doesn't matter how you get there, as long as you do… embrace the journey of discovery. Remember, you are never alone; collaboration drives the work; the collective will always make it better. And know your ability to work together is going to be your greatest strength.


Commit to excellence because that is the standard—the details matter. Respect how you show up, and in turn, you will be respected.


Time is of the essence—make every second count. There is a constant pressure today in being connected—professionally, socially, and culturally. These are real factors that impact our productivity. There needs to be a greater balance with shutting off or at least shutting down. So, make balance your focus.


Live in relevance… don't become numb to life around you—that means personally and professionally. If that means take another academic course—do it. If it means that you alter the same daily routine in some way—do it. I promise you that you will always remain aware of your experiences. Because you have got to continue to grow!


Lastly, the greatest gift is the act of giving back—find a way to share your creative ability in service of others.
Even if it is sharing your story, mentorship, or even pro bono work.
Now, I ask that you take a second with me, look around and breathe in this sublime moment—make it unforgettable, because you've earned it.
I leave you with this one thought. We are all unique, and everyone's path is different—and because of that, it is impossible to compare yourself with another, it will only lead to disappointment, so I implore you to embrace your individuality. Thank you, thank you, thank you so much for allowing me to be a part of your momentous achievement today.