Eleanor Valencia Lyon is an interior designer graduating with a Master of Arts in interior architecture and design. She was born in the Philippines and raised in the Bay Area and received her Bachelor of Science in biochemistry at UC Davis.
At first glance, her two degrees may not seem related, but her natural affinity towards art and design landed her roles in marketing in the biotech industry, writing copy and designing marketing collateral and conference booths. Inspired by her late father-in-law's work in luxury residential interiors, she decided to pursue a second degree to formally train in design.
Conversely, her natural curiosity and training as a scientist gave her the creative problem-solving skills to develop thoughtful and inspired spaces. Her favorite part of the design process is developing concepts that connect people to the history of the building and celebrate the locale, which is why her goal is to specialize in hospitality design.
---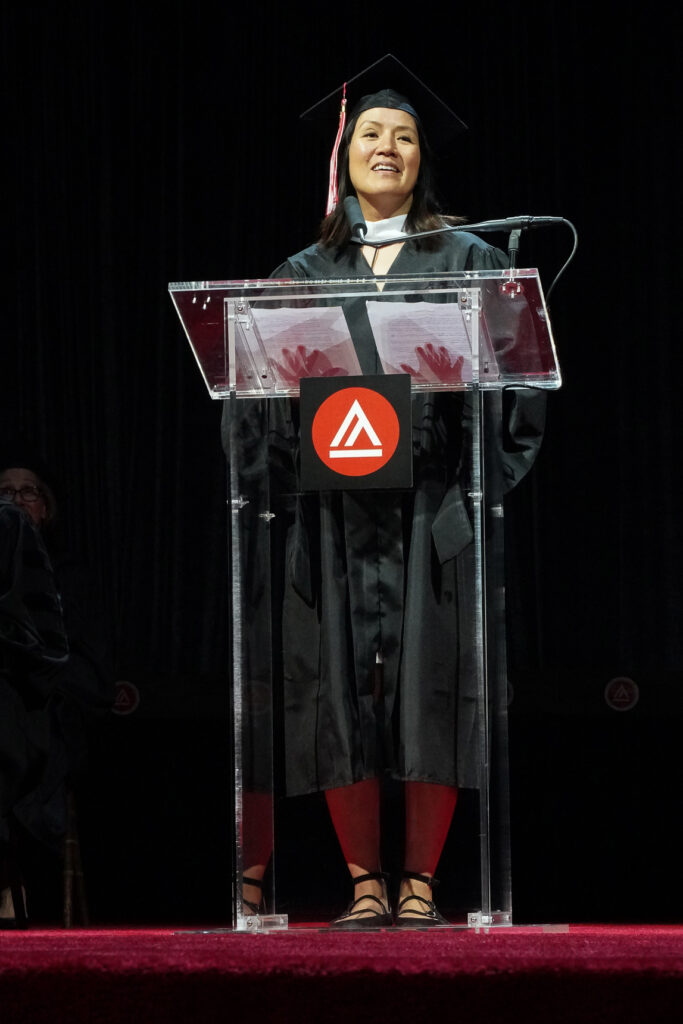 Lyon delivered the following speech to this year's class of graduating students.
"You are an Optimist"
Good morning! I'm honored to represent the Classes of 2021 and 2022.
On a summer day almost 10 years ago, my husband unexpectedly died on a backpacking trip. One day, I'm shuttling our kids to swim practice, and the next I'm planning their father's funeral. They were 12, 9, 7, and 4 years old. When he was buried, I felt like many of our plans and dreams were buried along with him, including my hope to go to art school someday soon.
Shortly after, a psychologist told me I was an optimist, which, to be honest, felt almost offensive. Did he really think I was a glass-half-full sort of person? How could I be, given that the life I loved was suddenly snatched?
"Yes, of course, optimism was about hoping for the best," he said. "But optimism was also the capacity to imagine possibilities."
Whether or not you think you're an optimist, I'm here to tell you that you are. You're all here because of your capacity to imagine possibilities despite whatever obstacles and setbacks were thrown onto your path.
We are an art school, which means that many majors rely on the physical, 3-dimensional realm: canvas, paint, metal, fabric—in essence, materials. Materials that seemed to have been suddenly snatched and buried in the virtual world. How is it possible that so many interior design graduates have never created a material board out of real-life materials?
Yet here we are, still dreaming big, as evidenced by yet another mind-blowing Spring Show. You have imagined the possibilities and made them an incredibly beautiful reality.
For our instructors, these past two years must have felt like riding a bicycle while building it. Whether transitioning us from on-site to online or supporting our mental well-being while trying to support your own, we have enormous gratitude for all you've done. While it's impossible for me to talk about every instructor who taught us with grace and wisdom, here are three examples whose optimism carried us:
Tom Collom in Studio 1 taught us how to open our eyes, our hearts, and our minds to the possibilities of the world around us.
Scott Kress in Studio 2 taught us how to discover the possibilities within ourselves. "You can't be the best at everything," he told us, "but you are the best in at least one thing. How are you going to share that?"
And closing out our program was Katie Valkuchak in Studio 3, who strengthened our self-confidence while showing us that collaboration resulted in more innovative possibilities.
Thank you to all our instructors, for all the brands of optimism that you instilled in us.
In the words of the mystic, Thomas Merton:
You do not need to know precisely what is happening, or exactly where it is all going. What you need is to recognize the possibilities and challenges offered by the present moment, and to embrace them with courage, faith, and hope.
Graduates, now more than ever, the world needs your courage, your faith, your hope, and your unique brand of optimism. Keep imagining all the possibilities and keep making them our reality.