By Kirsten Coachman
The first thing you're sure to notice about Academy of Art University School of Fashion alumna Bell Quintão's thesis footwear and accessory collection, "Ruffled Burgeon," is the bold use of colors—with combinations of magenta/orange, turquoise/green, and yellow/purple.
"I'm Brazilian; we love colors," said Quintão, who graduated with her M.F.A. this past May.
Taking a closer look at Quintão's designs, it's her creative craftsmanship that comes into full view. From the various textures and folds created in leather to the 3-D printed heels and handbag handles that require a keen knowledge of techniques, it's obvious that it's not just the color palette that's bold. As the first to graduate from the School of Fashion's footwear and accessory design program, Quintão took her fungi-inspired designs and turned them into something truly fantastic.
Quintão's hard work and dedication to her overall concept is paying off, as her thesis collection was recently shortlisted in the ARTS THREAD x GUCCI Global Design Graduate Show. Now in its second year, the Global Design Graduate Show serves as a showcase for '20–'21 graduates, and it's a tremendous opportunity for designers like Quintão to have their work recognized by those in the fashion industry.
"Bell embodies the pioneer spirit that we share in the School of Fashion. Coming to a new country and being the first to go through a new program and to succeed at such a high level is truly impressive," said School of Fashion Executive Director Simon Ungless. "Being selected for the ARTS THREADS x GUCCI 2021 Graduate Showcase is a testament to Bell's commitment to her chosen craft. She is not only an accomplished designer, she is also technically proficient in making what she designs. Being a designer/maker is not a dirty word, it's what the world now needs, and I think her skill in being able to take a 2-D idea on paper to a resolved 3-D product is part of what highlighted her to ARTS THREAD and GUCCI."
Art U News recently caught up with Quintão over the phone to learn more about her thesis collection.
Mushrooms on the mind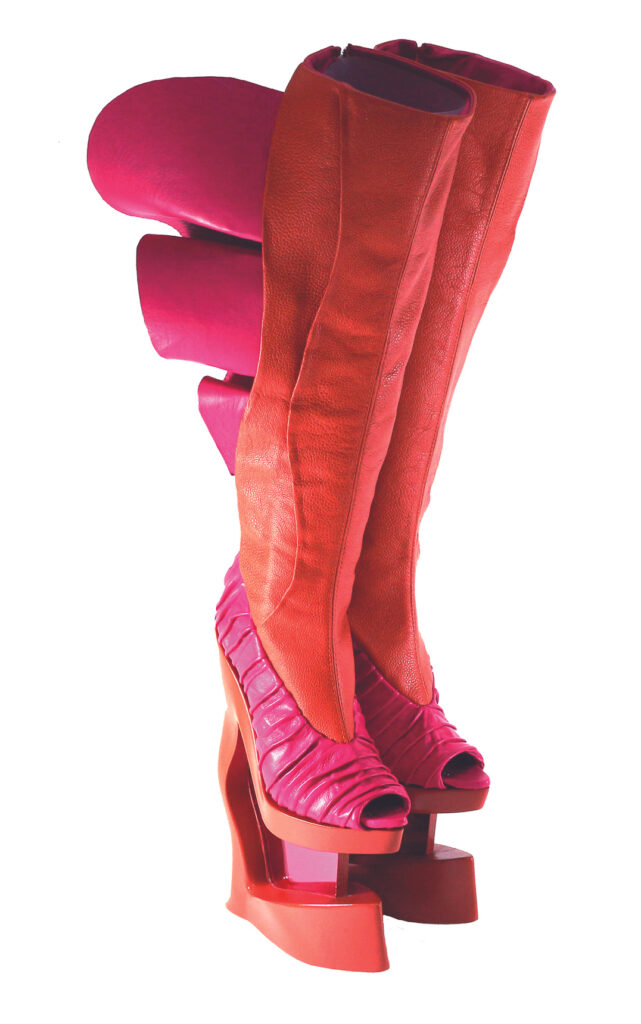 It all started with a camping trip to Mount Madonna. While hiking with her husband and friends during the early days of the COVID-19 pandemic, the group came across mushrooms on the trail. They became so enthralled with them that the group's hiking adventure turned into a mushroom hunt.
"I was so mesmerized with the shapes, with the textures, with the details, and we were looking at [them], and we were taking pictures and zooming, so we could see the details better," said Quintão. "We were all going crazy seeing the mushrooms on the way. My best friend—she's also a designer, so we were freaking out, like, this is amazing. The shapes are so cool, and that was something that really caught my attention."
Quintão's fascination with the mushrooms continued after returning home from the trip. From there, she began searching documentaries and came across Louie Schwartzberg's 2019 film, "Fantastic Fungi."
"It's very poetic, and the visuals are very amazing," Quintão said of the documentary film. "[The film] tells amazing information about the mushroom and how it's important for the Earth."
During her research, Quintão learned of Václav Hálek, a music composer from Prague, Czechia, who created thousands of symphonies from the sounds he heard emitting from different mushrooms. Though Hálek passed in 2014, Quintão found inspiration in his unusual symphonies while working on her thesis collection.
"He composes to what he listens to," she explained. "And it's very weird, it's very beautiful, [and] it's very crazy. So, when I was designing, I listened to this guy most of the time."
Going 3-D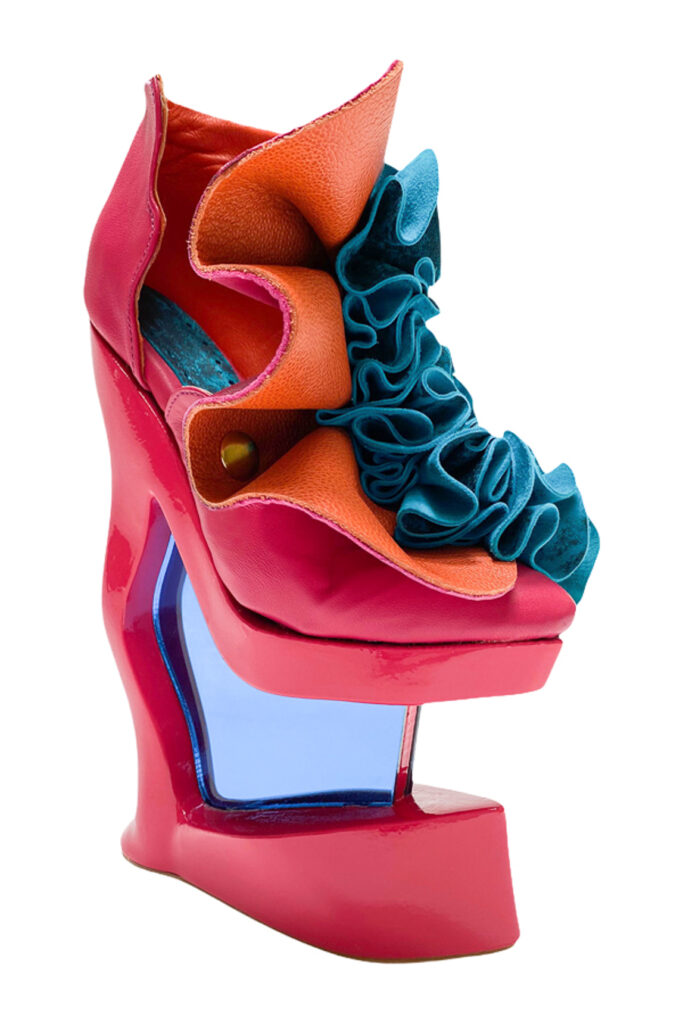 "Ruffled Burgeon" features eight fully constructed pieces: a knee-high boot, a mule, a pump, a Chelsea boot, an over-the-knee boot, a bootie, a clutch, and a shoulder bag.
The main structures of the shoes were crafted out of leather and stitched with nylon. Quintão used the trapunto (for layers and a 3-D look) and wrinkled (for texture) techniques to create a variation of fungi-inspired looks.
"I wanted to bring the idea of the mushroom to the leather," said Quintão. "Damion [Le Cappelain, School of Fashion footwear and accessory design coordinator] was key to that, as well, because he would show me new techniques, different techniques, [and] asked me to buy some books and study [them]."
To create the ambitious heel designs and the shoulder bag handles, Quintão opted to use a 3-D printer.
"I really wanted to make my heels the way I was envisioning them," explained Quintão. "I knew I could do that in school because of the 3-D printing lab. So, I started taking classes in industrial design, as well, to fulfill what I wanted. And I had to learn from scratch."
The 3-D modeling classes proved to be challenging for Quintão, and she credits the 3-D Lab Team at the School of Industrial Design—Max Niehaus, Calvin Malone, and her instructor John Bavaresco, as well as Diego Taccioli, her 3-D printing instructor in the School of Jewelry & Metal Arts—for helping to bring her designs to life. 
"They really believed in what I was doing, and they really helped me," she said. "If it's not for them, I don't know… They really put the effort [in] to help me, to make me understand, to make me learn faster than usual because I only had those classes to learn, not their whole program."
The Process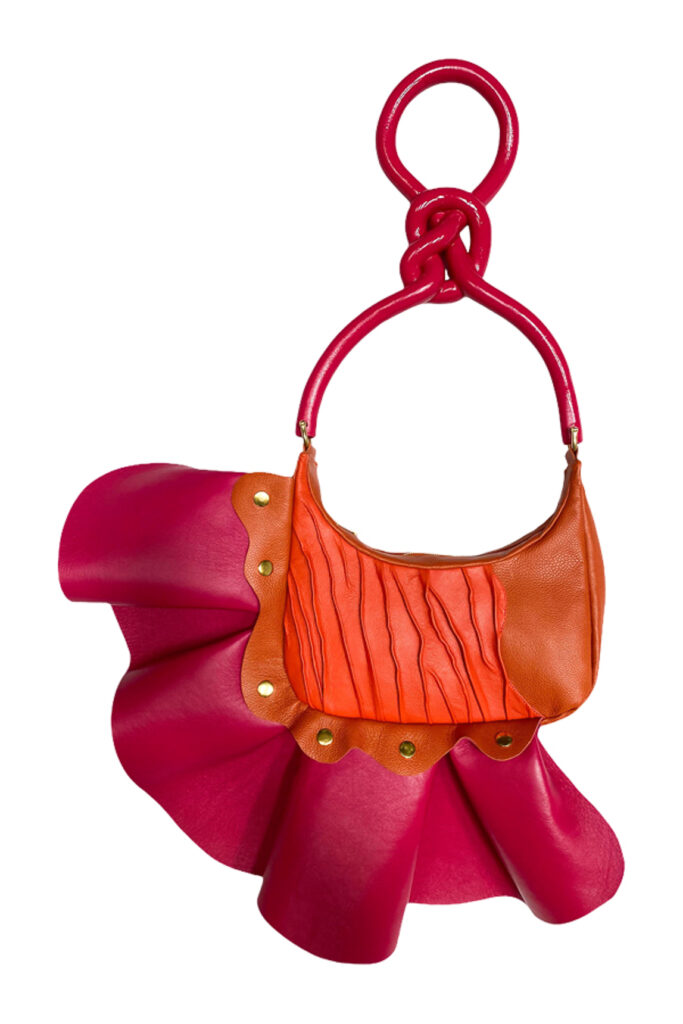 After the initial design, a model of the heel was carved out in cork, and measurements were taken before the final design was created with 3-D modeling software, Modo and Rhino. Once a heel was ready to be 3-D printed, it was about a week-long process, according to Quintão. Each heel would take four days to print, and then it was time to sand.
"Everybody thinks it will print, and it's done. It's not," said Quintão. "You print, and then you have to sand for two days. I was sanding for two days. From 9 a.m. to 5 p.m., I was sanding one heel."
Once the sanding process was completed, the heel would be sprayed with primer and then go through another round of sanding before being spray-painted with a color mixed on-campus. After the heel had been painted, it received a clear topcoat, and then the acrylics were added. Finally, the main structure of the shoe, assembled with leather, would be adhered to the heel.
Although it may seem like a straightforward process, Quintão was going back and forth between the 3-D Printing Lab at the School of Industrial Design on Washington and the Footwear Studio at the School of Fashion on Polk. While a heel was printing, Quintão would work on the main structure of each shoe with prototypes of the heels, so they would be completed by the time the finished heel was ready to be attached.
"I was in the university for the past year every day, including Saturday. Sunday, it wasn't open because of the pandemic," she shared. "I was also working at home, so I worked seven days a week for the past year completing the collection."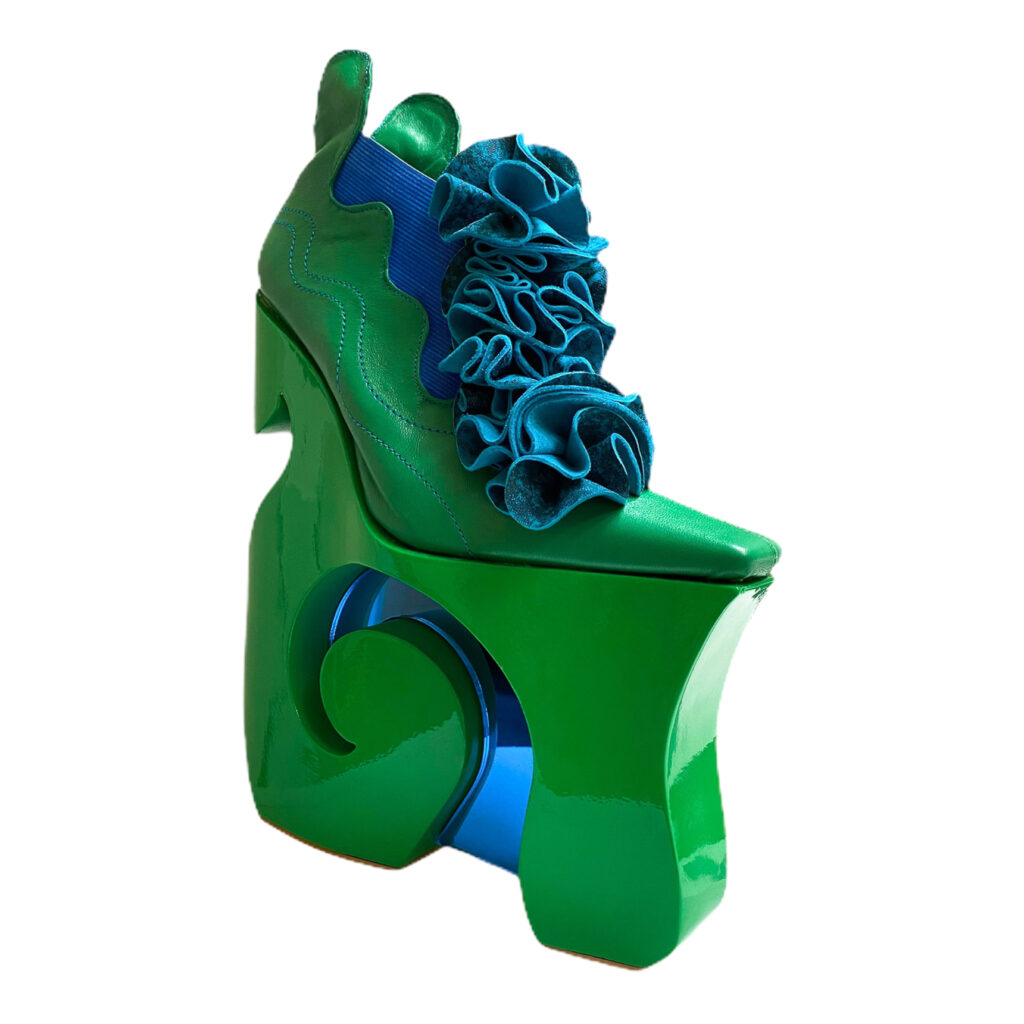 Quintão praised her footwear instructor, Le Cappelain, for keeping her motivated throughout the making of her collection.
"Damion is amazing. He is one of the best instructors I've ever had," said Quintão. "The way he pushes people—I understand sometimes this is hard for other students—but he always tried to get the best out of me. And this motivates me. I love to work under pressure; I love the adrenaline of it. For me, it worked really, really well.
"We were always having fun and talking and searching [for] techniques that I could use, exchanging ideas, and all that. When I was sometimes frustrated or really tired, he would tell me straight away, 'Go home, rest, it's not looking good. Come back tomorrow, and do it again.' Or something like that. His critiques were always really important and really good for me."
Developing her skillset
While she's already graduated from the School of Fashion with her M.F.A., Quintão isn't done with her Academy education just yet. She's enrolled in a new industrial design course being offered this fall, IND 232 01: Footwear and Soft-Goods Modeling, to further develop her skillset in 3-D modeling.
In addition to continuing her studies for personal enrichment, Quintão has joined a co-working space in Oakland with amenities that will allow her to work on her future footwear and bag creations.
"They have a 3-D printing lab, they have this sewing lab, and other labs that I can use, like the wood lab, which I can sand stuff and all that," she said. "They have the infrastructure for me to work the way I need. And that is really cool."
---
Art U News would also like to congratulate Ju Ju, Sepideh Tavakoli, Sheraya Amaratunge, Luiza Maia, and Mayumi Okuyama on being shortlisted in the ARTS THREAD x GUCCI Global Design Graduate Show. Public voting ends on Wednesday, Oct. 13.