By Kirsten Coachman
If Academy of Art University students and guests took one thing away from the School of Communications & Media Technologies' COM Careers panel earlier this year, it was that there is no one set path for students upon graduation. And that's not a bad thing. 
For School of Communications & Media Technologies Director Jan Yanehiro, seeing her former students thrive so early in their careers—no matter how they got there—speaks to the quality of the education they received at the Academy.
"Having a student land a job right after graduation is validation to our program, that we are equipping each student with the right skills," said Yanehiro. "I do remind them that this is just the beginning!"
Via Zoom, with Yanehiro at the moderating helm, the panelists—Shampayne Clay, Vianai Austin, Greg Ivory, Niki Tan, and Vanessa Salas—spoke about their individual post-Academy paths and how they paved the way to their current roles and success.
Meet the panelists
Shampayne Clay, B.A., 2011
When Clay arrived at the Academy in 2008, her end goal was to become a sports broadcaster. However, she quickly discovered that being on-camera wasn't the right fit. While the former Art U Softball player was learning how to edit, she found herself becoming acquainted behind the camera and enjoying the production side of things.
"Throughout my career at the Academy, as a student, I volunteered to live stream the sporting events, which was a fun time and helped me get to know the gear," said Clay, who was later hired by COM as the department's studio and editing manager.
Now, as a production engineer at Salesforce, Clay live streams company meetings and events with special guests like Mindy Kaling, Billie Jean King, and Matthew McConaughey—all from home.
"It's all done from my bedroom," Clay shared. "I have a ton of equipment here just to help get through the day."
Vianai Austin, B.A., 2016
A keen interest in graphics and modeling brought Austin to the Academy initially as an animation student. During her first semester, Austin realized it wasn't the path for her. Later, a conversation with Yanehiro and a department tour ultimately led her to become a COM major.
"I ended up really loving it, and it definitely fit me," said Austin, who was also a member of the Art U Women's Basketball team.
The on-camera and production skills she would build out during her time at the Academy came in handy throughout her post-collegiate career, which started at Power 106, a top radio station in Los Angeles. Austin spent a couple of years at the station as the marketing promotions coordinator. She later worked as a marketing assistant for 99 Cents Only Stores.
"When I got laid off from there, I spent probably a month trying to figure out what I was going to do," said Austin. "And cooking is actually something I've always been interested in."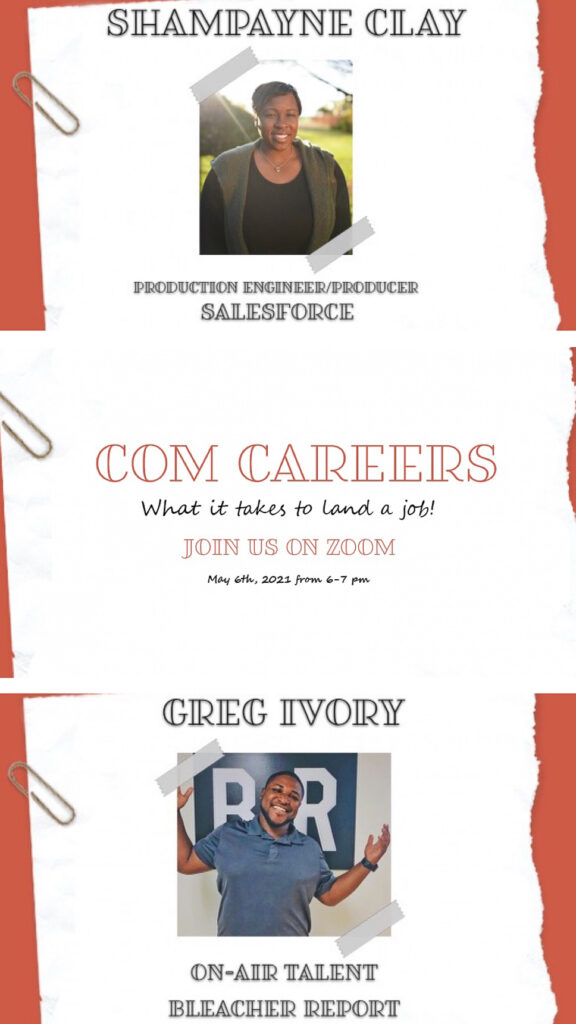 Following her passion, Austin enrolled in a 14-week cooking class, which led to an opportunity to combine her culinary skills and her COM skillset. She applied for a position with Mythical Entertainment, where she is currently an associate culinary producer and can be seen on-camera as part of the "Mythical Kitchen" series.
"I honestly didn't know how huge Mythical was until I started working here, and it's been amazing ever since," she said. "It's crazy how the universe works because now I'm in a place that I honestly always wanted to be at."
Greg Ivory, B.A., 2017
Initially wanting to be on-camera at the start of his time at the Academy, Ivory also followed his instincts into the production side of broadcasting, learning the ins and outs with Clay in the control room.
The former Art U Baseball player took the hands-on experience he was receiving at the Academy and applied it during his internship with local radio station 95.7 The Game.
"I wasn't in the control room, but I was more so editing their clips," said Ivory. "Then that led to me getting the opportunity with the San Francisco Giants."
Gaining further experience in the control room with the Giants led to a production assistant opportunity with the Golden State Warriors. "I was editing, also working in the control room at Warriors games, where I learned how to become a video engineer," he explained.
Ivory worked for Sammco and Disney before landing at Bleacher Report as an associate producer.
"They liked the energy that I brought, and it led to opportunities with me being on-camera," explained Ivory, who is currently the social stories producer, as well as on-air talent. "I had my own segment in our game show that led to me actually starting to be a part of our 'Group Chat' show and our 'Squad Ride' show. It just led to more opportunities for social franchises that I now run."
Niki Tan, B.A., 2020
Tan, who joined the online panel from Guangzhou, China, didn't know what to expect from COM, but she knew right away that she enjoyed making videos.
"As an international student, I was a little scared of writing," Tan admitted. "I was not very comfortable [taking the] writing classes. But I actually realized that writing scripts, it [wasn't] that hard after I attended the classes, and I [did] all the on-camera performances."
However, Tan found that her passion was in motion graphics, so she decided to build up her expertise while at the Academy. "I encourage you to take more time to develop that skill if you are really interested in it," she told the panel audience.
Tan is currently working for the fashion brand Cider as a content creator after initially being tasked with writing and research. As she told the audience, once Cider's marketing team realized she had the capabilities to create videos and graphics, her role "shifted."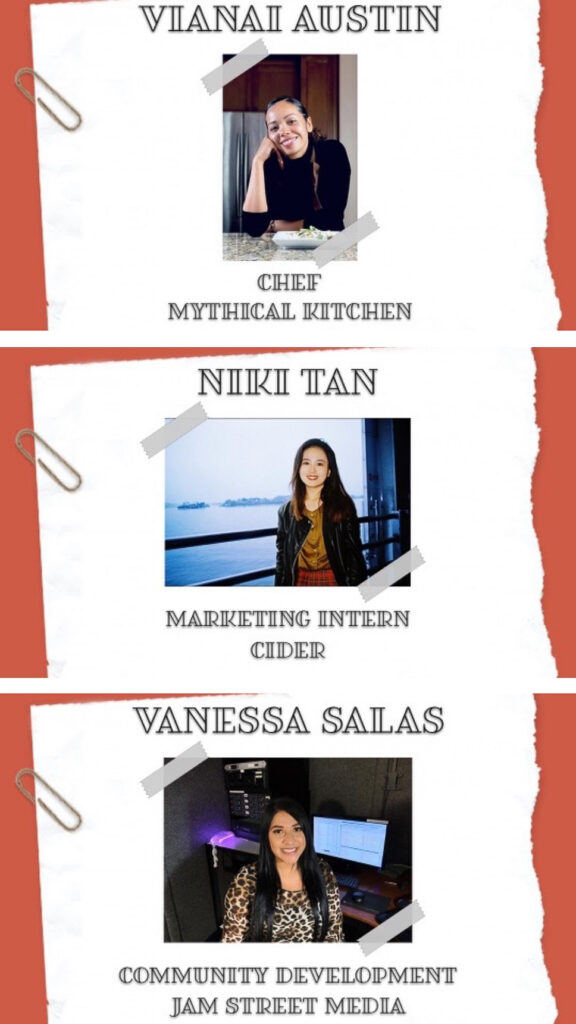 "In April, actually, they shifted me to a more focused job on the video-oriented stuff," said Tan. "So, I'm making their YouTube videos and their paid media ads. So, it's more about short-form, and I'm really glad that's what the Academy prepared me to do."
Vanessa Salas, B.A., 2020
Like her peers on the panel, Salas initially envisioned herself in front of the camera as a newscast anchor. Through her internships at Univision and Global Mentor Network, Salas was able to try out different specialties related to COM.
"As a COM student at the Academy, we do have multiple skills," Salas shared. "So, I just wanted to test different options out."
Salas was still interning when she became the program director at Urban Knights Radio (UKR). Part of her responsibilities included running the station's social media channels, creating both graphics and posters for UKR and events like Tuesday Tunes on top of producing her own podcast.
"It was just a lot of fun," said Salas. "Just being able to create graphics, posts, promote everything on social media and book guests—that's when I decided that that was something that I actually enjoy doing. … [A]nd that's where my love for podcasting developed."
With a newfound passion for social media and podcasting, Salas began an internship at Jam Street Media, a branded podcast startup founded by COM instructor and UKR General Manager Matty Staudt. (Jam Street Media has since been acquired by Amaze Media Labs.)
Staudt had already hired two Academy COM graduates, and by the time Salas was getting ready to graduate, Jam Street was adding more people to the team, and she received a job offer. 
"I've known Matty since my freshman year of college," said Salas. "He already trusted my work. He knew how I worked—I got stuff done."
Words of wisdom
During the evening's discussion, Yanehiro posed a fun and intriguing question to the panel: "If you were to tell your 20-something-year-old self what you know now, what would you have told you?"
Ivory stressed the importance of doing internships, noting that the extra experience could be the difference-maker in students getting a job in their field right out of college. "If you guys, right now, can go get three units or go get however many units you can for [interning] somewhere, go do it because it will help you in the long run," he said.
Additionally, Ivory encouraged the audience to network and get to know their peers while they're in school. "You guys [have] got to network, network, network," he advised. "[The] people in this room right now might be your managers. They might be your bosses. They might be your peers already, you know, your co-workers. So, just stay networking with people, stay meeting people. That's what I would have told my 20-year-old self."
Salas shared that she would tell herself "to live a little, and experience more and more things." "I remember, freshman year, a group of my friends from the Academy, we started our own little YouTube show, and that was the best," she said. "I learned so much just from building that small little production team. I wish I could have done more stuff like that."
Clay touched on the importance of keeping an open mind and not being afraid to fail. "I think I would have told myself—I think I actually did do this—but just to try everything," she said, explaining that she tried more things after deciding that being on-camera wasn't for her. "I think that's a hard thing for everyone—change. But once you go into something and you know, like, 'I want to do this.' You don't think about changing anything, but go into it with an open mind, and don't be afraid to fail."
As the event came to a close, Yanehiro asked the panel to share "their best advice" for current students at the Academy.
"Create a LinkedIn account," said Salas.
"Prioritize, try to network, definitely—how Greg said it," said Austin. "I want to just say love, 'cause you want to really have your support system. Make sure you have people who really [support] whatever you want to do. And patience. Patience is definitely the number one key besides prioritizing."
"Intern and network," Ivory re-emphasized.
"Always be professional," said Tan.
Clay offered three words of encouragement: "Don't give up."