By Greta Chiocchetti
In a stylish mid-century modern living room, an elegantly-dressed woman stares out the window at the darkening sky outside. Drink and cigarette in hand, she seems contemplative—perhaps she's processing the events of a long day at work—but her face is turned away, making her intriguingly anonymous.
Though the snapshot feels candid, it's been staged. And though the woman is frozen in time, turned away with her face obscured, her identity is no mystery—it's photographer Chloe Meynier, who styled, shot, and developed the award-winning image. The photograph is part of Meynier's ongoing mise-en-scene self-portraiture series, "Made in the Shade," which includes several more iterations of enigmatic late '50s and early '60s era women.
Meynier, an instructor in the School of Photography (PH) at Academy of Art University, was recently awarded another prestigious accolade for her series: Fine Art Photographer of the Year through the International Photo Awards (IPA). Previously, she won second place in Fine Art and gold in Fine Art/Portrait at the Budapest International Foto Awards and third in APA's Something Personal competition. Meynier was also named a finalist for The Independent Photographer's 2021 Visual Storytelling Award and the LensCulture Art Photography Awards.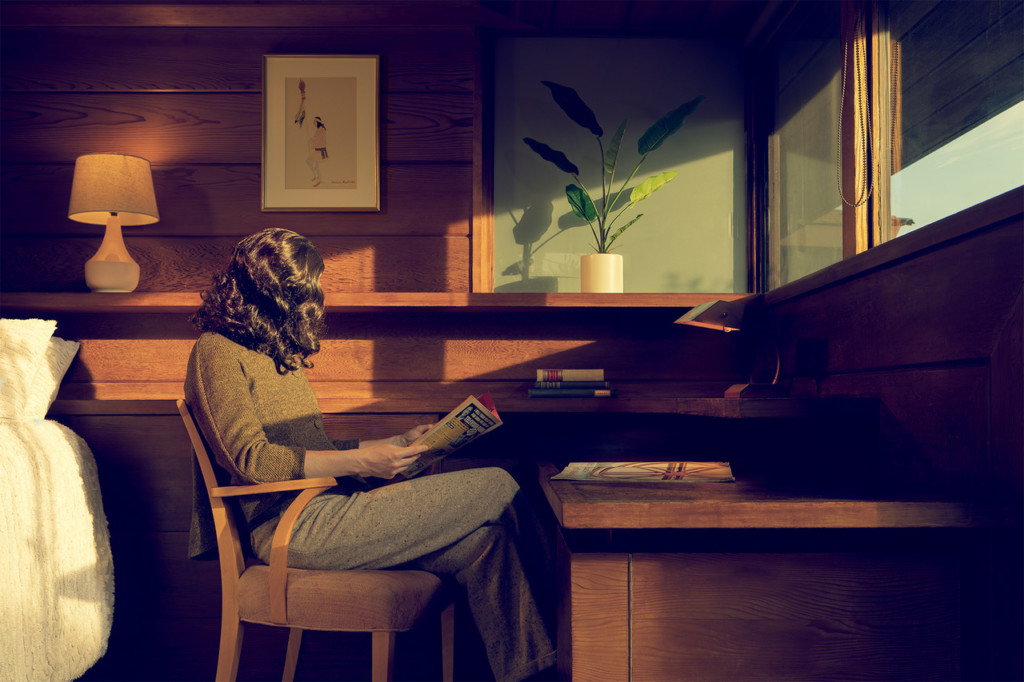 "For someone who has Chloe's stature, winning in a contest as distinguished as IPA is going to help keep opening doors," said PH Associate Director Timothy Archibald. "It opens up your work to people who otherwise wouldn't get to see it. It's a strong confirmation that you're on the right path and that the work you created is speaking to the world, reaching beyond just the school—extending to an international level."
Six PH students received recognition for their work in the IPA awards: Chris Dirker, Songyuan Ge, Shazad Bhiwandiwala, Laura Ann Hunter, Dora Duan, and Xiaopeng Liu.
"In the photography department, we love our students, and we know their work is great. But it's really important for them to expose it to the outside world," said Archibald. "So, for them to put themselves out there and compete—and be recognized—is a win all around."
Meynier, who holds a Ph.D. in cognitive psychology and previously worked as a researcher at UC Berkeley, says that her creative side was under-nourished in her past line of work. She took a leap of faith and decided to pursue an M.F.A. in fine art photography at the Academy, graduating in 2013 before returning to teach in 2015.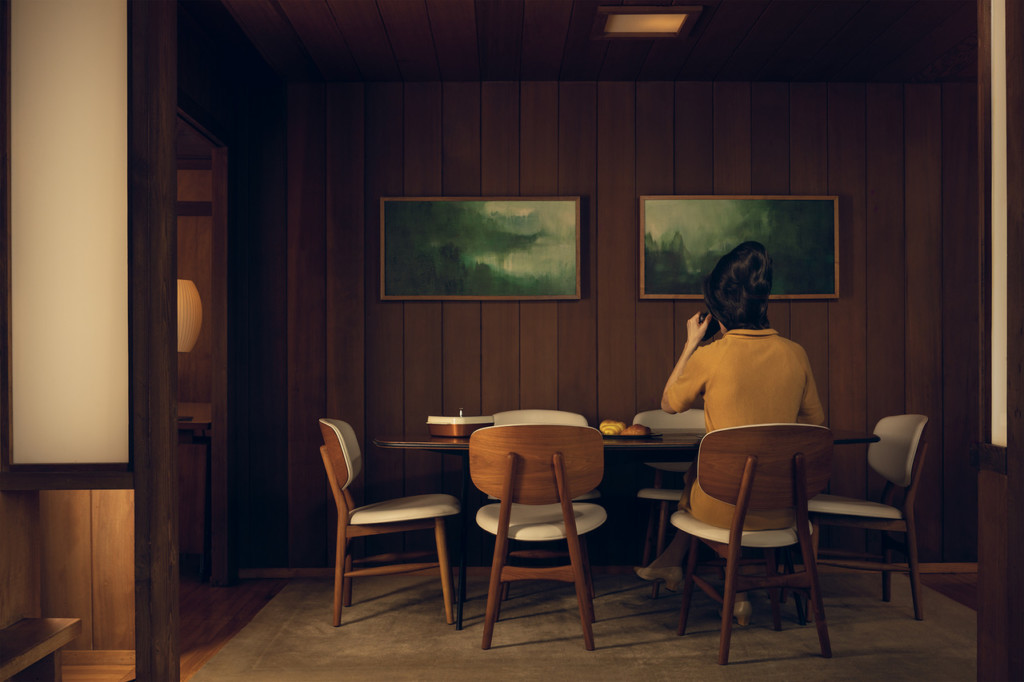 "When I realized I had won, it felt like all the effort I had put into this project was paying off," said Meynier, who produced the series entirely on her own. "I've always been a pretty solitary person, and I find that it just works best if I can control every aspect of the process. It gives me a lot more flexibility than if I were to work with a crew."
"Made in the Shade" began as a happy accident when Meynier arrived at a location as the sun was setting. The lighting was too dim for "Wait Until Dark," a series of brightly-saturated images exploring a similar theme—women's experiences in the post-World War II era. Though it was disappointing that the shot may not have gone as planned, Meynier found that the darkness evoked a moodier, more contemplative feeling, launching her into a new project.
"I usually find the locations online. I study the room, and a story will come up. For example, in the next shoot, there is this kitchen, and I instantly thought, 'She's going to be an architect reading blueprints on the table,'" said Meynier. "I think the point is that she can be whatever; she can be the lead architect in the firm. It's about giving the women the power to be what they might not have been able to be so many years ago."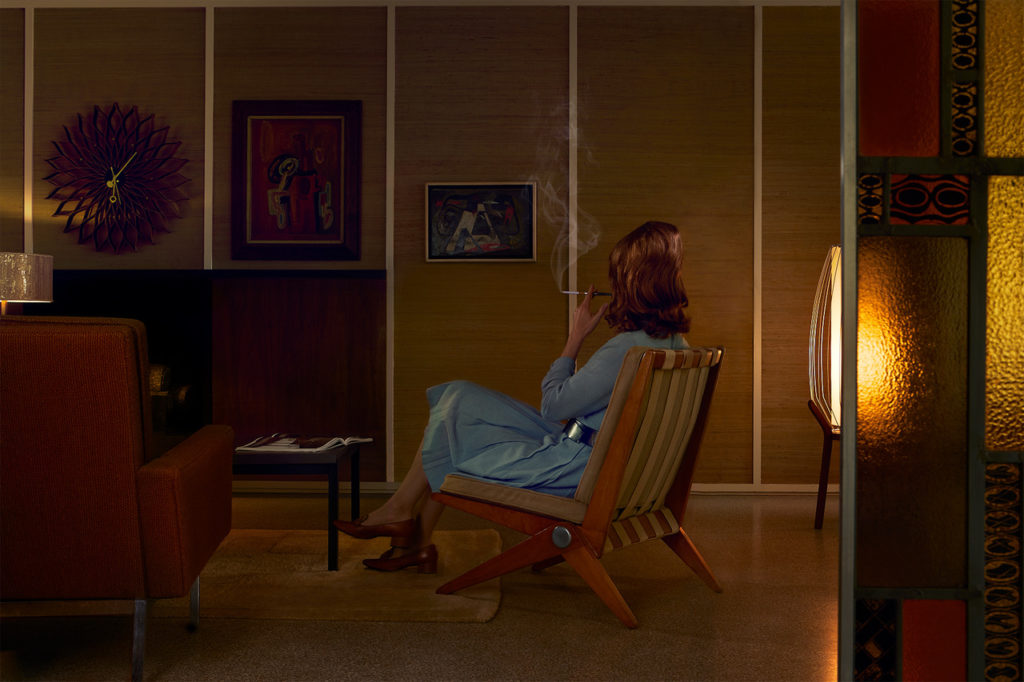 Set against the backdrop of an era that would rather see women as objects than as their fully-realized selves, Meynier sets out to change the narrative while still honoring the period's timeless aesthetics. "When I walk into the locations, I feel something that is very strong," said Meynier. "It makes me want to respect the house like it has something precious in it."
"I have a lot of respect for the women of that time period and what they endured, you know, basically being the backseat passengers of their own lives," said Meynier. "I wanted them to be anybody. I wanted to speak to the shared experiences of women at that time, and I didn't want people to get wrapped up in one particular face, which is why they are all faceless."