By Greta Chiocchetti
Academy of Art University School of Architecture (ARH) alumni Kenta Oye (B.Arch '19), Fan Pan (M.Arch '19), and Jang Ock "Fran" Kim (M.Arch '20) swept the entire Unbuilt Design category of American Institute of Architects San Francisco's (AIASF) 2020 Design Awards with their polished designs, which were refined during their time in the program. The prestigious contest spotlights the outstanding achievements of Bay Area architects and designers.
"These awards are a credit to the hard work of the students who integrated their values and life stories and invested a full year into the thesis projects that have brought these accolades," said ARH Undergraduate Director Jennifer Asselstine. "No other schools were represented, and our students completely swept this category of work. The remaining awards were given to professional architecture firms for built work."
Oye, who works as an Architectural Associate at Flad Architects in San Francisco, received an Unbuilt Design Merit Award and an Urban Design Commendation for his empathetic and aesthetically-beautiful proposal for a collaborative living space for undocumented residents between 5th, Market, 7th, and Mission streets. Being fourth-generation Japanese-American, the project became highly personal to Oye. He researched the history of the project's site: In 1900, it was a prominent Japantown neighborhood, but most of the Japanese-owned buildings in the area were hidden from Market Street in alleys.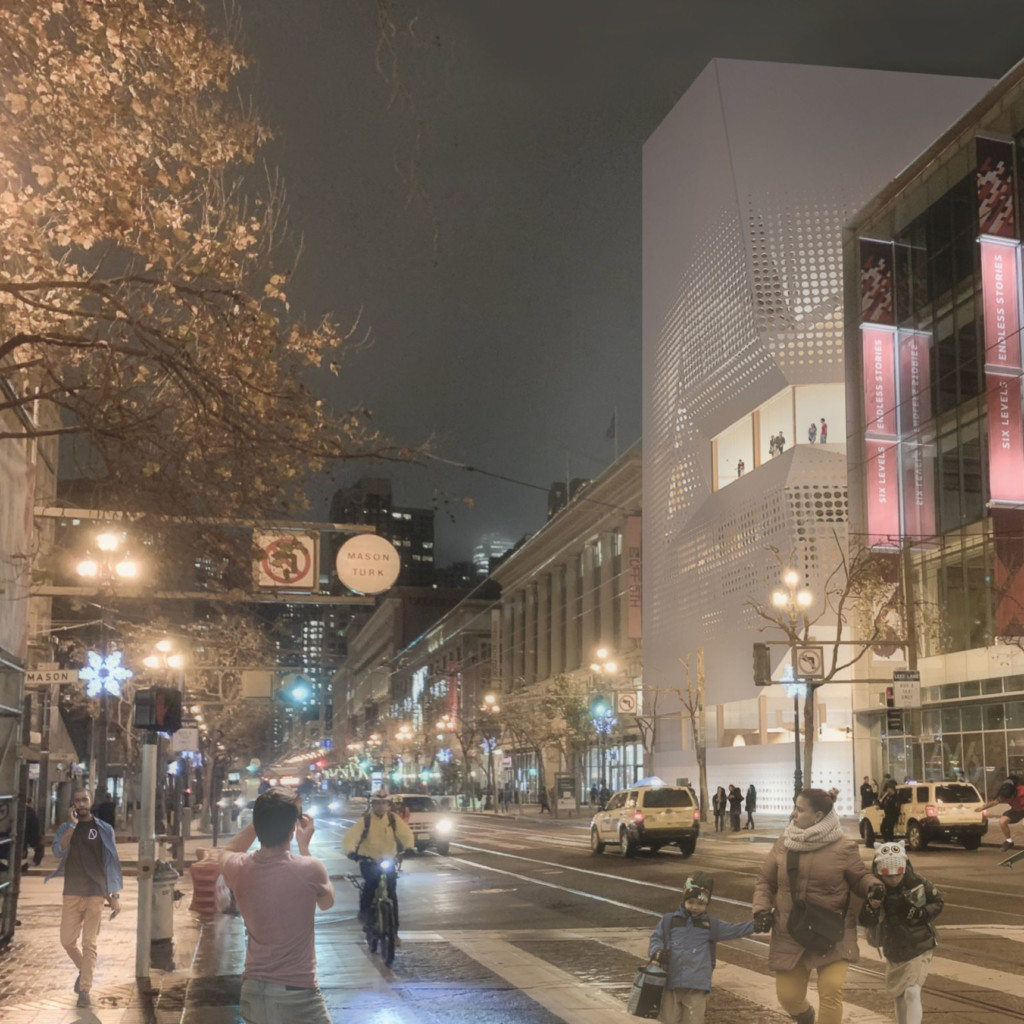 "I realized as I started doing research about the site, that San Francisco was actually one of the first cities that Japanese workers—like my ancestors who were farmers—immigrated to in the 1800s, and that there was a big Japanese presence in South of Market, South Beach, and in Chinatown," said Oye. "But as I got further into it, I realized that the Japanese community was being hidden from the 'front door' streets: They were seen as undesirable. I wanted to find a way to revitalize the neighborhood by showing its history and highlighting the Japanese community."
The project, which aims to revitalize the alleys between 5th, Market, 7th, and Mission Streets as pedestrian walk spaces rather than as vehicle throughways, also reimagines the space as an opportunity for cross-cultural exchange with a community center that blends characteristics of both a museum and immigration center. The proposed building allows residents from all corners of the world to come together in a series of ceramic, wood, and sewing galleries with adjacent workshops.
"That component was heavily inspired by this book that was curated by a family friend called 'The Art of Gaman.' Gaman is a Japanese word that means, in English, to endure the unbearable with patience," said Oye. "The book is a collection of Japanese artifacts from the postwar internment period. It was really powerful for me as a program driver. The collection, more or less, is a testament to the resiliency of my ancestors, who had to endure the unbearable during internment. And by doing so, they were able to use the process of creating as a way of coping with the situation."
"There is great urbanism here; a refreshing change from stereotypical glass boxes and a compelling process of shaping the building form in response to the urban circumstance," jurors wrote of Oye's project on the AIASF Design Award website.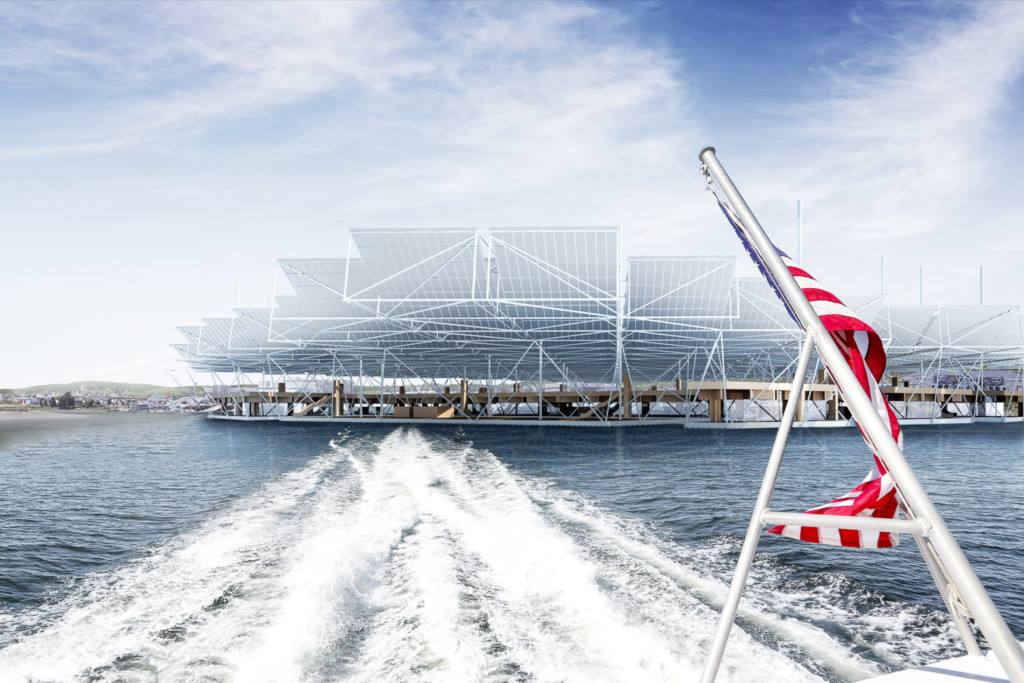 Jang Ock "Fran" Kim, who graduated with an M.Arch degree in 2020, received a Merit Award for her striking proposal for the Bay Area Solar Transit-Hub (BAST), a zero-energy ferry transit hub in Redwood City. Kim's solar-powered design aims to alleviate traffic congestion in the Bay Area by adding a more efficient option: traversing the bay itself rather than the highways that wind around it.
"BAST takes net-zero energy from the grid by harvesting solar energy through the photovoltaic arrays on the building's roof and using it to operate its electric ferry fleet. The building rests on a set of floating pontoon foundations as a solution to the threat of increased flooding events and sea-level rise," Kim wrote in her thesis.
The jury was struck by the bold proposal for on-site generation of power, according to the AIASF website.
"Fran's work is a great example of how our students thrive to tackle real-world problems in an attempt to 'build a better world' through the architecture they propose. This is especially true for this compelling thesis project," said ARH Graduate Director Mark Mueckenheim. "I am very grateful that this also resonated with the distinguished AIASF Awards jury. It is important that this new generation of architects are intellectually and practically equipped to take on the issues that shape our world for the foreseeable future."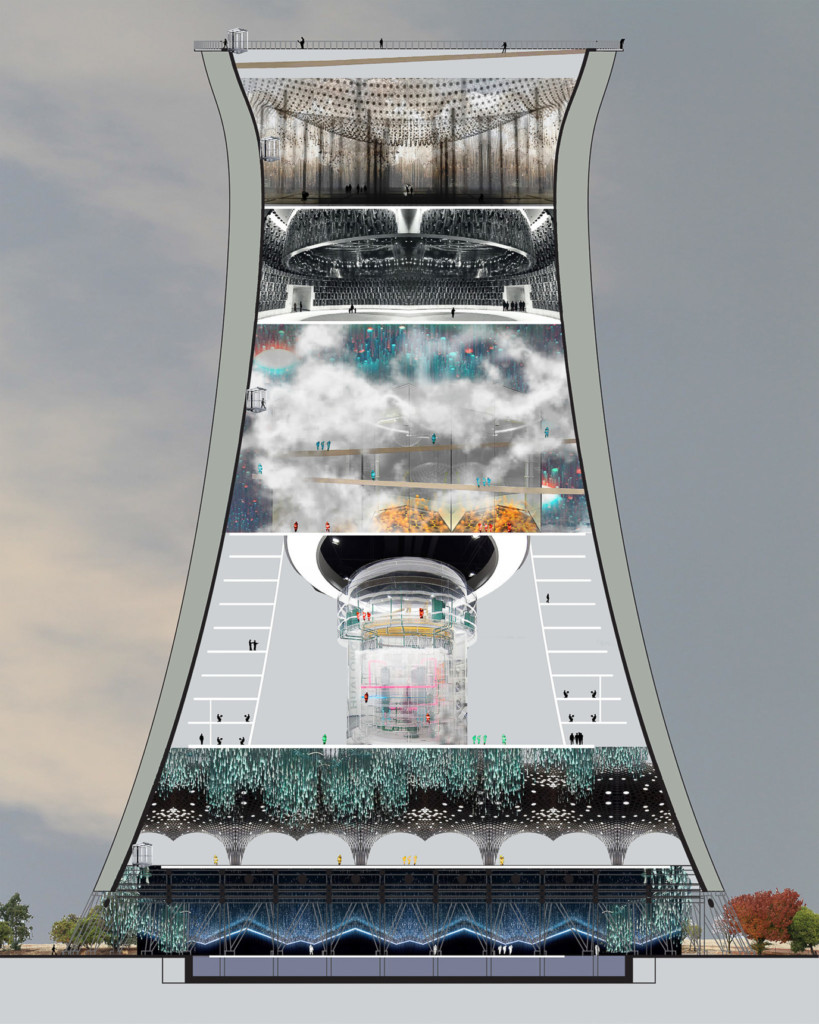 Fan Pan, who graduated with an M.Arch degree in 2019 and currently works as an Architectural Designer at MAK studio in San Francisco, received a Citation Award for her revitalization of an abandoned nuclear power plant in "Sublimity of Horror Architecture."
"I was inspired to turn something ugly—the abandoned Rancho Seco Nuclear Power Plant, which has been decommissioned for about ten years now—into something that can serve the community," said Pan. "I incorporated a lot of elements of nature, nature reclaiming what used to be this sort of fearsome, horrific structure for a new purpose."
Pan's proposal breaks down the enormous facility into several layers, each dedicated to community programs to educate the public on energy production and sustainability, including research labs, exhibitions, recreation areas for camping and bicycling, and conference centers for political discussions.
According to the AIASF website, "The jury rejoiced at this appropriately wild and wacky repurposing of abandoned infrastructure, which recasts the beautiful but sinister hyperboloids of a decommissioned nuclear plant as a place for recreation, education, and research, and as symbols of a brighter future."
The Academy faculty who guided these student projects were Mark Mueckenheim, David Gill (M.Arch Thesis), and Mini Chu & Philip Ra (B.Arch Thesis).