By Nina Tabios | Additional reporting by Cristina Schreil
Bright-eyed lion dancers, golden dragons, twirling flag bearers, costumed characters, all marching to pounding drums and sizzling firecrackers—it was a dazzling scene at the 2020 Southwest Airlines Chinese New Year Parade as thousands lined up along the streets of San Francisco to delight in the music, art, and dance commemorating the Year of the Rat.
Rodent statues of all shapes and sizes adorned the 20 decorative parade floats at the heart of the Feb. 8 celebration. And for this year's contribution, Academy of Art University spent months creating a high-flying rodent circus befit for a big top—complete with art depicting spinning plates, Chinese acrobatics, fireworks and more—thanks to student-artists from several of the university's departments working together.
As he's done since 2013's Year of the Horse, Academy Publications and Special Projects Manager Bob Toy was the mastermind behind the float design and construction. Calling upon students and faculty from the Schools of Architecture (ARH), Illustration (ILL), Fine Art—Sculpture (FASCU), and Music Production and Sound Design for Visual Media (MUS) to create the elements of the spectacle: a digitally cut wooden screen from ARH, a vibrant fleet of rats by ILL students, lanterns welded by sculpture students, and a score composed by a MUS alumna.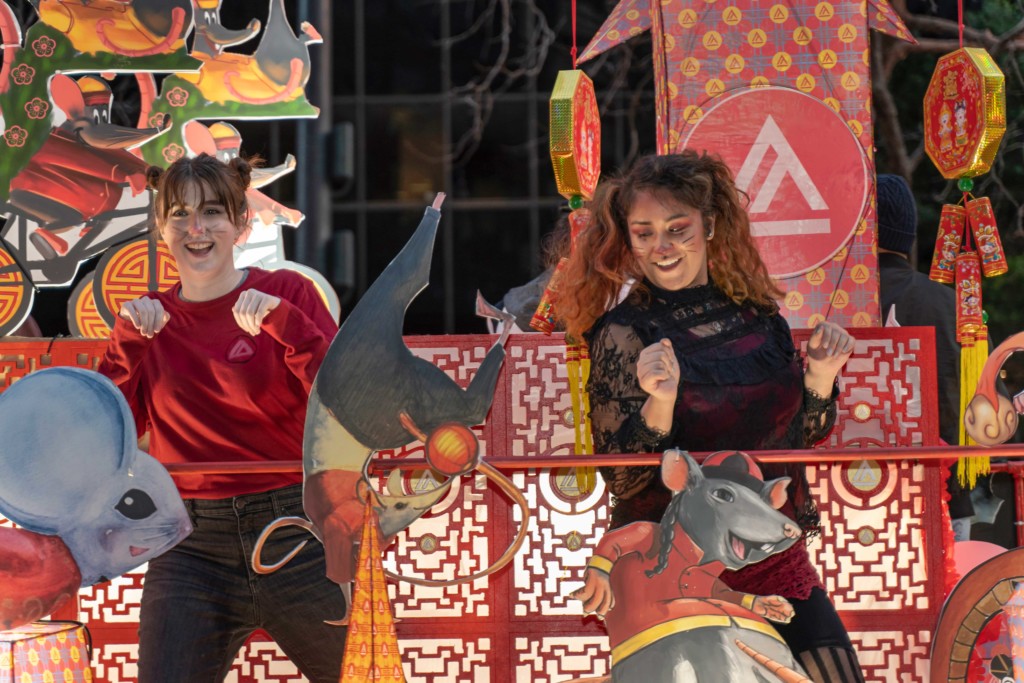 "Everyone stepped up and explored the Year of the Rat. It is always interesting to watch students be creative inside a fairly tight creative brief," said ILL Director Chuck Pyle. He asserted that it's not just a fun excuse to contribute to the school's presentation at this noted cultural event, but also a pivotal way for students to gain real-world experience.
"Creativity, clarity of idea and execution, taking client feedback and running with it, leading to a memorable outcome, that is what illustrators do," added Pyle. "This is just an example of that leading to a published outcome. It all helps prepare students for the big world outside the school."
Taking cues from Pinterest and Disney Pixar's "Ratatouille," students like Alexander Damon were encouraged to add their own spin to the rat. But for students like Hailu Cai and Reeve Tang, it was a chance to pay homage to their home country and familial traditions.
"I have my own illustrative language. I like to use bold colors, I like to use dark blacks," Damon said. "I brought that into [my design] but made sure to keep things warm and family-friendly."
"I tried to remember how my family, how we spent time during the Chinese New Year and those experiences really helped me," Tang said. "When people say 'Chinese New Year,' the first color that comes to mind is red," Cai said. "[Red is] lucky and the green represents health and the yellow represents gold, they want to have more money, [and a] better life."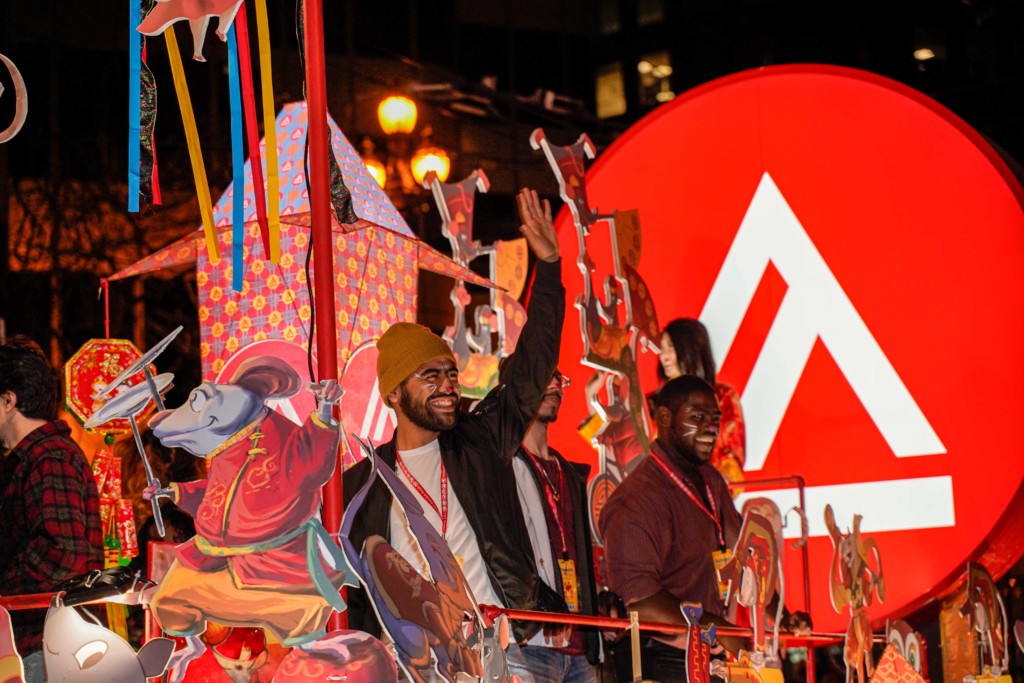 Toy, a true believer of collaboration, strives to make each float better than the last. But part of his vision this year was to make elements of it sustainable and reusable for parades to come. Lanterns fabricated in FASCU instructor David Sekoll's metal fabrication class can be rearranged and redecorated for future floats. Jared Harrison, the former lead model shop technician in ARH, was recruited to cut the wooden screen that will now be a float staple.
"It's been a great opportunity to get involved in something and work on a larger scale," Harrison said. "It is a huge honor, considering the awards consistently earned by past project teams. I'm happy to help the university continue the tradition."
And as is tradition with the Academy's Chinese New Year float, Academy students danced and waved to the crowd from atop the float. School of Acting (ACT) instructor Karen Hirst assisted in coordinating this year's crop of parade volunteers, which included Sarah Hathaway, who has been riding the float since 2017's Year of the Rooster and considers it an "honorary badge" to represent the school in this way while celebrating Chinese heritage.
"For me, it's a way to show how proud I am to be here and be a part of the Academy," said Hathaway, an ACT student. "I enjoy the fun and excitement of it. I've seen so many people come to this, all from different backgrounds, orientations, ages, to celebrate and honor Chinese heritage and culture. They really bring the magic around every year."
School of Visual Development student Ruben Raygoza knows firsthand the magic of parades. After participating in Disneyland's College Program, where he spoke to the Disney Imagineers working on the theme park's floats, he knew he had to get involved with the Chinese New Year float.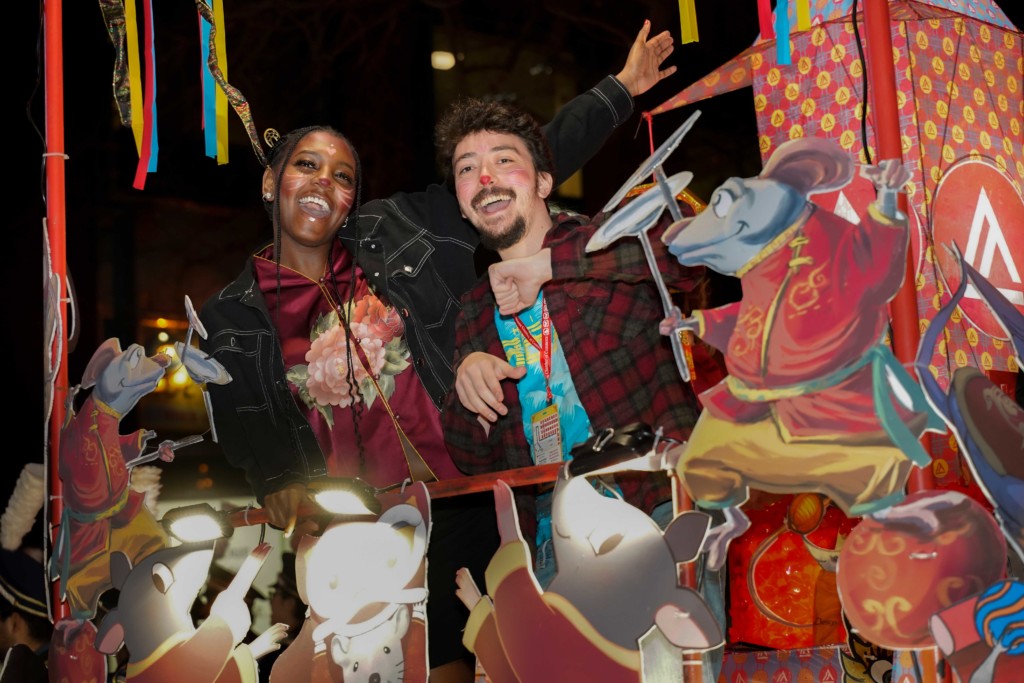 "The reason I love themed entertainment design is because of the impact you can have on people by creating a tangible experience and helping them step into another world," Raygoza said. "Through working on this project, I learned that there's a lot to take into consideration when designing even just a prop for the float. Communication is key for creating a cohesive look, especially for something that is heavily themed. I look forward to working with Bob and the other talented artists on future parade floats."
For more information on how to get involved with next year's Chinese New Year Parade float, please contact Bob Toy at btoy@academyart.edu.
Academy of Art University would like to thank the following individuals for donating their time and energy to this year's Chinese New Year "Year of the Rat" float and parade: Shi Jia, Chuck Pyle, Steven Kloepfer, Alex Mejia, Jennifer Chu, Chia Tang, Daina Koziot, Damon Alexander, Daniel Dictado, Eric Seaburg, Sofia Gaiduchik, George Romero, Hailu Cai, Haoci Huang, Hao Zheng, Hazel Kuo, Jerry Doan, Jie Liu, Jun Xie, Kaihan Li, Michelle Chow, Min Gu Lee, Olivia Holmes, Ruben Raygoza, Sarah Lewandowski, Scarlett Dior, Wenchi Hsu, Yixuan Cao, Julia Salber, Brady Johnson, Gen Hatakeyama, Zheng Chen, Xinyu Peng, Al Minter, David Sekoll, Jared Harrison, Karen Hirst, Sarah Hathaway, Amy Camtu Le, Andy Benoit, Kenderly Labissiere, Jade Coleman, Fikret Ege Erguz, Aliyah Roasario, Andrew Ma'ae, Mateo Tayamen, and Mitchell Griffin.
See more photos from the parade and the making of the float in the March 2020 Vol. 1 issue of Academy Art U News, available campus-wide.