The School of Game Development brings a modern twist to the Sausalito Arts Festival
By Nina Tabios
It was an art, music and wine-filled Labor Day weekend for the School of Game Development (GAM) as the department made its debut on the Marin waterfront at this year's annual Sausalito Arts Festival. An open-air celebration of the local arts community for over 60 years, the festival is now venturing into including technology and digital art into its fabric. At its new Art Tech Pavilion, Academy of Art University was among a dozen vendors showcasing immersive and experiential art in AR, VR, holographic displays and video.

The Norman Rockwell VR Experience was the Academy's main contribution but it also brought in The Art of Game Design, a gallery of 2-D and 3-D art, a demo loop, and select pieces from Spring Show that outlined the entire game development process from concept art to user experience and artificial intelligence coding. Brian Hess, GAM associate director, said they brought "as many pieces as they could."

Hess, along with Director of Esports Michael Witzel, Concept Art Lead Michael Buffington and select students, manned the Academy display and at any point throughout the weekend, guests could catch an instructor or student live sketching characters or environments. There was an array of ages interested in seeing the new Art Tech Pavilion and according to Hess, the Norman Rockwell VR was a hit, especially among those familiar with the illustrator's work.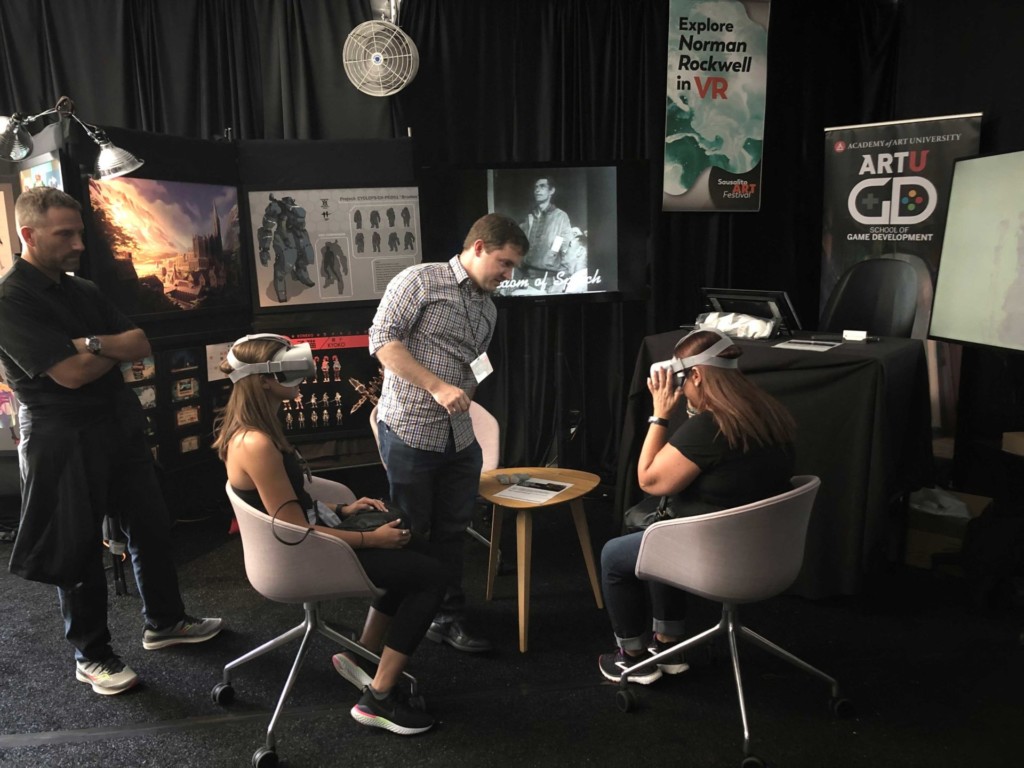 He added that game innovations like AR and VR are more commonplace and no longer a niche platform. "It's on your phone, get a headset and put it on without having to spend thousands on a nice computer. You have a version that's available for everybody, more accessible."

The GAM display stood among artists such as Nancy Baker Cahill, whose AR drawings lie at the intersection of fine art, immersive media and activism; Marpi, a Polish-born, San Francisco-based artist who creates digital, interactive ecosystems; Holliday Horton, who creates dreamlike, multi-dimensional augmented reality. Guests could also try drawing in virtual reality with a Google Tilt Brush.

According to Art Tech Director and Curator Lisa Kolb, the Art Tech Pavilion was designed to "modernize the festival."

"We really wanted to showcase new arts, new mediums, and technologies," she said. The modernizing effort also included a graphics rebrand done by the School of Advertising's Young & Hungry student agency. Kolb said she was especially keen on seeing the live sketching and the student concept work, a rare behind-the-scenes peek for most.

"[Gaming] has become such an integral and huge part of people's lives. It was great for our [audience] to experience the VR and see technology in a different way showing the possibilities and depth," Kolb elaborated. "People might see gaming one way, but we were able to show what goes on behind it, that it is an art form, and the many elements that go into it. For me, it was amazing to be able to show it broken down into the various parts."