Defense Tactics Seminar teaches students how to prepare and defend themselves
By Nina Tabios
On Wednesday, Sept. 18, the Academy of Art University Campus Safety department brought in Kevin Martin and Sergeant Steve Pomatto to hold the Defensive Tactics Seminar at the 620 Sutter Street theater.

Martin, a retired SFPD office of 28 years, and Pomatto, who teaches defensive strategies to recruits at the SFPD Academy, visit the Academy every semester to teach students about personal safety and how to defend themselves from attack or assault. Martin, who is a former Campus Safety patrol supervisor and associate director, spent a little over an hour talking to students like Kenzie James who want to be more prepared and safe in the heart of downtown.

"It's my first time in San Francisco and it's my first time living in a big city because I'm from small-town Ohio, so I like how they personalized this to San Francisco specifically," said James, a first-year graduate student in the School of the Acting. "They made it very specific to what we've seen in the city and can, therefore, give us better advice and better tailor it. Everything that they gave us was very much about diffusing the situation and getting out of it safely rather than confronting someone and escalating the situation and putting yourself in even more danger."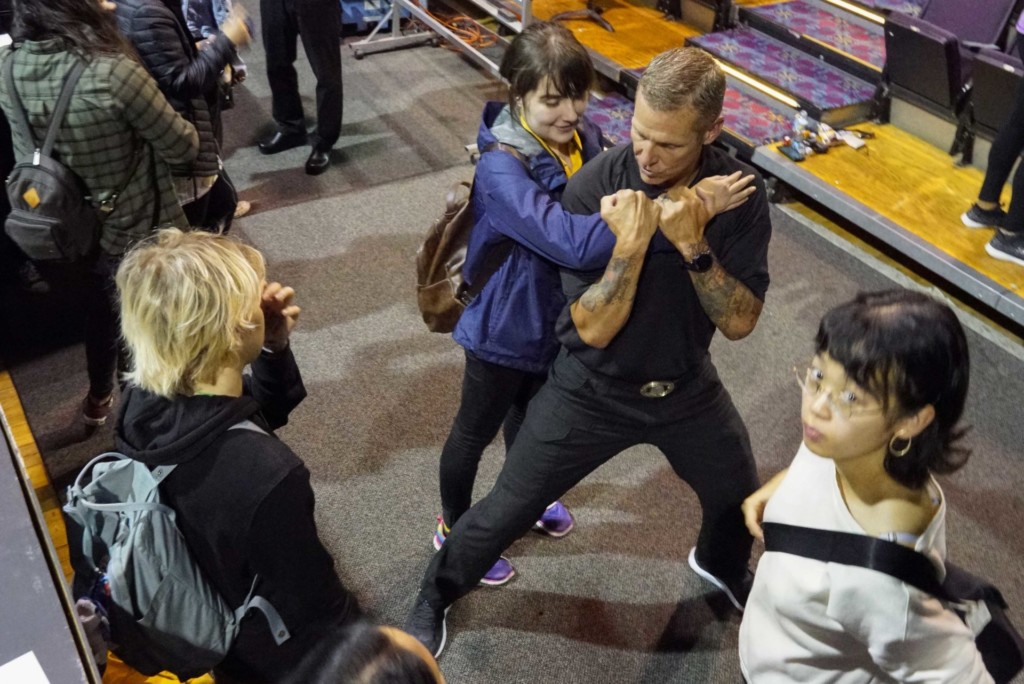 Martin opened up the conversation with, "One of the important things that you have to do for yourselves is to protect yourself." A number of students in the room were first-year students away for the first time from their families or who came from countries outside of the United States.

"You owe this to yourself but you also owe it to your family, your friends and your loved ones," he continued. "It's peace of mind for your loved ones, knowing that you're in a safe environment and that you're doing everything you can for your safety and your friends'."

In regards to personal safety, Martin and Pomatto emphasized to students a few basic principles to think about even before stepping out of their residence halls or off-campus. Talking specifically about San Francisco's homeless population and drug epidemic, the two officers spent time discussing what behaviors to watch out for and the best ways to avoid them. According to Martin, avoiding confrontation at all costs and walking with confidence and purpose is the first step to avoid being seen as vulnerable and a potential target.

"Put that aura right, walk with your shoulders up," Martin said, who also mentioned most criminals are looking for people walking around with their cell phones out. "That alone will make people think twice about messing with you."
Pomatto acted out quick, but effective moves that anyone can use to break away from an altercation. Pomatto advised pulling at the fingers and twisting wrists, or ducking underneath and sprinting away as the easiest ways to get back to safety.

"This isn't get away and fight back, it's get away and run," Pomatto said, who dissuades ever going on the offensive.

"I learned a lot of information," said Caroline Singeo, an undergraduate student in the School of Animation & Visual Effects. Singeo spoke out about having been in sticky situations before walking to class and wanted to come to the seminar to get a comprehensive lesson in safety. "Listening to the lecture and seeing people do the presentations, it helps a lot visualizing and listening on what to do in certain situations."

Naturally, there was some fear of the unknown, James said, coming to San Francisco for the first time. But knowing how to protect herself now eases a lot of that stress.

"I came to this because I need to know how to handle that fear," James said. "Especially the way [Martin and Pomatto] are physically acting it out with you, you get to feel what it's like to grab someone in that way and how much body force you have to use to get someone off of you. And then it's not like you're doing it for the first time, so when that situation arises, you'll know what to do."