Landscape architecture students provide passersby with a place to rest during this year's PARK(ing) Day
By Nina Tabios
A pair of Academy of Art University students decided they were going to go big or go home for this year's PARK(ing) Day, the annual global event where metered parking spots are transformed into DIY-parklets. For a few hours, these spaces are meant to be a symbolic gesture to reallocate public land for people, not cars.

Francisco Mendoza and Felix Torres, student designers from the Academy's School of Landscape Architecture (LAN), took over three slots on 5th Street, between Brannan and Townsend, for their ambitious PARK(ing) Day project. Laying down wood pallets they had stained and brushed overnight, the pair was intent on creating a sit-down area for pedestrians and employees in the surrounding area. Measuring around 55 feet, the completed project was outfitted with benches, an elbow bar, succulents and planter boxes.


Photo by Nina Tabios.

Manuel Padilla, Francisco Mendoza and Felix Torres assembled 20 pallets for PARK(ing) Day. Photo by Nina Tabios.
"We were kind of responding to the area," said Mendoza, an undergrad expected to graduate in the spring. On top of being a student, Mendoza works for the San Francisco Department of Public Works. "I'm always in this area for work so I noticed a lot of people get food from the food trucks right here so we wanted to make a space where they could go to maybe eat their food, talk with some coworkers or friends, have a semi-private space, and in this area it's kind of hard to get that without having to go so many blocks away. We were trying to give them, for at least one day, a little bit of respite from all the urban conditions here."
"It's nine-tenths of a parklet," said LAN Executive Director Jeff McLane, commenting on its sheer size. This would be the department's sixth consecutive PARK(ing) Day and he commended Mendoza and Torres' headstrong effort in getting this off the ground in a little over two days. "You learn a lot by doing this, how much manpower you need, timing and planning. You have to commit when doing a project like this."

Succulents and planter boxes decorated the parklet. Photo by Nina Tabios.

Photo by Nina Tabios.
"We got some experience and we got to bond some since we got to work extensively on it for two to three days so it was nice," added Torres, who worked on last year's PARK(ing) Day installation at the Cannery.

For the concept, Mendoza said upcycling was a huge component. The 20 wooden pallets used came courtesy of Manuel Padilla, owner of Organic Pallet Design that creates installations for city events like Outside Lands out of re-used materials.

"All the materials being used here are completely upcycled, they were destined to be either ground up into wood and made into sawdust and compacted or used for raw material or maybe just even fire," Mendoza said. "If we can give a new life to it in the form of PARK(ing) Day or what have you, we try to continue that upcycling and continue to renew resources that way."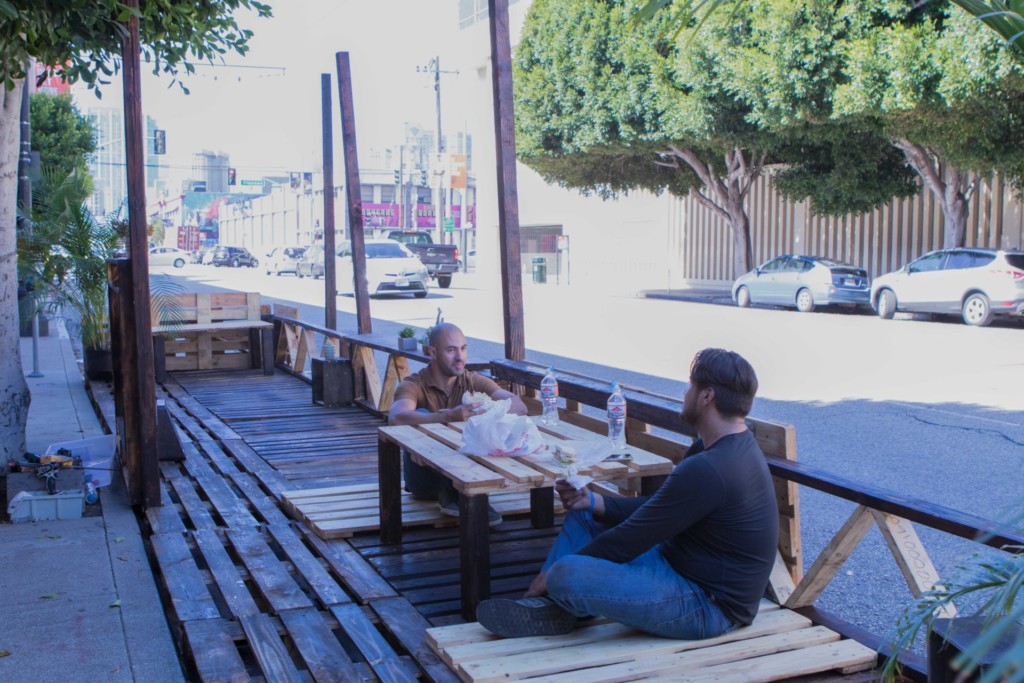 Mendoza, Torres, and Padilla were setting up well into that warm afternoon, passersby taking notice of the project were visibly curious about what was taking place on the street. Some were excited to see a little parklet for the area but were also disappointed when told the little park would be gone in a few hours.

"We had some people come by and talk to us about it and I think that's a huge part about raising awareness," Torres said. "As long as we raise some awareness for our cause or what we're thinking of, it's a success."