By Cristina Schreil
        Three M.F.A. students set to graduate this month from the Academy of Art University's School of Photography (PH) have their projects on display at the 625 Sutter gallery. Ruminating on topics like the fragility of fatherhood, mortality, and notions of space, photographs by online students Troy Colby, Dianne Morton, and Brian K. Edwards comprise the exhibition, on view through May 31.
        A reception takes place this evening, Tuesday, May 21, at 5:30 p.m.
        At the heart of the exhibition is also an uncommon friendship between the three students, who have taken several courses throughout their time at the Academy. "We refer to each other as M.F.A. buddies," Morton said via phone, describing a tight-knit community that extends beyond her two fellow co-exhibitors.
        Edwards added that they've cultivated something more than a classmate relationship and share a "great respect" for each other's work. "We have had many classes together (too many to count) and we have seen each of the other's work grow and evolve, from the very smallest seeds to the latest versions that we will be sampling next Tuesday evening at the reception," Edwards said.
        Colby agreed. "Being an online student can feel very isolated at times," he said, adding that luckily, they ended up connecting. "Cultivating these relationships also allowed for a deeper and honest dialog about our work. We didn't have to walk on eggshells or tiptoe around in giving critiques." He added that last semester, they all happened to be dealing with issues in their personal lives, and guidance from their instructor Tamara Hubbard "bonded us even more."
        Their closeness at times led to deeper insights that only helped each probe further into their work, as Morton explained. Morton's project is titled "Blue Pencils." It takes its name from her father's occupation as a mortician and the blue pencils his funeral home provided. Unaware of the gripping, often harrowing aspects of his job—including putting to rest a young classmate in Morton's second-grade class, who was struck by a car while in a blue wagon—Morton believed as a child that he simply made pencils. Her series centers on the fleeting nature of life and childhood. To create her photography, Morton found a wagon from the same era that her classmate was killed in. Colby spotted something she didn't. "Troy says to me, 'Dianne did you read? It's called a blue coaster wagon. It's blue, it's not red. It's a blue wagon.'" She was blown away by the coincidence. Her classmate's insight "helped advance the narrative even more," Morton said.
        Morton's project began during a haunting time after three close friends died. Hubbard, her instructor, prompted her to document her grief. It ultimately evolved into this project. "With the M.F.A. program, it's a whole different level with regard to building your concept and telling a story [and] finding your personal style in photography," Morton reflected. "I didn't expect to be on this end of the program and just the value that I've learned so much, I'm just blown away."
        For Colby, who lives in a liberal hub in Kansas, his intimate photographs capture his family and the fragility of fatherhood. After a move, his youngest son developed anxiety and migraines. Colby documented his struggles. Soon, it grew. "I realized, this project is about him, but it's also about so much more. It's also about me," Colby said. His photos distill "the fragile side of being a father," he says—something that resonates with him, who has what many see as a non-traditional role as a stay-at-home father. The photographs also function as a kind of alteration of the concept of a family album, where traditionally families exhibit their best—but often, their far-from-real—moments. He said his time earning his M.F.A. caused him to reflect deeper on this in profound ways. "It's an evolution," he said of his body of work.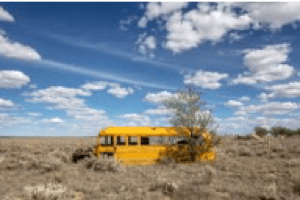 Edwards, who lives in New Mexico, presents photos from his series "Culture and Place." In it, one will find photos capturing the American Southwest and Italy, including snapshots of a yellow school bus seemingly swallowed by desert brush, and a motel with a vast, nearly empty parking lot. "I don't think of them as landscapes per se—I think of them as rural place-scapes," Edwards said. "My interests are more architectural … how the structure and the landscape are kind of combined to create a place." Some photos are culled from his study abroad course in Italy; there, in places like Florence and Venice, he plunged back into an urban landscape that made him recall his days living in Washington, DC, and Chicago. His advice to other students is to dive in. "You have to learn to take risks, to venture into the unknown a little bit…and not be afraid of failure," he said. The program made him think more seriously as an artist. He now thinks of this artistic perspective and formal photographic properties and the elements of a narrative that help interpret a place or a culture.
Edwards added that a satisfying aspect of the program was seeing everyone's work evolve. "I saw the earliest, prenatal versions of their projects … you saw it grow from a little baby alien to take on a life of its own," Edwards said.