Known for its vibrant campus culture throughout the city of San Francisco, Academy of Art University has 11 active clubs catering to a diverse range of interests. These clubs provide a sense of community and give students opportunities to engage in meaningful activities and explore their passions. From architecture and design to LGBTQIA+ advocacy, there is something for every student to get involved in.
The American Association of Landscape Architects (ASLA), American Institute of Architecture Students (AIAS), National Organization of Minority Architecture Students (NOMAS), and Interior Architecture & Design (IAD) clubs are geared towards students pursuing careers in architecture and design and provide resources to help students achieve their goals and succeed in their fields. Beyond the Front Row (BtFR) is dedicated to fostering a community of fashion enthusiasts, while the Chinese Student & Scholars Association (CSSA) promotes social, intellectual, and cultural activities for Chinese students.
Recently, Women in Animation (WIA) hosted a talk with Academy alumna Yuxin Feng, a storyboard artist at Pixar, who shared her artistic journey with its members. "Events like this one are so important for students," said WIA Art U Chapter President Samantha Blum. "In a classroom setting, you are mostly focused on your work and making it the best it can be. In events like this, students get to hear about what it really means to have a job in the animation industry and that it's more than just having the best portfolio possible." Tea Time Animation, another animation club on campus, hosts weekly Friday meetings which also feature industry professionals.
The Art U Game Club hosts industry talks and virtual game nights, including "Goose Goose Duck," "Valorant," and "Skribbl.io," to name a few. Trisha Porter, an event lead for the club, shared the club is "fun and interactive for all students who love playing games," regardless of their major. "This club was started for people of all types to connect with each other," shared Art U Game Club President Kevin Suber. "I've met truly amazing people—people I will hopefully know for the rest of my life."
The Outloud! LGBTQIA+ Club restarted this semester after a hiatus and is working hard to promote the club. Recently, they organized a trip to Salesforce Park for a free drag show on April 1st. "It was very heartwarming to have our students come out and support the LGBTQIA community," said Outloud! President Jonathan Chow. "For many of the attendees, it was their first time seeing drag queens perform, and we are excited to organize more events for all students to celebrate queer culture."
Among those in attendance were members of the Black Student Union (BSU). BSU is a community for students and allies to come together and address issues related to the Black community and has hosted a plethora of events on campus this semester, including a week of events celebrating Black History Month.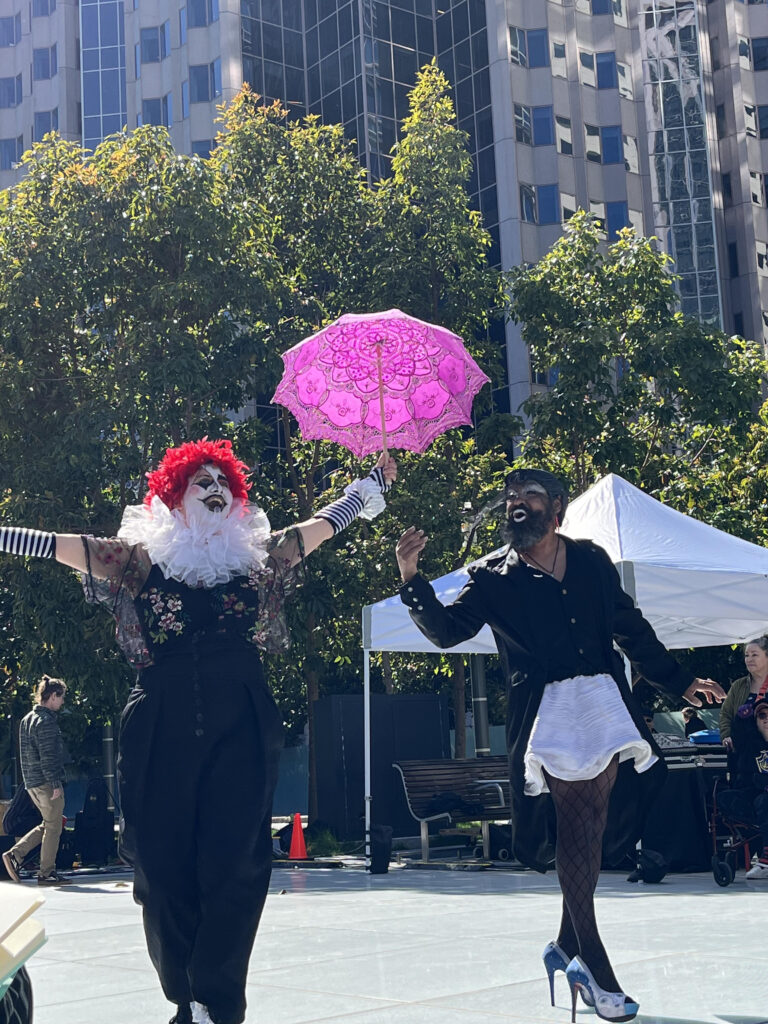 "BSU had an amazing time at the drag show," said BSU President Jasmine Brown. "It was a great way to not only connect and meet members of another club on campus but also show them support as they embark on their journey of bringing their club back on campus."
For more information about Academy clubs and upcoming Campus Life events, email campuslife@academyart.edu or join the Campus Life Discord community.
---
Join a club!
American Association of Landscape Architects (ASLA)
Contact: aslastudents@academyart.edu
American Institute of Architecture Students (AIAS)
Contact: academyart@aias.org
Art U Game Club
Contact: artugameclub@gmail.com
Beyond the Front Row (BtFR)
Contact: beyondthefrontrow@gmail.com
Black Student Union (BSU)
Contact: blkstdnt.academyofart@gmail.com
Chinese Student & Scholars Association (CSSA)
Contact: aauchinasa@gmail.com
Interior Architecture & Design Club (IAD)
Contact: iadclubpresident@gmail.com
National Organization of Minority Architecture Students (NOMAS)
Contact: nomasaau@gmail.com
Outloud! LGBTQIA+ Club
Contact: artuoutloud@gmail.com
Tea Time Animation
Contact: teatimeanimationclub@gmail.com
Women in Animation (WIA)
Contact: wiaxartu@gmail.com