By Nina Tabios
On Wednesday, Nov. 11, the School of Fashion's Beyond the Front Row (BtFR) welcomed Ilse Metchek, president of the California Fashion Association (CFA), to Academy of Art University as a special guest speaker for the student club's online video series, "Beyond the Front Row Presents."
While the students in the Zoom audience were enthusiastic about style, Metchek is all about the business. As CFA President, Metchek is a leading voice in the growth and development of the apparel and textiles industry, often working with politicians on issues facing the fashion industry on top of providing information on best business practices within the global economy. For her talk, Metchek presented students with a crash course on how the other side of fashion works.

"You are the artists," Metchek said to over 60 students in attendance. "But this world you're coming into, which is the business of fashion, needs your right brain and left brain to be working."
The evening was spent covering different topics, from the various business models that put garments in people's closets to how brands and companies utilize multi-channel marketing to identify and reach their consumers. Metchek also touched upon how much the industry has changed within the last few years, especially with the proliferation of technology, social media, and celebrity and influencer culture.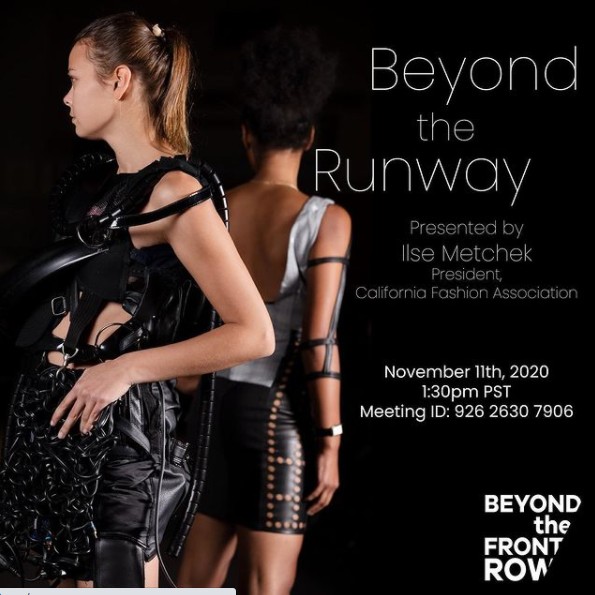 "You guys are so much more hip than we are," Metchek said. "You have so much more opportunity than we ever had but you have to know your customer. There's no such thing as 'one universal thing for all' anymore."
One subject that seemed to perk everyone up was influencer culture and fashion. Metchek talked about the profitability of products tied to celebrity names, like Kanye West, Kim Kardashian, Rihanna, and Justin Bieber, as well as how influencer branding is quickly rising as a business model.
"You are all influencers. You are all in the business of fashion and about 85% of the people you know are not. They're looking to you for what they should wear, what's in, what's out," she explained. "You are, just by virtue of being in this school, an influencer. You should be using that."
The event was hosted by BtFR President and fashion marketing student Maria San Juan and Board Member and fashion merchandising student Alyssa Arriaga. With the fall semester being held exclusively online, San Juan said the club wanted to build off of the success of last semester's iteration of the "Beyond the Front Row Presents" series, which featured School of Fashion Executive Director Simon Ungless and instructor Hersha Steinbock. Their main focus was to keep members involved and come up with new ways to bring the industry to the students, starting with Metchek.
"We really wanted students to understand there's a lot more happening behind the scenes, beyond the runway," San Juan said. "Ilse brought a lot of insight, and we thought it was important to know that when you're creating your own brand, you need to know how to get it out there and make it stand out."

Arriaga echoed San Juan's sentiment on how crucial the topic of business is for young designers.

"It's no longer just about good design—it's about how to run the business," Arriaga added. "Talent can only take you so far, you have to understand how things work in order to navigate them." 
Metchek's advice to students: Know who you are trying to attract and speak their language.
"Look up the company online, see what it is they do and the product they make," she said. "Tell them that you can help them. Tell them that your product and your education can fill that job."